Update #1: February 22, 2018
Welcome Back!
Welcome to the latest installment of Follow the Litter, where we follow a litter of newborns all the way from birth to foster care to adoption.
Meet The Mom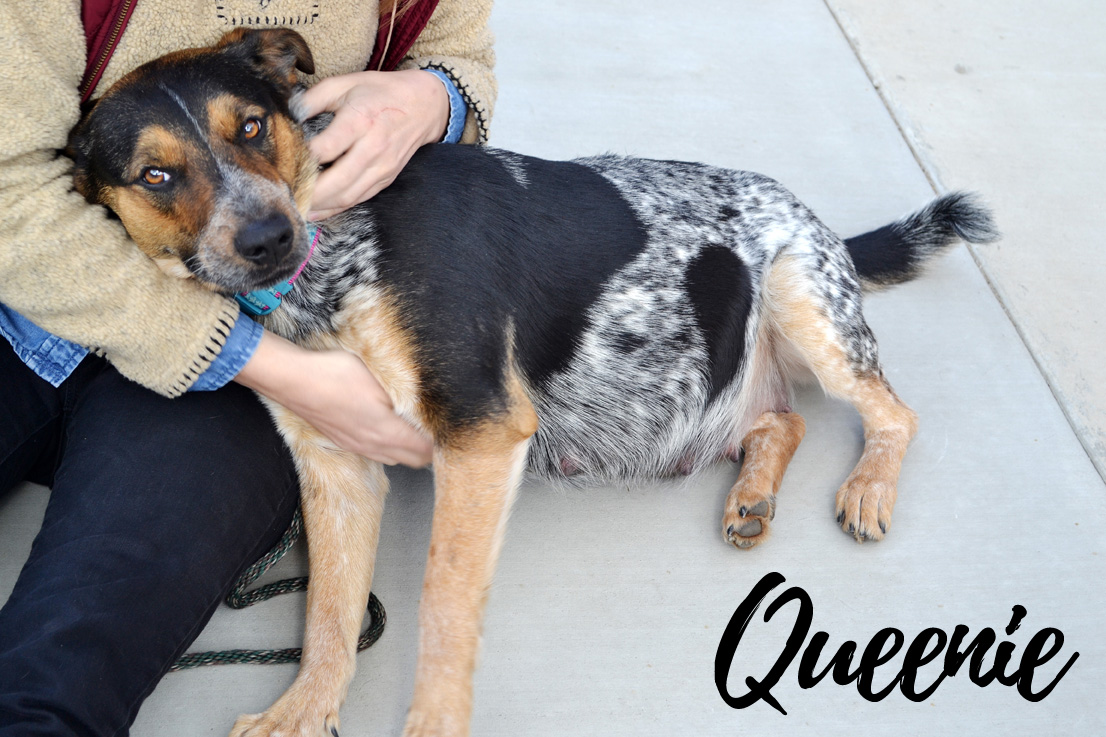 Queenie is a 1-year-old Queensland heeler blend who's just as beautiful on the inside as she is on the outside. Even though she's set to have her puppies any day, she's still very energetic and affectionate. All we know about Queenie's backstory is that she was rescued in Riverside County.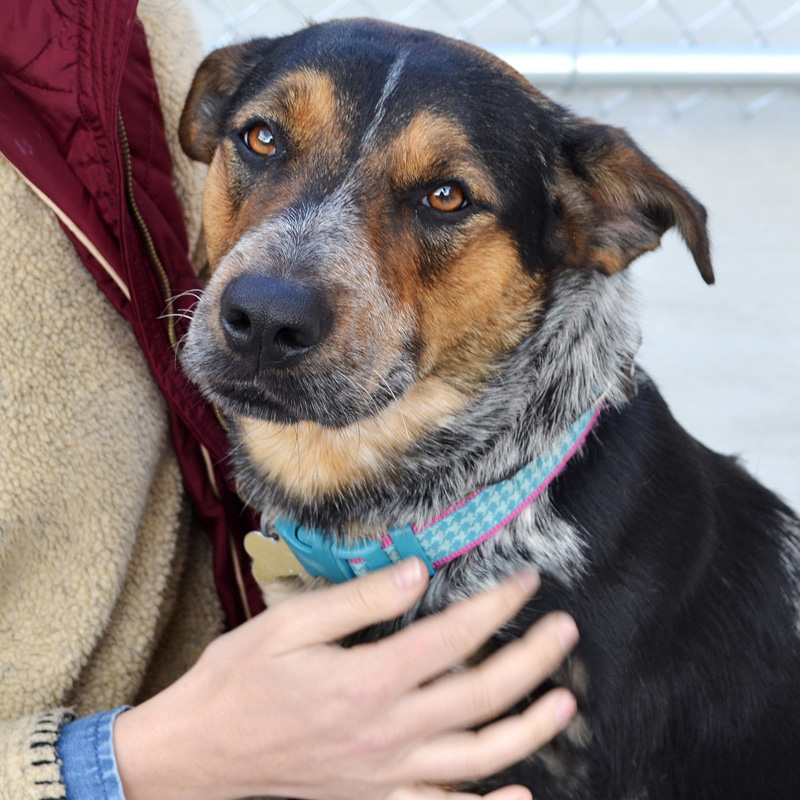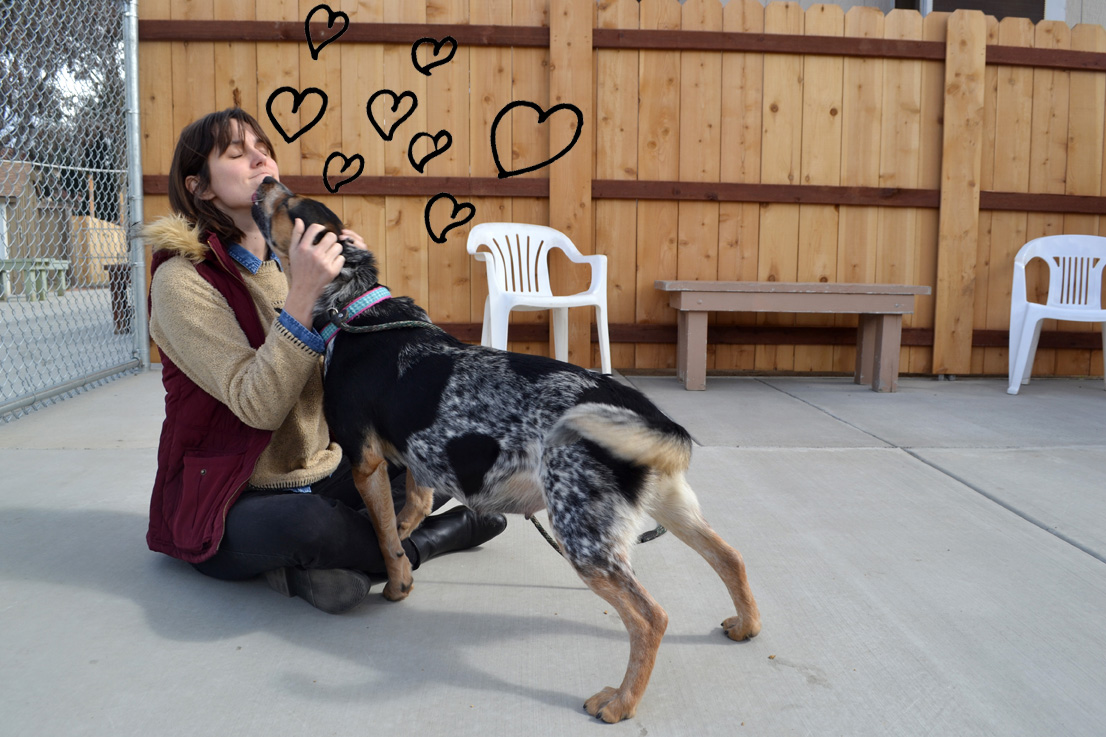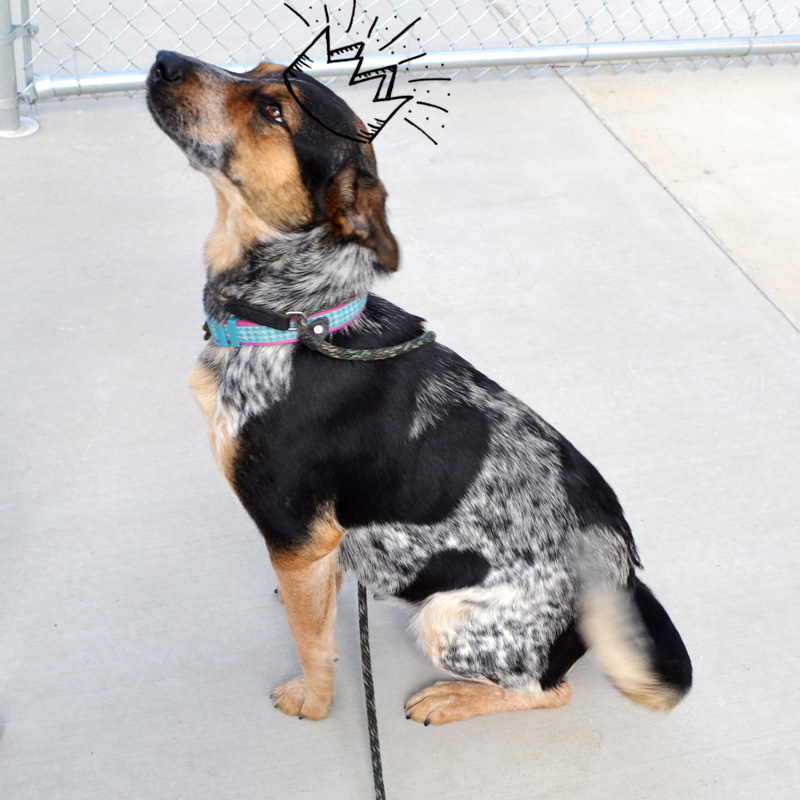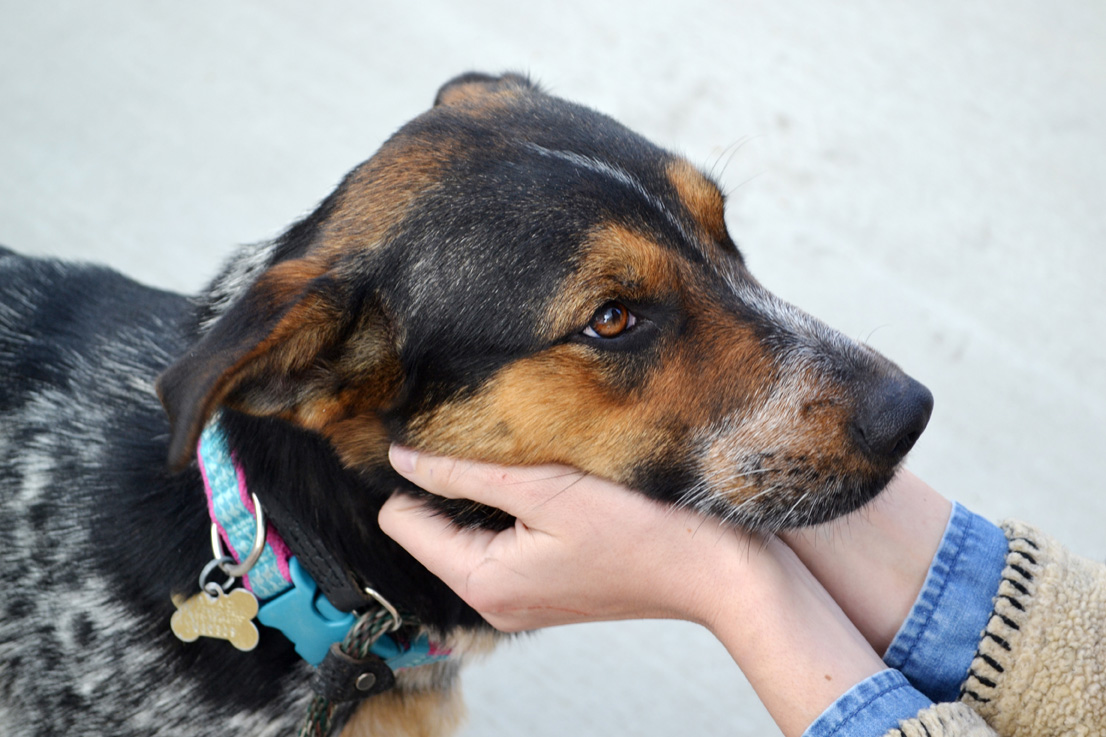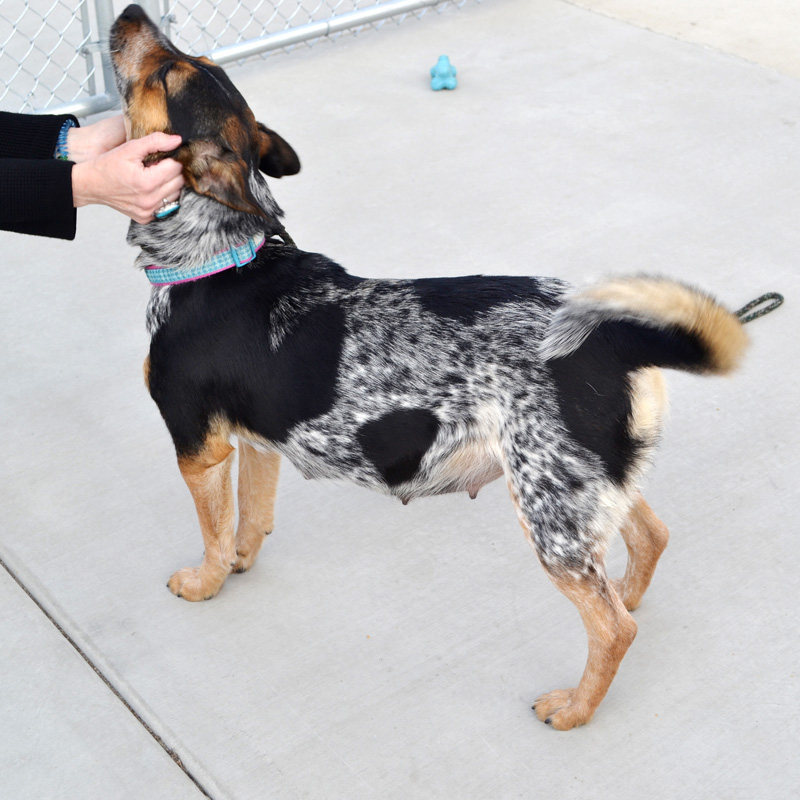 How many puppies do you think Queenie will have??

Update #2: March 2, 2018
The Royal Babies Have Arrived!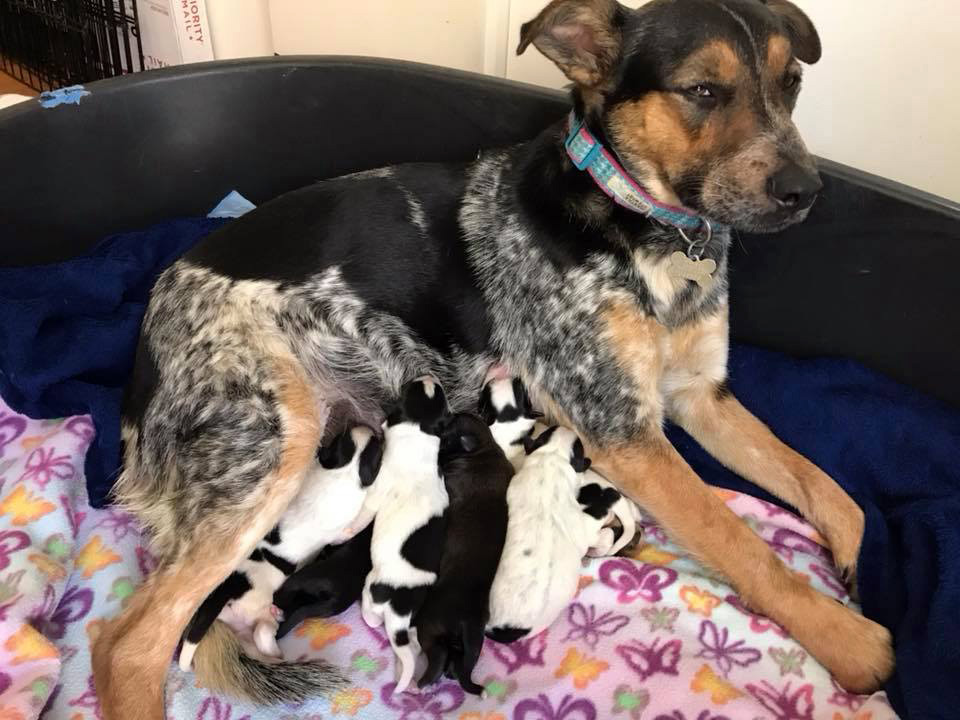 Queenie gave birth starting at 5 a.m. on Friday, March 2, 2018. She had SEVEN puppies! These include five beautiful girls (Quadra, Quill, Quartz, Quinoa and Quigley) and two precious boys (Quake and Quarter.)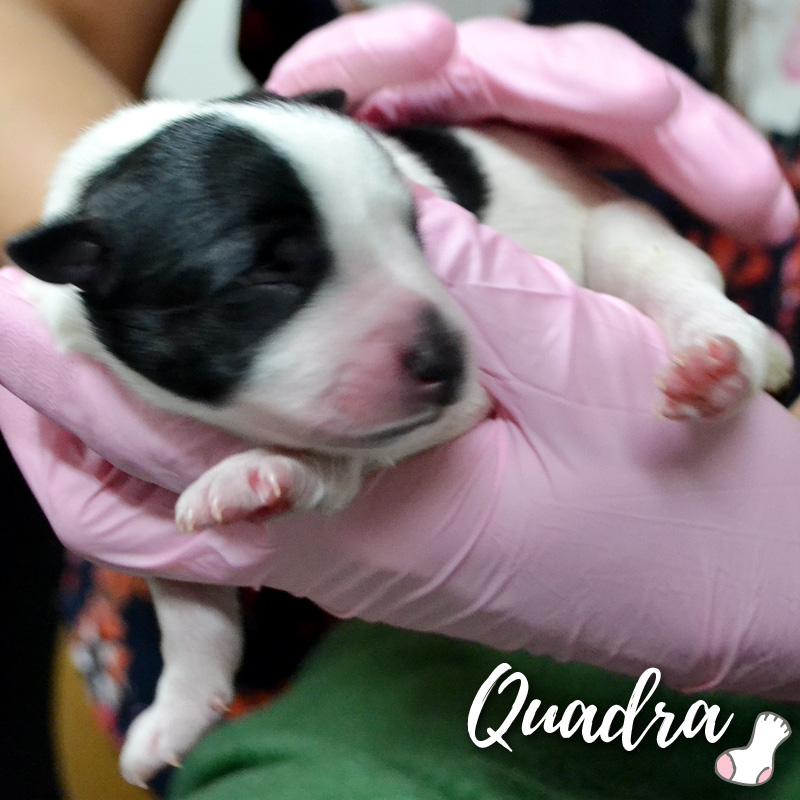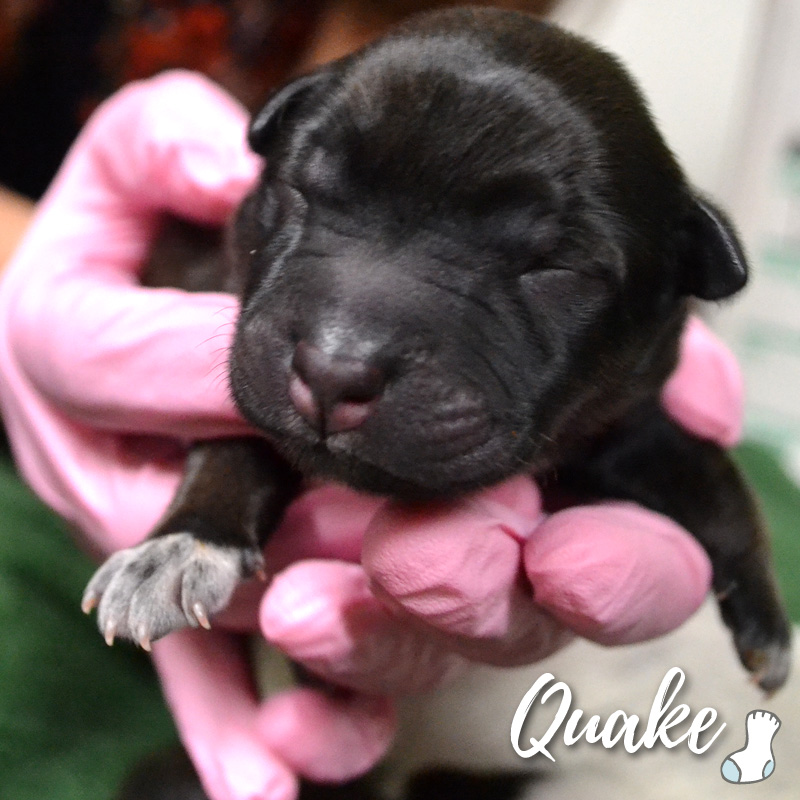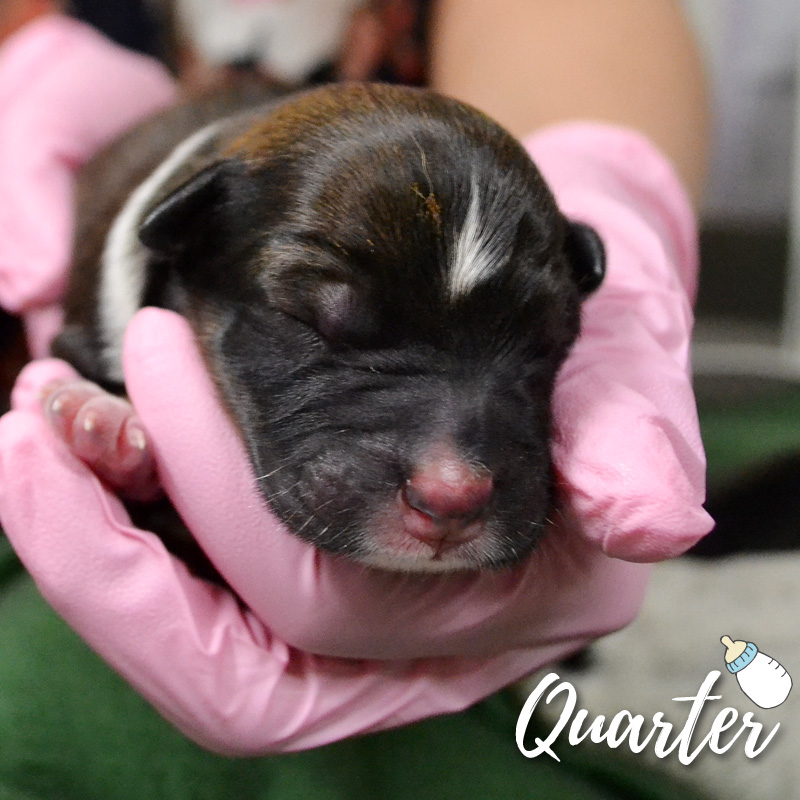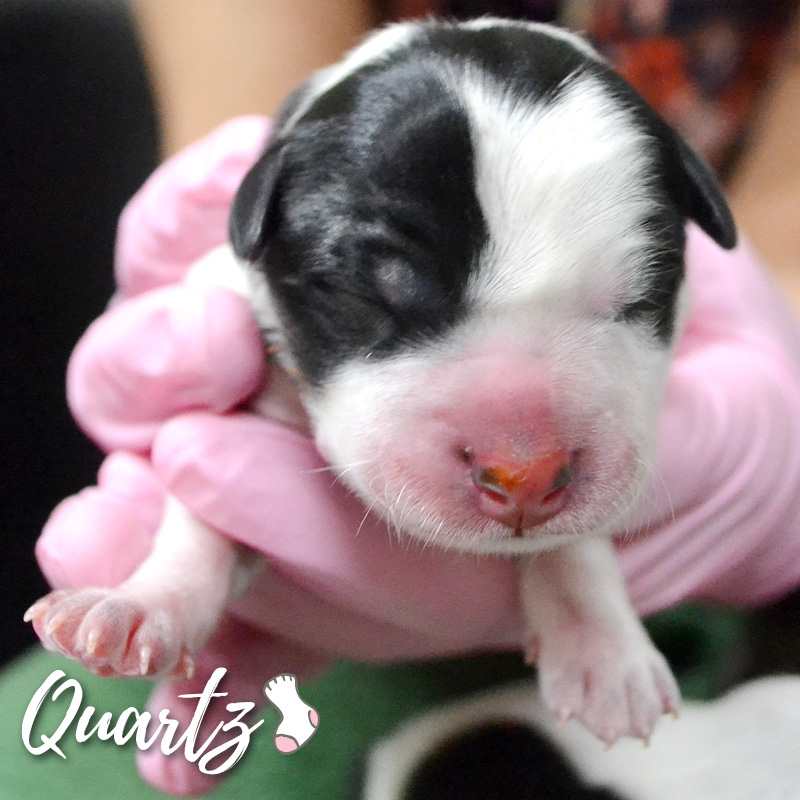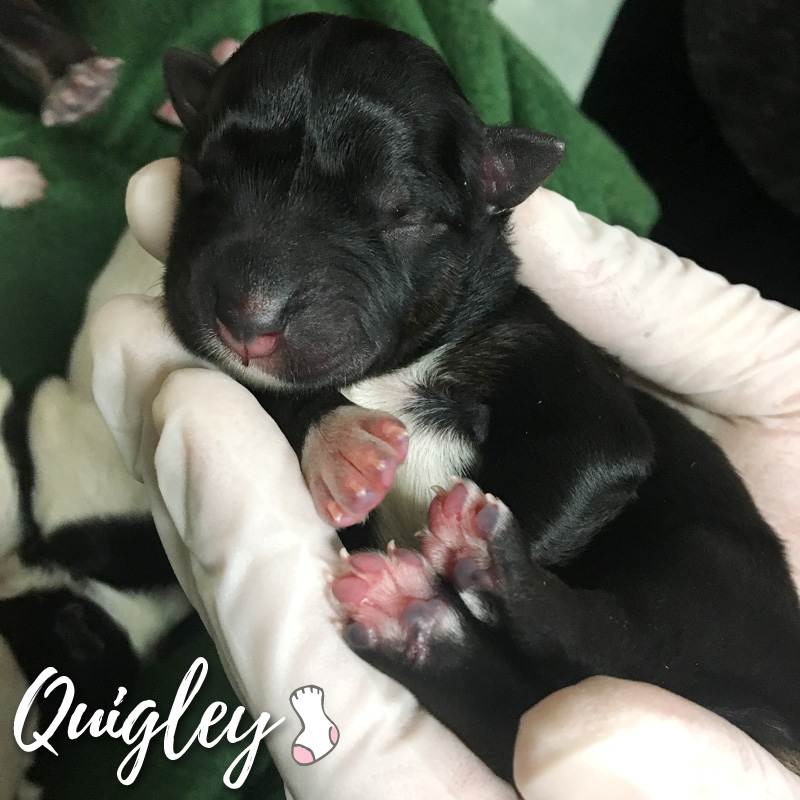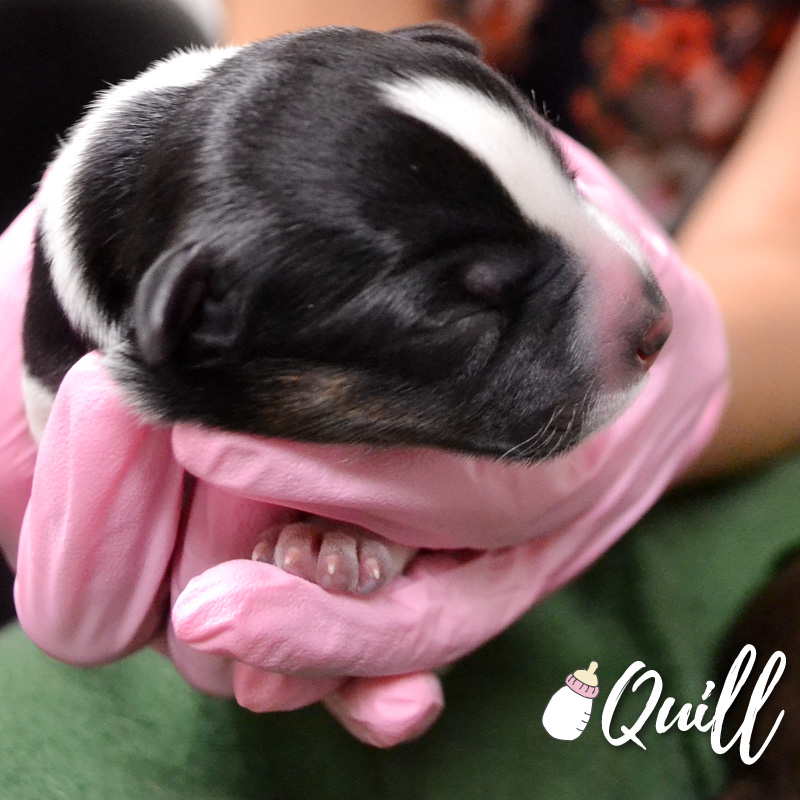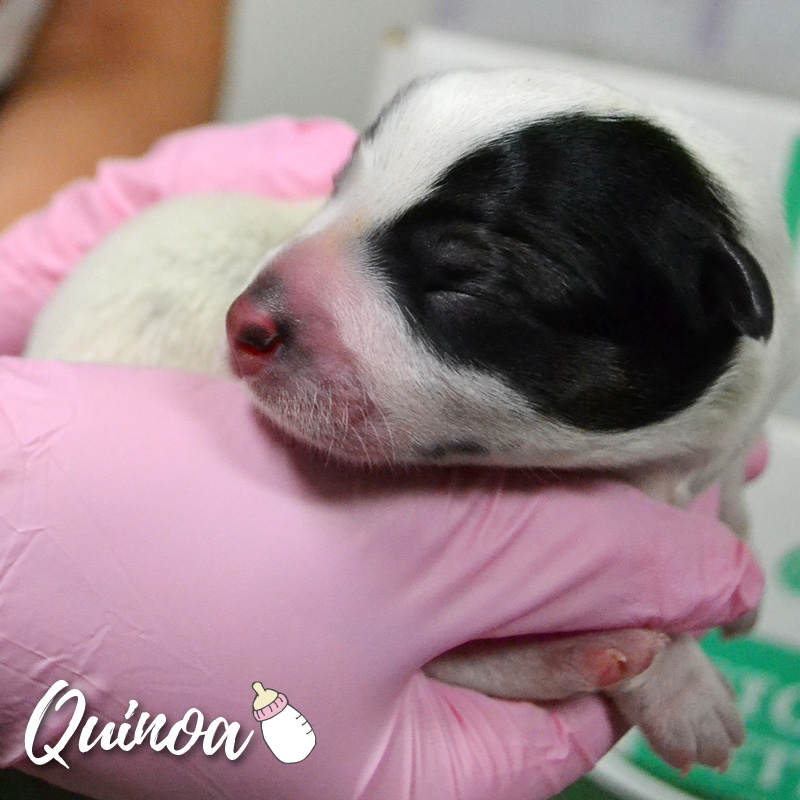 When the puppies were just hours old, their foster mom nestled them in a comfy fleece blanket and transported them to Helen Woodward Animal Center for their very first check-up. Everyone was sleepy, but healthy!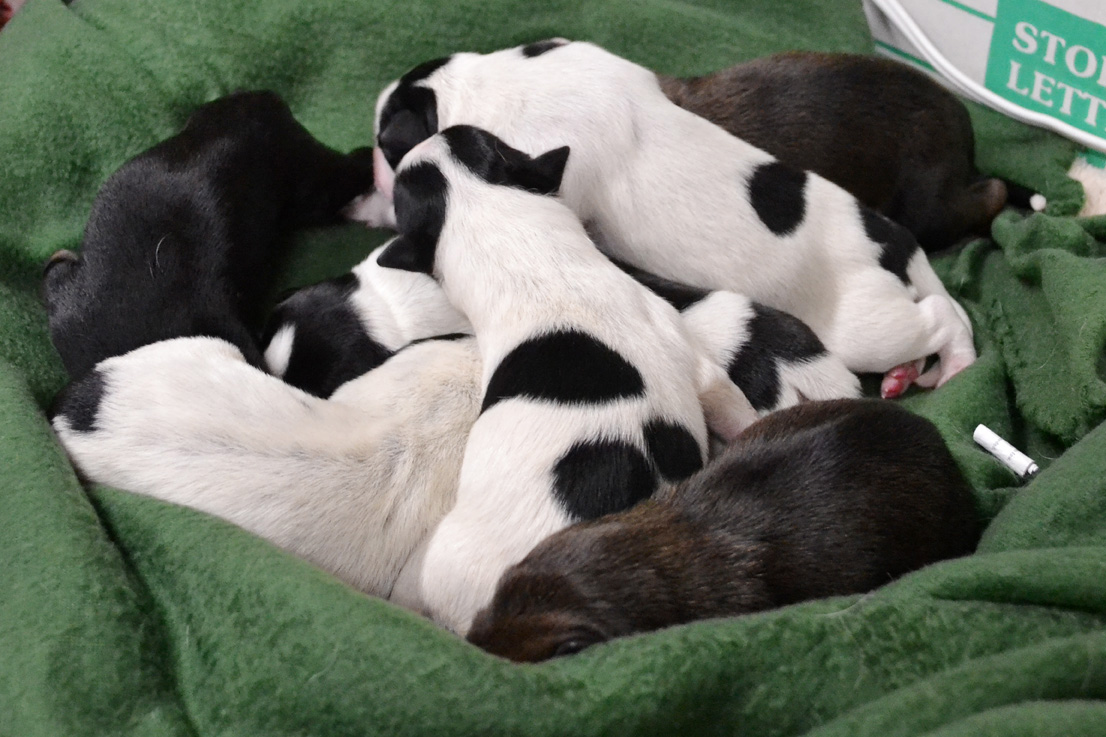 Proud mama Queenie received an exam, too. Despite just giving birth, she had as much energy as ever!
via GIPHY
We are so in love with these sweet babes and can't wait to watch them grow!

Update #3: Bonus Content 
Check out Queenie's babies during their first check-up. There was lots of adorable whimpering and wiggling!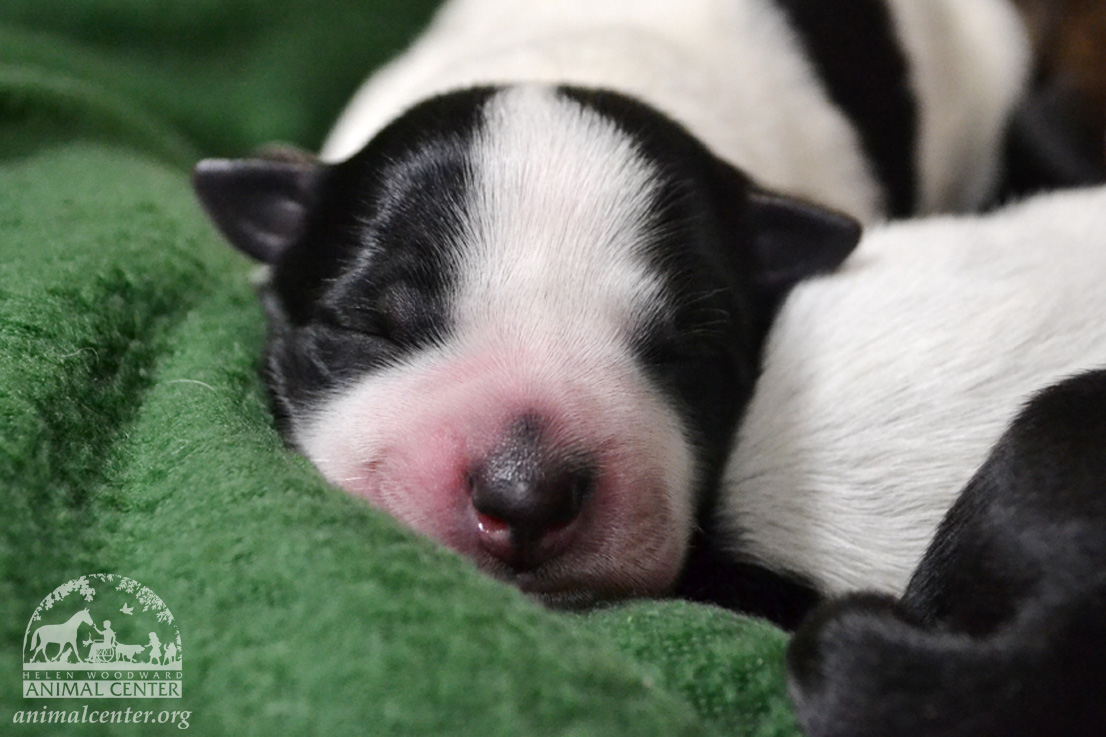 Everyone was so sleepy after their first outing!

Update #4: March 9, 2018
Who's Who?
The seven royal puppies are 1 week old! These little pups are already shaping up to be big doggies. With the exception of petite Quigley, the puppies already weigh more than 1 pound each! So who's who?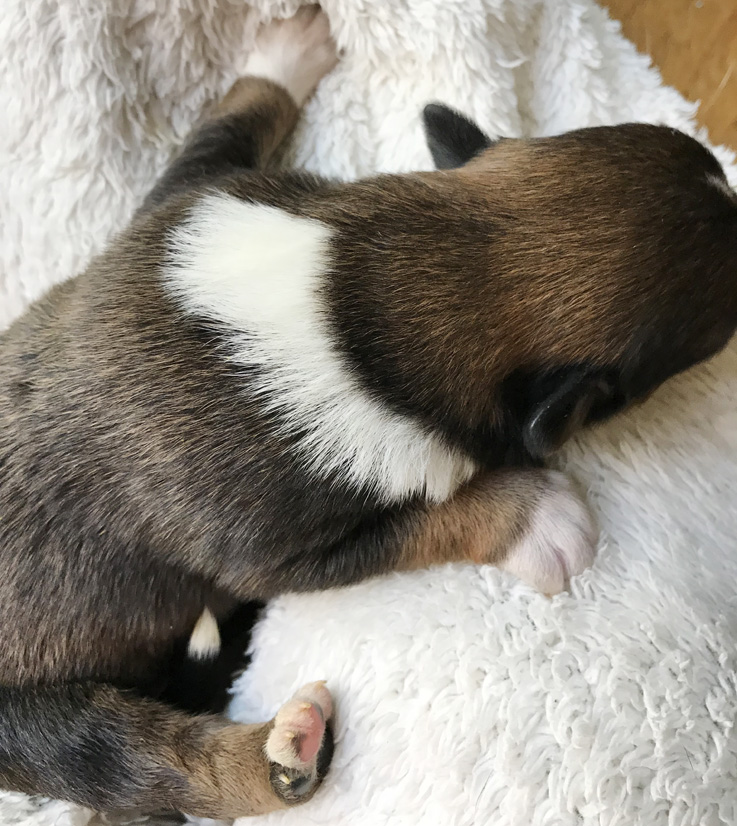 Quarter
Boy
Brown fur with white paws and collar
First Puppy President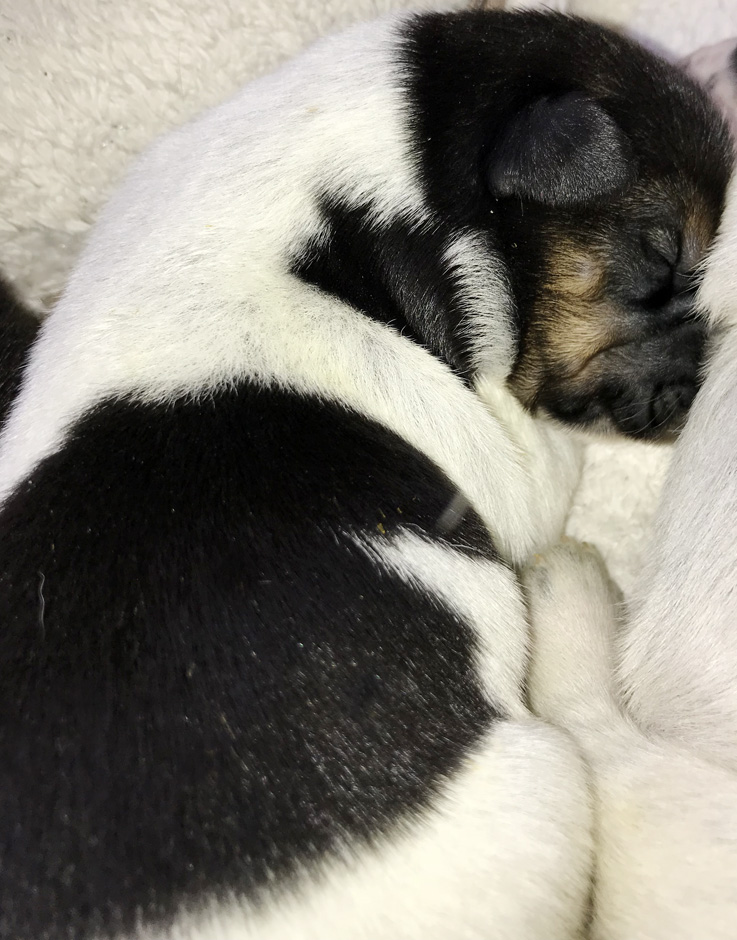 Quill
Girl
White fur with black ink spill
Aspiring Novelist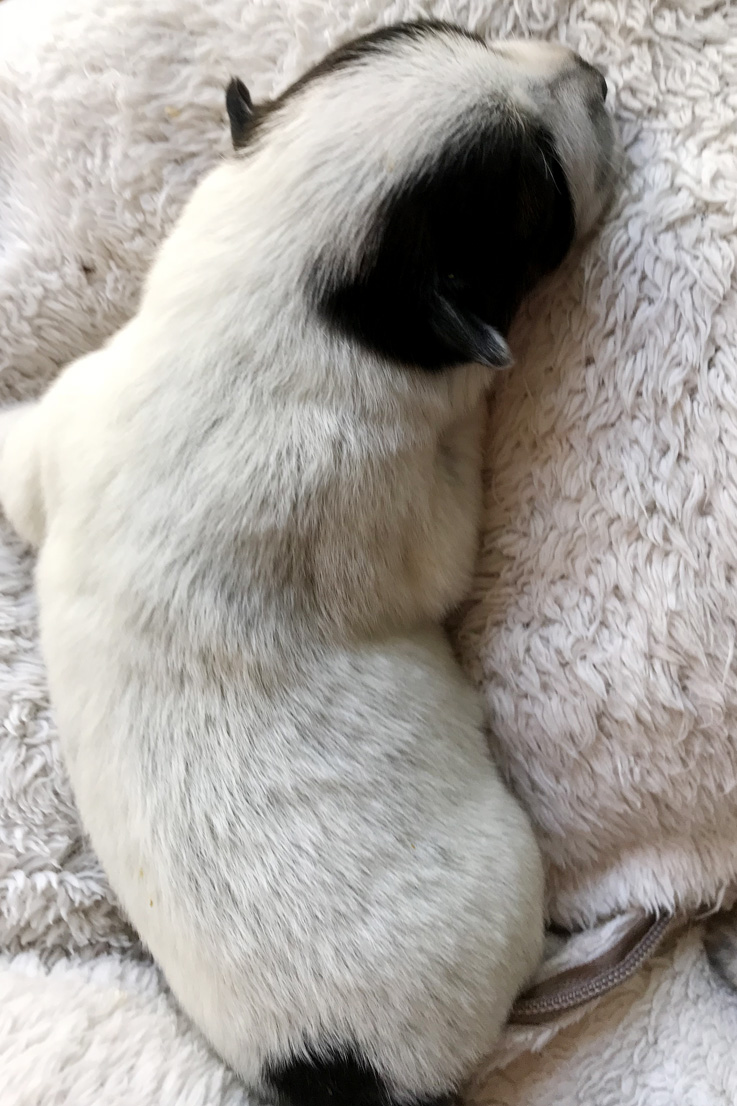 Quinoa
Girl
Mostly white with pepper spots (Perhaps brindle like Mom?)
Future Health Nut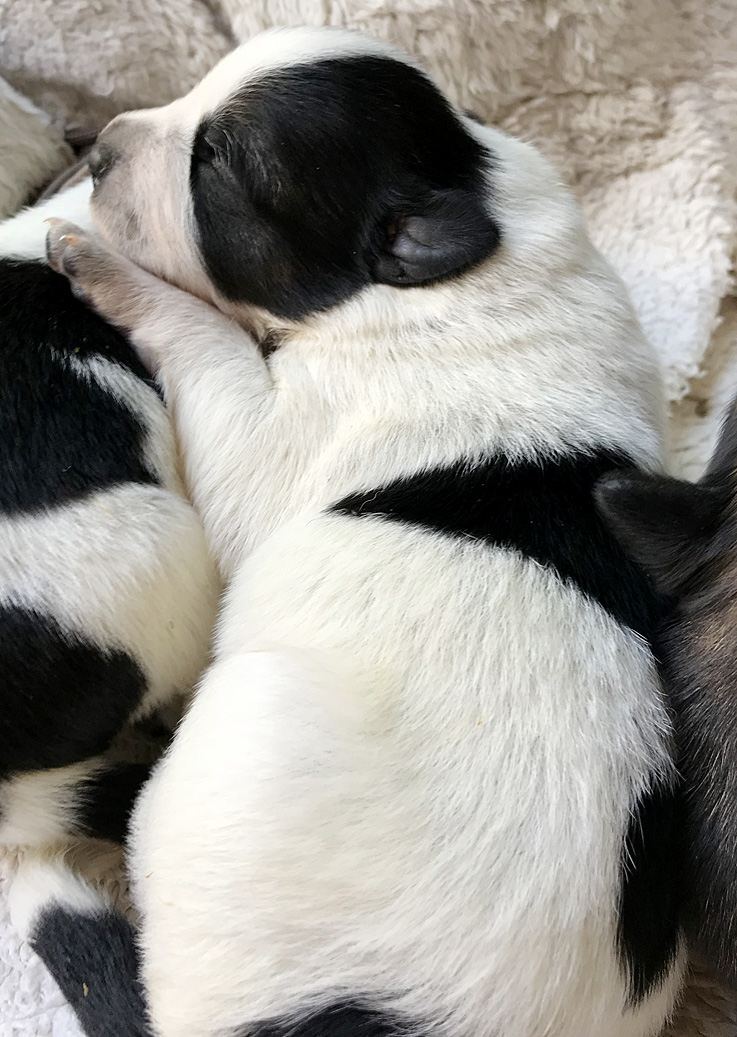 Quadra
Girl
Mostly white with four distinct black spots
Math Whiz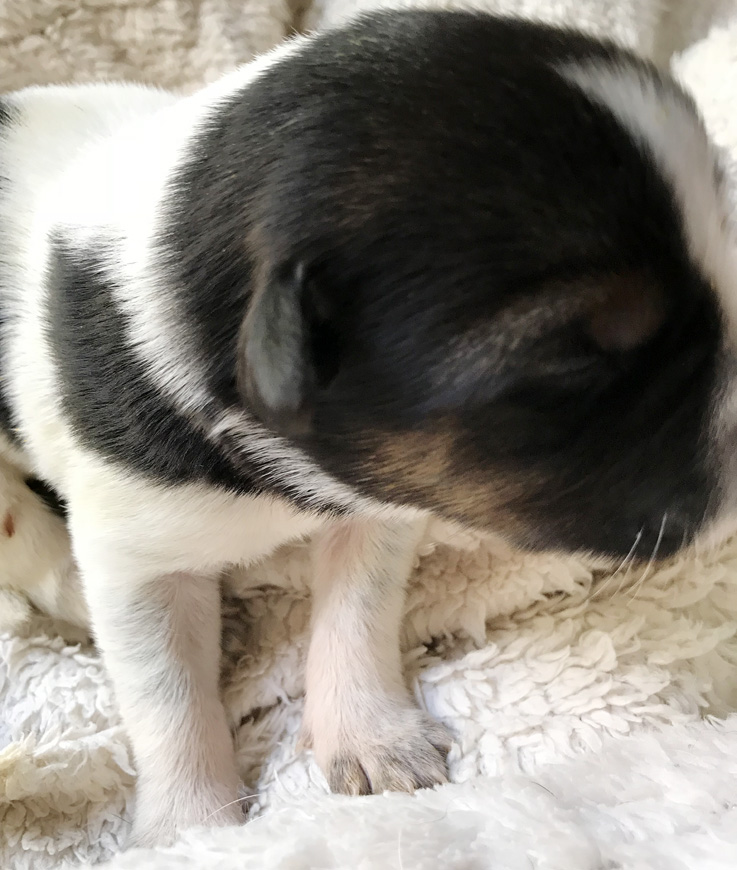 Quartz
Girl
Mostly white with smaller black spots
A True Gem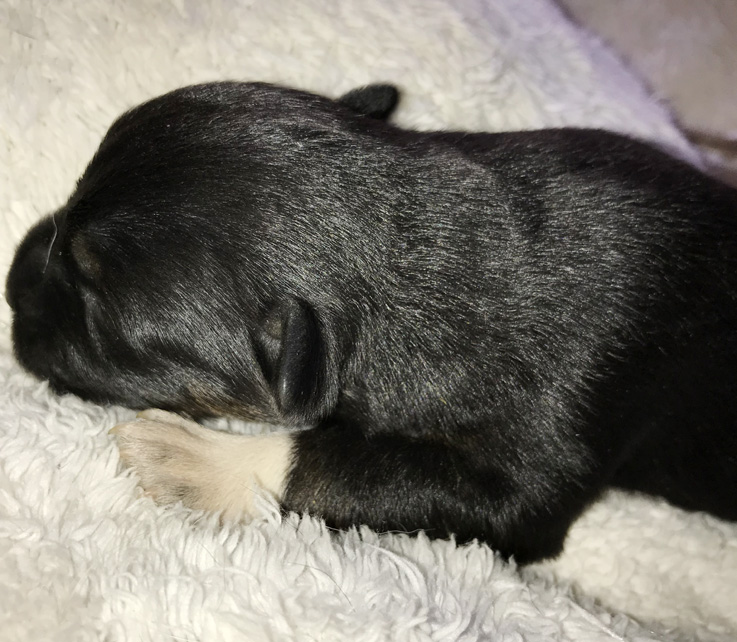 Quigley
Girl
Black coat with white paws
The Smallest and Sweetest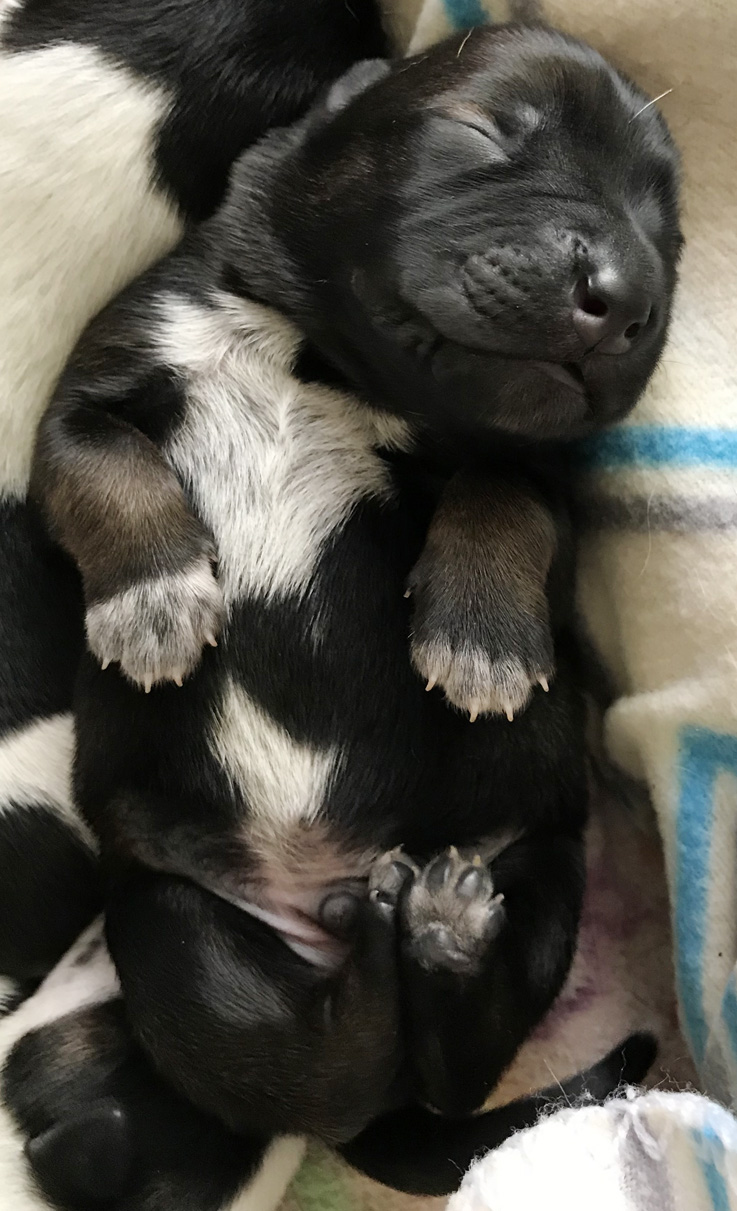 Quake
Boy
Dark brown with gray paws and speckled belly
Will Rock Your World
(Here's a cheat sheet if you need it.)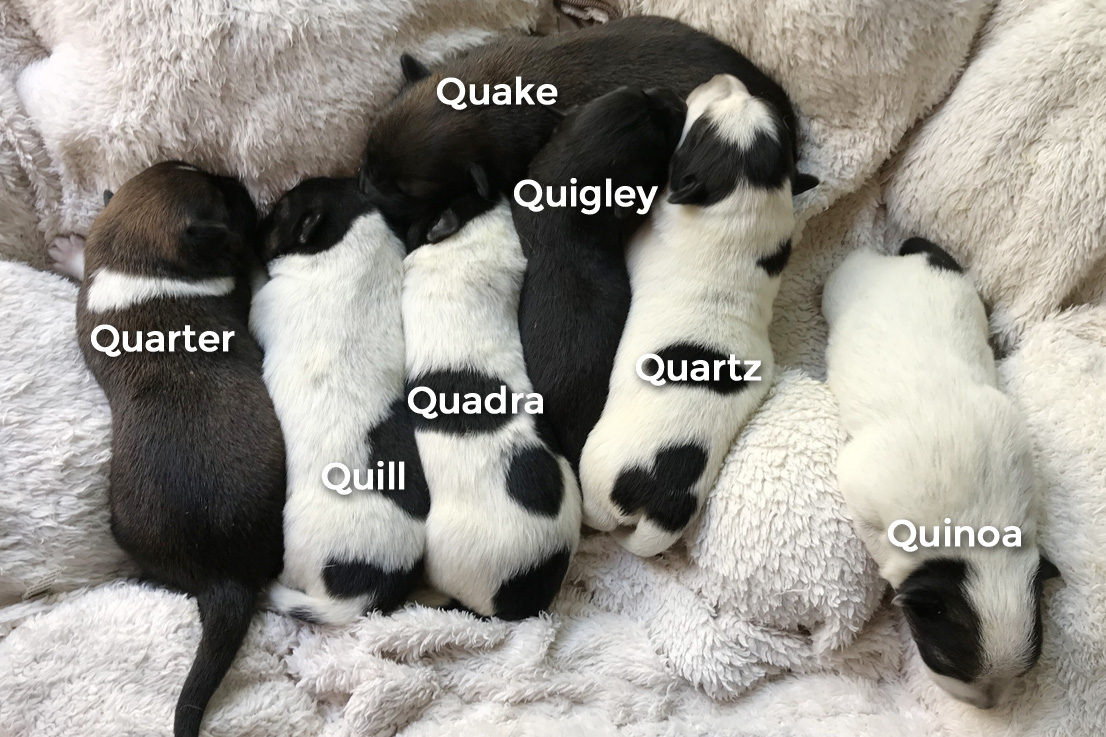 Update #5: Puppy Naptime
As 1-week-old puppies, we spend half our time eating and half our time snoozin'…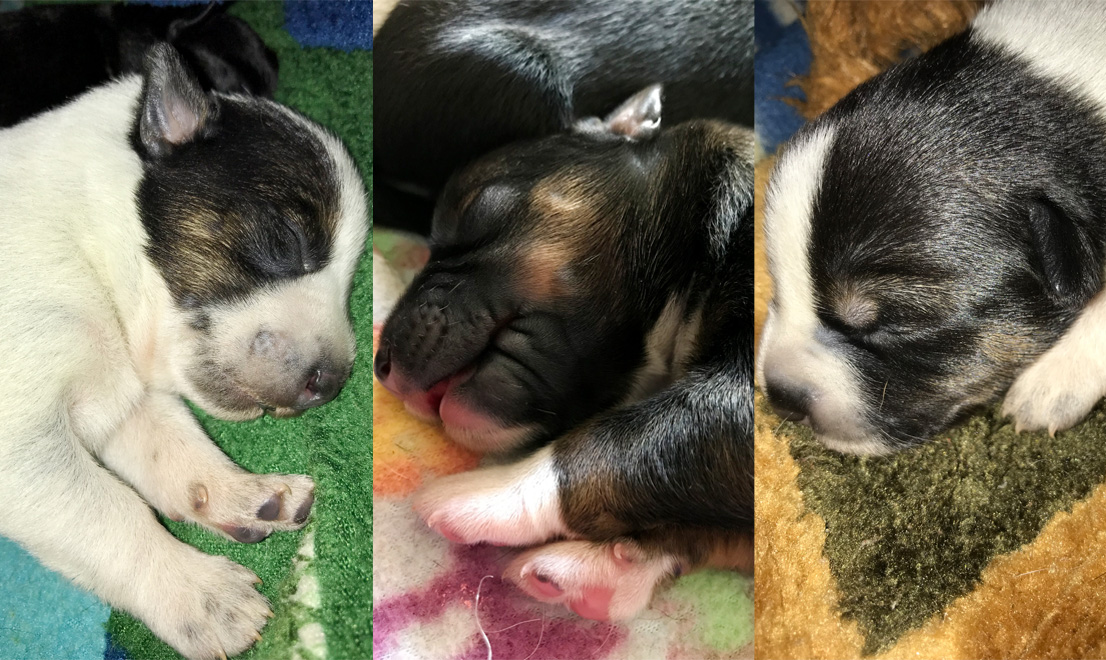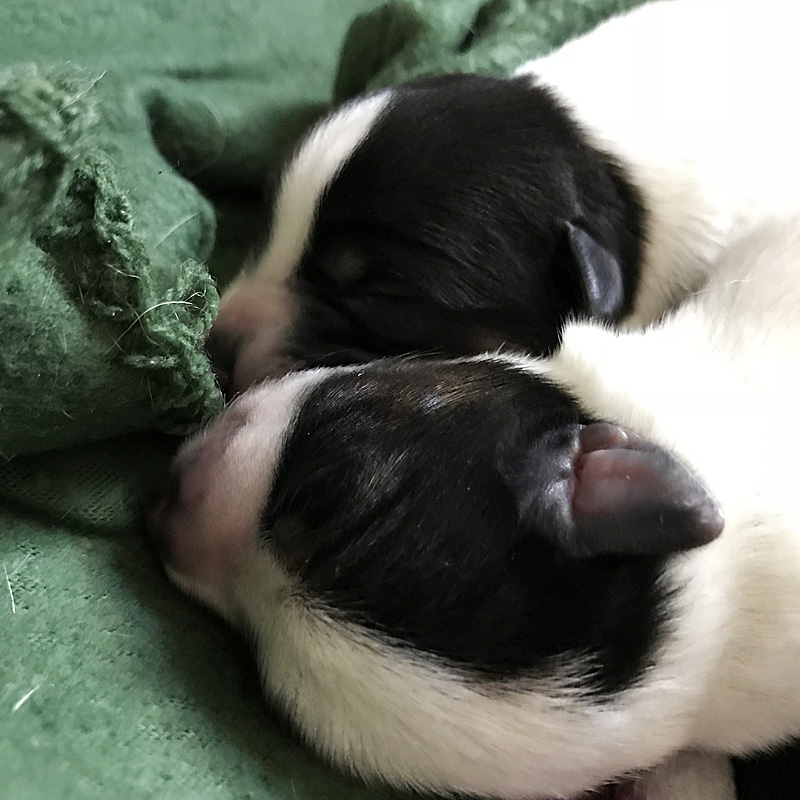 While the pups are sleeping away, their mama will play! Queenie loves her toys and even tries to carry them around all at once.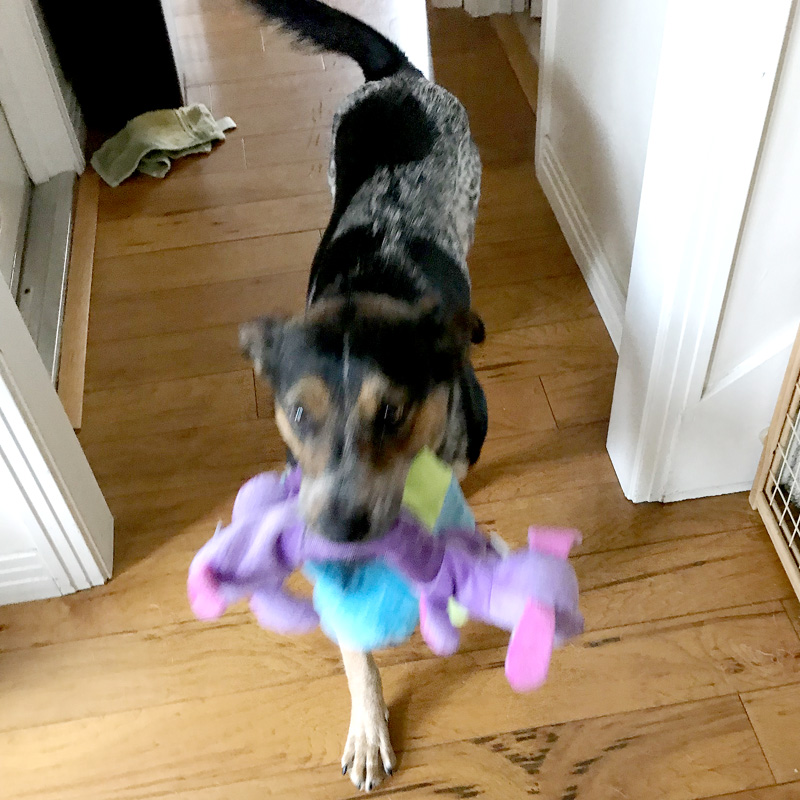 Here's what Queenie's foster mom had to say about her temporary houseguest:
"Queenie is a great house dog! She is a quick learner, house-trained, doesn't bark at the doorbell (!) and is super friendly with new visitors. She ignores the cat but loves to chase lizards in the garden. She is a great mama and feeds her pups well, plus keeps them clean constantly. As you can tell by how fat her pups are, they are very well fed."

Update #6: March 15, 2018
Peek-A-Boo!
At 2 weeks old, the puppies are starting to open their eyes and getting their first glimpses of the world.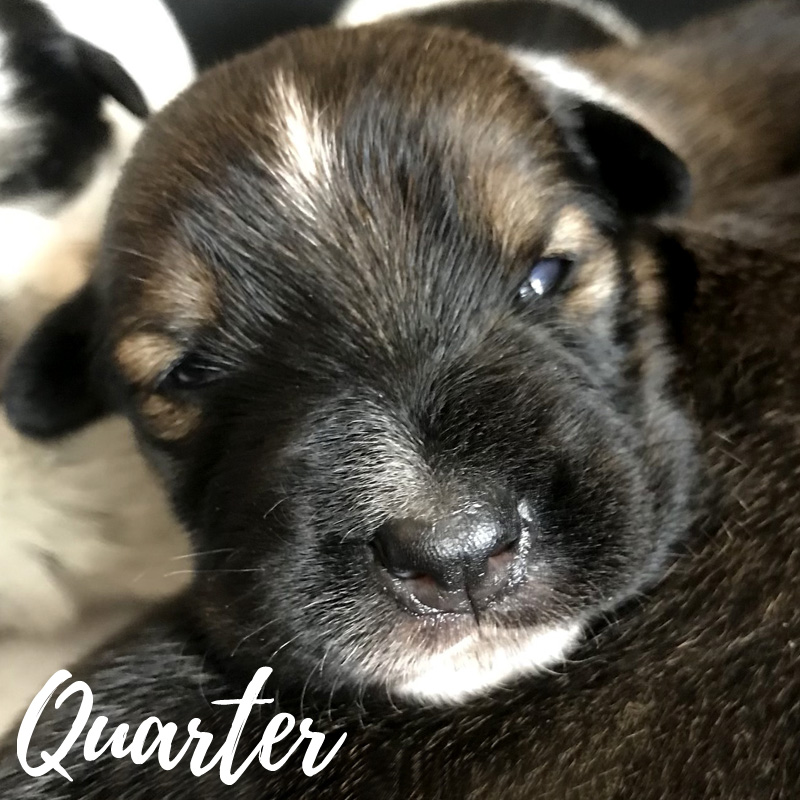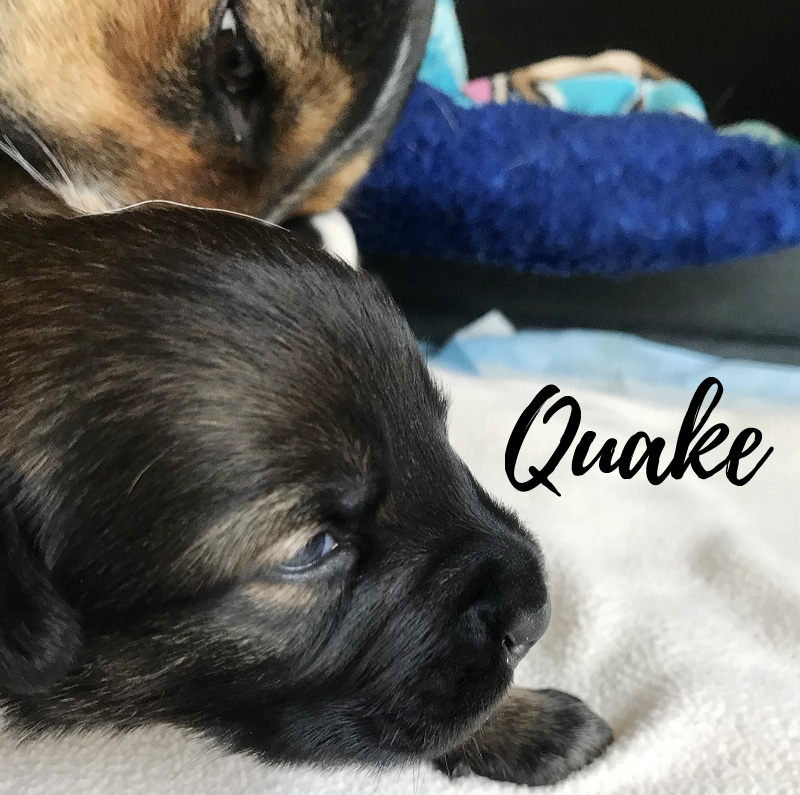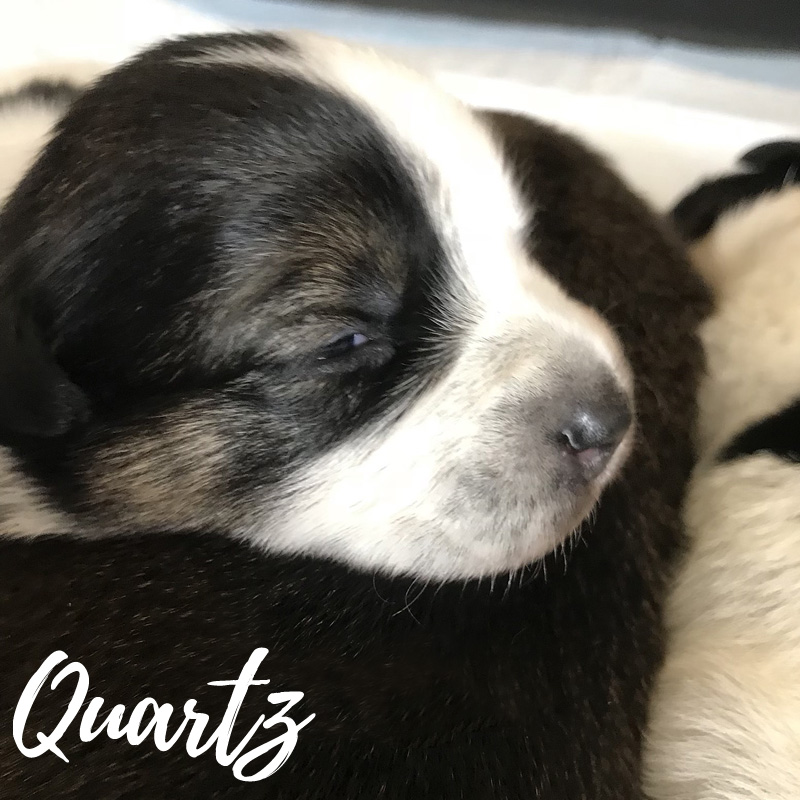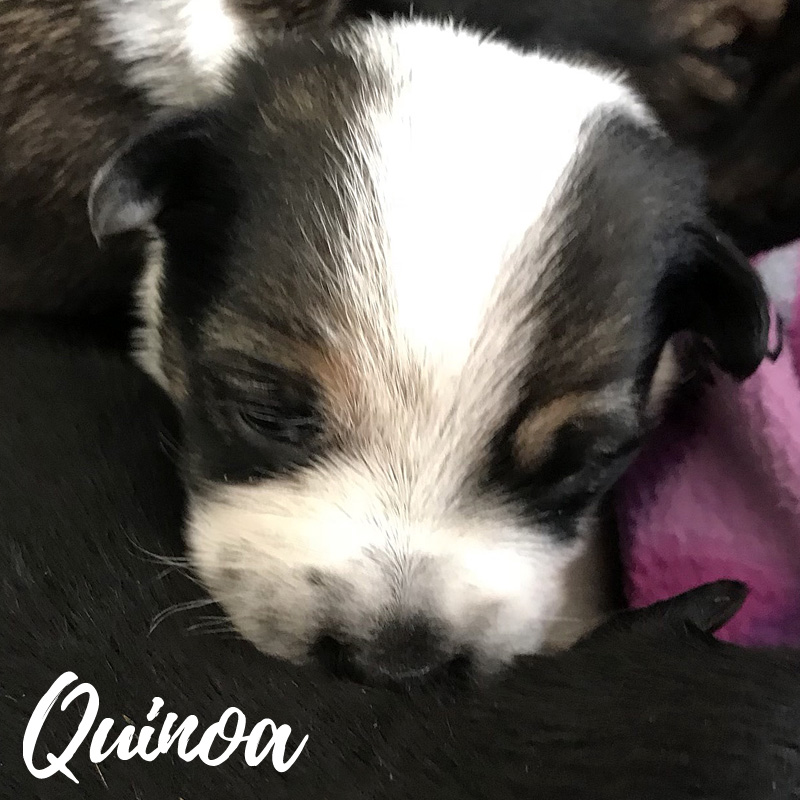 Meanwhile, the babies continue to grow, grow, grow! Some of them now weigh 2 pounds, meaning they've doubled their weight in just a week.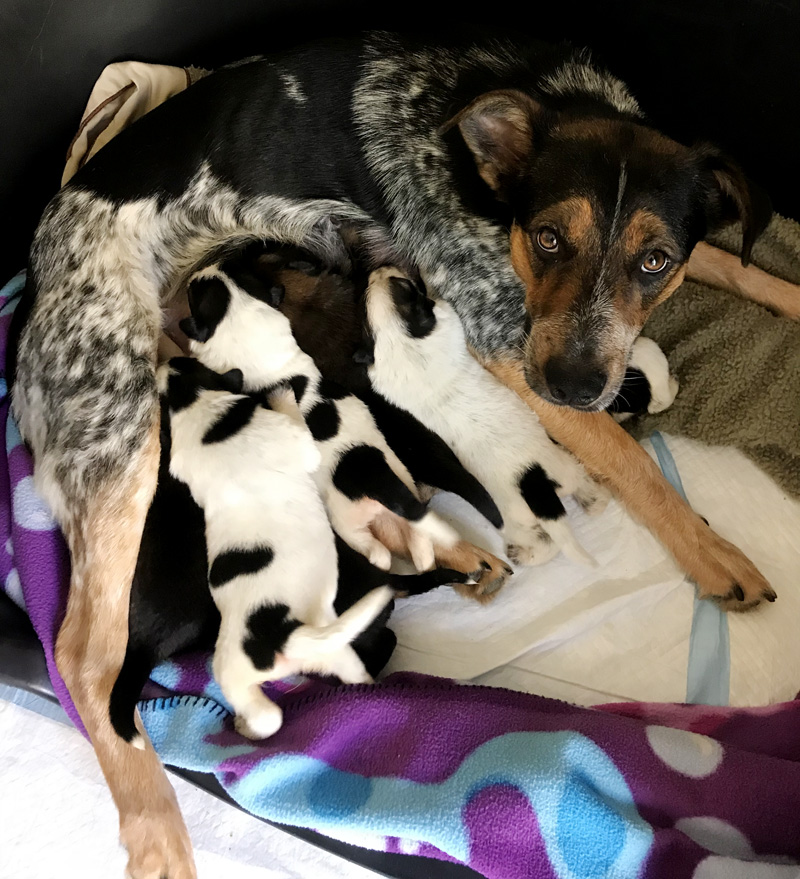 "Thanks, mama, for all da milk!"

Update #7: March 22, 2018
From the desk of Barkingham Palace:
Hear Ye Hear Ye! The royal puppies are now 3 weeks of age and weigh more than 3 pounds each. (That's more than the Queen's crown!) Some of them have started to cut teeth, which they will use to dine on a banquet of solid food in the coming days. Their governess (AKA foster mom) also gave them a sumptuously soft new bed fit for a king.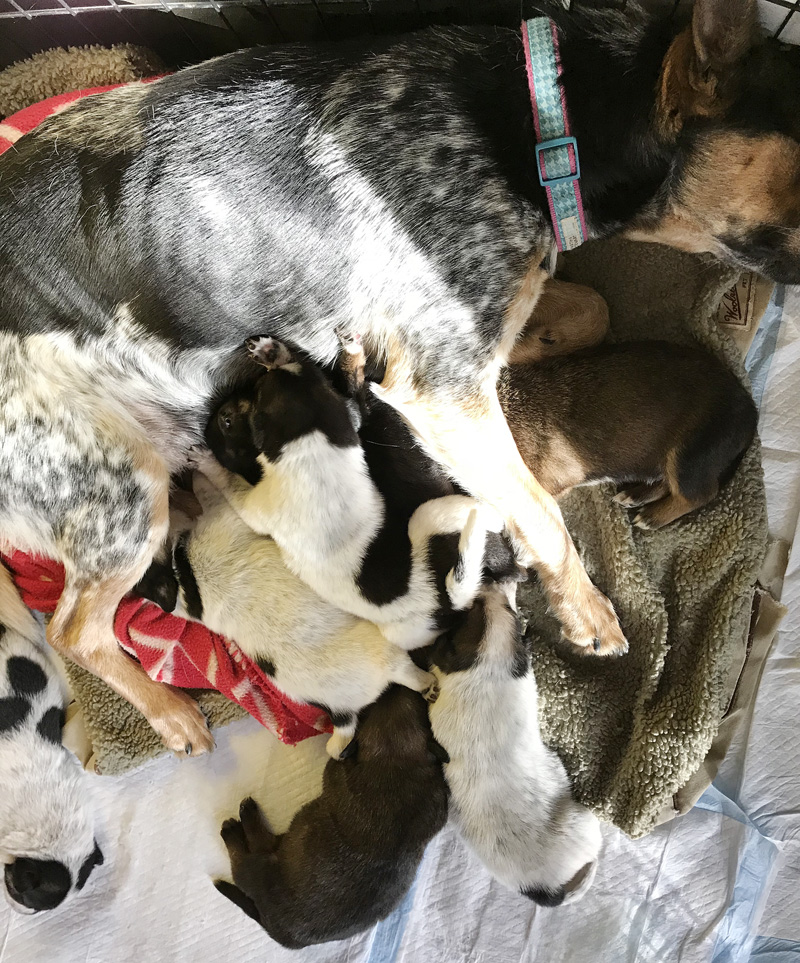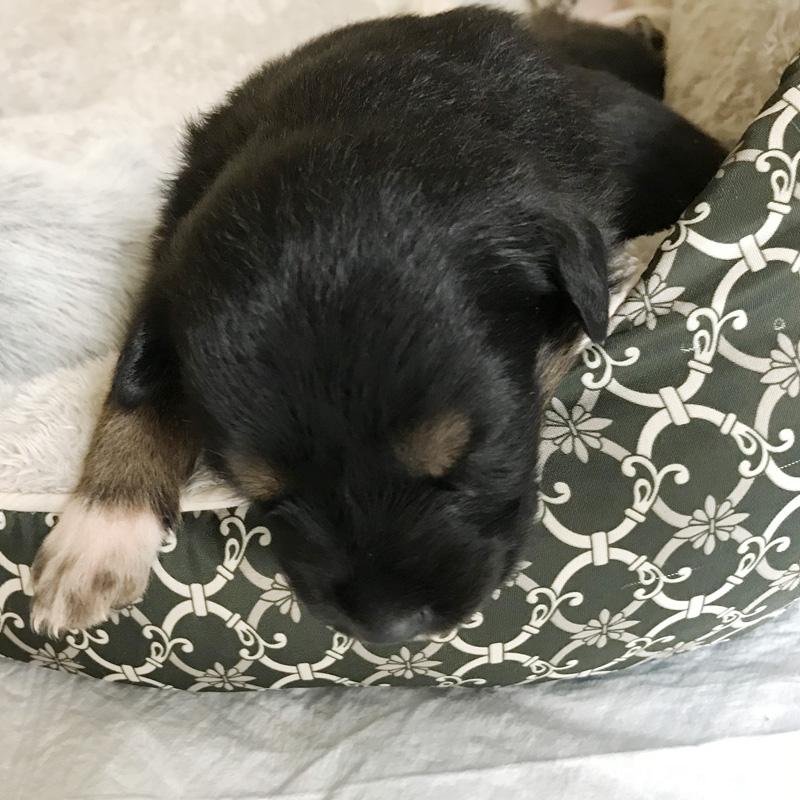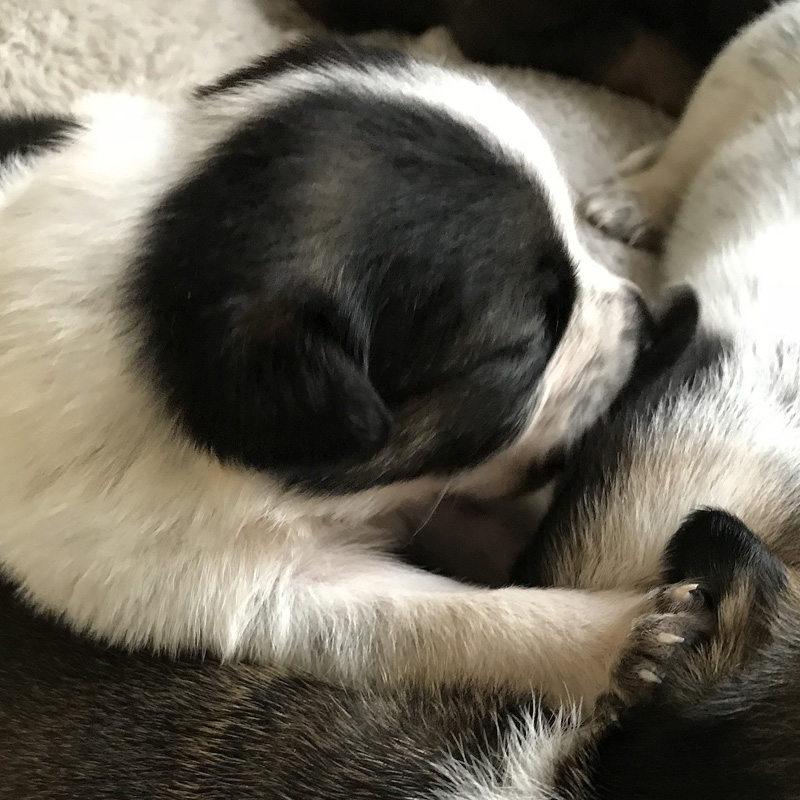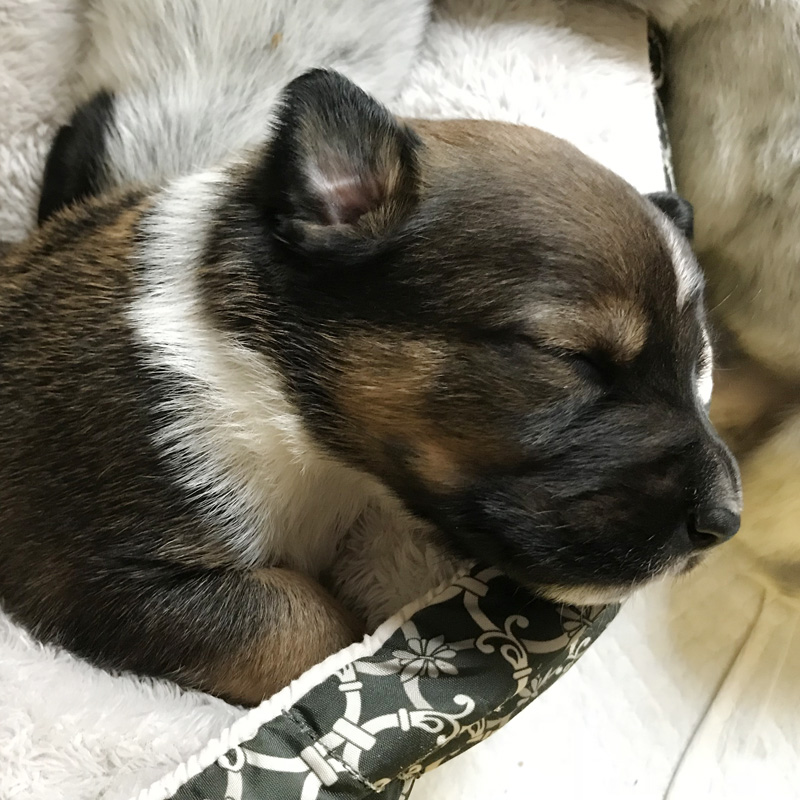 Update #8: Definitely a Lap Dog
Even though Queenie's a busy mama, she still needs her girl time. Here she is helping her foster sister with homework: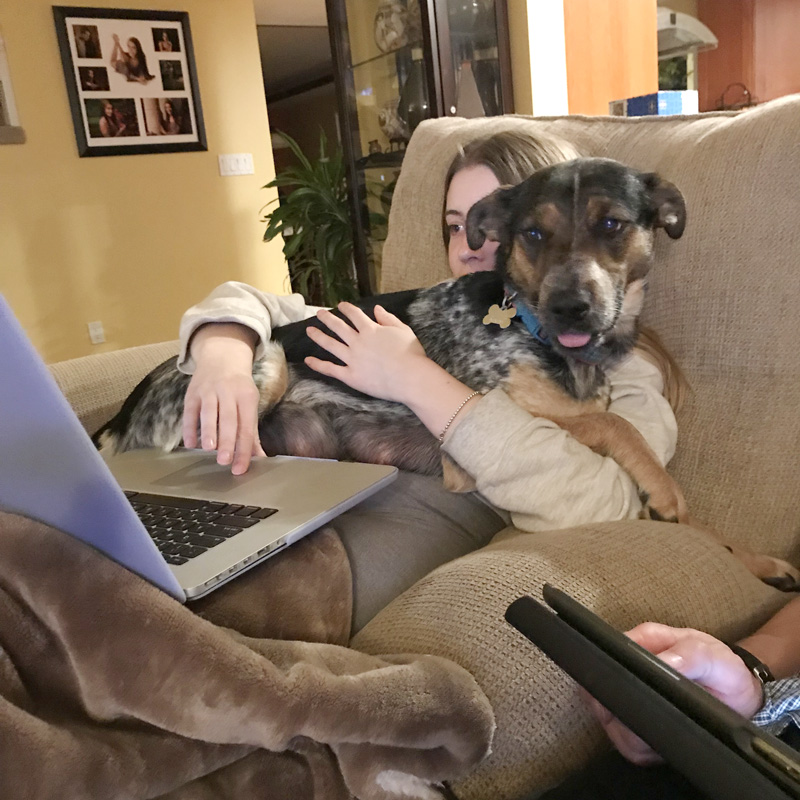 Update #9: Speckly Goodness
They say a leopard can't change its spots, but apparently a puppy can! Some of the puppies' fur looked snow white at birth, but now it's turning salt and pepper (just like mom's.)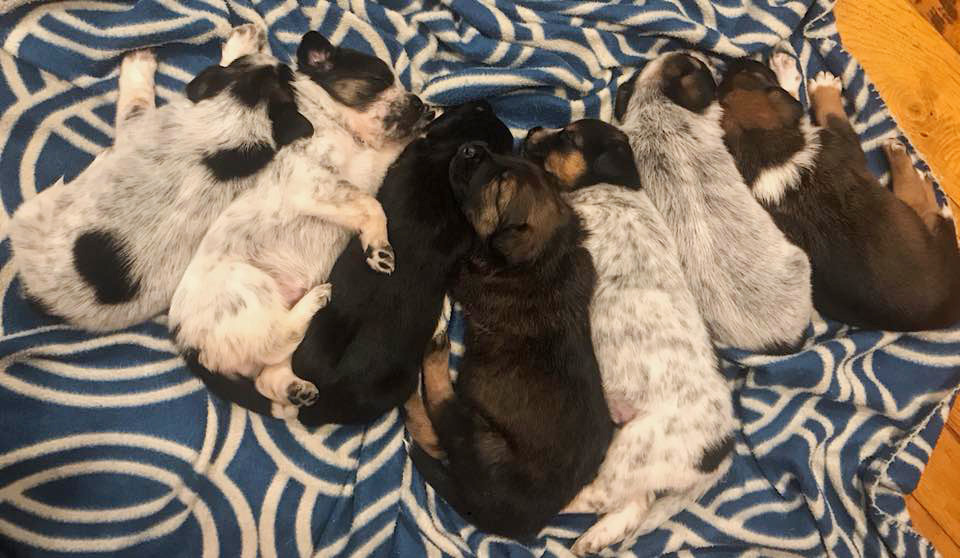 Update #10: April 2, 2018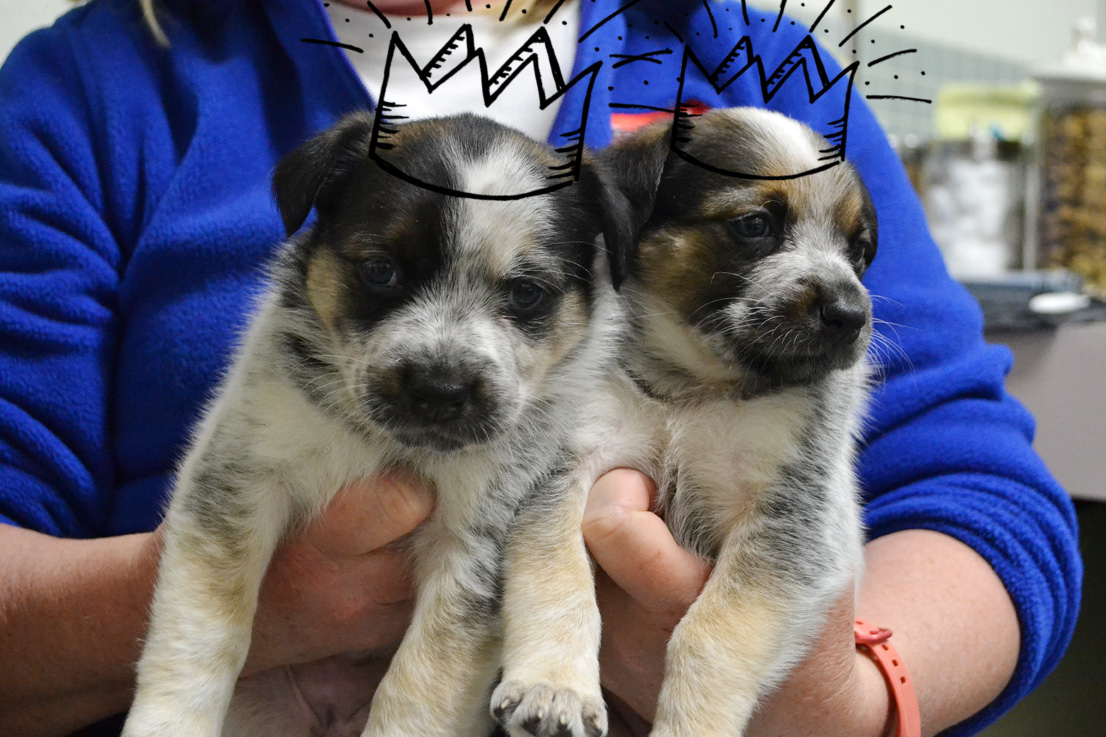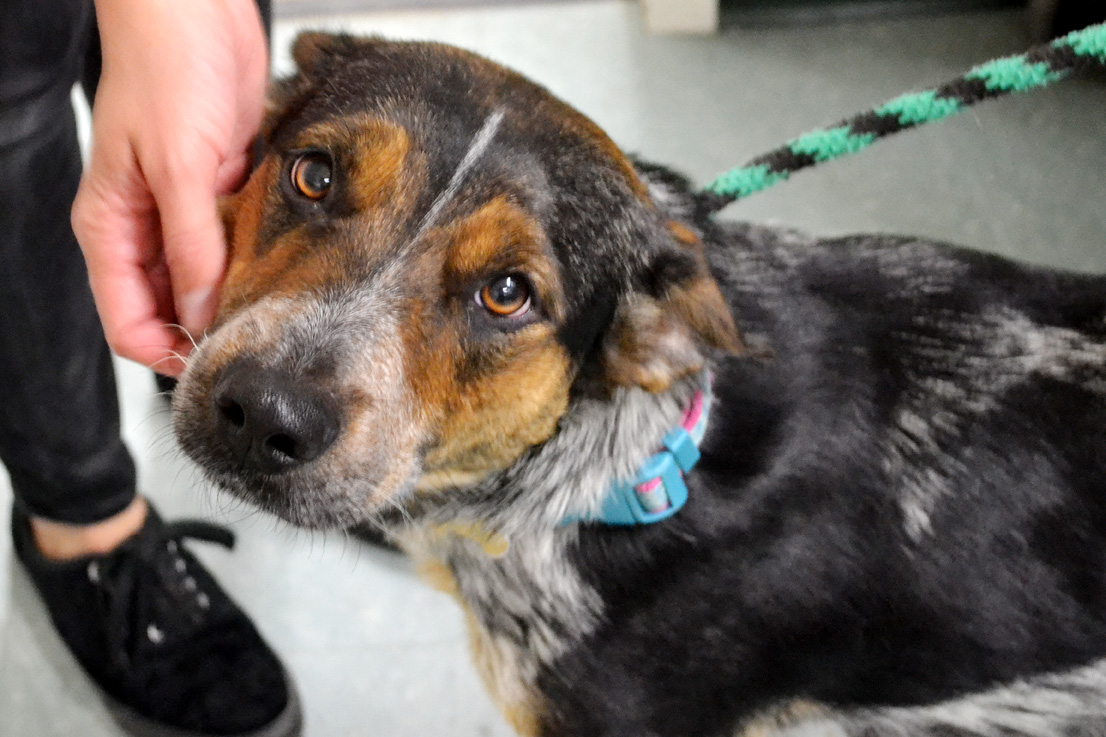 Queenie and her puppies returned to the Center on Monday for their 4-week check-up. They received microchips, dewormer and lots of affection from our staff! Queenie waited by patiently as her pups were examined one by one.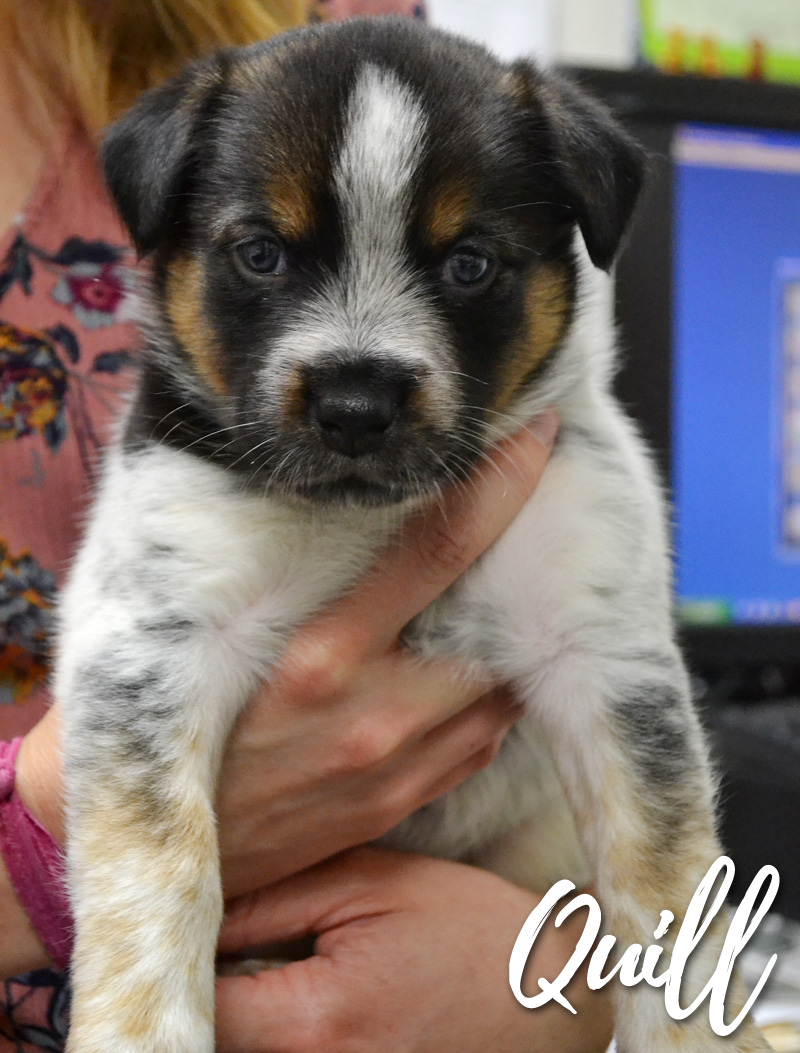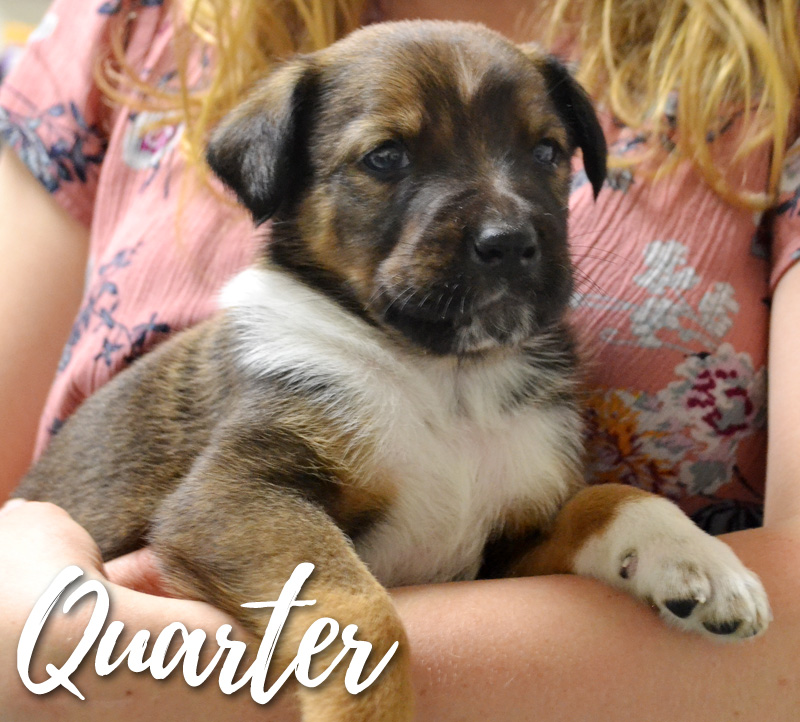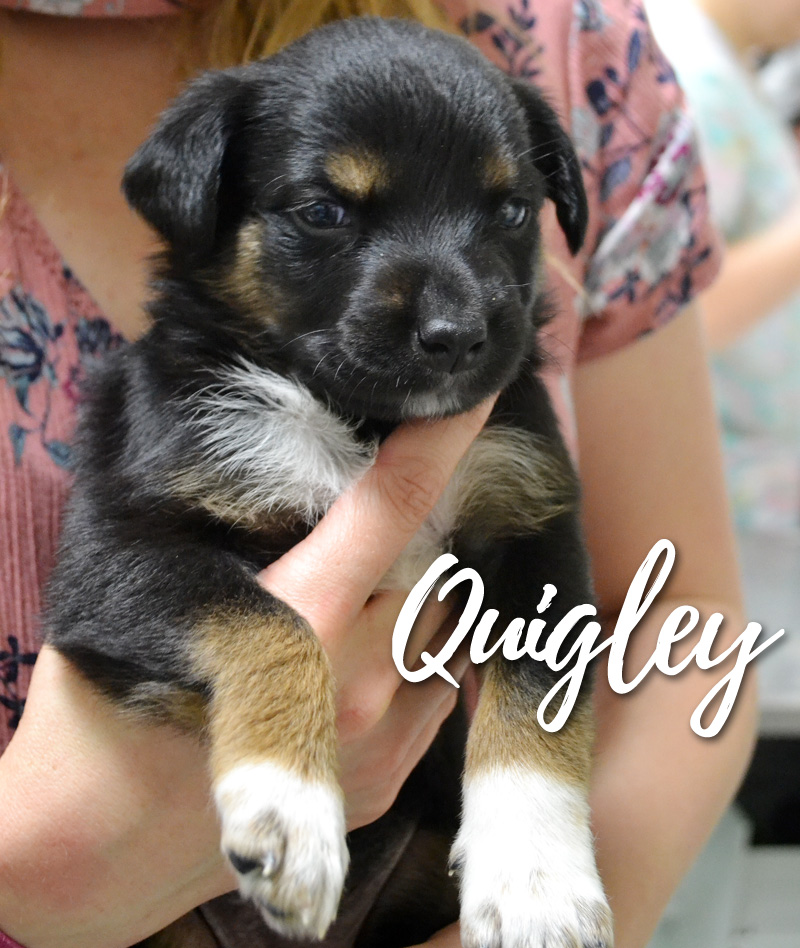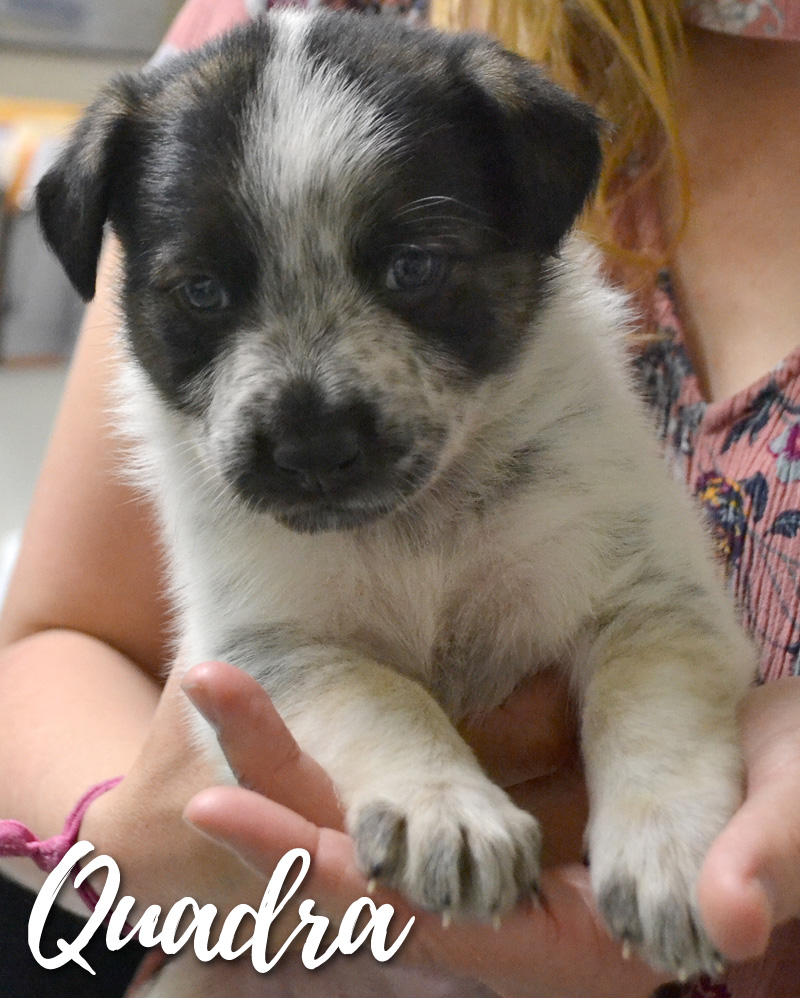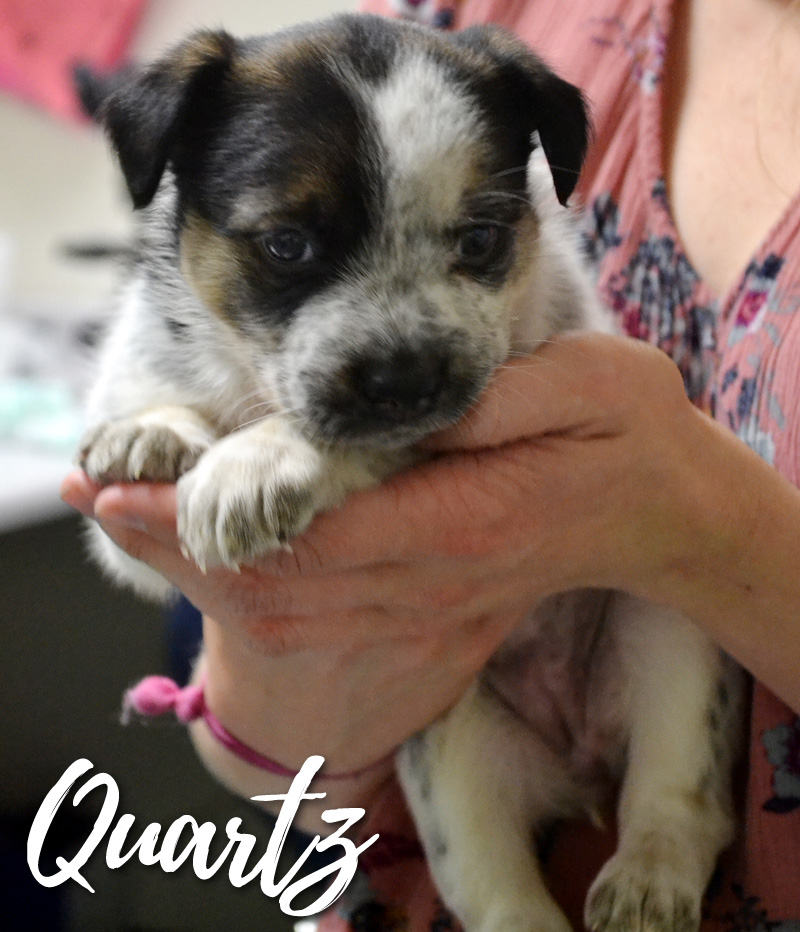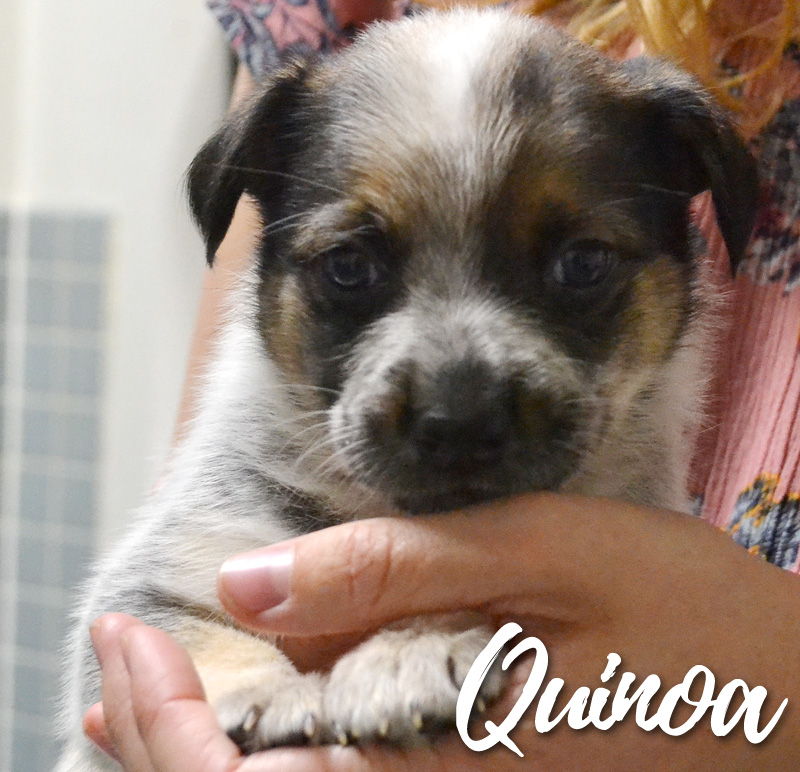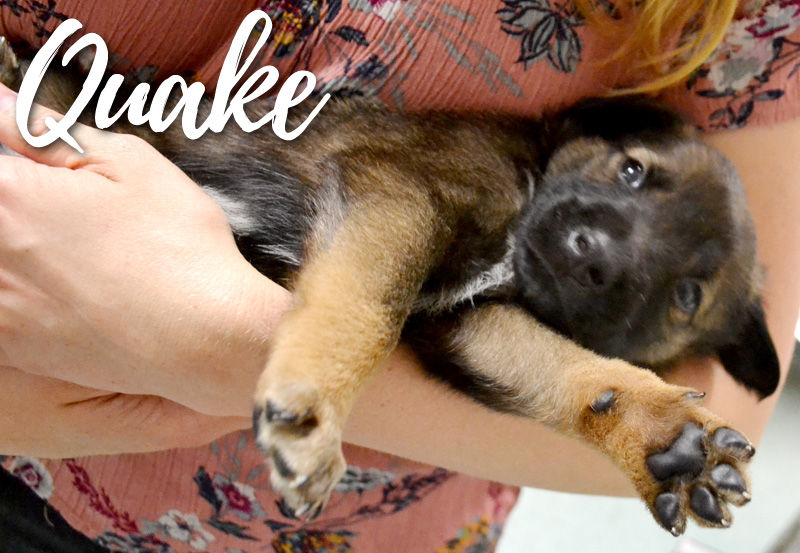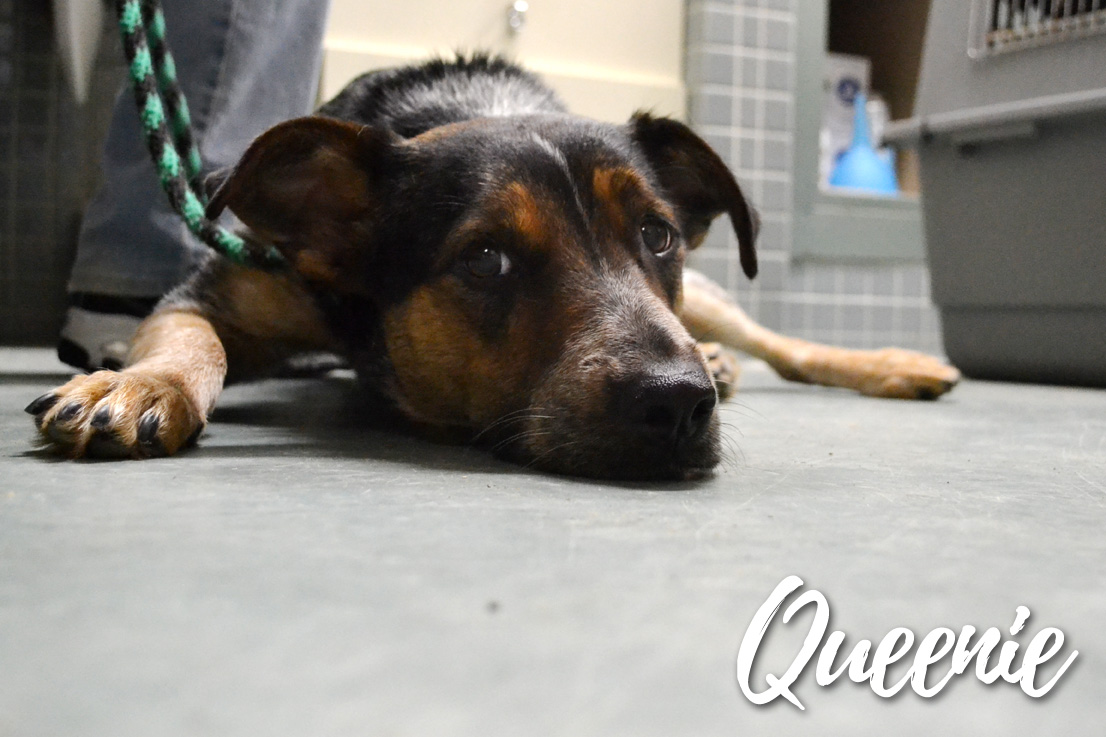 At 4 weeks old, the puppies already weigh more than 4 pounds each! They won't fit on the little scale much longer…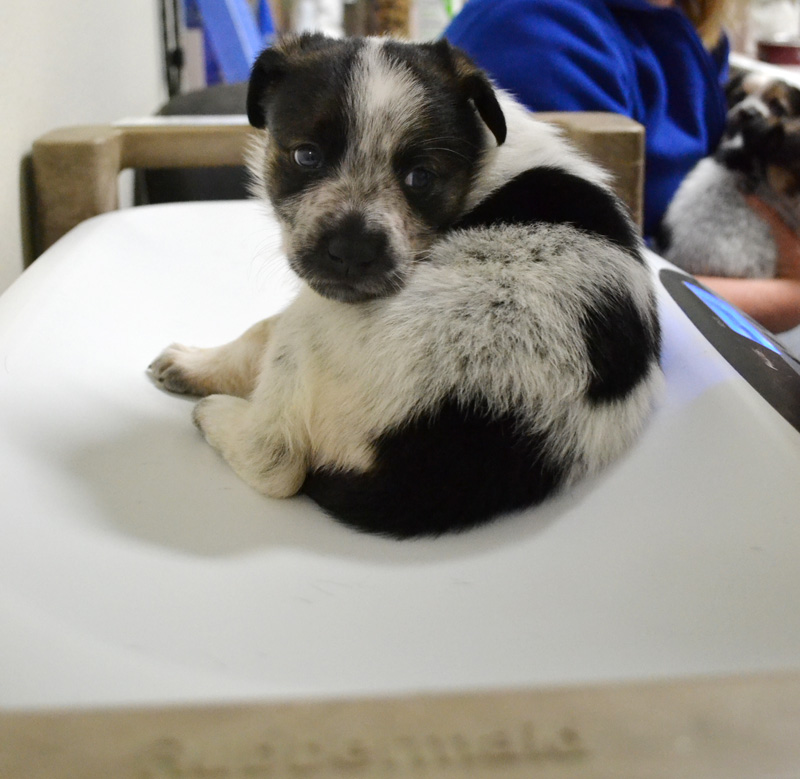 Update #11: The Queenie of Hearts
The Q puppies are total QTs, can't argue with that. However, mama Queenie is pretty spectacular herself. Just listen to how her foster mom described her:
"Queenie is a WONDERFUL dog. I can't stress that enough. She has an extraordinary loving disposition to everyone she meets. She leans into hugs and is so wanting for love."
Queenie will be staying in a new foster home (getting plenty of love, no doubt) until she's ready for her spay surgery. Stay tuned!

UPDATE #12
How fitting is this: The same week England's royal baby was born, our royal babies are going available for adoption! The Q puppies were spayed and neutered on Thursday. If all goes well, they will begin searching for forever families this weekend.

Quinoa, Quake and Quadra are expected to be available Saturday, April 28, 2018.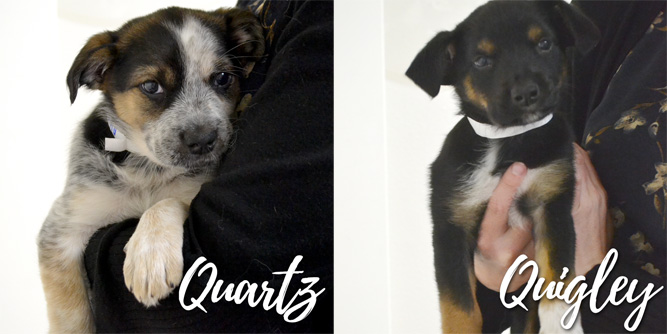 Quartz and Quigley are expected to be available Sunday, April 29, 2018.
Availability is subject to change. Please call our Adoptions Department directly at 858-756-4117 ext. 1 for current availability.
So what about Quarter and Quill? Well, their original foster mom and her daughter fell in love with this litter, and they each decided to adopt one of the pups! As for Queenie, she's being adopted by a friend of the Center who will treat her like the queen she is for life.