Equine Therapy and Horse Hippotherapy Program
Research has shown that the rhythm and symmetry of a horse's movement are perfect tools for improving a rider's posture, balance, verbal communication and muscle control. Riding also improves concentration, memory and sequential thought processing, and can even help emotionally challenged riders articulate their feelings. Improvements often are rapid because the riders are having fun, hardly noticing that they are performing repetitive exercises that strengthen body and mind.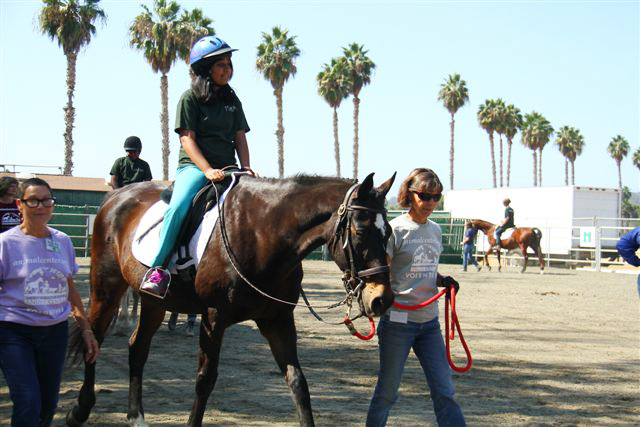 At Helen Woodward Animal Center's Therapeutic Riding program, students ages 4 and up participate in 25-minute weekly sessions (45 minutes for groups) with PATH, Int'l certified instructors, volunteers and our amazing horses. We stress reaching goals and having fun in a safe and rewarding environment.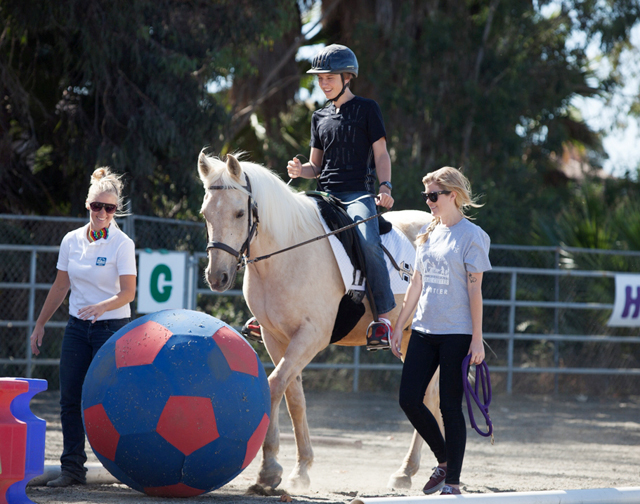 Helen Woodward Animal Center's Therapeutic Riding Schedule
Our lessons run every afternoon except Mondays, as well as Friday, Saturday and Sunday mornings. Every tenth week, the program has a week off to let the horses rest and the instructors prepare for upcoming lessons.
Please note that at this time our schedule is extremely limited due to COVID safety precautions. Please expect longer than normal wait times once you submit a rider application packet.

Meet the crew members who make Therapeutic Riding possible:

Interested in joining the Therapeutic Riding program?
Contact Us!
PROGRAM HOURS OF OPERATION
Tuesday–Friday: 8:30 a.m.–5 p.m.
Saturday and Sunday: 8 a.m.–4:30 p.m.
Closed Monday
*Please note that staff are often at the barn in the morning and lessons in the afternoon
THERAPEUTIC RIDING MANAGER
Courtney Mellor
CourtneyM@animalcenter.org
6523 Helen Woodward Way
P.O. Box 64
Rancho Santa Fe, CA 92067
858-756-4117 ext. 321