Kids Animal-Themed Birthday Parties To Remember
Please refer to our COVID-19 Policies for details about our safety procedures for each program. Protocols are subject to change and may vary with program type. If you have any questions about our COVID-19 policies or programs, please contact our office at education@animalcenter.org 858-756.4117 x318.
Would your child like to spend time with animals on their birthday? Helen Woodward Animal Center offers fun-filled educational animal-themed birthday parties that are sure to provide everyone with unforgettable memories! Our animal-themed birthday parties offer HANDS-ON animal interactions (chosen by the birthday child!), private use of our outdoor, covered pavilion area, and more (depending on which package you choose). Reserve your Ultimate, All Inclusive or Custom animal-themed birthday party today!
Kids Birthday Party Packages Are Available – Reserve Yours Today!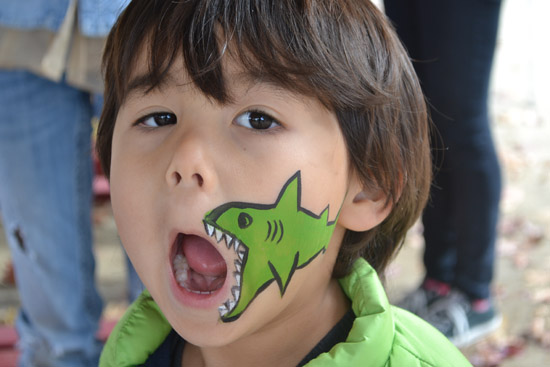 KIDS BIRTHDAY PARTY PACKAGES
**Please review the COVID-19 protocols at the bottom of the page, which impact guest count and certain party options, including animal choices.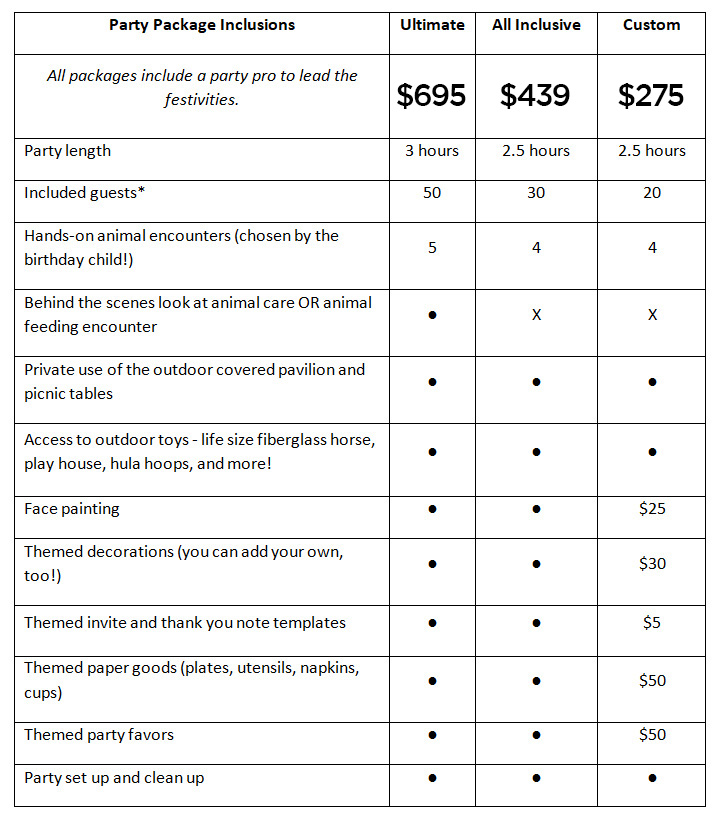 *Guest count includes children and adults. The birthday child is free. Additional guests are $10 each (with COVID19 restrictions you cannot exceed maximum guest count for any reason).
Animal-Themed Birthday Parties:
Theme Choices:

Theme choices are included in the All Inclusive and Ultimate packages. The themes relate to the party decorations, but not necessarily to the animals you will meet. You do have the option to add themed items to the Custom package as well. 
Animal Choices: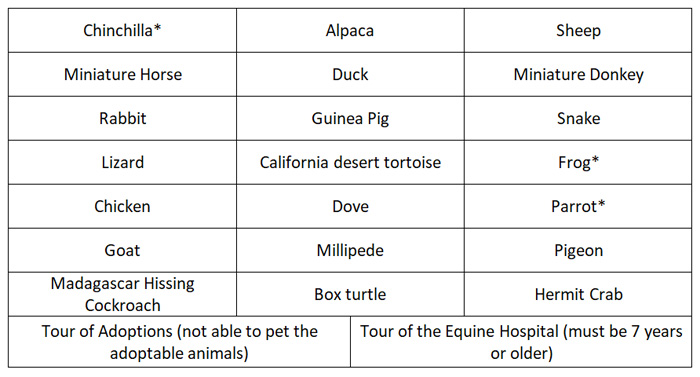 Species may vary depending on animal health and availability. Must be at least 5-years-old to pet reptiles.
* denotes animals that cannot be pet, other interactions may be possible depending on species
Available Birthday Party Times
We have weekend and weekday animal-themed birthday parties available. Please note, weekend times fill up quickly, so schedule your time now!
Saturday & Sunday (All Inclusive & Custom): 10 a.m.–12:30 p.m. or 2 p.m.–4:30 p.m.
Saturday & Sunday (Ultimate): 10 a.m.–1 p.m. or 2 p.m.–5 p.m.
Weekday times are available
Animal-Themed Birthday Parties FAQs
How is the party run?


Your party will begin in the pavilion area where we allow approximately 30 minutes for guests to arrive, children to play, parents to socialize, and the party pro to perform face painting (if included). Your party pro will take your guests on an excursion to meet the animals chosen by the birthday child. Following the animal presentations, your group will be escorted back to the pavilion area for food, cake and or presents. The party pro will be available to assist during all activities.
May I request specific animals for my guests to meet?


We ask the birthday child to select the animals on the day of the party. If your child has an absolutely favorite animal, let us know and we'll do all we can to make sure one is included in the party. Please be aware that animals are selected for the party based on their health and how much they have been used in the previous week. Since animals are unpredictable, we cannot promise any particular animal for your event.
What animals do you suggest for a young child (2-4 years)?


We provide as many petting opportunities as possible for children of all ages, but do follow strict CDC guidelines. Our policy is that children under the age of 5 cannot pet our reptiles. We do have a few animals such as frogs, parrots, and hermit crabs, which are used for interactive activities but do not include touching the animal, such as having a parrot sit on children's toes. Larger animals like the sheep, mini horse, and alpacas are great for younger children.
Will we see the Adoptions kennels and be able to pet the dogs and cats?


If requested, a tour of the kennels can be substituted for one of the animal presentations; However, the group will not be able to pet the Adoptions animals.
Can we ride the horses?


Unfortunately there are no horses available for riding. The large horses at the Center are hospital patients, or specifically for our Therapeutic Riding program. Our smaller Education horses are never ridden.
What happens if it rains?


Parties are held under a large pavilion that allows for events regardless of weather conditions. Most animal presentations are indoors, so there will still be the ability to meet and pet a variety of animals. Due to muddy conditions if it does rain, farm animals cannot be guaranteed.
What kind of decorations should I bring?


It is not necessary to bring your own decorations; however, we do ask that you are sure to take any decorations you do bring when you leave. Some people put table cloths on the picnic tables, but bring tape to hold them down. Please note that the following items are prohibited: balloons, piñatas, alcohol, confetti, and straw/hay bales.
Can I extend the time of my party?


We currently do not offer an option to extend the time of parties. Starting 15 minutes after the party's ending time, a $50 fee will be charged for every 30 minutes the attendees remain in the party area.
We welcome questions! Feel free to call us and ask questions or contact us to reserve your child's animal-themed birthday party today! Call 858-756-4117 ext. 318 or email us at education@animalcenter.org.
Follow us online to get more humane education virtually including animal facts, cute animal photos and videos, and notifications about upcoming programs!