JOIN US FOR A CELEBRATION
On Saturday August 6th, join us at the Center for a free community event to celebrate 50 years of people helping animals and animals helping people. There will be kids crafts, animal encounters, tours of the Center and more! Join us from 2 p.m. to 4:30 p.m. in the Education Pavilion.
Click here for more event information.
DONATION MATCH
Help us celebrate our 50th anniversary by donating to help us meet our match!
Generous supporter, Robert Akins, will match up to $50,000 of your gifts so please give today.
LOOKING BACK
Check out this interactive timeline commemorating 50 years of Helen Woodward Animal Center history:
LOOKING FORWARD
Take a virtual tour of the Center as it is today and look ahead to some of the big plans we have for 2023:
SHARE YOUR MEMORIES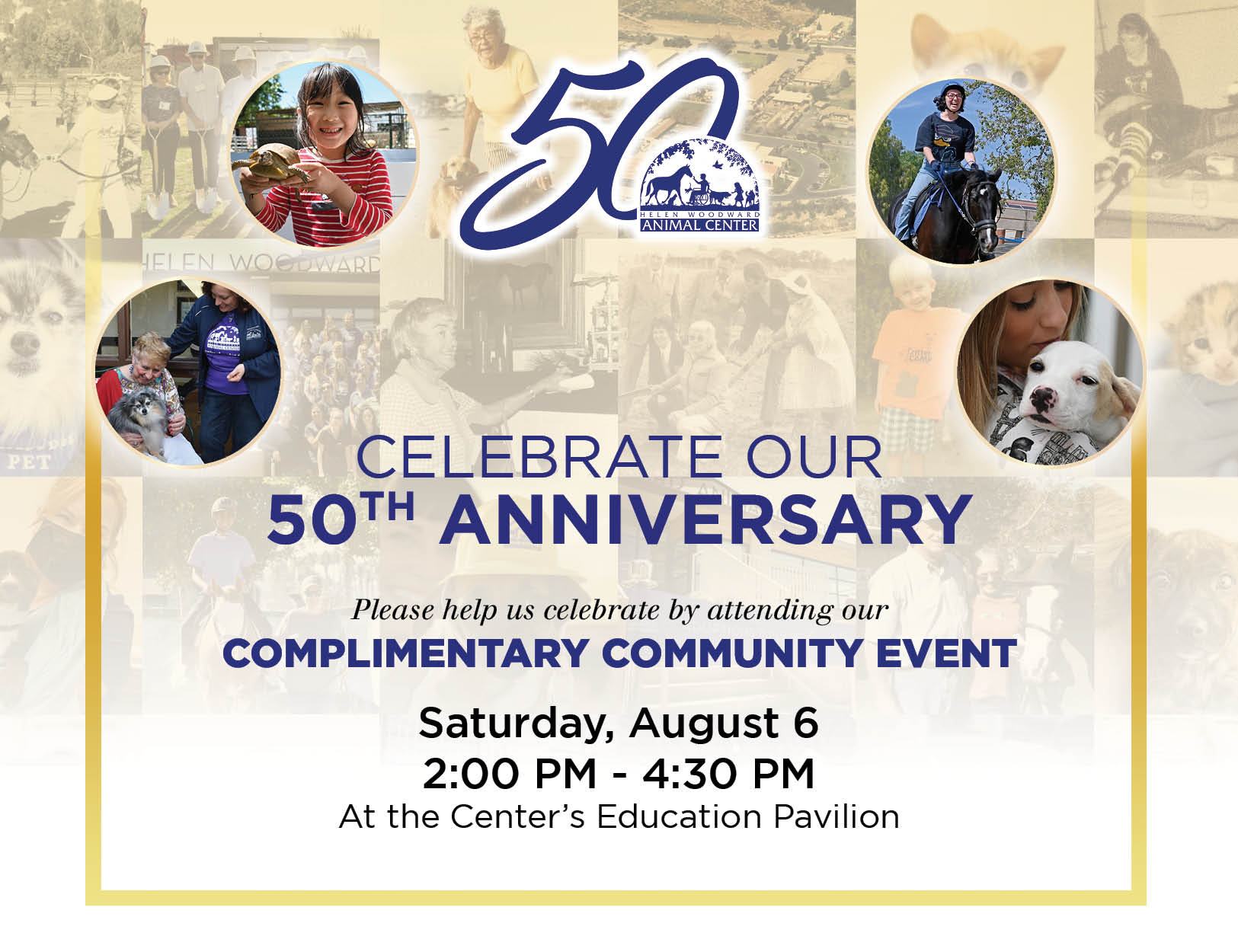 Saturday August 6th, 2pm-4:30pm
Cost: Free for all ages
Parking will be offered in the lot next to the pavilion. Overflow parking is offered at the Plaza next door and it is a short walk to the Center. Parking is also available at the Horizon Church lot on El Apajo Road.
Pizza, beverages and snow cones will be available for purchase at the event.
Thank You To Our Board Members!
Bryce W. Rhodes – Steven A. Anderson, Esq. – Charles L. Bieler – Chris Breining – Joe Camp – Taner Halicioglu – James Hooker – Diane Keaton – Michael McKinnon – Toni W. Nickell – Katie Shull – Arlo G. Sorensen – David Vigil – Andy Wasa – Mike Arms