Update 1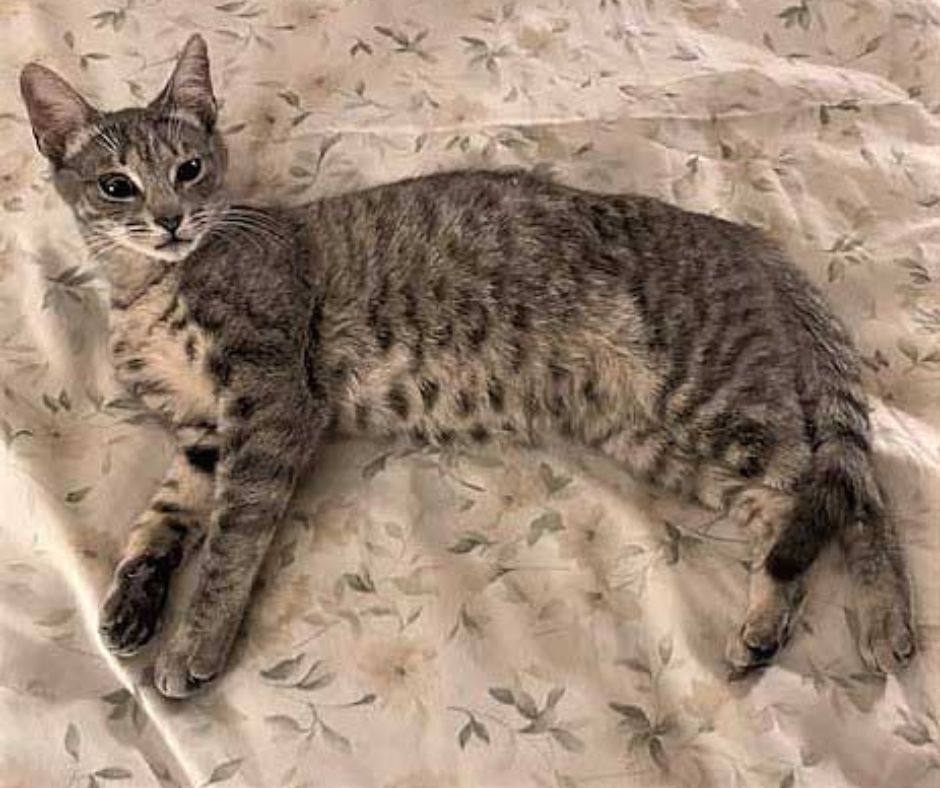 Gwen arrived at the Center from a local rescue partner and little did we know that she was expecting some kitties! She was only 20 weeks old when she came and our medical team discovered she was pregnant. Spaying and neutering our pets help us control pet homelessness and prevent euthanasia, but there are also medical and behavioral benefits the animals get by being spayed (females) and neutered (males).
Gwen is a baby with babies, a situation we were happy to catch early on to ensure all kittens in the litter were safe, spayed or neutered, and adopted! If you are interested in adopting one of the cuties, 'Follow The Litter" you will get to know each one and a little about their personality and stay updated on when they will be available for adoption!
Update 2
Around the end of May, Gwen went home with an amazing foster family, where she was able to wait for her babies to be born. Her foster mom shared with us that some of her favorite activities were watching dogs run around on TV, and staring at birds outside the window. She was staying alert, trying to gain experience on how to be a great mom for when her babies get here.
Update 3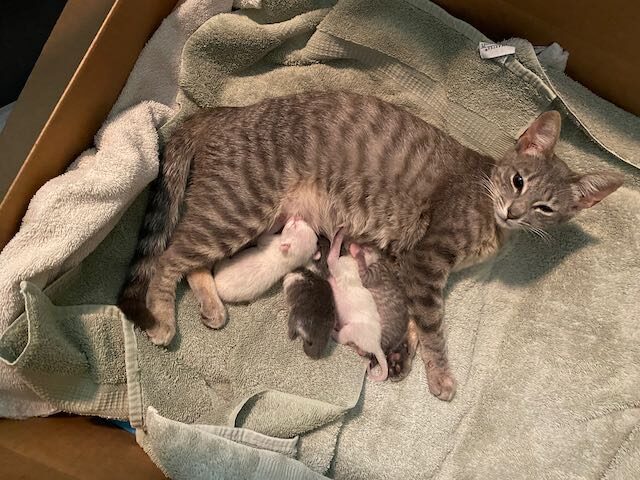 After a few weeks of waiting, Sally, Sanchez and Flint finally made Gwen a happy momma. Since day 1 she was snuggling them all day, trying to protect them from anyone who would get close to them and wouldn't even allow her foster mom to take pictures of her kitties.
Check out the Cuddles!

Update 4
Babies are looking 👀 adorable! Sanchez, Sally, and Flint have opened their eyes and are ready to explore the world. Even if it's just at their fosters home, there is plenty of new thing they are getting ready to do for the first time. So far, they have been very interested in getting out of their box. They must know fun is awaiting behind those walls.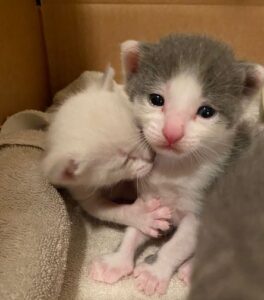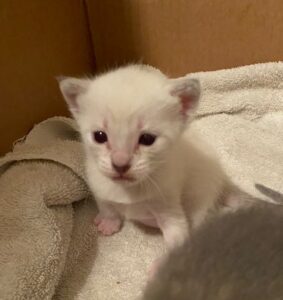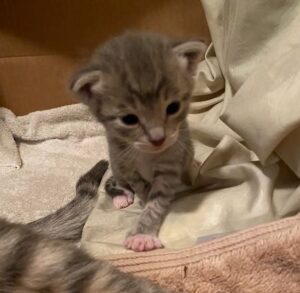 Thanks to their foster mom we are able to see that these kitties are very adventurous and playful by day, and love to get some lovely snuggles at night. Some of their favorite activities so far are playing, cuddling, and exploring a human bed! Gwen is very happy to be able to do both things with her babies.
Update 5
'Gwen and babies' came into our Center for a medical check and turns out they are all growing healthy and happy. Momma Gwen is very protective of her babies and won't let them get too far from her side. She is staying alert to any possible dangers her kitties may face, seems like her days of watching dogs on TV and birds out the window really prepared her to be a great mother.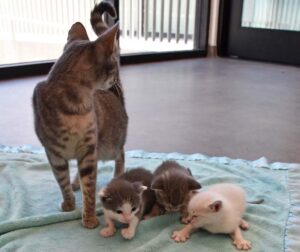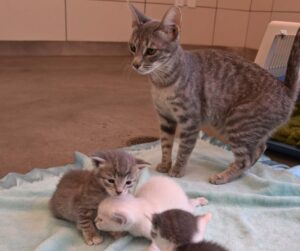 The way they stay close to each other is so cute, no matter where one turns the rest follows.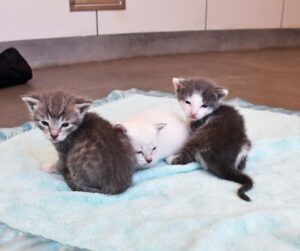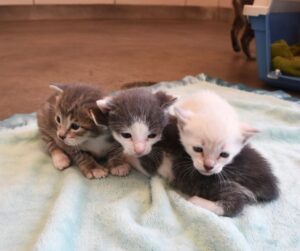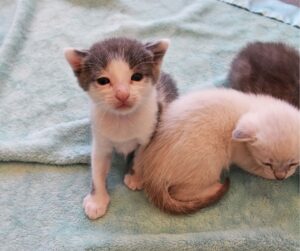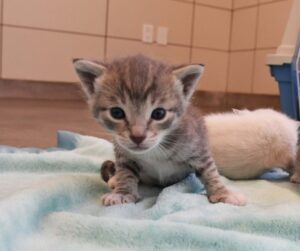 Flint looks just like momma!
Update 6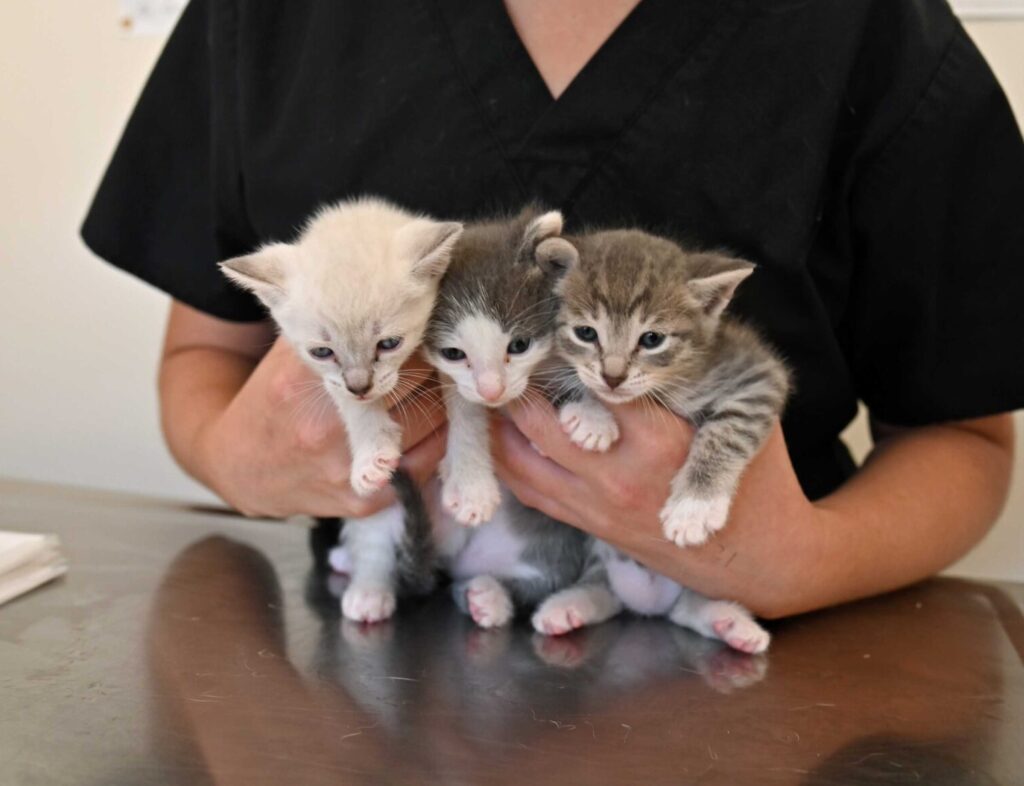 Where did the tiny babies go?!?
Like any mother would say 'they grow so fast' 😭 it's been so nice to see the progress Gwen's babies have had! The love and attention they get from their foster family have really helped them experience what coming into a loving world is. If you are interested in giving one of them a forever home where they can continue to grow and be loved make sure you stay tuned to find when they will become available for adoption!