Virtual Education For Kids with Helen Woodward Animal Center
Virtual Education
Check out our interactive virtual education videos and ideas for fun activities you can do at home! We hope you enjoy learning about our animal ambassadors and participating in the activities with your family.
Being cooped up got you feeling down? Our Virtual Field Trips for kids are here to help you and your little ones get through it! The lessons include fun facts about our animal ambassadors and an awesome educational activity. The daily themes stay the same each week but the animals and activities differ, so be sure to tune in every day!
Click here for the Virtual Field Trip Lesson Schedule.

Monday: Habitat – Venture into the homes of animals and find out what they consider comfy and cozy! Each animal has different ideas about what is important, but you might be surprised to find it's more similar to what we like than you first realized.

Tuesday: Senses – Explore the different ways that animals interact with the world and get the information they need. Have you ever considered that there's more than our 5 basic senses out there to do this?

Wednesday: Diet – Discover what's on the menu for different animals and how everything in our ecological community is connected because of it. Grab your favorite snack and try to guess the animal's diet first!

Thursday: Relationships – Investigate the many unique relationships of animals and why it's appropriate for their lifestyle. Some animals are more social than others, and some are more attentive parents; no way is right or wrong, just depends on the species!

Friday: Caring – People helping animals and animals helping people is what we're all about at Helen Woodward Animal Center! Some of our animals would love to tell you how helpful they can actually be, and show you small ways that you can leave a positive impact on the planet.

*Schedule subject to change*
Virtual Learning Library
HABITAT: Click to see videos.



SENSES: Click to see videos.



DIET: Click to see videos.



RELATIONSHIPS: Click to see videos.



CARING: Click to see videos.



Education Exploration
Monday, Wednesday & Friday at 3:30 p.m. live on Instagram
Tune in at 3:30 p.m. to see our Education Explorations on the @hwac Instagram.
Monday & Friday: Learn about topics like animal care, husbandry and general information.
Wednesday: Watch awesome educational activities.
Activities at Home
Check out these awesome activities that you and your family can do at home!
Scavenger Hunt


Explore with an adult and stay safe. Complete this scavenger hunt by finding the listed items around your neighborhood or yard. Color them in as you find them, collect them if you can (leave animals in their wild homes)!
Sidewalk Art
Animal Yoga
Create a Fantastic Fort

There's no place like home! While that's a sentiment we might not be feeling right now, there are still ways to have fun indoors. One great way is to build a fort with items you have around your house. Show us what you construct by tagging @hwac.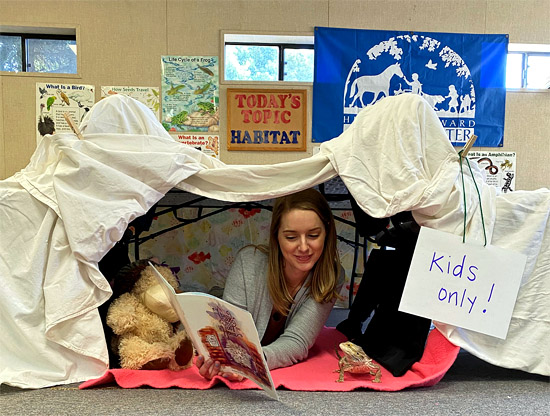 *For information and updates on COVID-19, please find our message to the community here.