Virtual Education For Kids with Helen Woodward Animal Center
Virtual Critter Camp
If you're searching for a super summer camp experience for your kids, you can stop looking now! Virtual Critter Camp gives children the chance to meet several different animals each day and learn how they're practically superheroes. There's a different theme each day with a fun craft they can follow along with at home and various activities to provide some spectacular educational entertainment!
Weekly registration (Monday – Friday), 6/15 – 8/14
Kindergarten – 6th grade
8:30 – 10:00 am
$130 per week
Virtual Education
Check out our interactive virtual education videos and ideas for fun activities you can do at home! We hope you enjoy learning about our animal ambassadors and participating in the activities with your family.
Virtual Learning Library
HABITAT: Click to see videos.
SENSES: Click to see videos.



DIET: Click to see videos.



RELATIONSHIPS: Click to see videos.



CARING: Click to see videos.



Activities at Home
Check out these awesome activities that you and your family can do at home!
Scavenger Hunt


Explore with an adult and stay safe. Complete this scavenger hunt by finding the listed items around your neighborhood or yard. Color them in as you find them, collect them if you can (leave animals in their wild homes)!
Sidewalk Art
Animal Yoga
Create a Fantastic Fort

There's no place like home! While that's a sentiment we might not be feeling right now, there are still ways to have fun indoors. One great way is to build a fort with items you have around your house. Show us what you construct by tagging @hwac.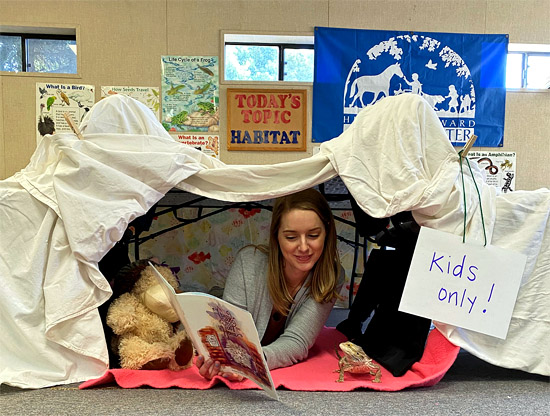 *For information and updates on COVID-19, please find our message to the community here.