You Can Be a Veterinarian Camp
In order to take precautions against the COVID-19 pandemic, this program has several modifications and safety protocols in place, which were created based on CDC guidance. Policies are subject to change; please review this webpage carefully.
You Can Be a Veterinarian Camp offers a rare opportunity for kids in San Diego to practice veterinary skills, interact with animals, and gain experience with equipment they might use in the future!
Full Day Veterinarian Camp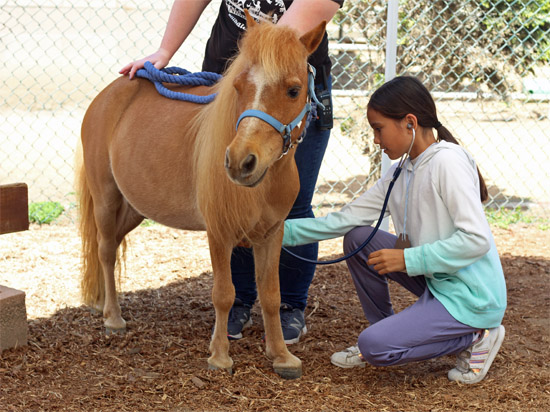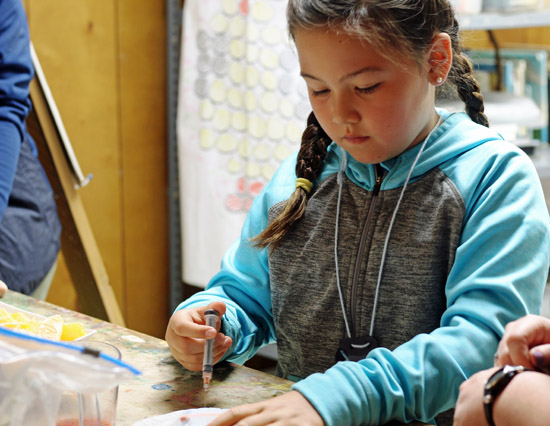 $144 per child
9 a.m.–3 p.m.
Ages 9–16
September 19
November 7
Click to view the Veterinarian Camp Full Day activities

Companion Animal Care & Management 101: Meet Chief of Staff Dr. Patricia Carter who will share her education and career background, as well as answer questions.

Veterinary Surgical Nursing 100: Meet and pet a snake while learning about a life-saving surgery that our Chief of Staff Dr. Patricia Carter performed on one of our scaly friends. Campers will practice surgical suturing of incisions on a life-like model.

Phlebotomy & Vaccination Lab: Learn the proper techniques for drawing blood and injecting medication as you practice both of these skills on realistic teaching tools.

Splinting and Bandaging 101: What is the correct way to bandage the limb of an injured animal? Discover the answer as you practice with fellow campers.

Ornithology Digest Identification 101: Birds don't process food the same way that we do. Interact with one of our feathered friends and dissect an owl pellet to see just how different our digestive systems are.

Lagomorph Parasitology 100: Interact with a rabbit and learn about the parasitic organisms that can affect these small mammals and others. You will view slides of parasites under a microscope and discuss different treatment options.

Intro to Nutrition & Equine Clinical Techniques 100: Perform a health check on a miniature horse, including the heart, lung, circulatory and digestive systems. You will also observe a horse digestive tract demonstration to gain a better understanding of how food moves through their body.

Basics of Canine CPR & Intro to Anatomy: Practice fundamental CPR techniques on a canine training model and view a respiratory demonstration. You will also get to learn what goes into prepping a dog for surgery.

Species may vary depending on animal health and safety.
Veterinarian Camp Dates & Times
September 19 and November 7 (9 a.m.–3 p.m.)
Veterinarian Camp Rates
$144 per child
$4 for a Helen Woodward Animal Center Patch (optional)
*Campers are responsible for bringing their own water bottles and food for snack/lunch break. (Full-Day camp has a snack and lunch break.)
**We know this program sounds fun for kids AND adults, but this camp is for kids only! If your child has an aide at school and you plan to have them attend with your child, please call us at 858-756-4117 ext. 318 so that we can help them complete the fingerprint process. All aides MUST complete fingerprinting in order to attend. Due to the limited space during COVID-19, you must purchase a registration for the aide as well.
Policies During COVID-19
Click here to carefully review the safety protocols. (Subject to change, last updated 9/8/20)
We will check temperatures and give a short health questionnaire at check-in. Please keep your child out of the direct sunlight and warm environments to avoid incorrectly high temperature readings.
Masks are required and must be worn whenever campers are less than 6 ft. away from staff and/or other participants. Please ensure that everyone wears a mask during check-in and check-out (excluding any children under 2).
No activities will involve running or too much movement.
We will go over proper hygiene at the start of camp.
We will maintain 6 ft. distance whenever possible (this excludes situations like animal interactions and certain activities during which our staff members have to get closer than 6 ft.).
Campers will be given hand sanitizer before and after animal interactions and some other activities. We will also encourage thorough hand-washing throughout the day.
We will clean and disinfect all areas prior to and after camp.
Please refrain from sending your kids to camp if they have a fever or display symptoms like coughing, sneezing, sore throat or headache.
The camp will take place entirely outdoors, in shaded areas.
              **Modifications are subject to change.
For more information:
Please contact us at education@animalcenter.org or 858-756-4117 ext. 318.