Interactive Animal Encounters and Animal Education for Kids
In order to take precautions against the COVID-19 pandemic, this program has several modifications and safety protocols in place, which were created based on CDC guidance. Policies are subject to change; please review this page carefully.
Create new memories during customizable animal encounters at Helen Woodward Animal Center! This animal education opportunity is a perfect activity for any animal lover and works well with playgroups, youth groups, 4H groups, home school groups and families. You will not only get hands-on animal interactions but will also gain a better understanding of our furred, feathered and scaled friends.
To book your interactive animal encounters in San Diego, call 858-756-4117 ext. 318 or email education@animalcenter.org. We have multiple times available during the week or on weekends for all of our animal encounters.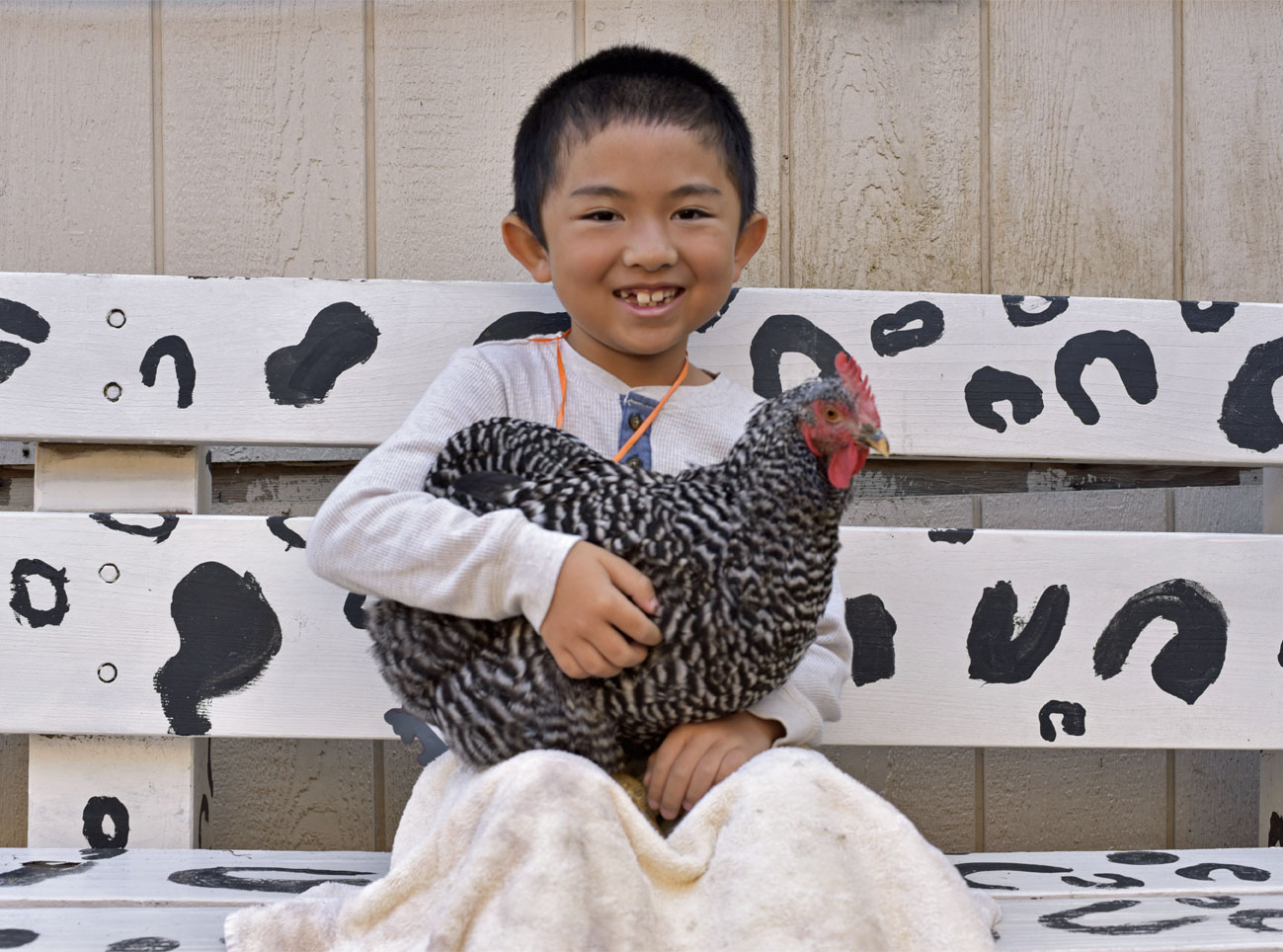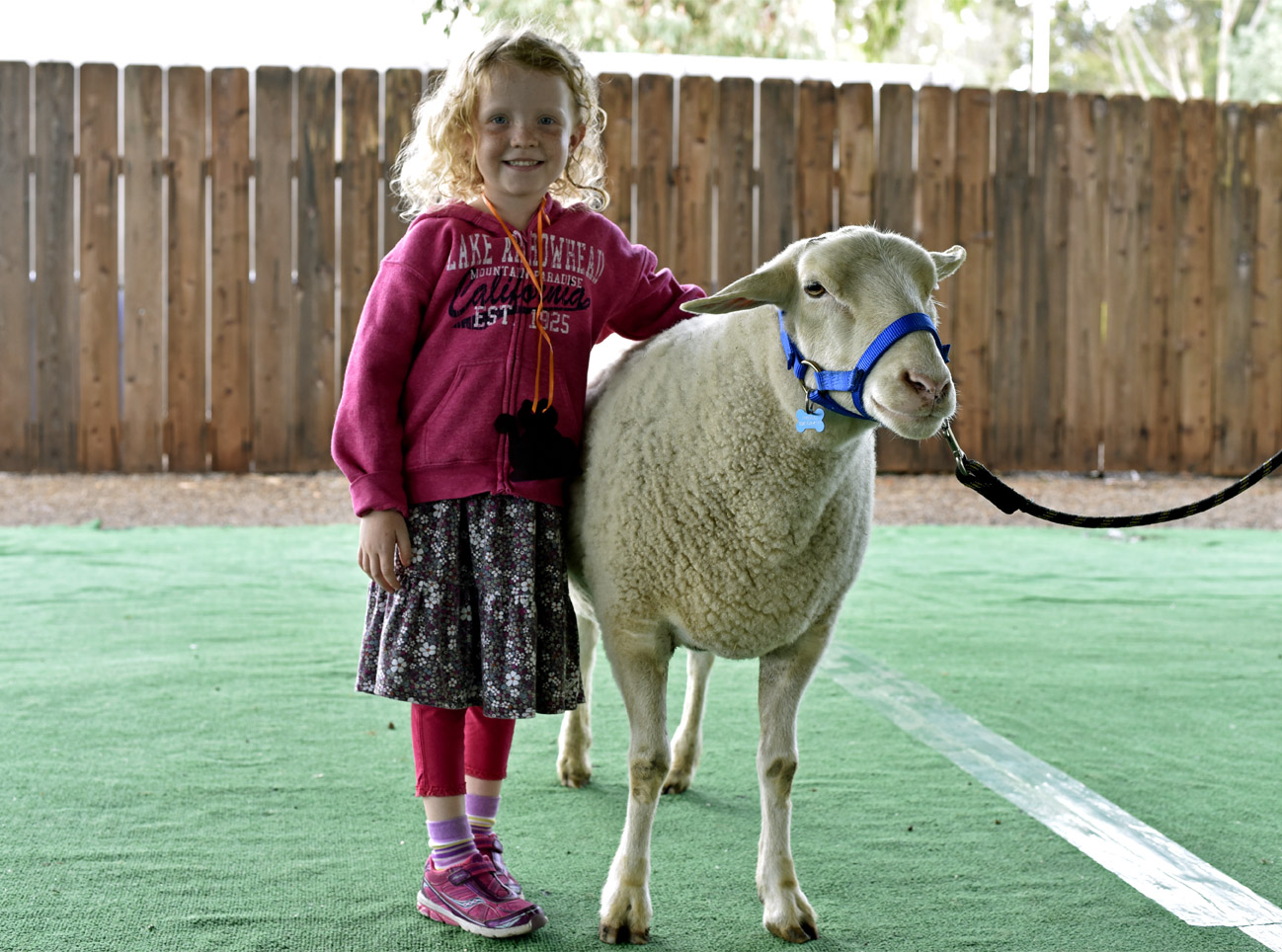 Customize Your Encounter!
1. Select your level of adventure
2. Pick your quest for discovery
3. Choose your animals and activity
1. Level of Adventure (age ranges are guidelines)
Beginner

Toddlers and Preschoolers

60 minutes
$11.25 per child
3 animals

1 activity

Skilled

Kindergarten – 5th grade

90 minutes
$14.25 per child
4 animals

1 activity

Master

6th grade and beyond

120 minutes
$17.25 per child
6 animals

1 activity
Adults are admitted free for the purpose of supervising children.  The chaperone to child ratio is 1:5. Extra adults are $5 each.
2. Quest for Discovery (lesson theme)

3. Animal Encounters and Activities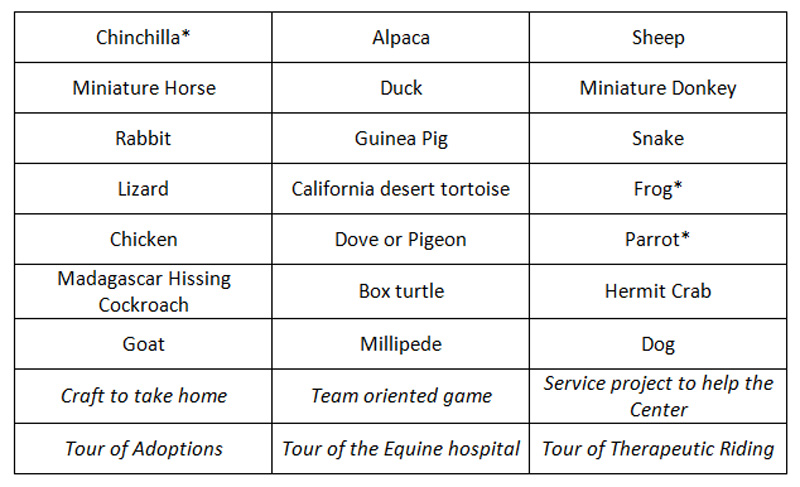 Tours of Adoptions can only be given during their hours of operation.
Animal education and interaction is dependent upon animal health and safety.  Must be at least 5-years-old to pet reptiles.
* denotes animals that cannot be pet, other interactions may be possible depending on species
NOTE: If you are interested in a combination of animals & activities other than the one listed for your level of adventure, please let us know and we will do our best to accommodate your request.
All animal encounters require a $75 non-refundable deposit when booking your appointment. The total cost, minus the deposit already paid, will be settled at the completion of the adventure based on participant count.
If you have questions please give us a call at 858-756-4117 ext. 318 or email education@animalcenter.org.
Policies During COVID-19
Click here to carefully review the safety protocols (subject to change, last updated 7/14/21):

 
Masks & social distancing if you are vaccinated:

Outside masks and social distancing aren't required.
Inside masks and social distancing are required if you are with children between 2 and 12 years of age.

Inside masks and social distancing are not required if you are with other vaccinated individuals.

Masks and social distancing if you are not vaccinated or any children between 2 and 12 years of age:

Outside masks are required whenever social distancing between multiple households isn't maintained (such as when playing games).

Outside masks are not required if you are social distancing from others (not needed if with your own household).

Inside masks and social distancing are required at all times.

At some points social distancing may not be possible, such as when petting animals, but these instances will be kept short.

The program will be held outside as much as possible for ventilation.

The program may go inside at times due to certain animal/activity requirements, or if the weather requires. When inside, all windows are open and the room has an H13 HEPA filtration unit.
A maximum of 15 can be inside.
Certain animals may not be available to be met due to needing to be indoors for presentations.

We will sanitize hands directly before and after using any shared items (such as petting animals).
Guests should not attend if anyone in their household has a fever or displays symptoms like coughing, sore throat or headache.
**Protocols are subject to change. Reach out to us at education@animalcenter.org if you have any questions or concerns