Update #1
A New Season for Iris
Welcome to the latest edition of Follow the Litter. It's where we track a litter of puppies or kittens (and their mom!) all the way from birth to foster care to adoption. This time around, we have a mama dog with an extra special story. Meet Iris.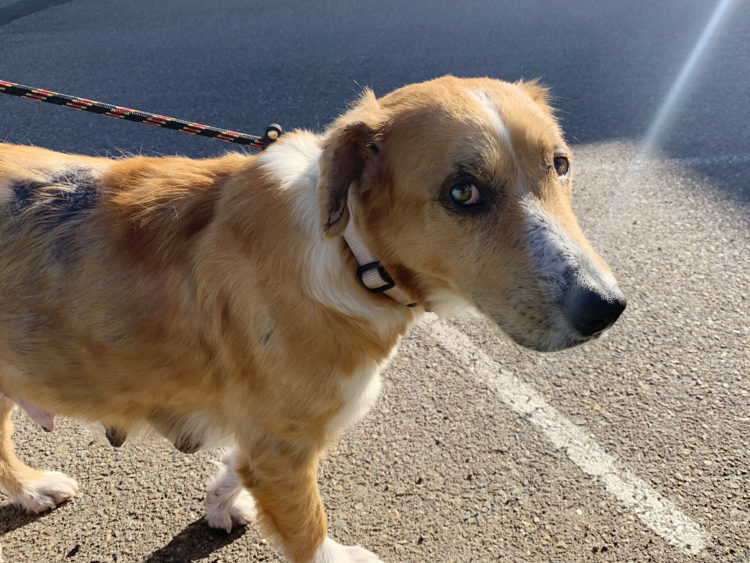 Iris, a pregnant 4-year-old Australian Shepherd blend, was abandoned in Houston, Texas. When she came to one of our rescue partners, she was in rough shape. Not only was she battling eye and skin infections, she had large scabs on her back that appeared to be burns. Iris was also heartworm positive, meaning she would require months of treatment that couldn't begin until after her puppies were born.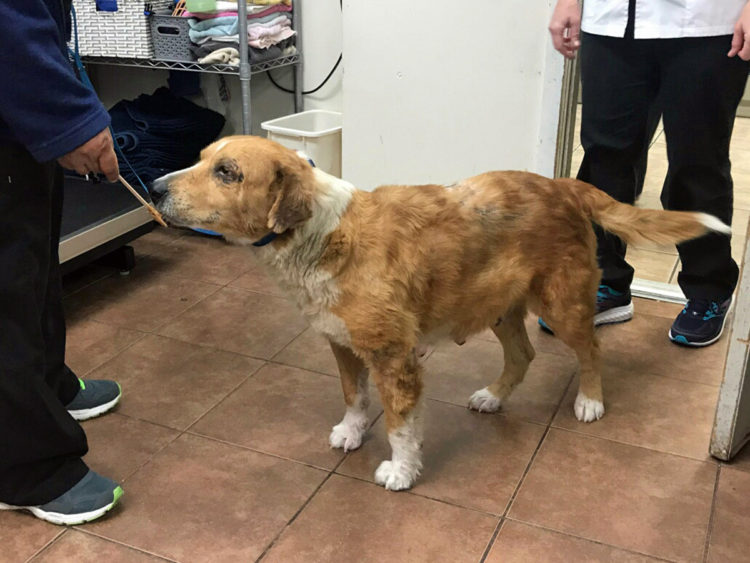 The first photo we received of Iris
Despite her misfortune, Iris had a sweet, calm disposition, and our rescue partner was determined to give her the best possible chance. They contacted Helen Woodward Animal Center, and arrangements were made to transport Iris 1,500 miles from Houston to San Diego.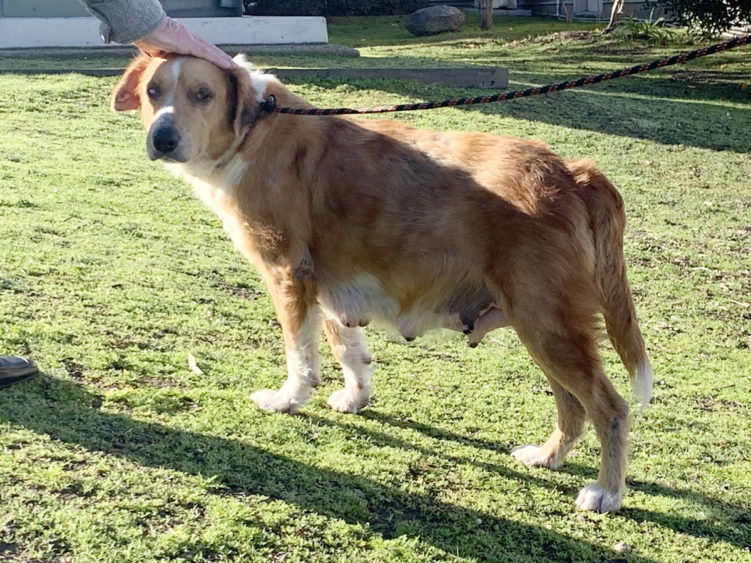 Iris came at the Center on January 22, 2019, where everyone was eagerly awaiting her arrival. Our staff thought we had a few weeks to settle Iris in before her puppies were born, but she had other plans. Less than 48 hours after she arrived, Iris went into labor!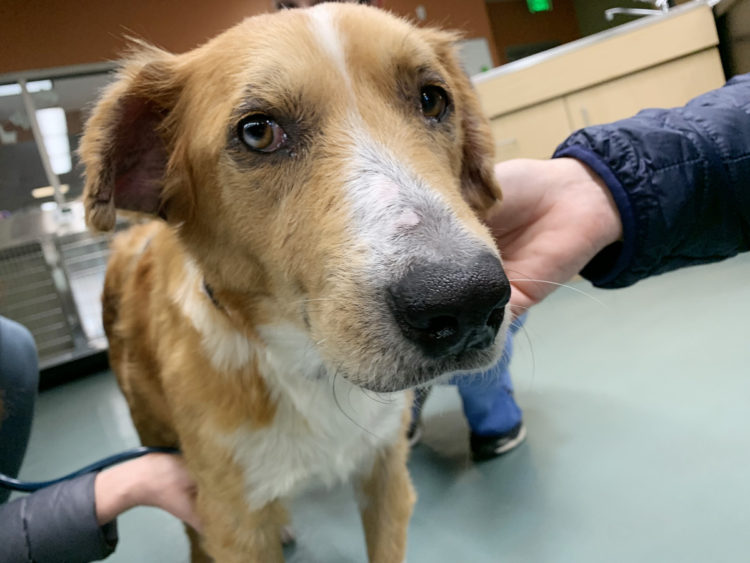 How many puppies do you think Iris had? Find out (and meet her babies!) in our next update.


Update #2
They're Here!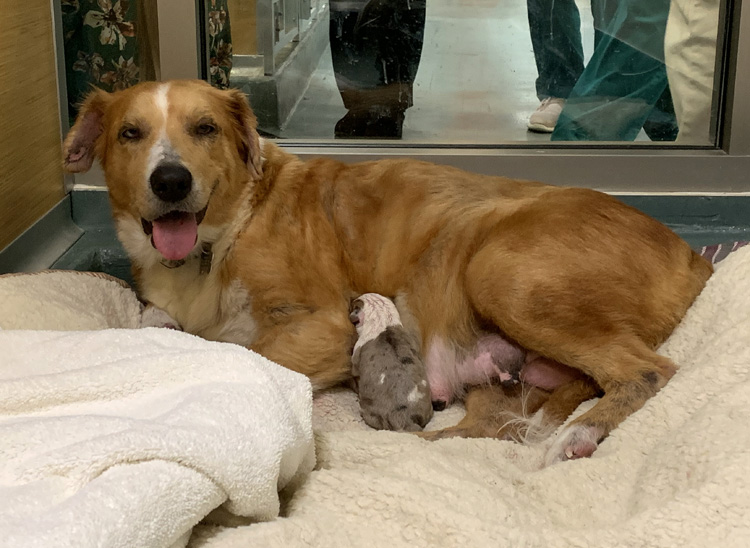 The incredible Iris gave birth to three perfect puppies on January 23 at our very own Companion Animal Hospital. Everyone on staff was excited to get a peek at the brand new babies!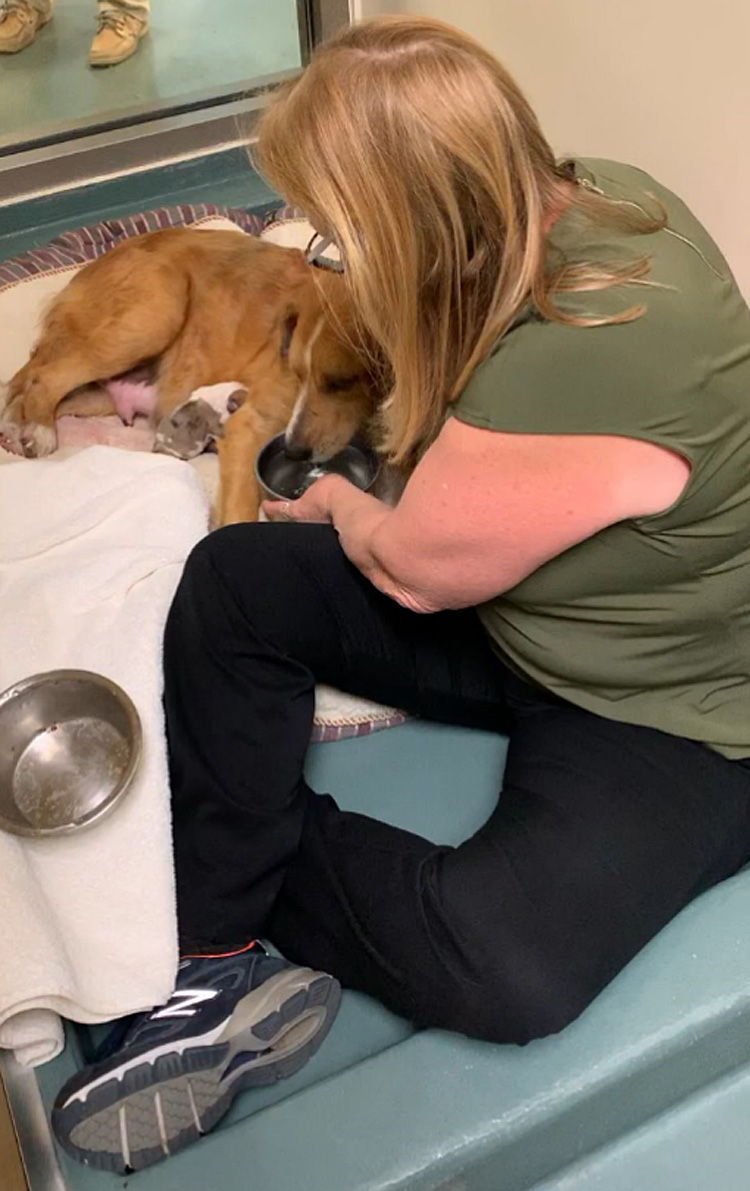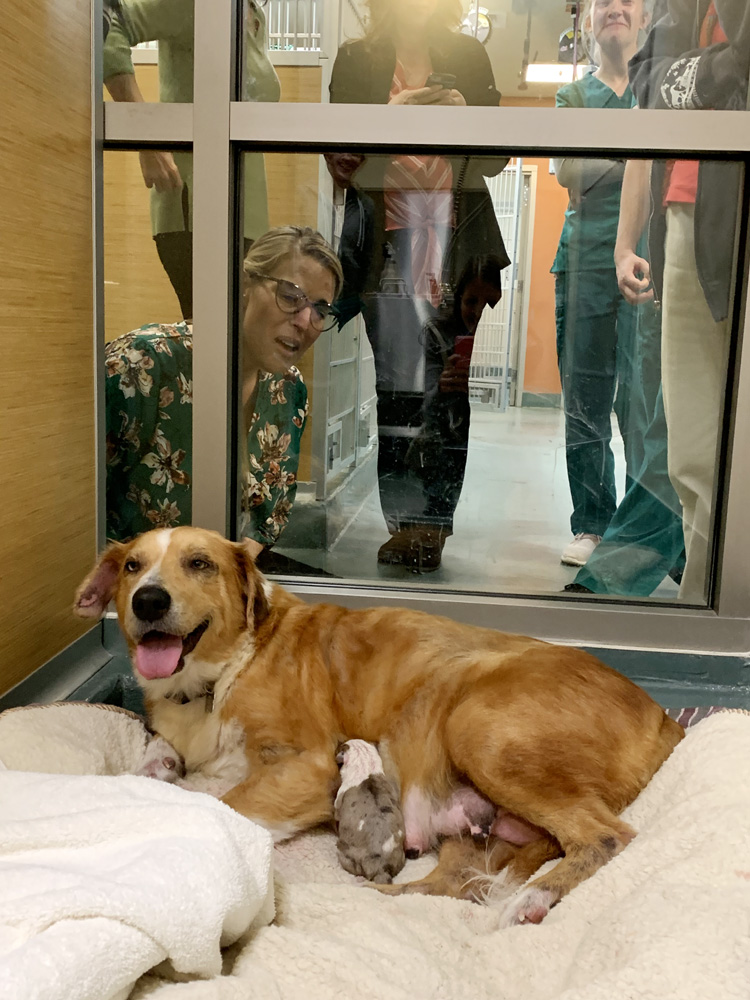 Just like Iris, her pups are named after beautiful blooms. The handsome boy is Larkspur, and the lovely little girls are Lily and Poppy.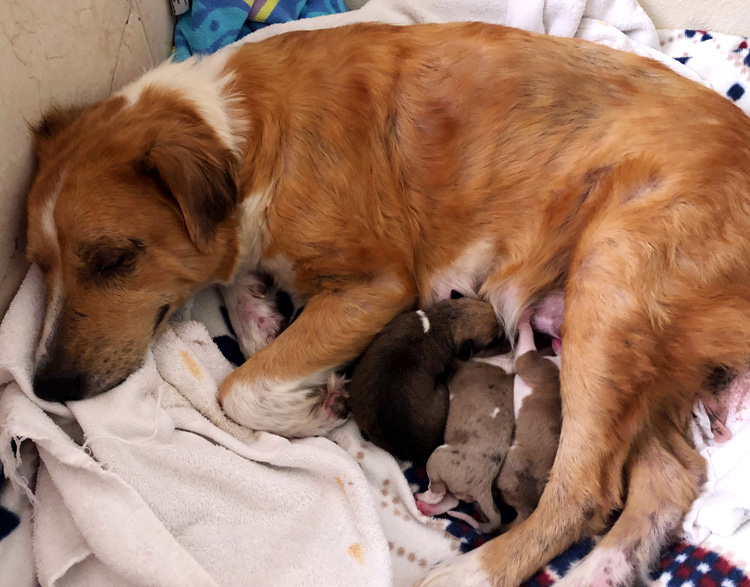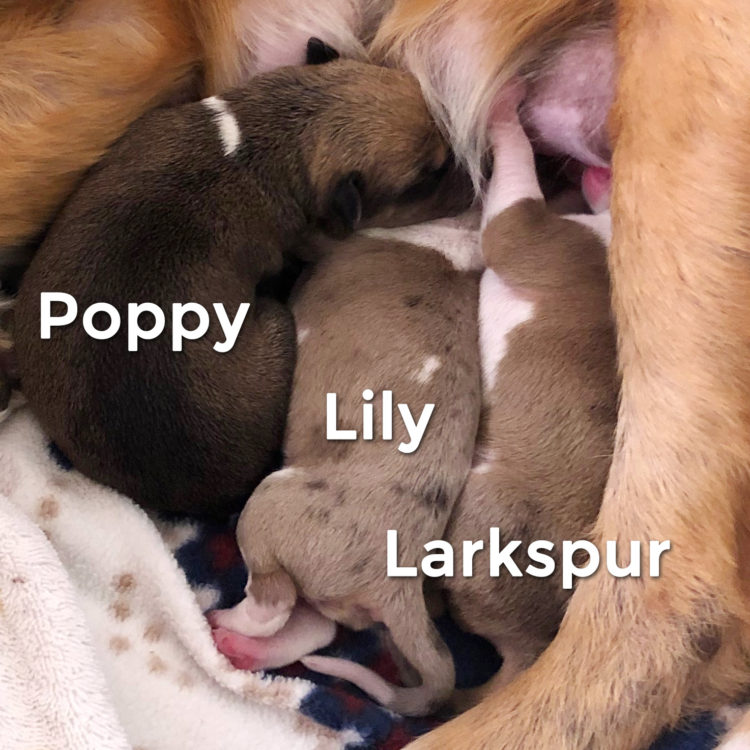 The new family is currently staying with one of our veterinarians, but will be moving to a more permanent foster home soon. We can't wait to watch these little sprouts grow!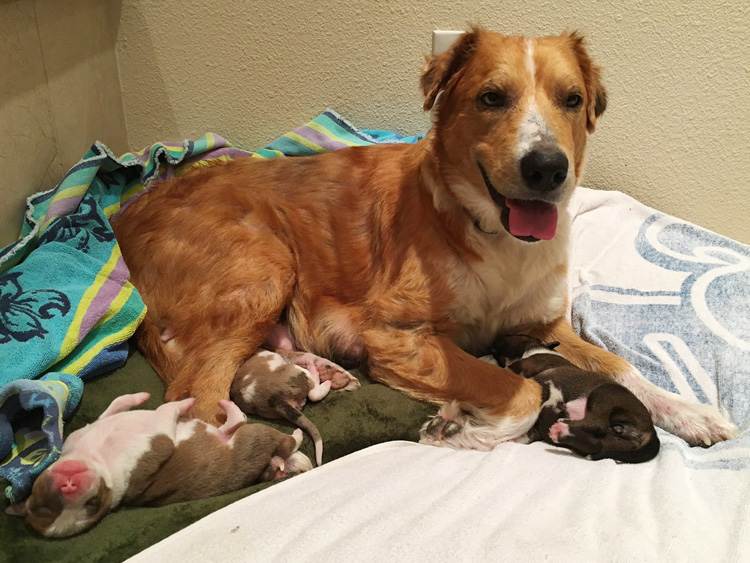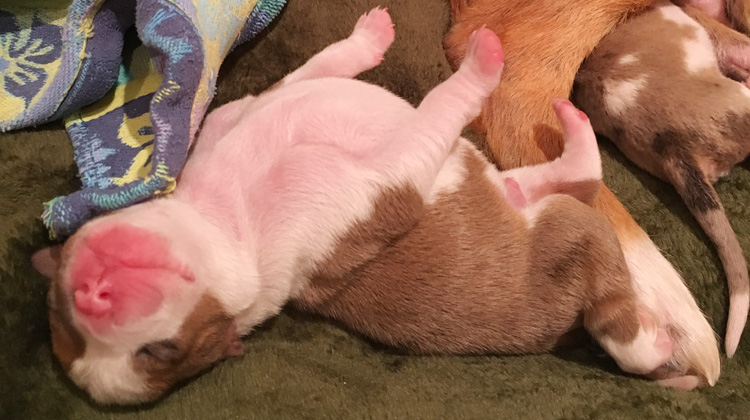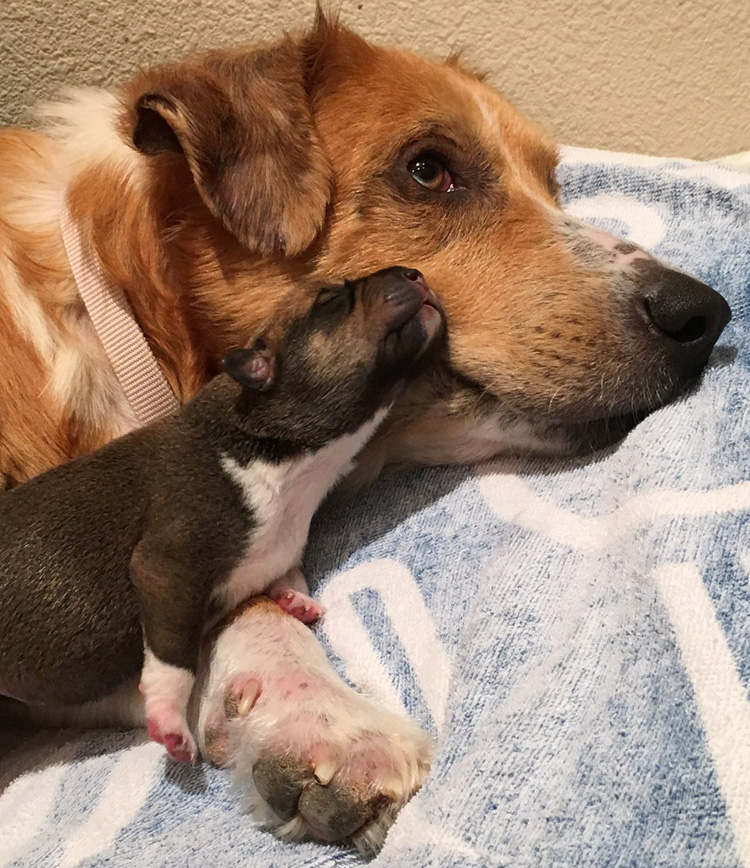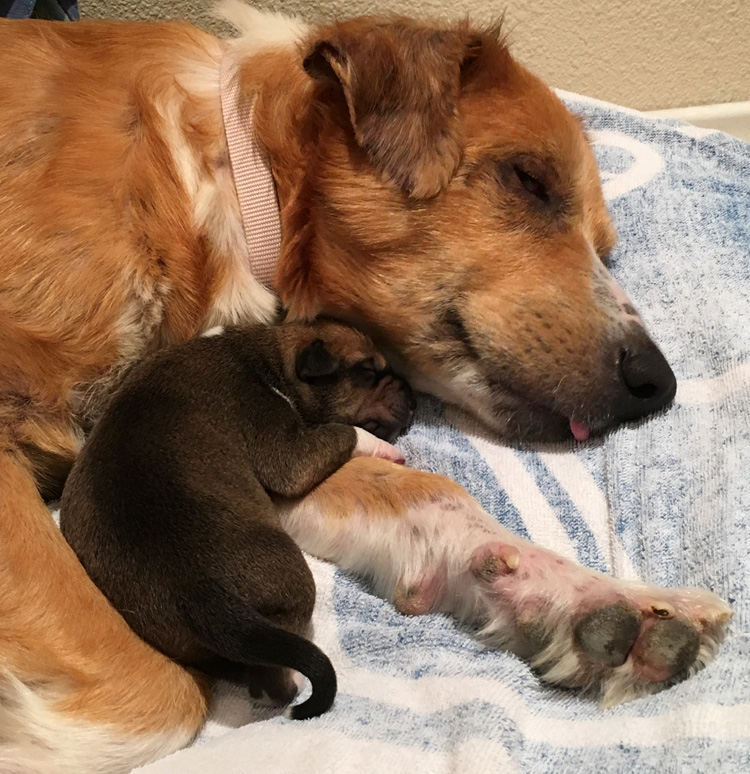 Update #3
Our New Foster Home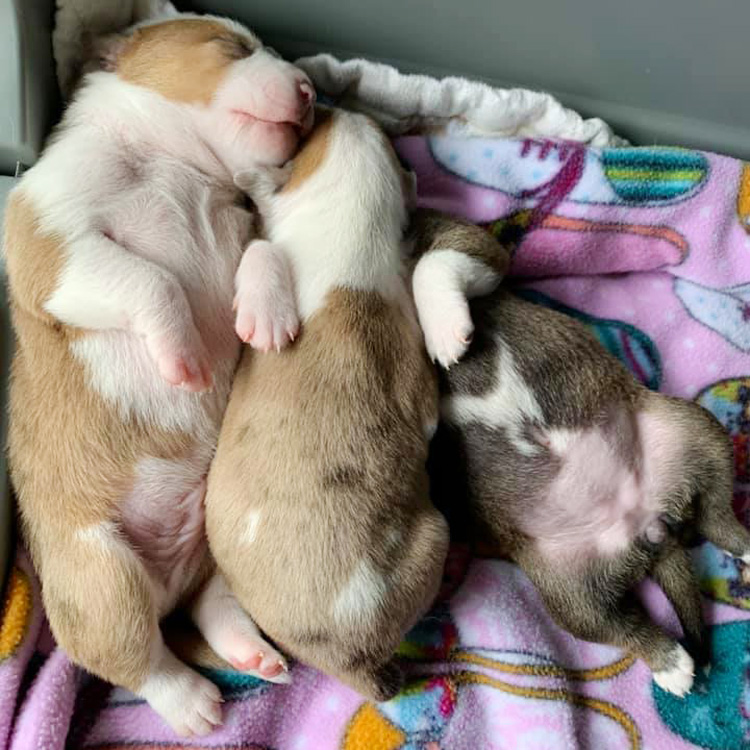 On February 1, Iris and her three little buds arrived at their new foster home. They now share a home with two little kids and a foster mom who loves taking pictures! We're also getting a better look at the puppies…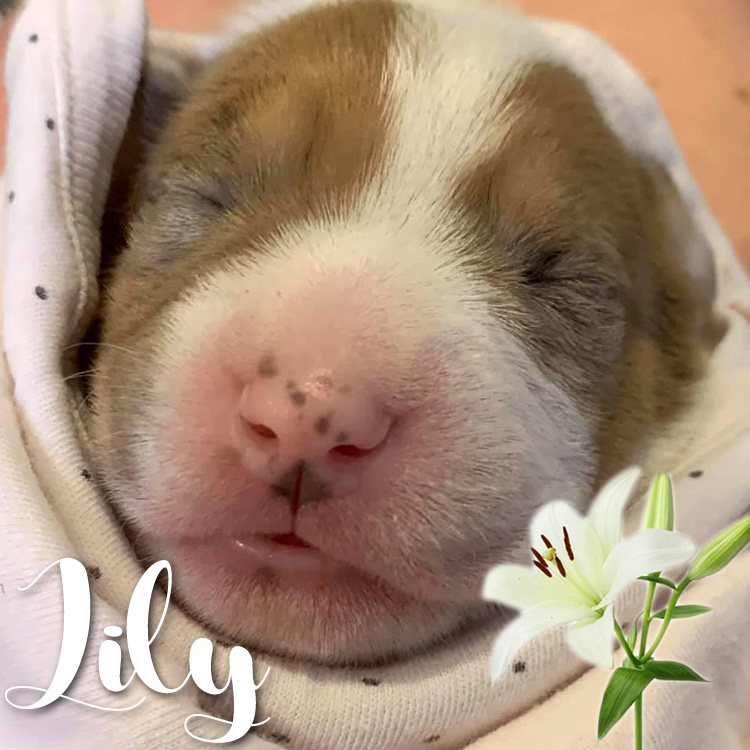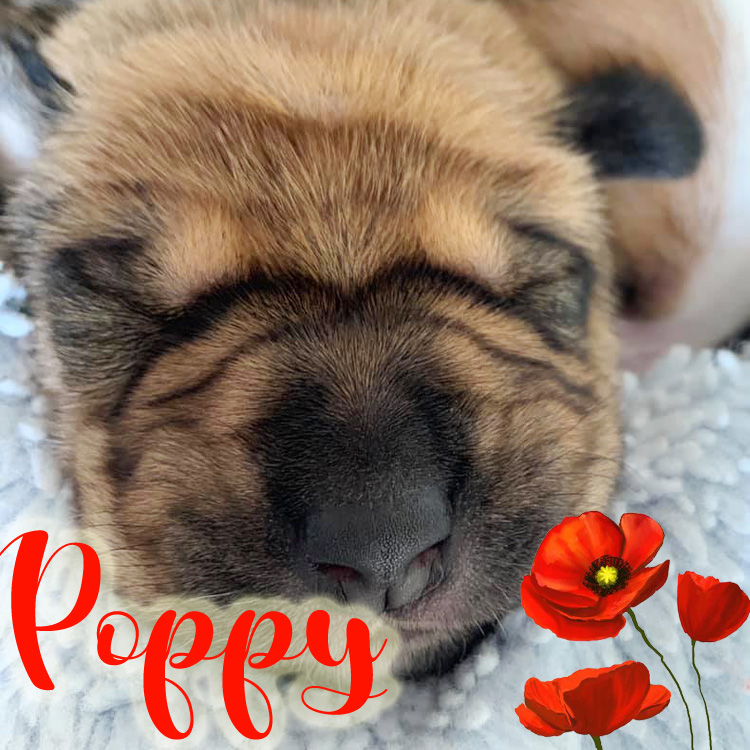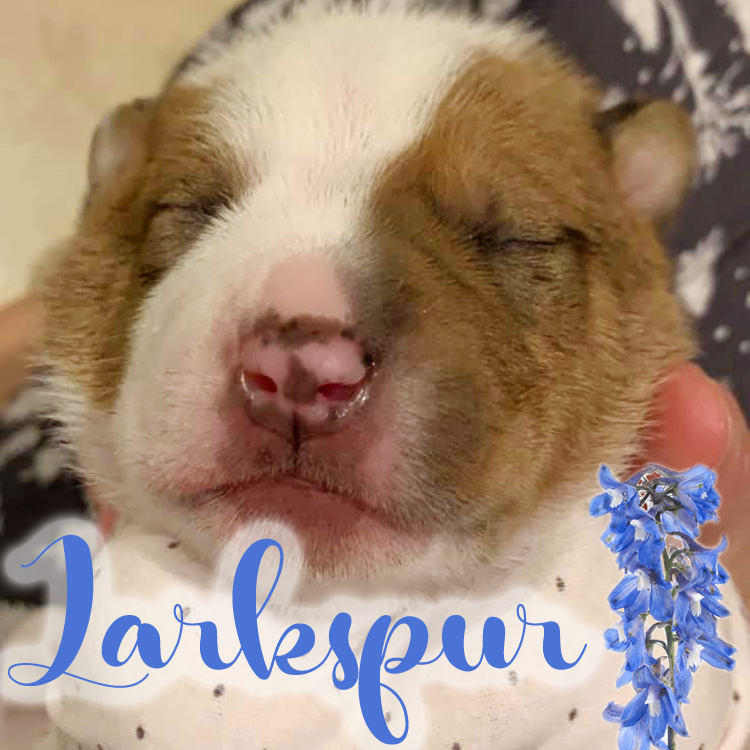 The foster says Iris is a great mom who keeps her babies squeaky clean!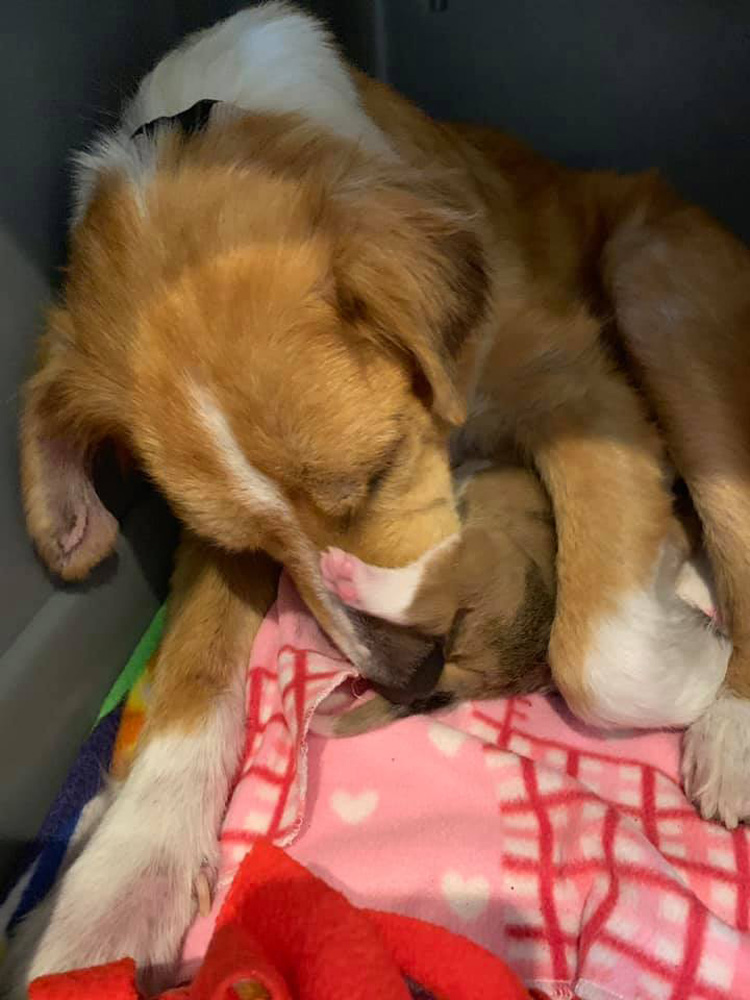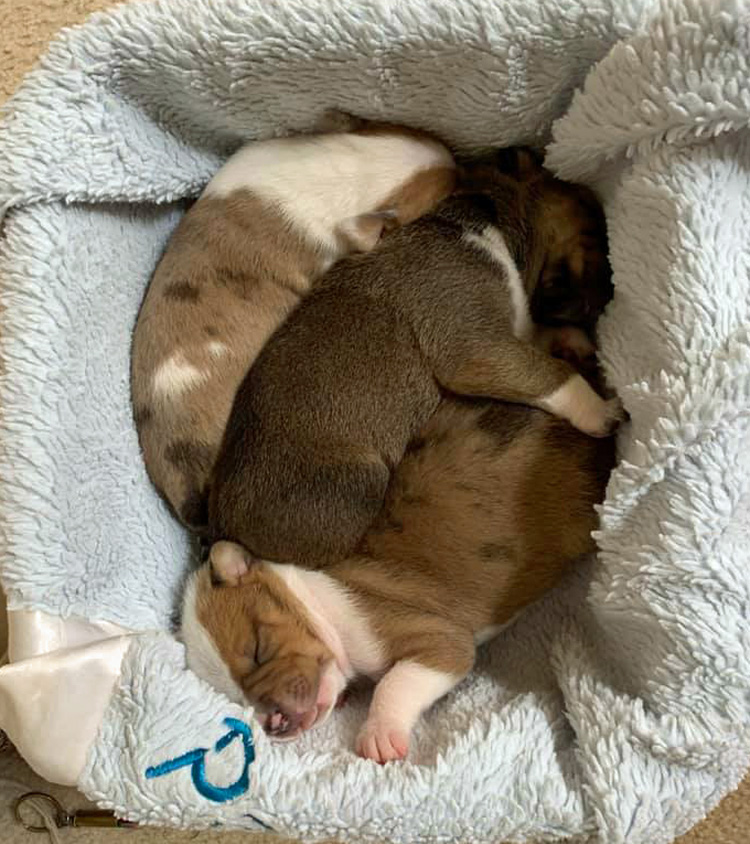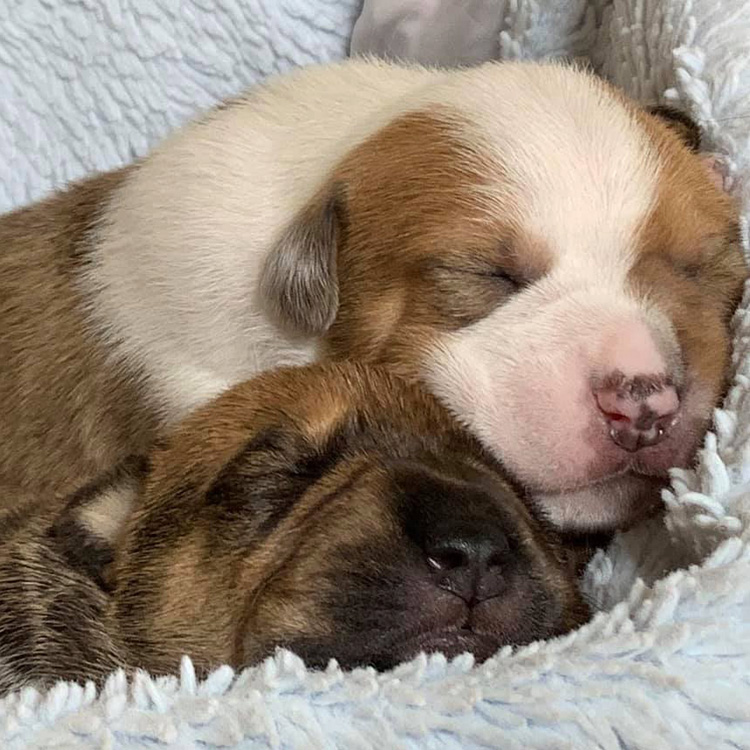 I think we're going to like it here.


Update #4
Hello Sunshine!
The puppies have been busy growing (and growing and growing!) They started opening their eyes on February 7 when they were 2 weeks old.

Seeing the world for the first time
Iris continues to thrive as well. However, her foster learned that she does not like to go outside in the rain to potty! Luckily for Iris, she and the pups were able to soak up some sun before the wet weather began: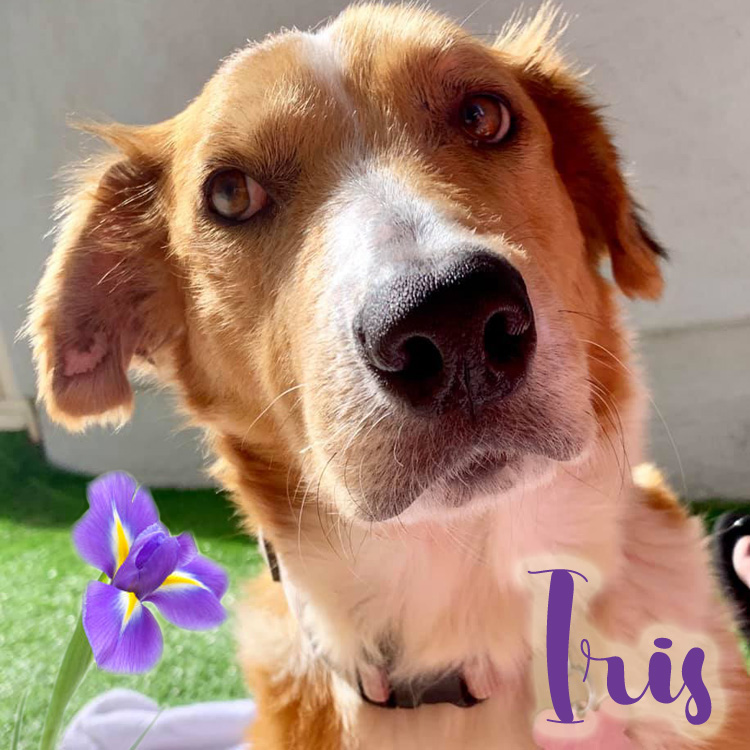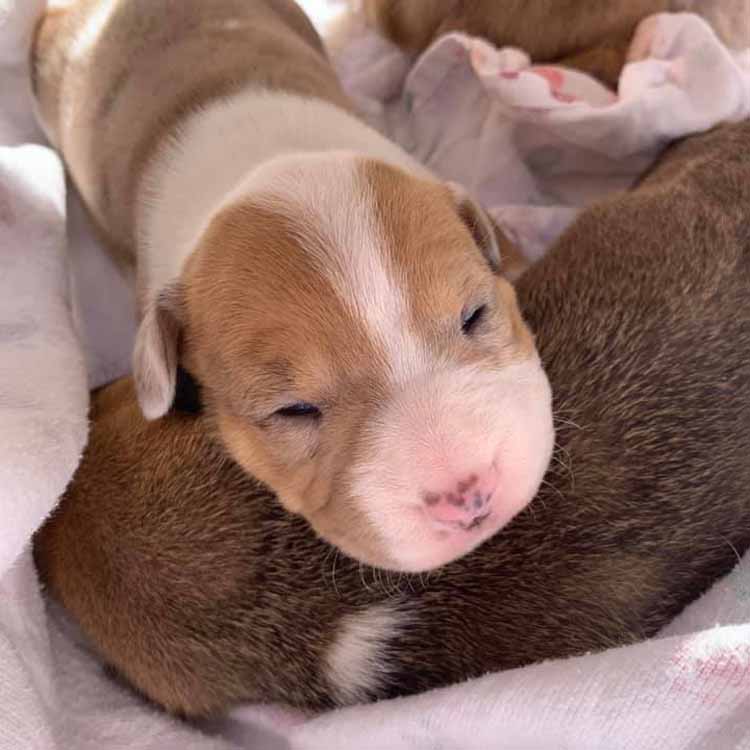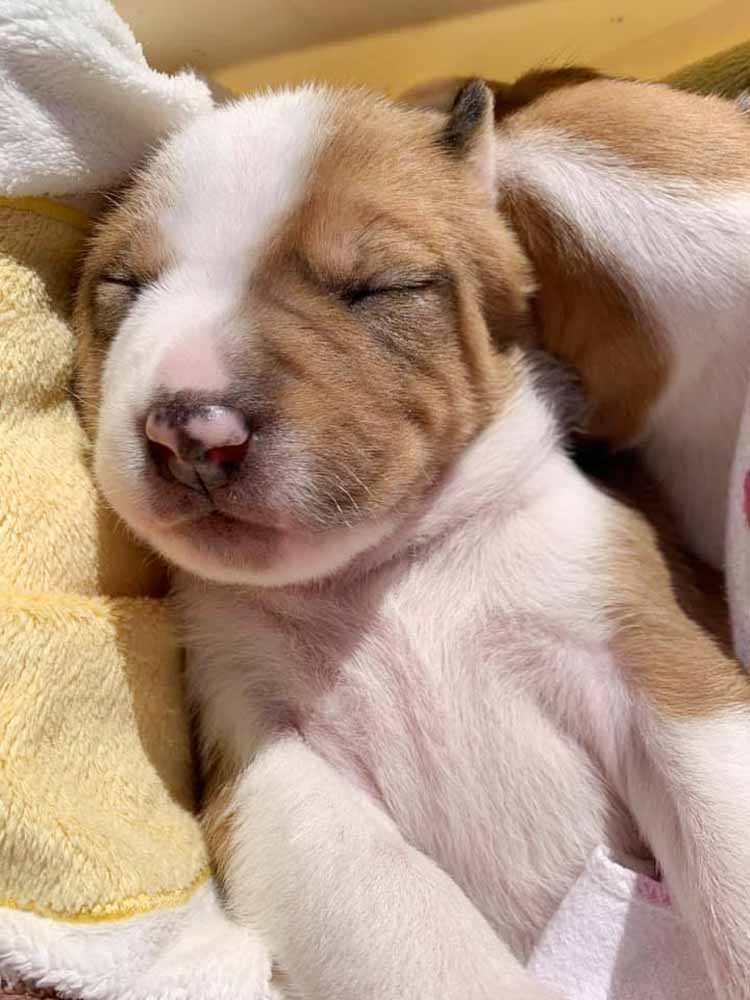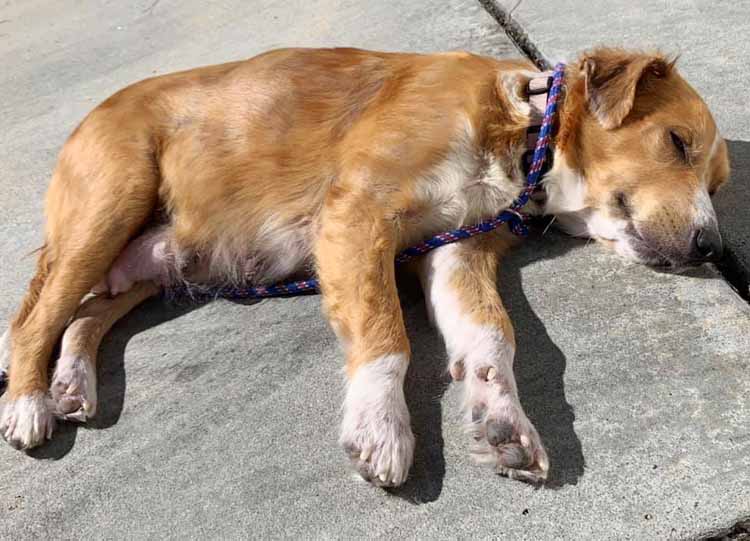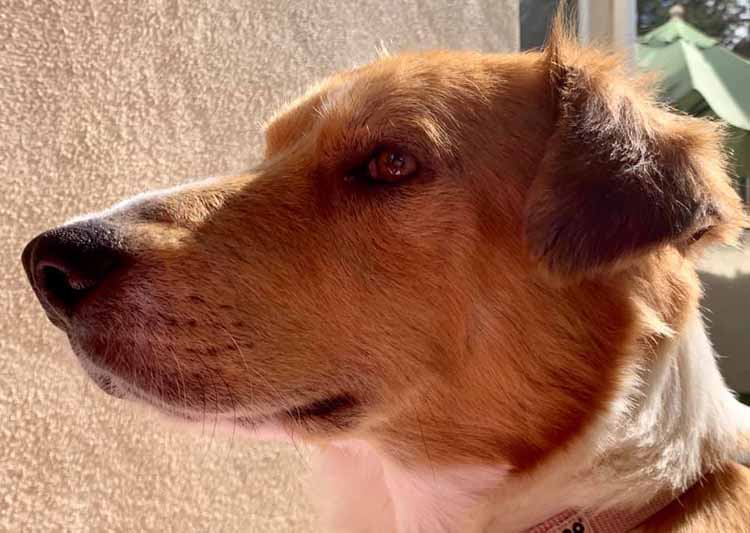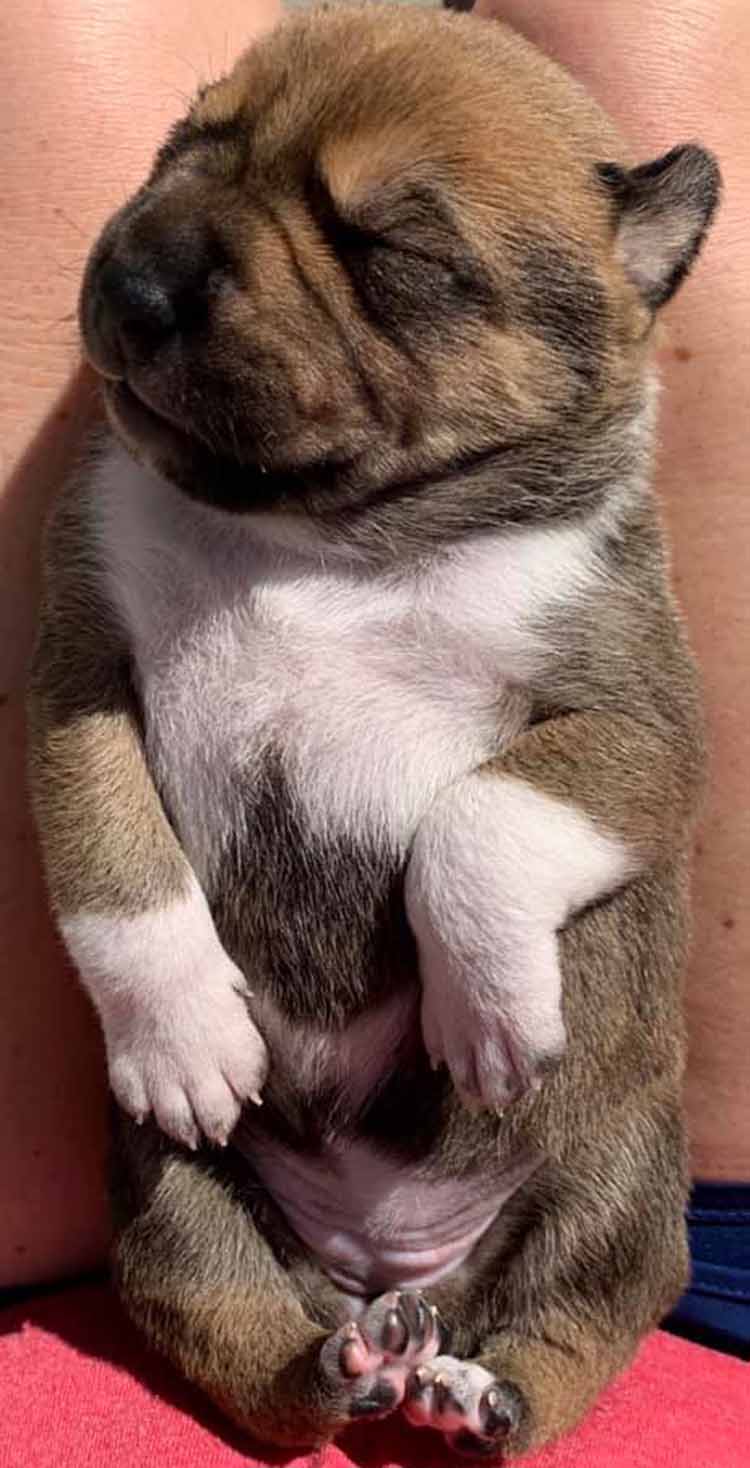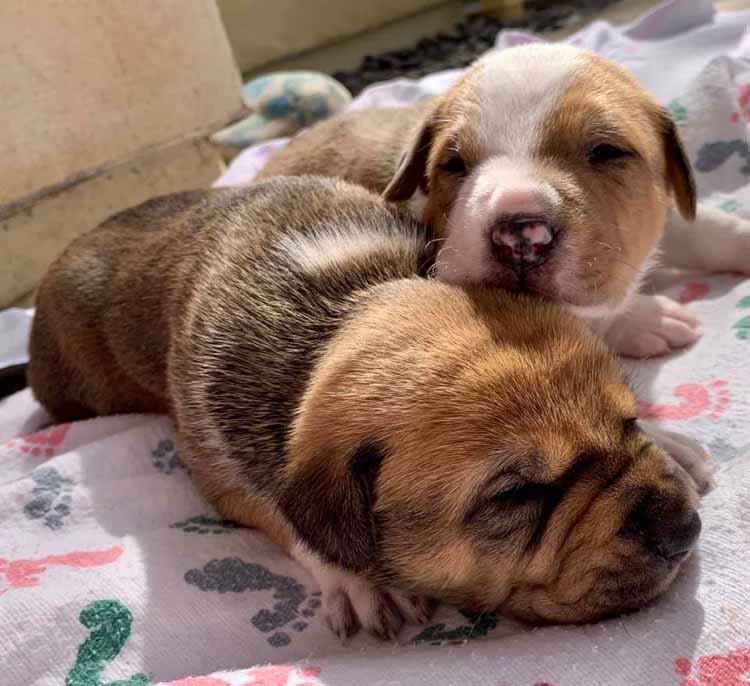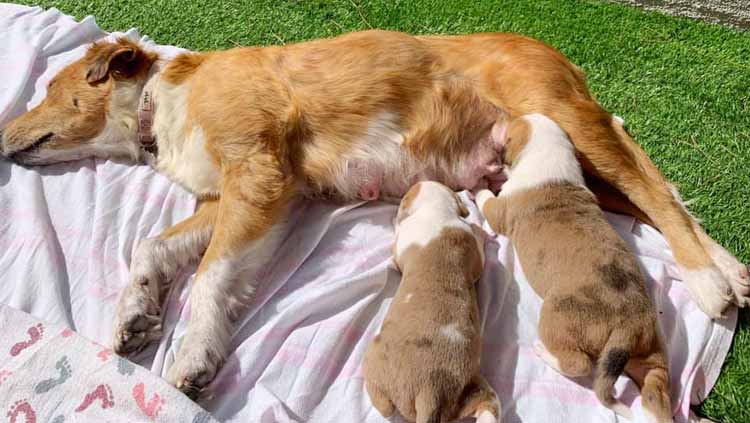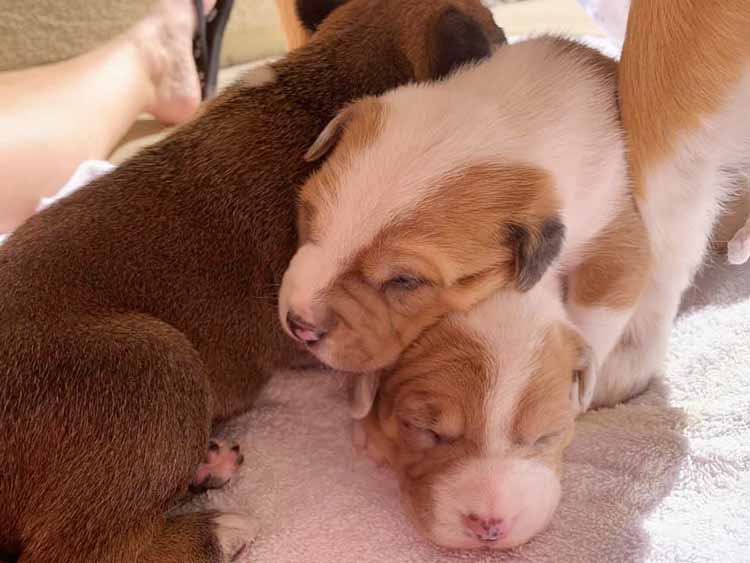 Update #5
Following Up with the Flower Family
On March 1, we caught up with Iris' family at the Companion Animal Hospital. The puppies were 5 weeks old, and we couldn't believe how big they were!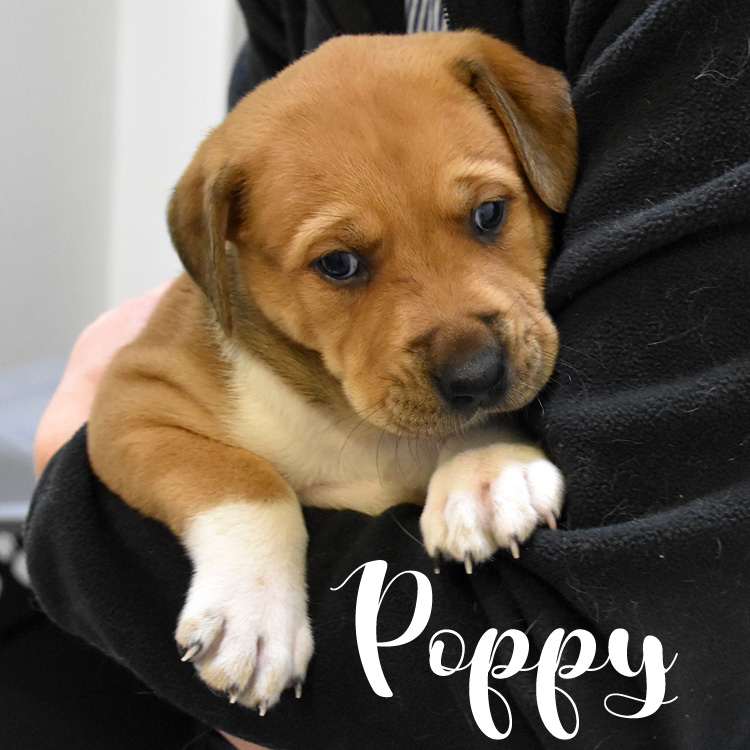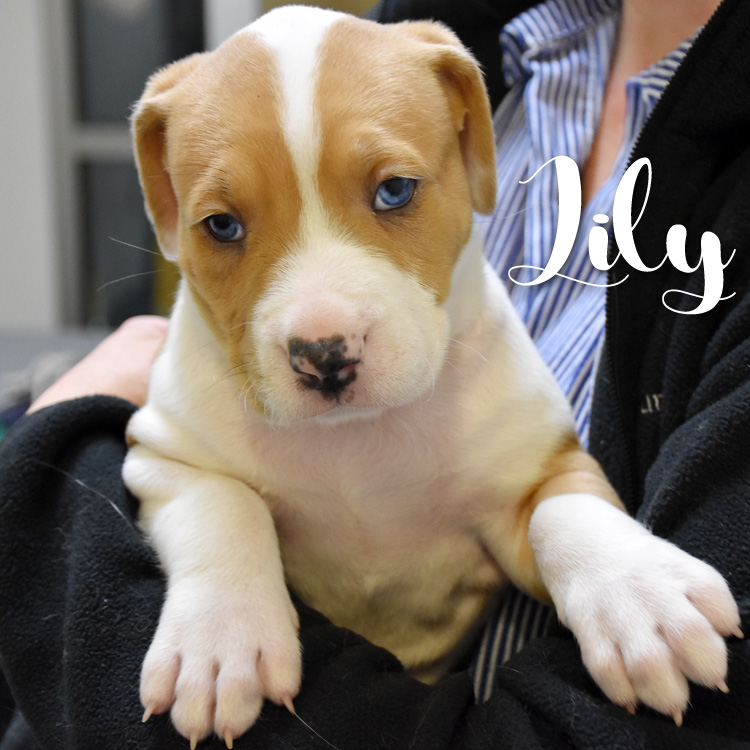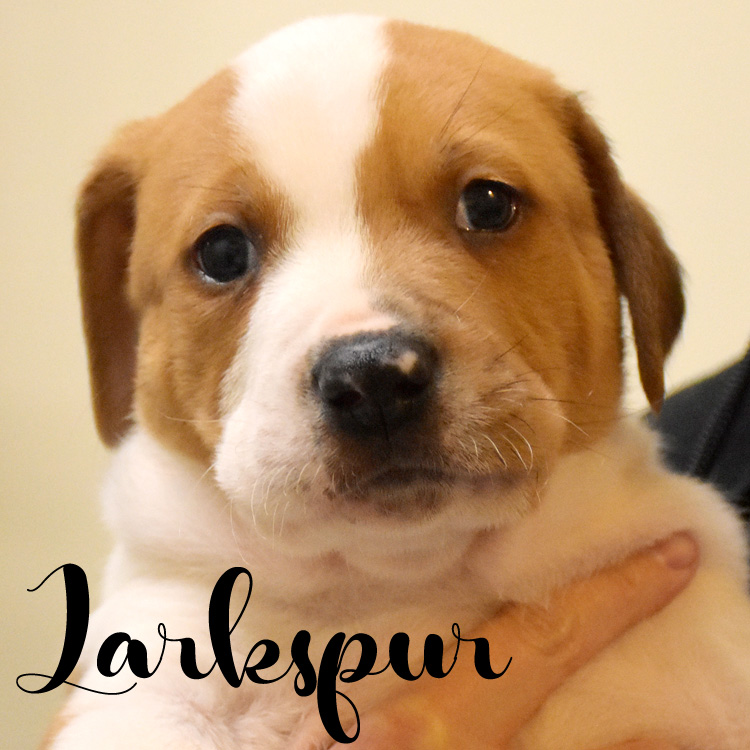 Mama Iris seemed so happy, friendly and relaxed.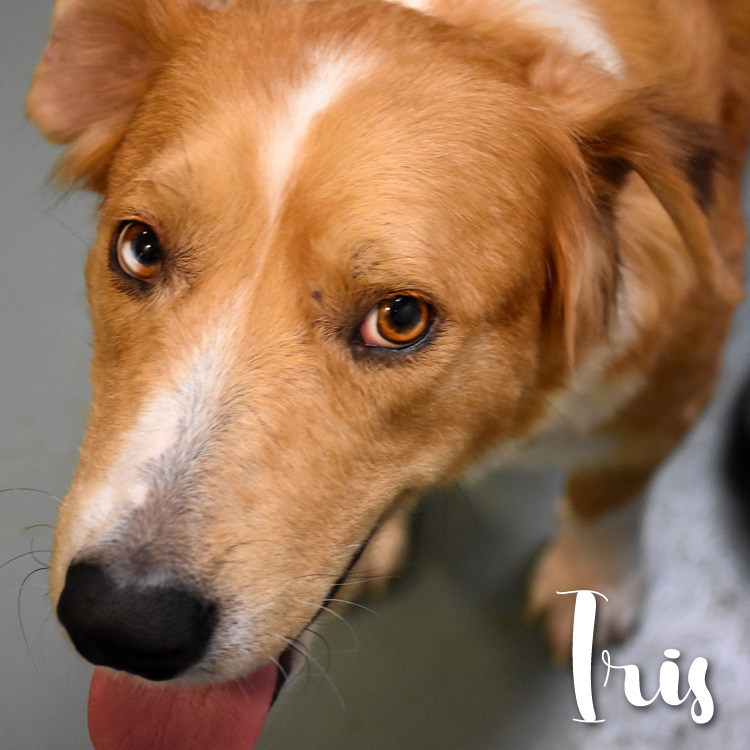 We couldn't stop taking pictures of this photogenic family!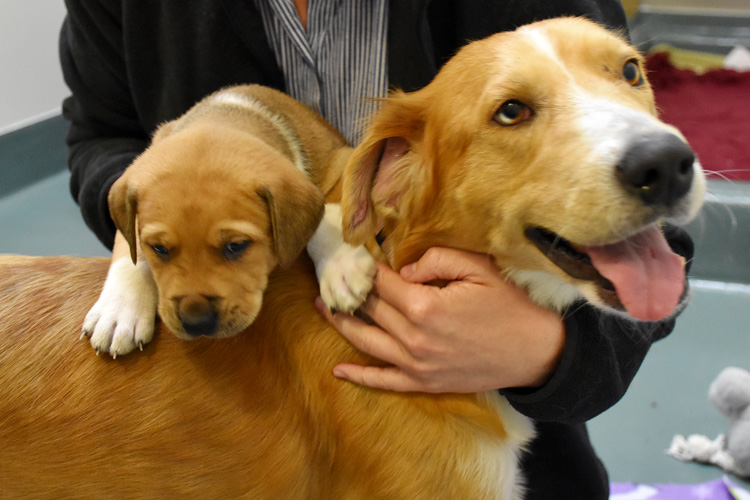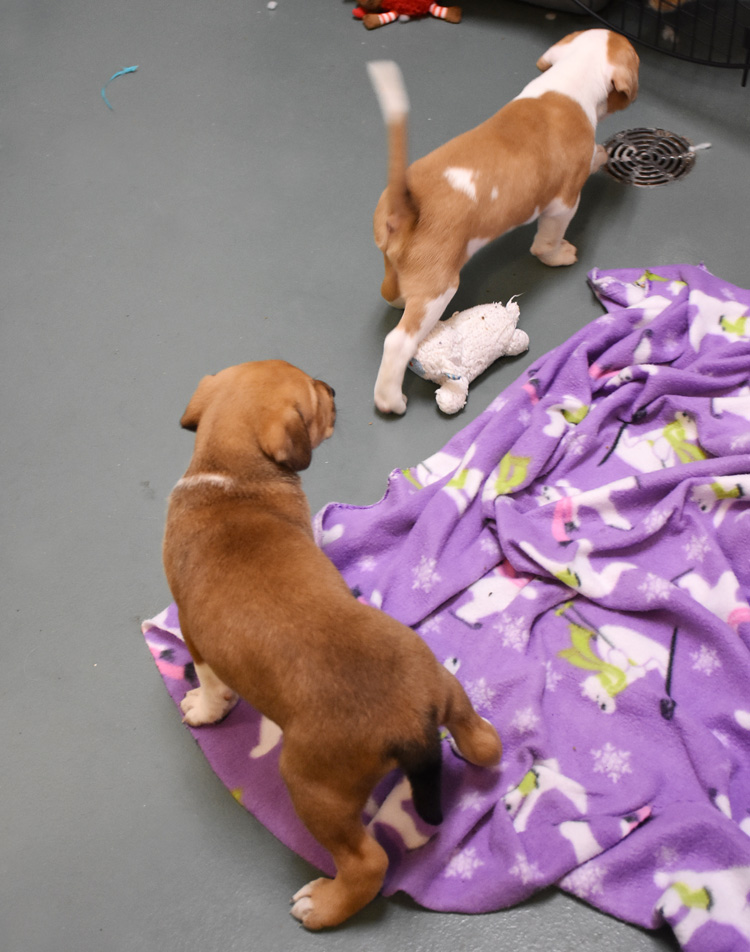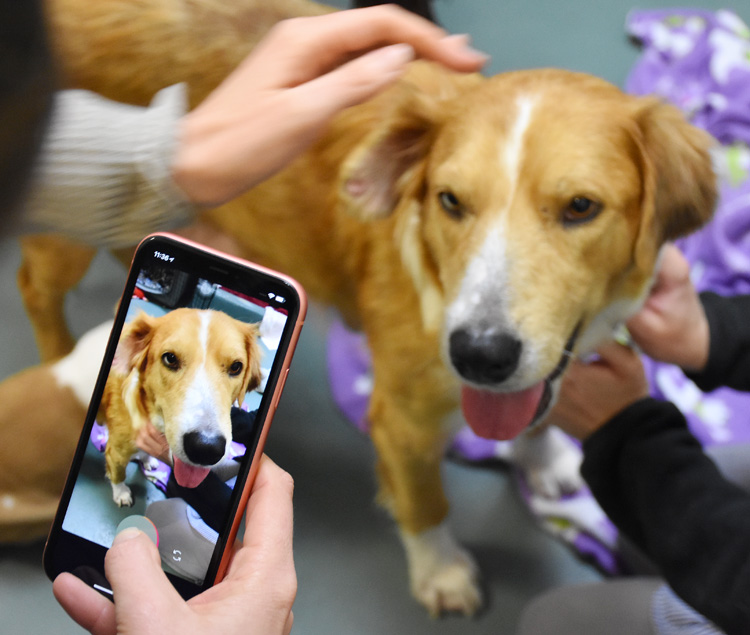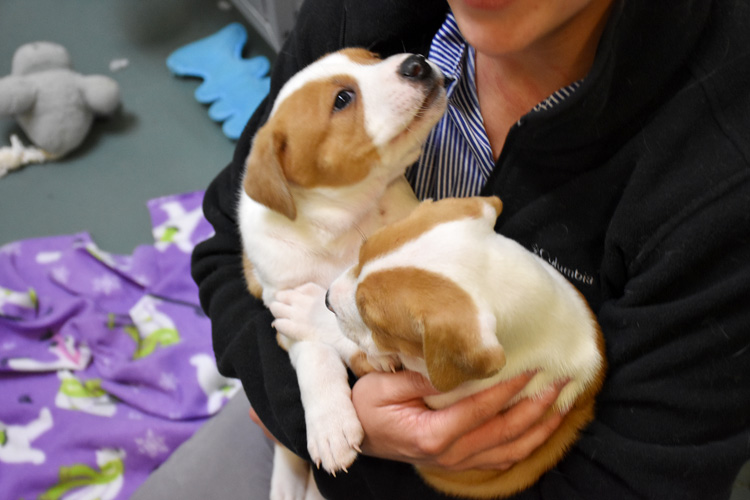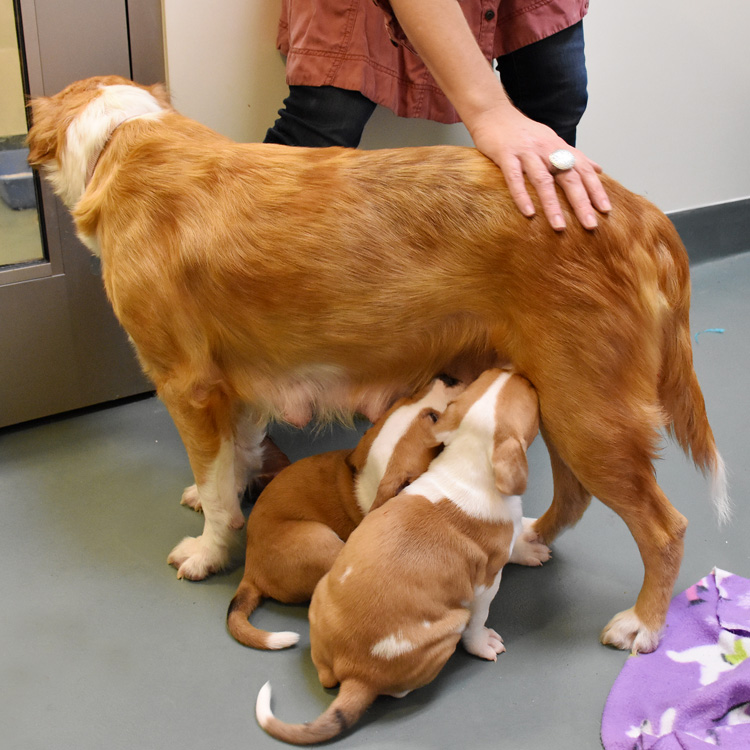 So what's next for Iris, Poppy, Lily and Larkspur? Next week, the pups will start weaning from their mom and head to separate foster homes. (But don't worry!  After raising three huge babies, Iris is ready to be pampered.) After the puppies turn 8 weeks old, they'll receive their spay and neuter surgeries, and should be ready to find forever families in late March! As for Iris, she still has several months of heartworm treatment ahead of her. We'll continue to follow her every step of the way.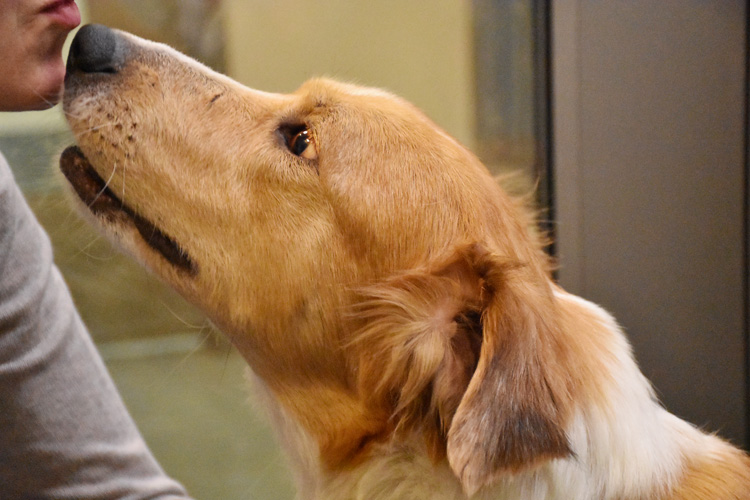 Update #6
They're growing up so fast!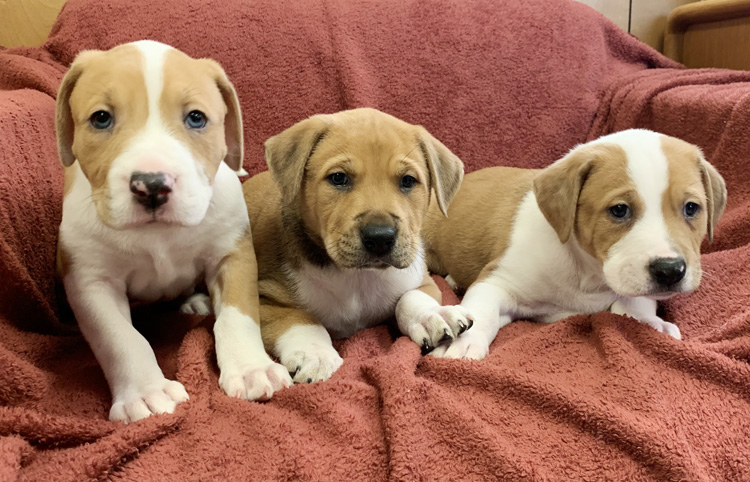 Last week, the puppies weaned from Iris and embarked on their next big adventure: moving to a new foster home. Before they headed off, our staff couldn't resist getting in one final snuggle with Poppy, Larkspur and Lily.
Poppy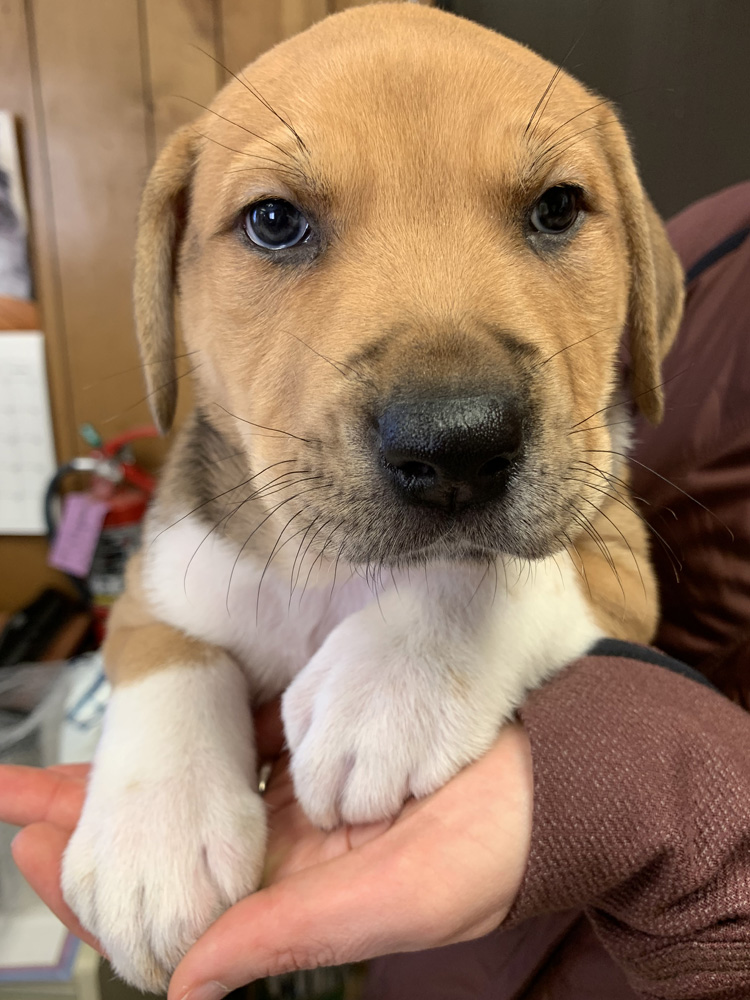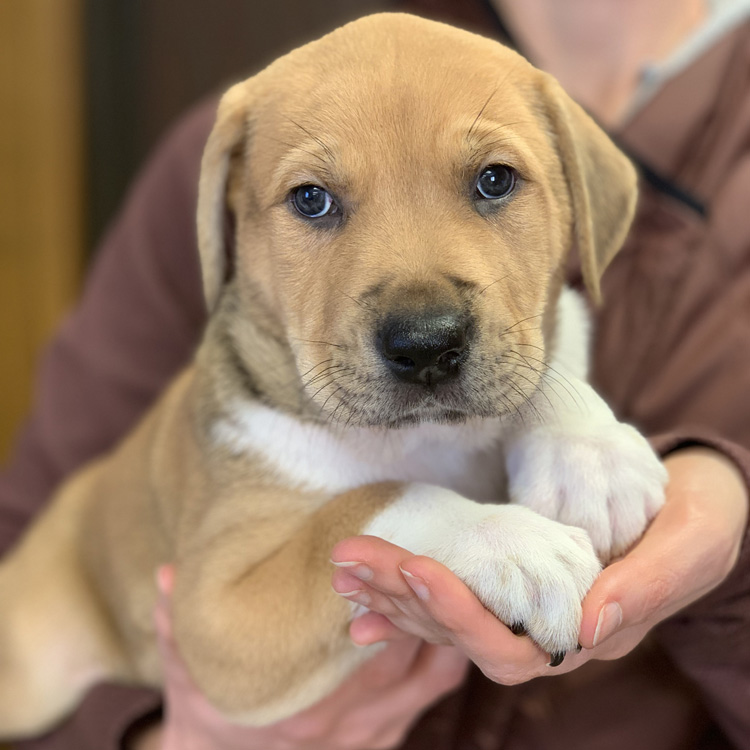 Larkspur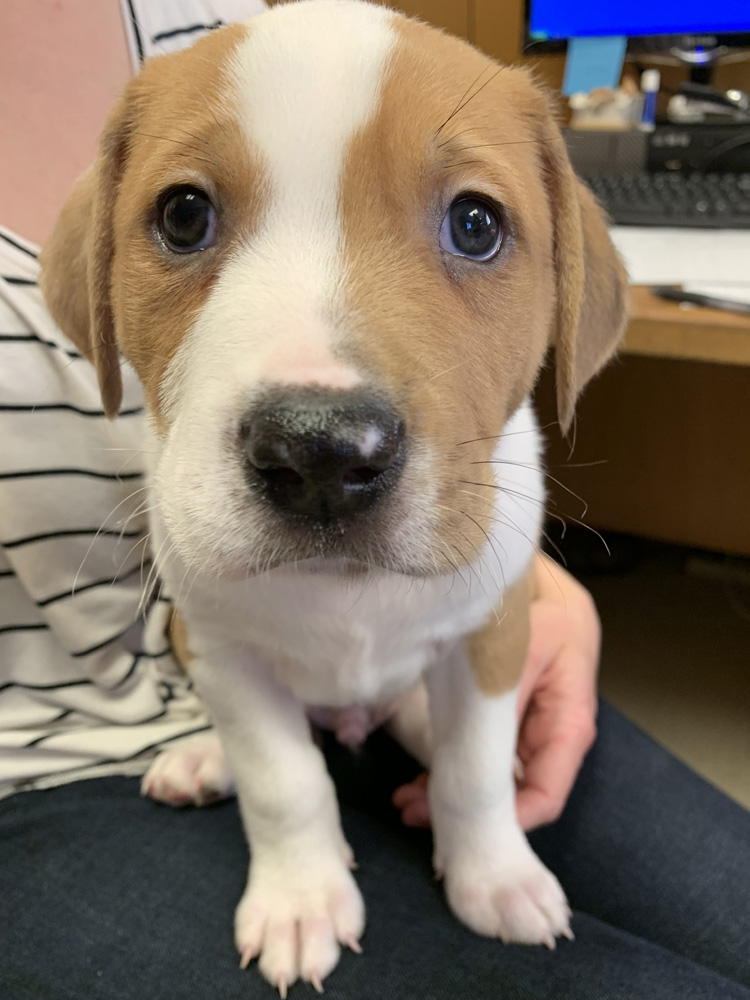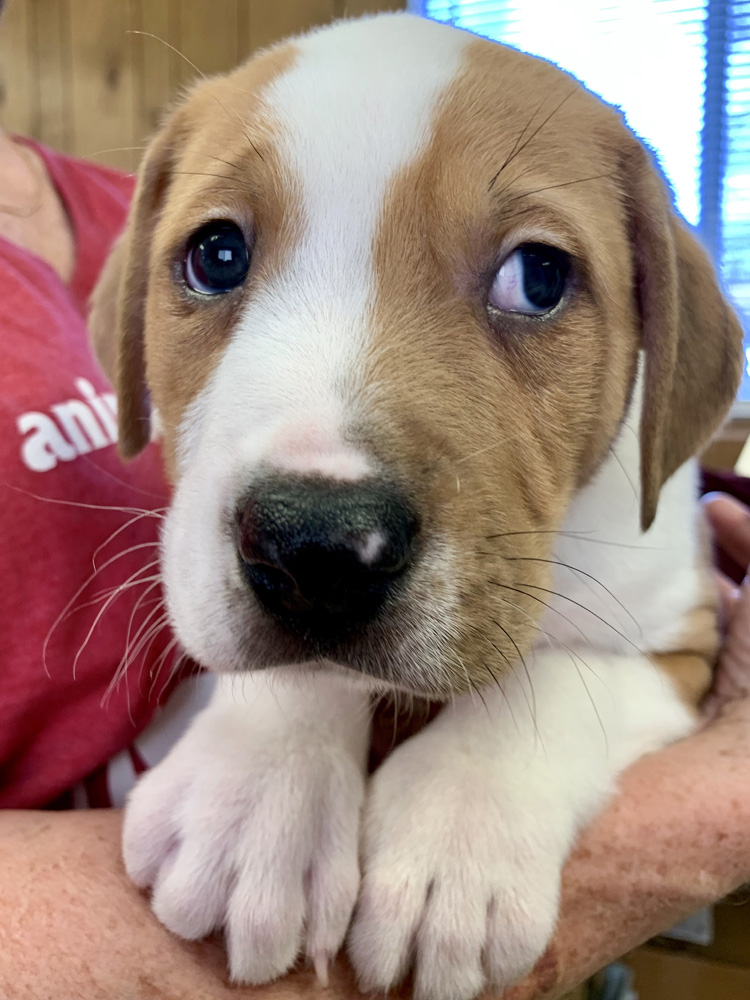 Lily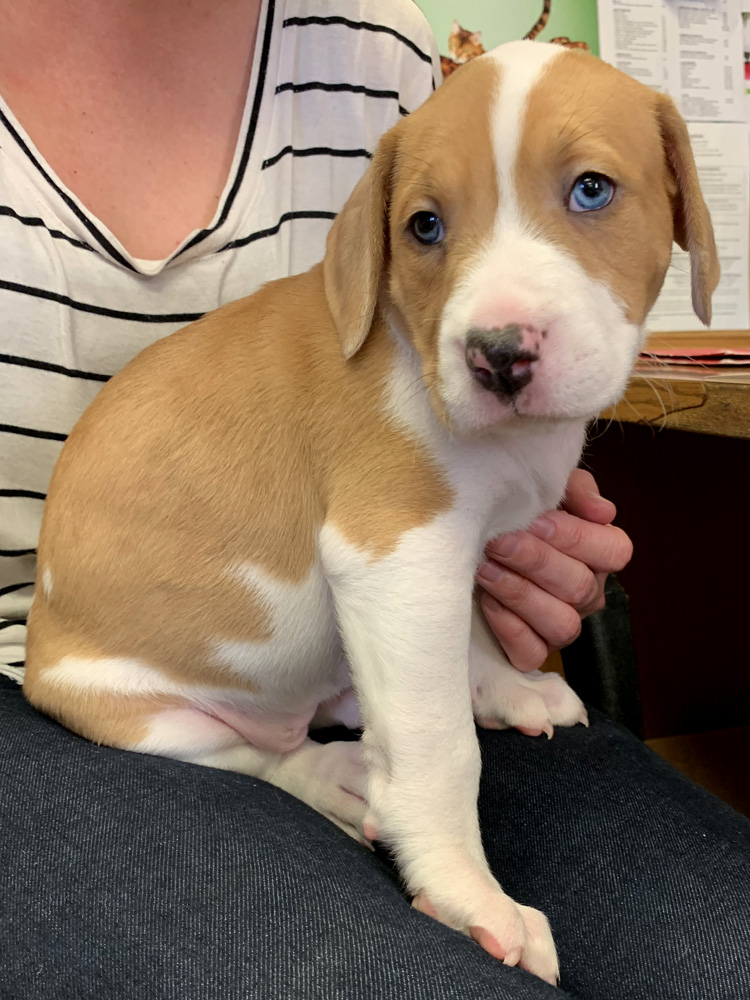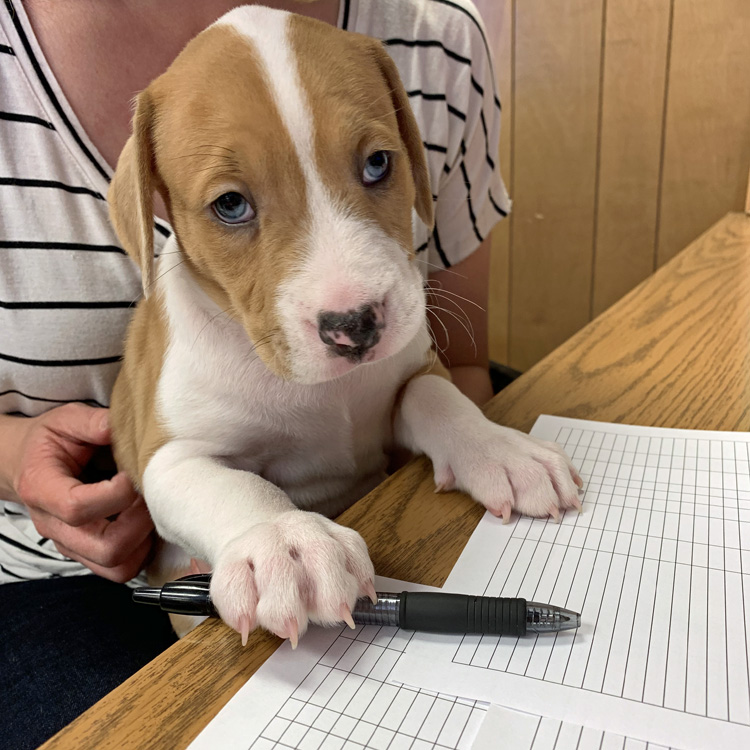 The pups will be available for adoption very soon! Stay tuned for the big announcement.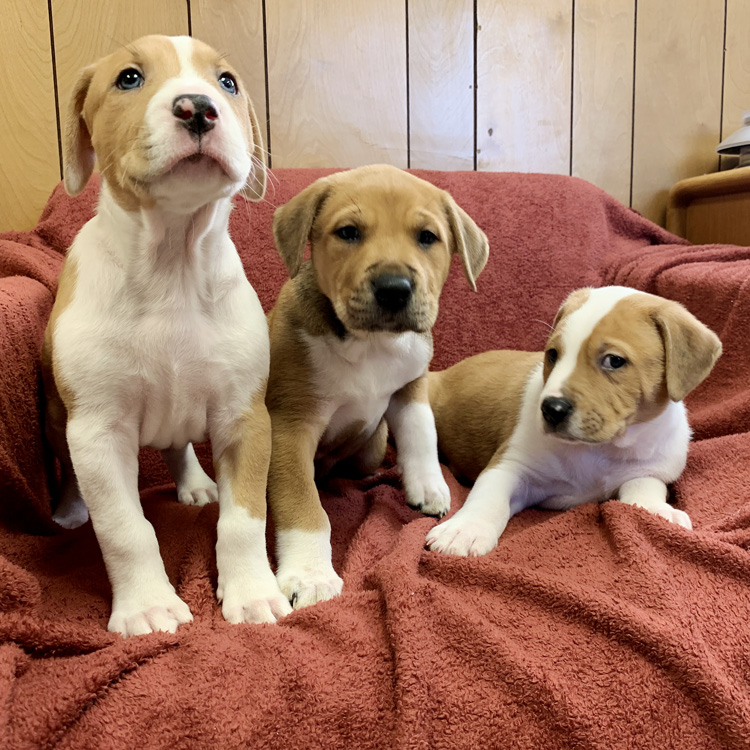 Update #7
All Eyes on Iris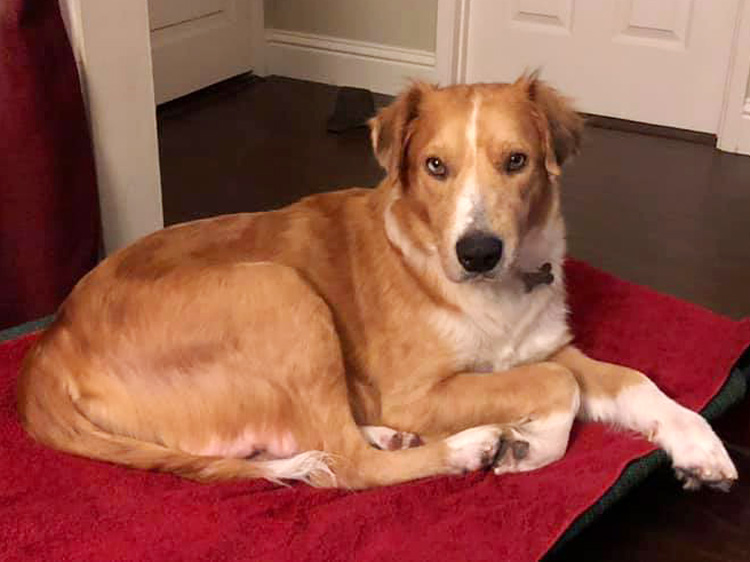 Meanwhile, mama Iris also started life in a new foster home. After 6 weeks of doting on her puppies, the attention is finally all on Iris. Instead of nursing and cleaning pups all day, Iris' new routine is walk, eat, sleep, repeat!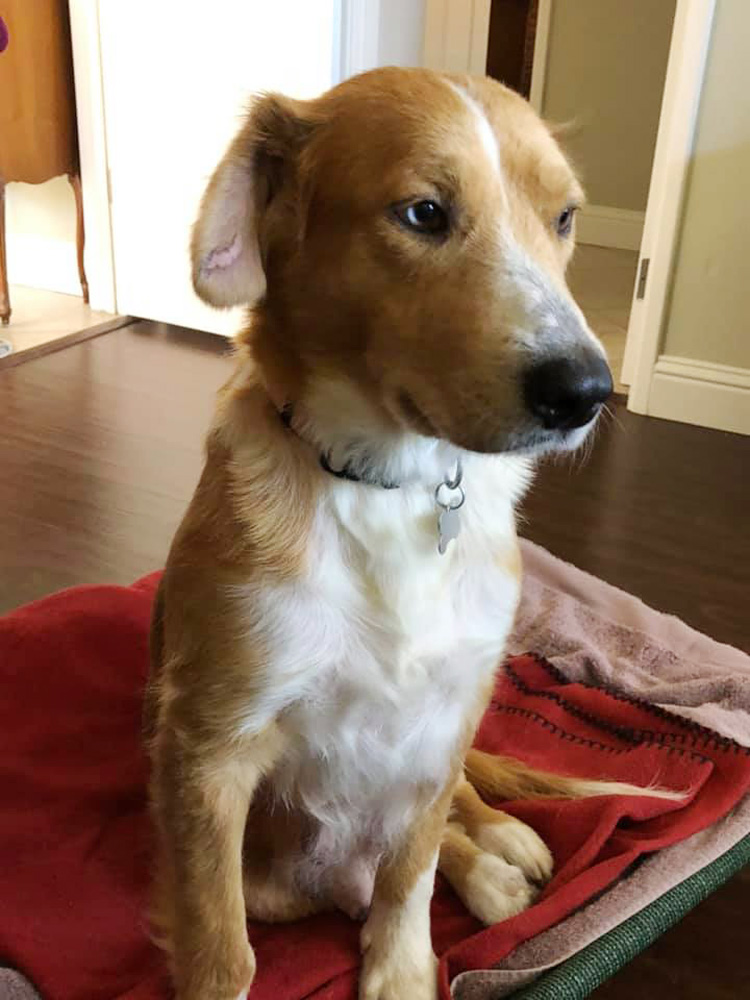 Iris' new foster describes her as sweet, happy and docile. She barely makes a peep (except for howling once while dreaming!)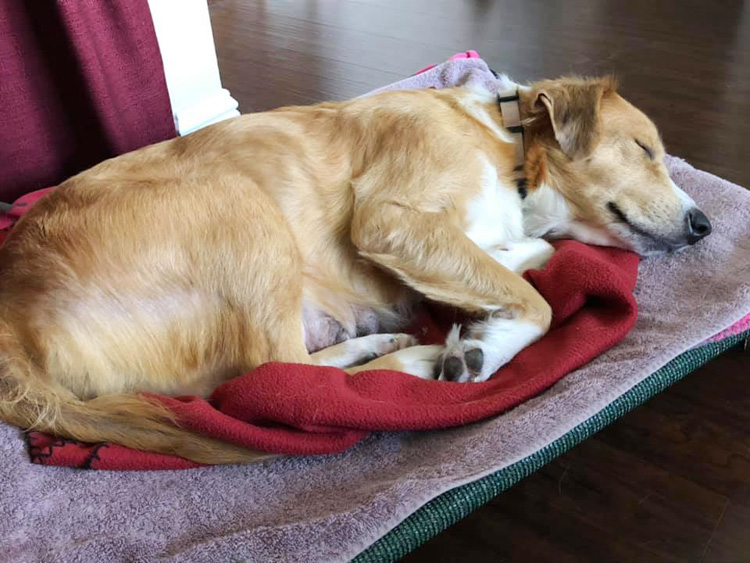 Iris also loves going on walks and exploring the neighborhood. She has a pep in her step as she trots along, her tail swishing back and forth. Her foster mom says she walks nicely on the leash (never pulls) and peacefully observes other dogs as they go by.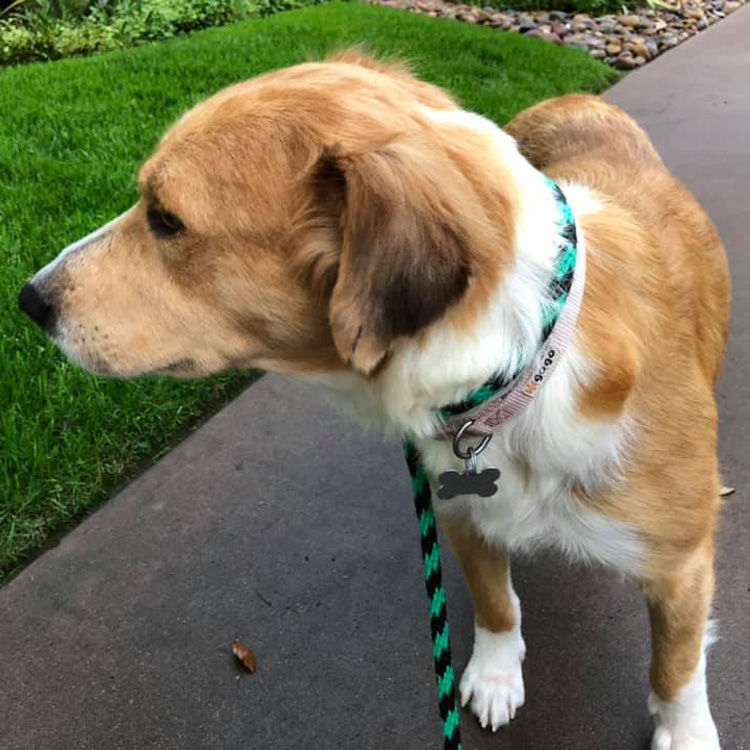 Each night, Iris sleeps like a good girl in her crate, but she does enjoy getting the occasional mid-day snooze in her dog bed. We're thrilled mama Iris is finally living the sweet life she deserves in foster care!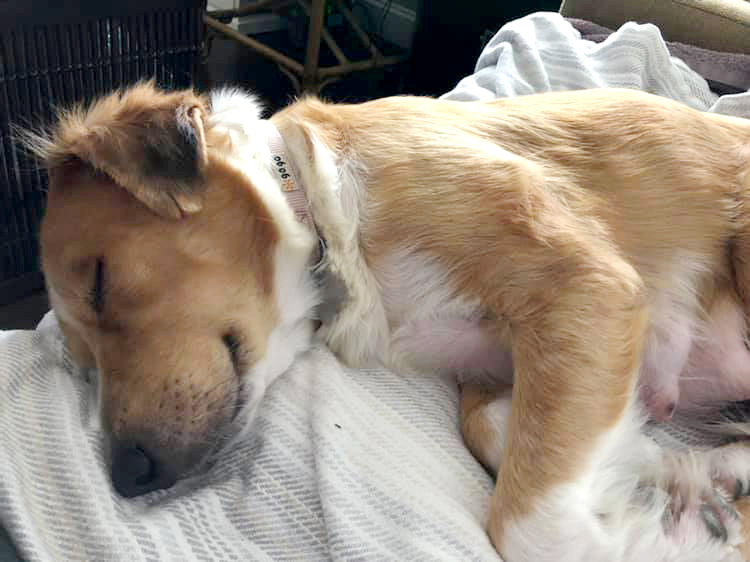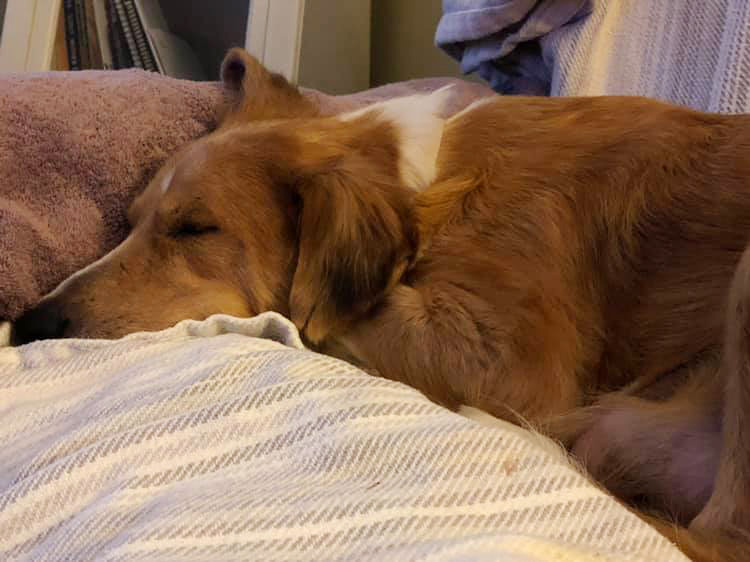 Update #8
Ready to Bloom Where We're Planted
Larkspur, Lily and Poppy were spayed and neutered on March 20. We caught up with the pups after surgery. They were a little groggy, but still adorable as ever. Can you believe how much they've changed in just 8 weeks?
Larkspur: Before and After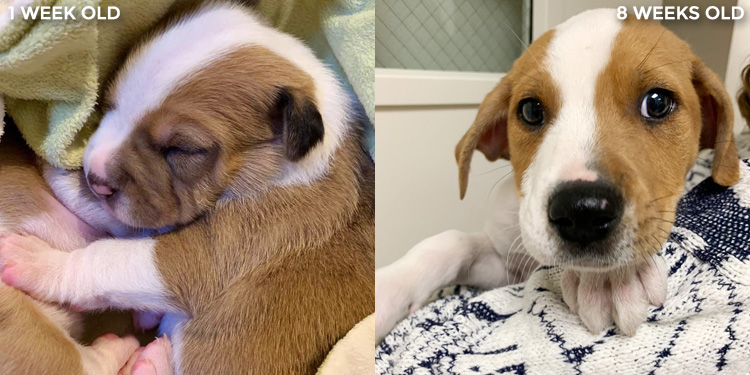 Lily: Before and After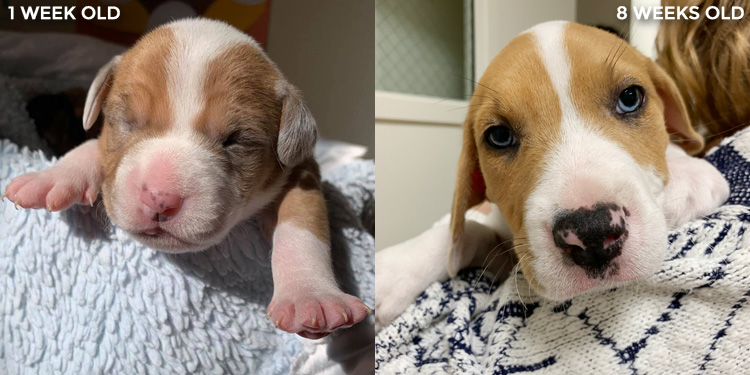 Poppy: Before and After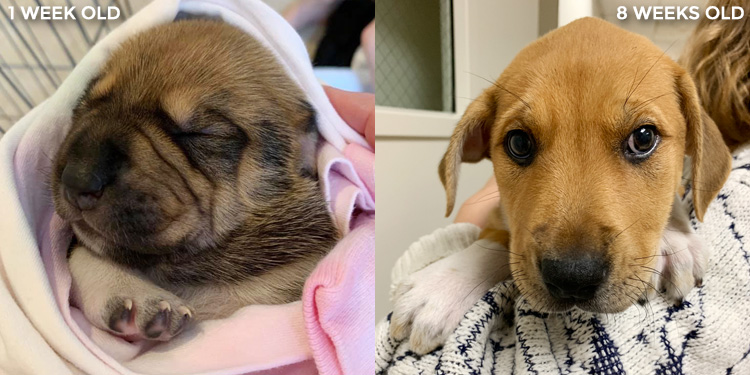 Now for the big announcement…after watching their every milestone since birth, our three flower puppies are ready to find forever homes! They will be available for adoption at 10 a.m. on Saturday, March 23! (Coincidentally, March 23 is also National Puppy Day. How perfect is that?)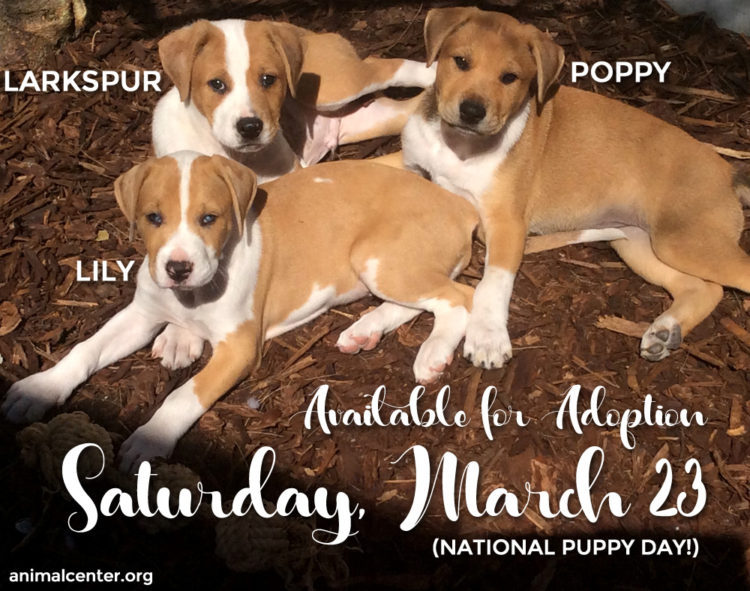 If you're interested in making one of these pups a member of your family, you can download a dog adoption application here. (Keep in mind, all our adoptions are first come, first serve, and availability is subject to change.) We can't wait for each of these sweet babies to find the perfect family!


Update #9
Home Sweet Forever Home
Sometimes even the best laid plans can change. On the morning of March 20, our vet noticed some fluid near Lily and Poppy's incisions. Out of an abundance of caution, we decided to keep them for one more week.
However, Mr. Larkspur was good to go! He was quickly scooped up by his new mom.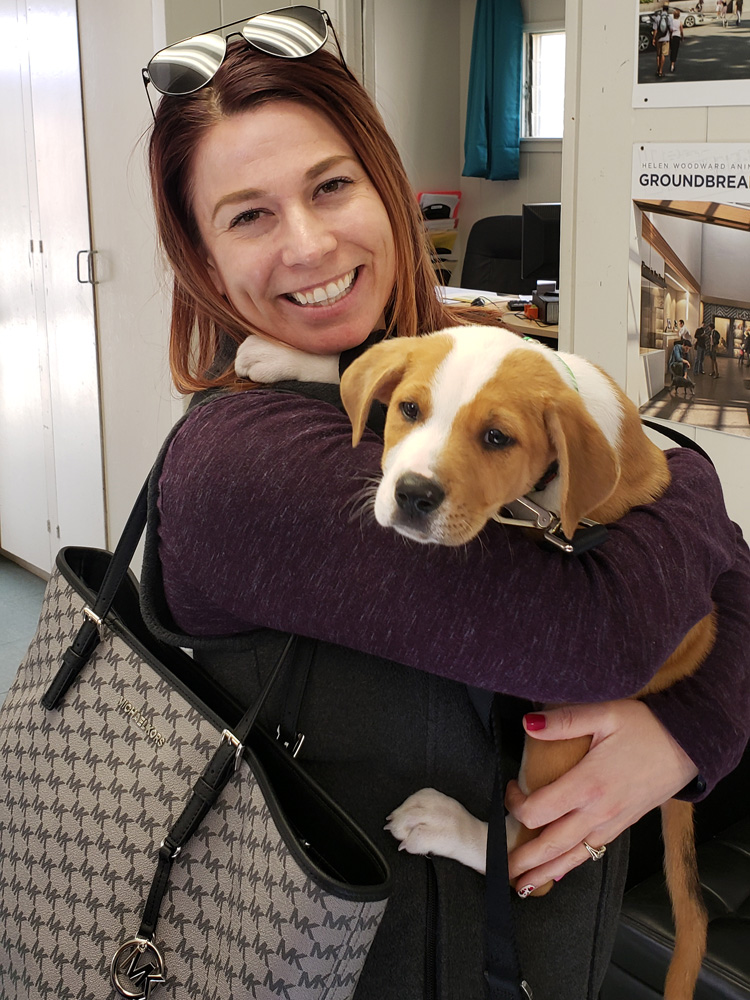 A week later, it was Poppy and Lily's turn. Poppy's new parents were elated to take her home.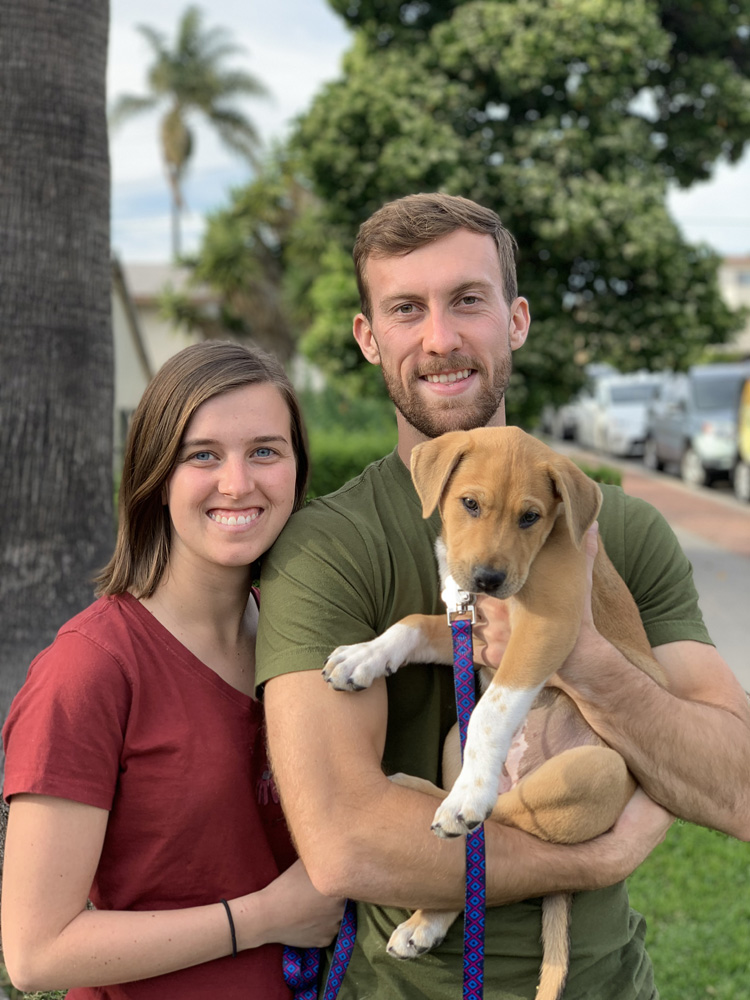 "We are so happy and in love with the new addition to our family! She is such a good girl, and is a big snuggle bug. We are so excited to have her in our lives."
 Lily is now living the good life in Encinitas with her mom, dad and human sister.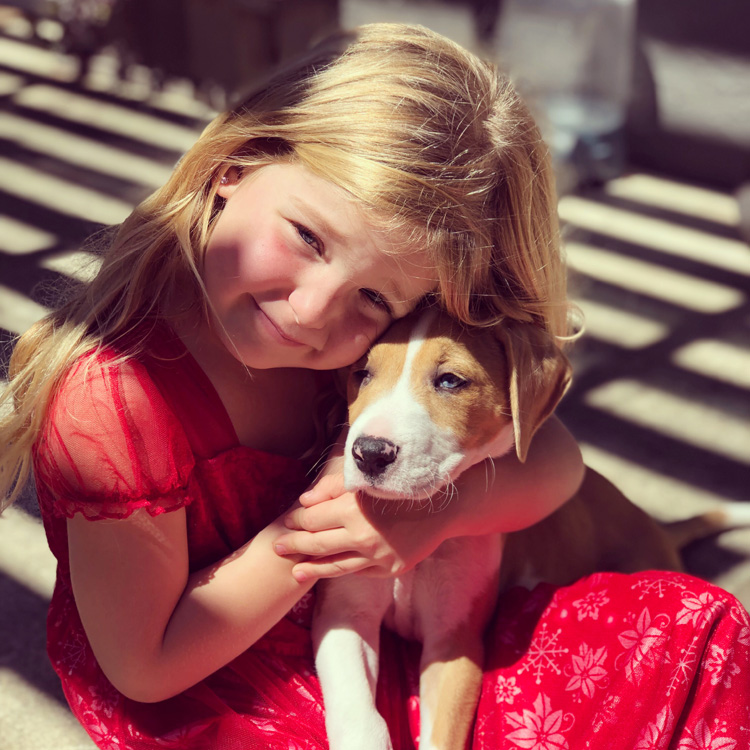 "Here is a pic of Lily and my daughter Avery – they have been inseparable since we brought her home. Lily is making a wonderful new addition to our family!"
As for Iris, the sweet matriarch of the family isn't quite ready for her forever home. She still has several months of heartworm treatment ahead of her. We will keep you updated on this gorgeous girl's progress.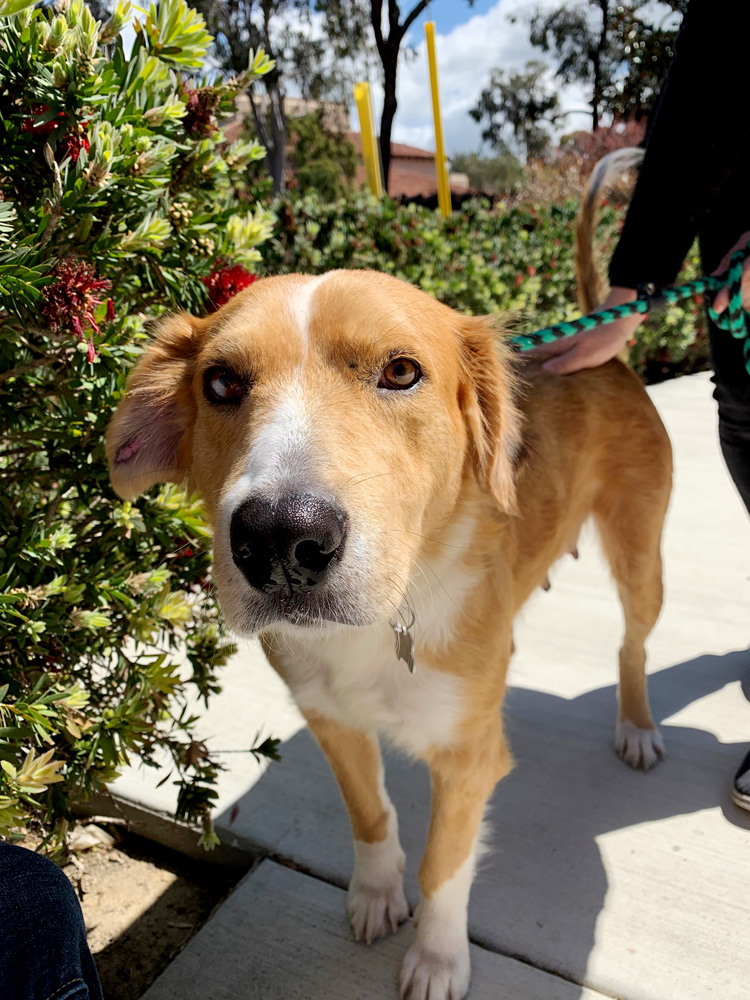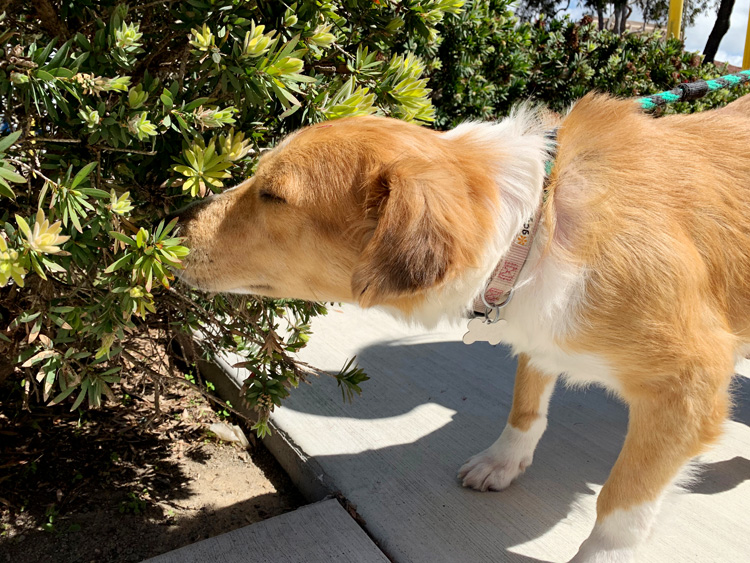 Iris stops to smell the flowers during a recent medical appointment at the Center.


Update #10
Iris' Transformation
Over the past few months, Iris has been thriving in foster care and returning to the Center periodically for heartworm treatment. On July 9, after 7 months in our care, Iris finally tested negative for heartworm!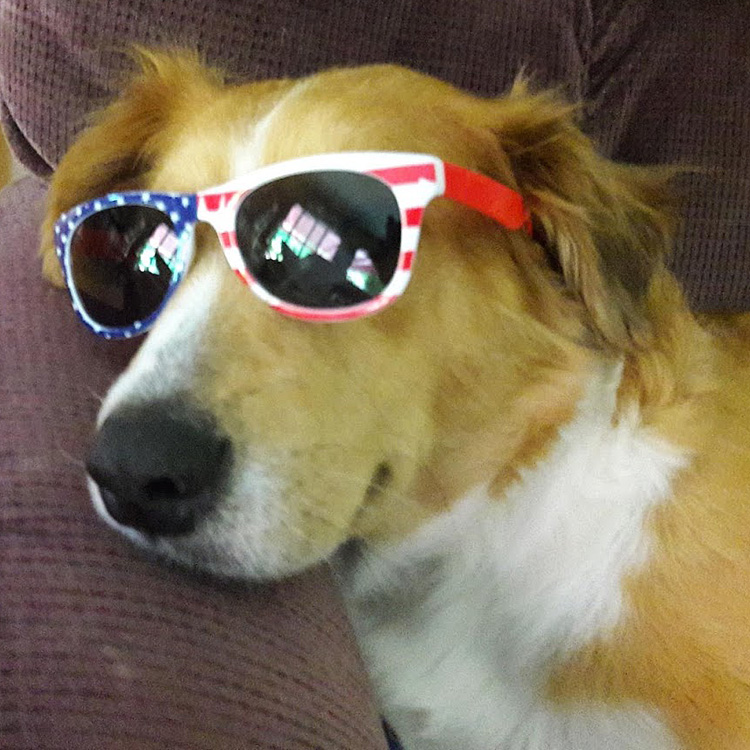 Iris chillin' in her foster home
Iris is a completely different dog from the one who arrived from Texas in January. Her infected, scabby skin has been replaced by a silky, shiny coat. Her rotting teeth are now healthy and clean. She has the same sweet demeanor, but with more confidence and good manners that will make her an excellent family dog.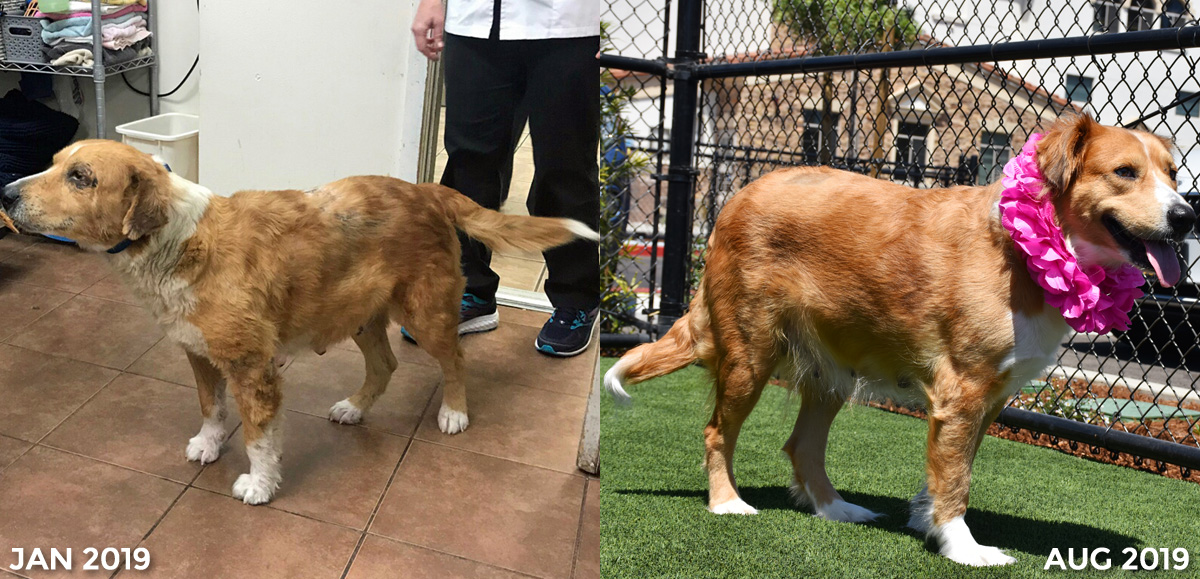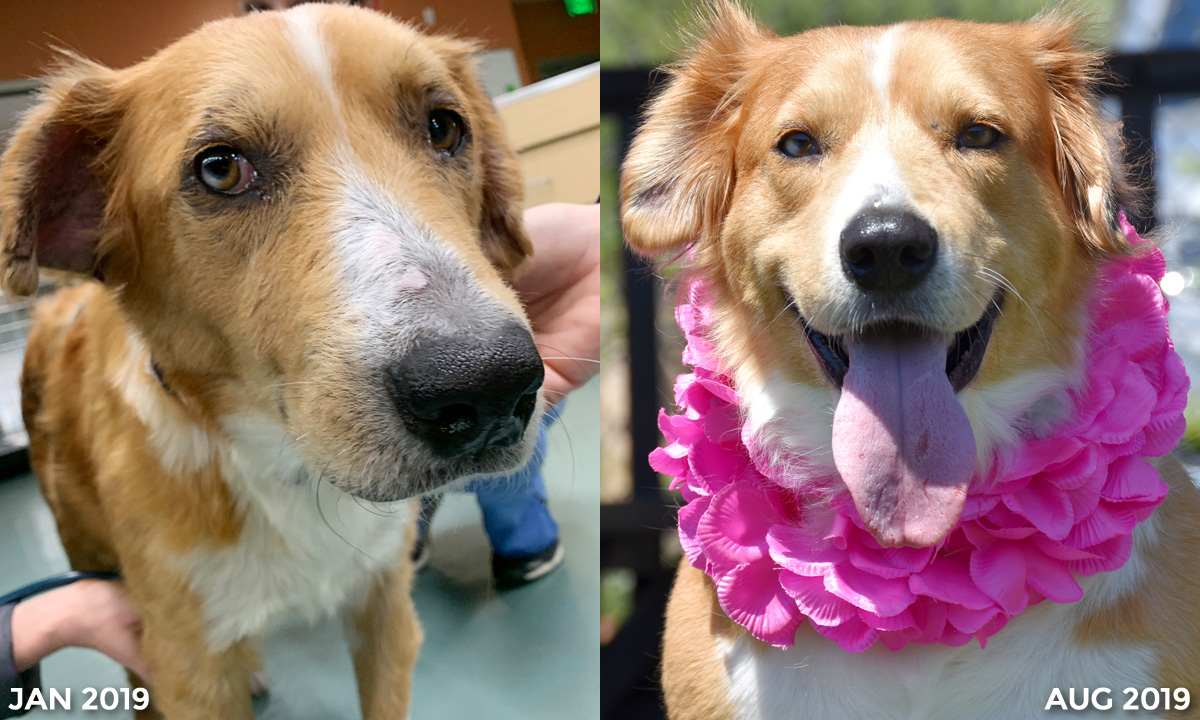 Do you think Iris could bloom in your family? This 4-year-old Australian Shepherd blend will be available for adoption at the end of August! Learn more about the adoption process and download a dog adoption application here.
Iris is one of our favorite pet transformations of all time. We can't think of a dog more deserving of forever love.