Adopt a Pet in San Diego
Helen Woodward Animal Center pets come from a variety of sources, such as the transfer of animals from public shelters to relieve overcrowding, working with local dog and cat rescues, as well as owner surrender. Every animal in our pet adoption program has received a medical examination, spay or neuter surgery, vaccinations, tons of TLC and a microchip. Our goal is to adopt out our pets into loving and permanent homes. Helen Woodward Animal Center Adoption Counselors are here to help you choose a pet who will be your perfect match for life. If you're considering pet adoption, please visit us today!
Meet Our Pet of the Week!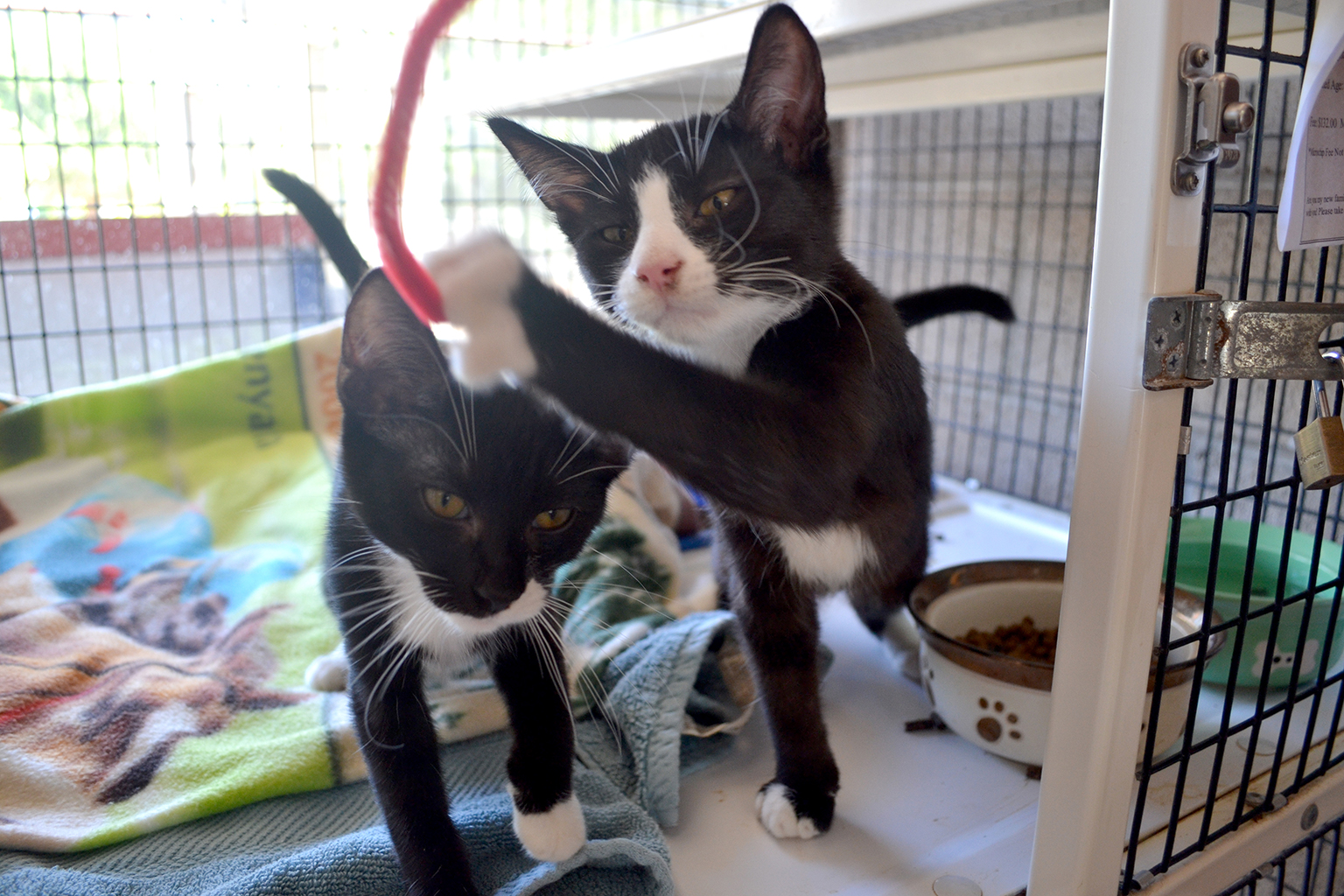 Double Trouble Comes in Terrific Twos!
Helen Woodward Animal Center Pet-of-the-Week for July 10, 2017
Rancho Santa Fe, Calif. (July 9, 2017) What's could possibly be sweeter than a soft, fluffy, full-of-fun kitten? Why, two, of course! It's kitten season here at Helen Woodward Animal Center and we've got lovable kittens like fourth-month old Taylor and Theo in abundance. While most of our kittens can be adopted alone, kittens do well in pairs. These two in fact, are so bonded that they've been seen trying to nurse one another! We've decided that they need to go home together. Come get double-dose of adorable!
Taylor and Theo are waiting to meet you at Helen Woodward Animal Center. They have been altered and are up-to-date on all of their vaccinations.  Their adoption fee is $196 total.  As with all pets adopted from Helen Woodward Animal Center, they have been micro-chipped for identification.  As an added bonus, they also come with two free passes to Sea World.
Helen Woodward Animal Center is located at 6461 El Apajo Road in Rancho Santa Fe. Kennels are open daily Monday through Thursday from 12 p.m. to 6 p.m.; Fridays from noon to 7 p.m.; Saturdays 10 a.m. to 6 p.m.; and Sunday 11 a.m. to 6 p.m. (last application accepted 15 minutes before closing.) For more information, call 858-756-4117, option #1 or visit www.animalcenter.org.
Summer Critter Camp is San Diego's best animal camp for kids Preschool through 8th Grade! Children will experience a full week of amazing animal interactions and summer camp activities, including animal-themed games, crafts, songs and more! Each camper who is signed up for a full week of camp will also receive a free Critter Camp T-shirt. Not able to commit to a full week? We offer four weeks (Week 4, 10, 11 and 12) of daily sign-ups. Click here for more info!
WANT TO ADOPT?
Download the animal adoption application and fill it out before you arrive!
More Information About Adoption
Additional Resources
It's Kitty BOGO!
Did you know TWO cats or kittens are better than one? In fact, it's so important that our felines grow up with a best feline friend that when you adopt two, we WAIVE the adoption fee of one. It's Kitty BOGO!
Kitten season is in full swing, so we have kitties both big and itty bitty clamoring to meet you. What are you waiting for?
SPAY. . . DON'T LITTER
Helen Woodward Animal Center offers a "Spay…Don't Litter" program for people looking to surrender litters of puppies or kittens. The Center will cover the cost of having the mother spayed at a participating veterinarian.
Please call the Adoptions front desk at 858-756-4117 ext.1 to set up an appointment with an adoption counselor.
GET IN CONTACT WITH US
Adoption Hours
Monday–Thursday
12 p.m.–6 p.m.
(On major weekday holidays, we open at 11 a.m.)
Friday
12 p.m.–7 p.m.
Saturday
10 a.m.–6 p.m.
Sunday
11 a.m.–6 p.m.
P.O. Box 64
6461 El Apajo Road

Rancho Santa Fe, CA 92067
858-756-4117 option #1