Helen Woodward Animal Center's Paws and Pages
In order to take precautions against the COVID-19 pandemic, in-person humane education programs at Helen Woodward Animal Center are cancelled until further notice. We understand the disappointment this may cause as many of these events have required lengthy planning from the participants, but we are committed to preserving the community's health and safety. Please connect with us about either rescheduling your program to a later date if possible, or fully cancelling it and receiving either a refund or considering your current payment as a donation.
We recognize the importance of staying positive and educated during times like these, so check out our Virtual Education and Critter-grams!
Helping Struggling Readers with Animals
Critters can help to create more confident readers!
2020 Program Dates:
March 11th ● May 13th ● September 23rd ● October 14th ● November 18th ● December 9th
Perfect for kids in 1st– 5th Grade!
5 p.m.–6 p.m.
$10 per child (1 parent admitted free per child, additional adults are $5 each)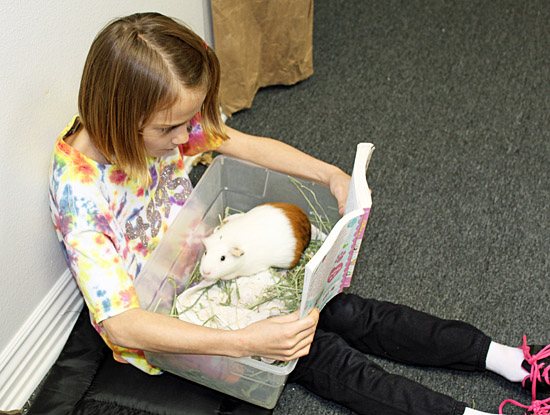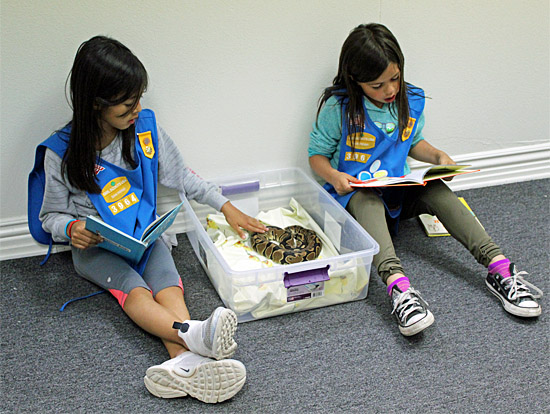 They say that practice makes perfect, and reading aloud is an important skill to master. But reading to other people can be nerve-wracking, which can make it difficult to practice. That is why we've recruited our animal ambassadors to lend a nonjudgmental ear to kids who want to become more confident readers. Struggling readers can improve their fluency skills by reading to animals! So grab your favorite book and get ready to read to and interact with some super cute animals!
Session Details:
March 11th, September 23rd, and November 18th: Participants will read to and interact with a reptile.
May 13th, October 14th, and December 9th: Participants will read to and interact with a small mammal.
An animal interaction is included in the program, but the primary focus is on reading.
Species may vary depending on animal health, safety and availability.
Make sure to bring your own book from home!
If you have any questions, please contact us at (858) 756-4117 ext. 318 or education@animalcenter.org.