Helen Woodward Animal Center's Paws and Pages
In order to take precautions against the COVID-19 pandemic, this program has several modifications & safety protocols in place, which were created based on CDC guidance. Policies are subject to change; please review this webpage carefully.
This website contains information regarding in-person programs, but if you're looking for virtual enrichment, we have options for that as well! Click here to view details.
Helping Struggling Readers with Animals
Critters can help to create more confident readers!
2021 Program Dates
January 13
February 3
March 10
May 12
September 22
October 13
November 17
December 8
Perfect for kids in 1st– 5th Grade!
5 p.m.–6 p.m.
$10 per child (1 parent admitted free per child, additional adults are $5 each)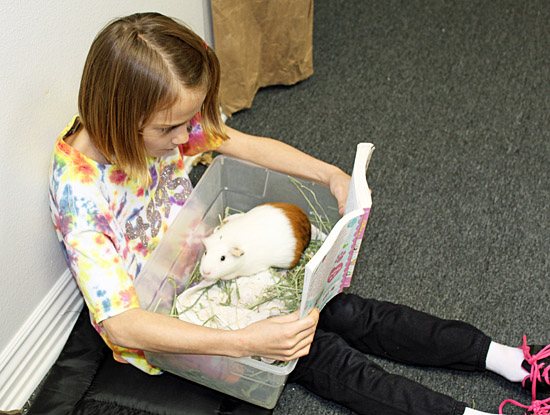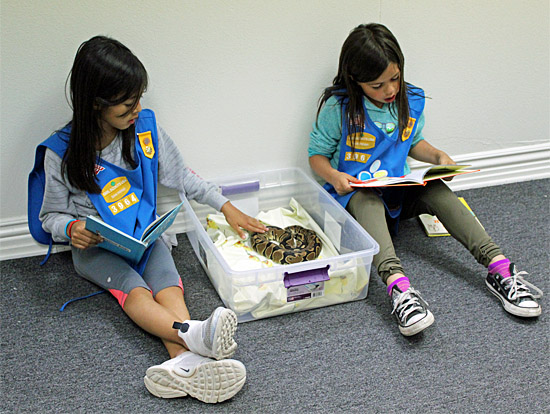 They say that practice makes perfect, and reading aloud is an important skill to master. But reading to other people can be nerve-wracking, which can make it difficult to practice. That is why we've recruited our animal ambassadors to lend a nonjudgmental ear to kids who want to become more confident readers. Struggling readers can improve their fluency skills by reading to animals! So grab your favorite book and get ready to read to and interact with some super cute animals!
2021 Session Details
January 13, March 10, September 22 and November 17: Participants will read to and interact with a reptile.
February 3, May 12, October 13 and December 8: Participants will read to and interact with a small mammal.
An animal interaction is included in the program, but the primary focus is on reading.
Species may vary depending on animal health, safety and availability.
Make sure to bring your own book from home!
Policies During COVID-19
Click here to carefully review the safety protocols (subject to change, last updated 10/1/20)

 
We will check temperatures and give a short health questionnaire at check-in. Please keep your child out of the direct sunlight and warm environments to avoid incorrectly high temperature readings.
Masks are required and must be worn at all times. This includes our staff.
No activities will involve running or too much movement.
We will go over proper hygiene at the start of the program.
We will maintain 6 ft. distance whenever possible (this excludes situations like animal interactions and certain times during which our staff members have to get closer than 6 ft.).
Participants will be given hand sanitizer before and after animal interactions.
We will clean and disinfect all areas prior to and after the program.
Please refrain from attending if you or anyone in your household has a fever or displays symptoms like coughing, sneezing, sore throat or headache.
**Protocols are subject to change. You can reach us at education@animalcenter.org or 858-756-4117 ext. 318 if you have any questions or concerns.