Virginia Lab-Testing Breeding Beagle Goes from Rescued to Red Carpet!
FROM RESCUE TO RED CARPET
Daytime Beauty Awards Welcomes Virginia Beagle Rescue HOWL Pachino as Red Carpet Corres-PAW-ndent and Helen Woodward Animal Center Award Show Beneficiary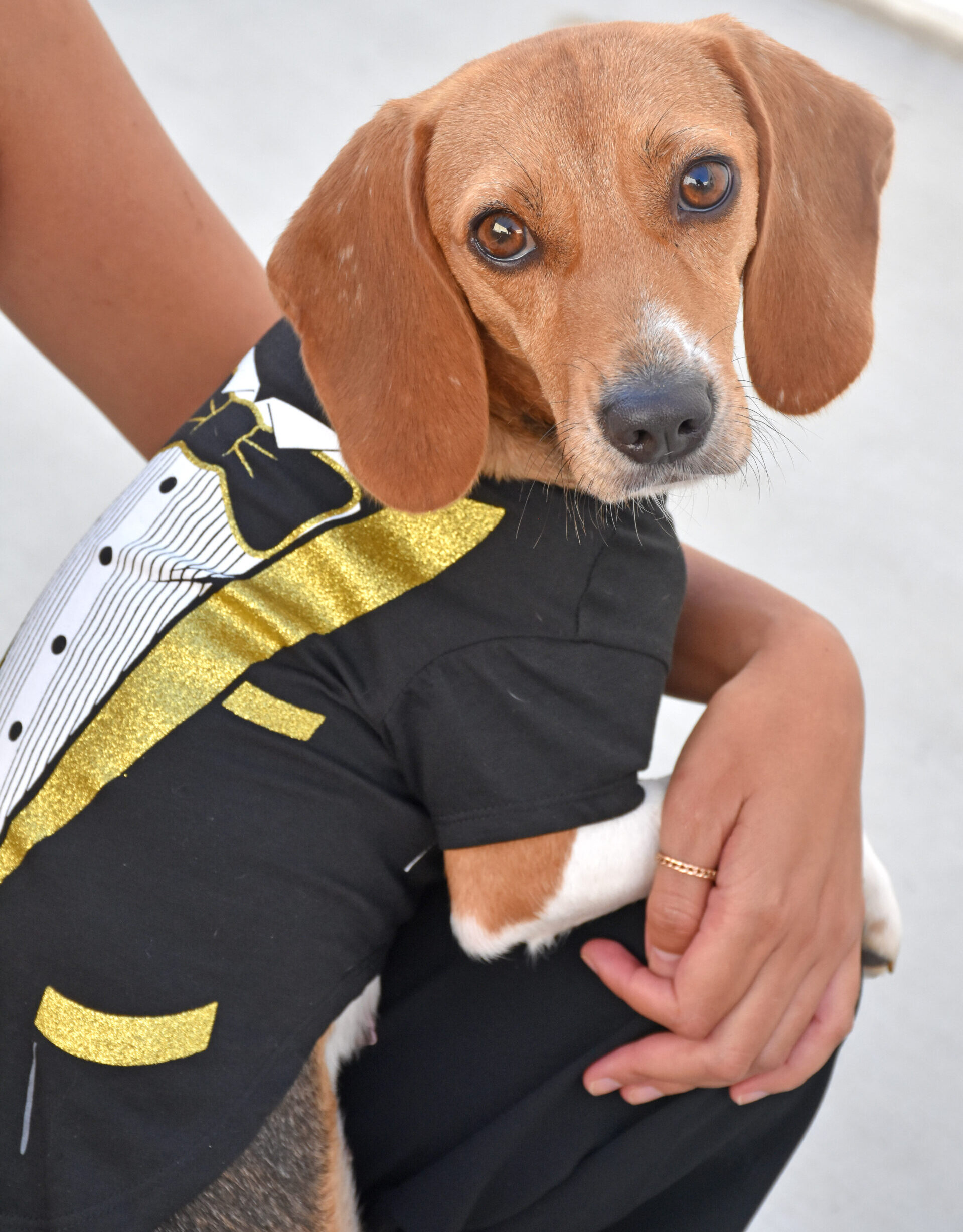 (This year's event will include Virginia rescue beagle Red Carpet Corres-PAW-ndent, HOWL Pachino.)
Rancho Santa Fe, Calif. (Sept. 7, 2022) – For the 4th annual year, thanks to Michele Elyzabeth (founder of both the Daytime Beauty Awards and the Hollywood Beauty Awards), Helen Woodward Animal Center is honored to once again participate in a celebration of beauty as the beneficiary of the Daytime Beauty Awards, Sunday, Sept. 11, 2022 at the Taglyan in Los Angeles.  This year, the Red Carpet Corres-PAW-ndent, is a very special Center rescue whose story has been receiving worldwide media attention.  Pulled from a lab-testing breeding facility in Virginia and traveling hundreds of miles to finally discover the beauty of a forever home, HOWL Pachino will be right in the heart of the action, meeting and greeting with Hollywood's big names!
The glamorous, daytime star-studded award show recognizes Science behind Beauty spotlighting health & wellness professionals in: Dentistry, Medicine, Health & Fitness, Aesthetics, Skincare, Color & Styling, Cannabis, Beauty Innovation and products around Hollywood's biggest stars who specialize in FILM, TV, MUSIC, editorial and red carpet looks.
Past years' honorees and presenters have included Cindy Crawford, Christie Brinkley, Rachel Zoe (The Rachel Zoe Project), Katharine McPhee Foster (Smash), Michelle Stafford (The Young and the Restless), Katherine Kelly Lang (The Bold and the Beautiful), Afroman (rapper), James Maslow (Big Time Rush), Tommy Chong (Cheech and Chong), Sugar Ray Leonard and Tara Reid, among others.
This year's celebrity presenters include Tony Danza, Selma Blair, Judy Greer, Paula Abdul, Sarah Shahi, Matt Iseman (NBC's American Ninja Warrior), Aida Rodriguez (Comedian), Davis Factor (Smashbox), Tracey Cunningham (Celebrity Colorist), Dr. Tess Mauricio, Dr. Stafford Broumand, Kevin Mendell (Lumenis) and more TBA.  The 2022 honorees include: Gabrielle Union (Brand of the Year with celebrity hairstylist Larry Sims for FLAWLESS by GABRIELLE UNION), Dr. Robert Kappler (Outstanding Achievement in Medicine), Jessie Graff (Outstanding Achievement in Fitness), Ario Khoshbin for REVANESSE (The Breakthrough Award), and many others.
Helen Woodward Animal Center began its partnership with the Beauty Awards when first invited on as beneficiary of the Hollywood Beauty Awards in 2017 following its extensive rescue efforts during Hurricane Harvey.  LATF USA News became aware of this work, as well as the Center's other extensive rescue missions, through international and national press releases and knew that the match as recipient would be a good one.
The idea to include a canine corres-PAW-ndent on the red carpet seemed a natural way to connect the star-power of the event to the beauty of the beneficiary's mission.  Over the years, Helen Woodward Animal Center rescue pups have been allowed to grace the Daytime Beauty Awards and the Hollywood Beauty Awards' red carpets, connecting with the Hollywood elite, with each pup ultimately finding its forever home.
This year's Red Carpet Corres-PAW-ndent is orphan pup HOWL Pachino, a 5-year-old beagle who arrived at the Center as one of over 4,000 beagles rescued from a Virginia mass lab-testing breeding facility, after a seven-month investigation.  Considered the Humane Society of the United States' 'largest rescue operation ever,' the U.S. Department of Agriculture found over 70 Animal Welfare Act violations and ignited outrage surrounding this sort of breeding and its devastation. Helen Woodward Animal Center was honored to take part in the rescue with 43 of the beagles arriving at the Center in July.  Each of the 43 beagles required spay/neuter surgery, major dental procedures (due to the unhealthy diets they had received) and were immediately placed into loving foster homes to begin socialization and an introduction to the beautiful world of becoming a beloved pet.
"This rescue is truly one of the most beautiful we've been a part of," explained Helen Woodward Animal Center VP of Development Renee Resko.  "We were thrilled to assist with these rescue efforts but we were also so moved by the gorgeous way these beagles shared their hearts and gentle nature with us, almost immediately.  We are so grateful to the Daytime Beauty Awards for shining a light on the beauty that exists in the hearts of orphan pets."
"There is nothing more endearing than the love of animals. I could never conceive my life without my furry friends around me. Thanks to Helen Woodward Animal Center, many of them find homes full of love." said Michele Elyzabeth.
As for the rest of the furry friends at Helen Woodward Animal Center, they are simply touched that the glitzy award ceremony – full of Tinsel-Town's most gorgeous – recognizes a different kind of beautiful.
For the first time, the Daytime Beauty Awards will bring beauty to the metaverse with NFT OASIS. Anyone from around the globe can live stream the award ceremony via AltspaceVR or Youtube in an NFTO designed world.
For live streaming instructions please visit: https://www.nftoasis.co/daytime-beauty-awards 
If you are interested in purchasing tables or tickets to the luncheon, please contact info@daytimebeautyawards.com.
***
About Helen Woodward Animal Center
Helen Woodward Animal Center is a private, non-profit organization where "people help animals and animals help people." Founded in 1972 in Rancho Santa Fe, Calif., the Center provides services for more than 90,000 people and more than 10,000 animals annually through adoptions, educational and therapeutic programs both onsite and throughout the community. Helen Woodward Animal Center is also the creator of the International Home 4 the Holidays pet adoption drive, the International Remember Me Thursday® campaign and The Business of Saving Lives Workshops, teaching the business of saving lives to animal welfare leaders from around the world.  For more information, go to: www.animalcenter.org
About Hollywood Beauty Awards
The HBAs was established in 2014 for the purposes of recognizing excellence in hair, makeup, styling and photography. The voting board is comprised of past honorees, winners, professionals from the beauty industry; encompassing Journalists, Publicists and Beauty Experts. Beginning in 2019, the public will be invited to participate in the voting process. Executive Producers are Michele Elyzabeth, Pamela Price and Otis Stokes.