SPREADING SMILES AT A SAFE SOCIAL DISTANCE
Helen Woodward Animal Center Ambassadors Kronk and Kuzco Take Pet Encounter Therapy on the Road and Outdoors at Boulder Creek Post Accute…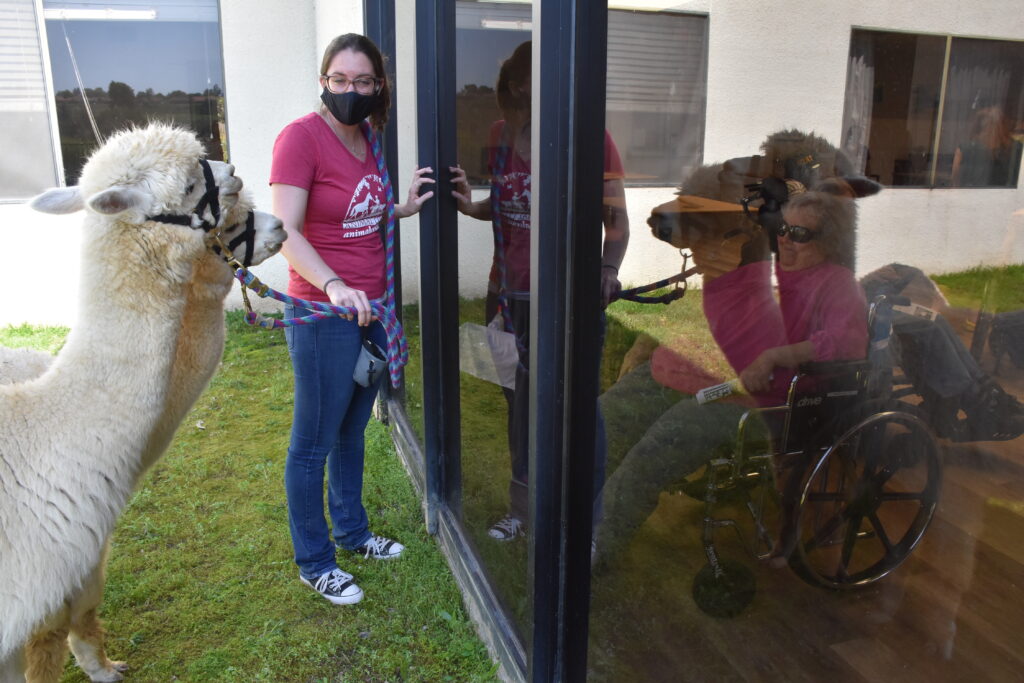 Rancho Santa Fe, Calif. (Apr. 29, 2020) – With the rise of the COVID-19 crisis, hospital and special care facilities have been closed to visitors, including Helen Woodward Animal Center's Pet Encounter Therapy (PET) animals.  That changed yesterday, with a visit from two of the Center's most colorful characters, alpacas by the names of Kronk and Kuzco.  The adorable duo arrived by van and greeted residents outside the dining hall window, bringing joy and smiles to seniors at Boulder Creek Post Accute at a socially safe distance, of course.
Kronk and Kuzco are not Pet Encounter Therapy regulars.  As two of the Center's Education Ambassadors, the twosome spend the majority of their days chomping hay in their corral and greeting children as part of the Humane Education program.
Helen Woodward Animal Center's Pet Encounter Therapy is, in essence, "cuddle therapy."  The program brings the unconditional love and tactile benefits of animals to people inside skilled nursing facilities, children's shelters, hospitals, psychiatric units and many more. The basis of the important therapy stems from studies showing that holding and caressing an animal provides benefits such as relaxation, lower blood pressure, improved long- and short-term memory, and sensory stimuli.   Due to the up close and personal nature of the therapy, farm animals are not immediate go-to's.  Dogs are naturals for the work and the program also includes a number of bunnies, guinea pigs, and even a couple of cats.
The idea to make Kronk and Kuzco honorary Pet Encounter Therapy members was inspired by the current climate.  With patients unable to cuddle with the regular PET dogs and bunnies, a surprising guest (or two) outside the skilled nursing facility windows seemed the next best thing.  What the pair couldn't offer in cuddle time, they could make up for with delight, joy and laughter.
"In the many years I have worked with this program, I have seen the unique gifts each animal can bring to this type of therapy," explained Robin Cohen, PET Manager. "Cockatoos are wonderful with clients dealing with paralysis because they can sit on a shoulder and nuzzle and talk.  Mini horses are wonderful for children because they are right at eye level.  These alpacas are some of our funniest characters.  They make us laugh every day and we knew they'd be the perfect key to inspiring smiles right now. "
Yesterday afternoon, Kronk and Kuzco's window-visit delighted many residents at Boulder Creek Post Accute.  The residence is a 149 bed short-term rehabilitation facility (for clients recovering from such injuries as a broken hip, or knee replacement) and also a long-term residence for clients that need nursing care for the rest of their lives.   A lovely additional benefit was the joy it brought to the incredible healthcare workers who took selfies next to the window with the fuzzy guests.  The visit was such a hit, that a follow-up stop and additional visits to other facilities are already in the works.
"This has been a very challenging time for all of us and it's particularly hard on individuals who are inside facilities without visits from their regular friends and family members," continued Cohen.  "The one thing I know from my work is that animals have a magical way of healing.  I am so happy to be a part of providing a little bit of their magic."
For more information on Helen Woodward Animal Center's Pet Encounter Therapy, contact PET Manager Robin Cohen at (858) 756-4117 x322, or go online at www.animalcenter.org.