PETS WITHOUT WALLS EXPANDS ITS REACH
PETS WITHOUT WALLS EXPANDS ITS REACH
Helen Woodward Animal Center's New Spay and Neuter Mobile Clinic Provides Needed Services to the Homeless and their Loving Companions…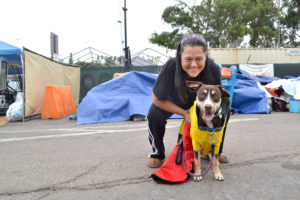 (San Diego Homeless Woman with her beloved friend.)
Rancho Santa Fe, Calif.  (Feb. 23, 2018) – Helen Woodward Animal Center's Pets Without Walls Program will head into next week with its first official "Spay and Neuter Visit" to the Alpha Project's Temporary Bridge Shelter.  The Center's latest program dedicated to the mission of "People helping animals, animals helping people," has been providing pet supplies and healthcare to the dogs and cats who reside with homeless families at the city's industrial tent and "sprung" sites since last November.  Now, thanks to Pat and Stephanie Kilkenny of Lucky Duck Foundation, a brand new mobile clinic is the latest addition to the program which will provide expanded services.
Helen Woodward Animal Center has been honored to join efforts to assist homeless families by keeping their furry companions fed and healthy.  Currently the Pets Without Walls Program is working with both Alpha Project and Father Joe's Village, providing health checks, microchipping, preventative medical care, important vaccinations, flea and tick medication, and pet food (through an extension of its AniMeals program), along with pet beds and toys, and human clothing and blanket donations from the Center's Orphaned Object resale store.
The newest program addition of the Pets Without Wall's mobile clinic will allow visiting Center veterinarians to perform spay and neuter surgeries and will also make health checks easier and more private for the pets and owners.   The new vehicle includes a full surgery set-up with cages for animals to rest before and after spays and neuters, as well as storage for supplies for a full day of surgeries and health checks.
"It's incredibly important to us that we keep beloved pets with their families, no matter what their situation," explained Helen Woodward Animal Center Vice President of Development Renee Resko.  "We've been so touched by how dedicated these clients are to their pets, even as they experience their own hardships.  In turn, these animals are loving, loyal friends who have stayed beside their owners through the good and the bad.  The bond they have created is necessary to the wellbeing of both pet and owner."
This Monday, February 26th, beginning at 8:00am, Helen Woodward's Pets Without Walls Spay and Neuter Mobile Clinic will make its first official visit to the Alpha Project's Temporary Bridge location.  Any interested media is asked to park on the street and check in with security.
For general questions, please contact Helen Woodward Animal Center at 858-756-4117 or www.animalcenter.org.