NURSING MOTHER CAT OPTS TO ADOPT!
Sphynx Kitten Cleopatra Gives Thanks to Her Adopted Mom Cat at Helen Woodward Animal Center…
Rancho Santa Fe, Calif.  (May 6, 2022) – It has been said that it takes a village to raise a child and animal welfare workers can testify that it takes dozens of individuals to rescue a single orphan pet.  However, it is also true that there is nothing that quite compares to a mother's love.   At Helen Woodward Animal Center, a recent adoption demonstrated that important bond when a domestic short-haired mother cat took in a frail baby Sphynx kitten as her very own.  This Mother's Day Weekend, the healthy hairless feline is celebrating her chance at a beautiful life, thanks to a mother's love.
On March 10th, an extremely fragile Sphynx/American Curl blend kitten named Cleopatra was relinquished to Helen Woodward Animal Center by a desperate individual.  A purebred and only 4 days old, the kitten's Sphynx mother had shown no interest in nursing her babies and the other kitten siblings had passed away.  The Center took the tiny feline and began bottle feeding but knew she would have a better chance at survival with a mother to watch over her.
Less than a week later, on March 16th, a pregnant domestic short-haired mother cat named Bellarina arrived from a local partner shelter.  Only three days later, she gave birth to three baby kittens.  Although extremely affectionate to her own fluffy felines, Center staffers wondered how she would respond to the unique hairless and motherless baby.  Touchingly, within minutes of introducing Cleopatra, Bellarina welcomed her as the fourth member of her adorable feline family.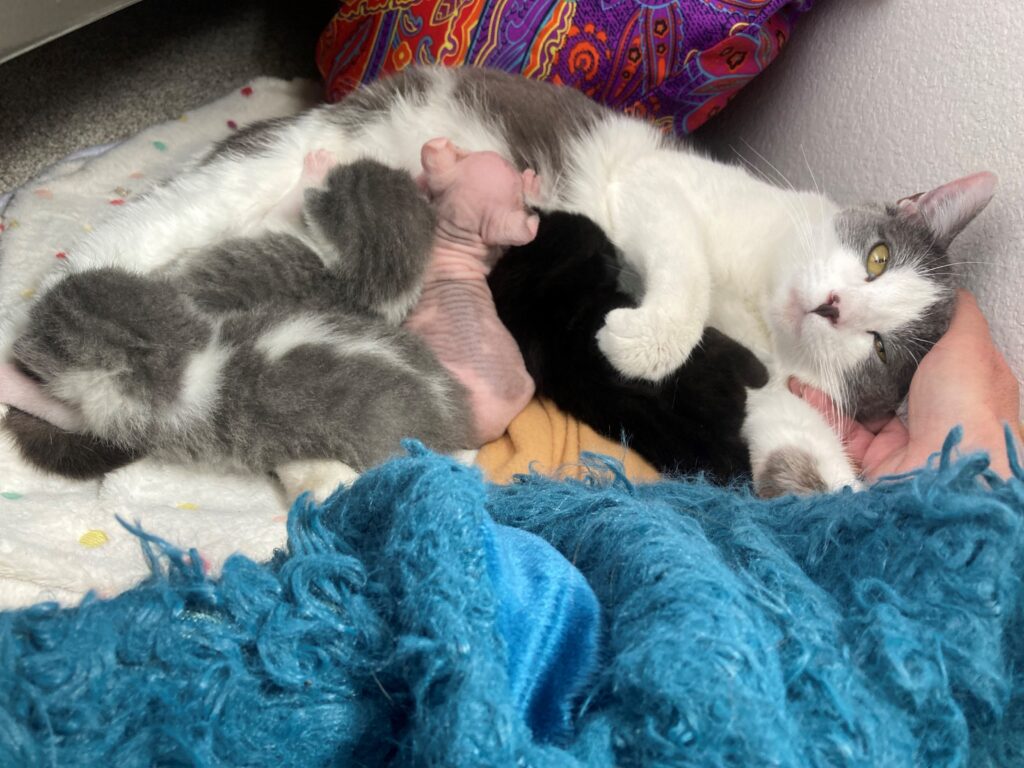 "She didn't just take to her, she fell in love with her," said Helen Woodward Animal Center Foster Program Supervisor Erin Schmitt. "Animals are amazing.  It's as though Bellarina sensed a need in Cleo and decided to not only provide her nourishment, but provide her all the love she'd been missing.  She actually takes care of Cleo before her other kittens."
With the love of her adopted mother, Cleopatra is flourishing and will have a chance to find her forever family.  Bellarina and her original kittens (named Bean, Biscuit, and Bunny) will be available for adoption in the next 2 to 3 weeks.  Cleopatra will be given a few more weeks for final health checks and her spay surgery and should be available in the first or second week of June.
Helen Woodward Animal Center wishes a very Happy Mother's Day to all mothers, whether natural or adopted.  We simply couldn't do it without you!
Those interested in adopting can fill out an adoption application at animalcenter.org/adopt-a-pet or call (858)756-4117 ext. 1.  You may also stop by Helen Woodward Animal Center at 6461 El Apajo Road, in Rancho Santa Fe.
To celebrate those special animal-loving moms, alternative gift cards are available just in time for Mother's Day.  Donate any amount to orphan pets in need at Helen Woodward Animal Center in mom's honor and a special digital card will be forwarded to her to let her know that she's saving lives.  One of this year's gift cards features an adorable photo of Bellarina, Cleopatra and the rest of the family!
More photos and video available here courtesy: Helen Woodward Animal Center: https://drive.google.com/drive/folders/1i0Pdg0aLHWGgydTHMlmV3FmvSaJ1b3xh?usp=sharing