Emergency PAWparedness for Pets
Helen Woodward Animal Center Provides Pet Care Guide Amid COVID-19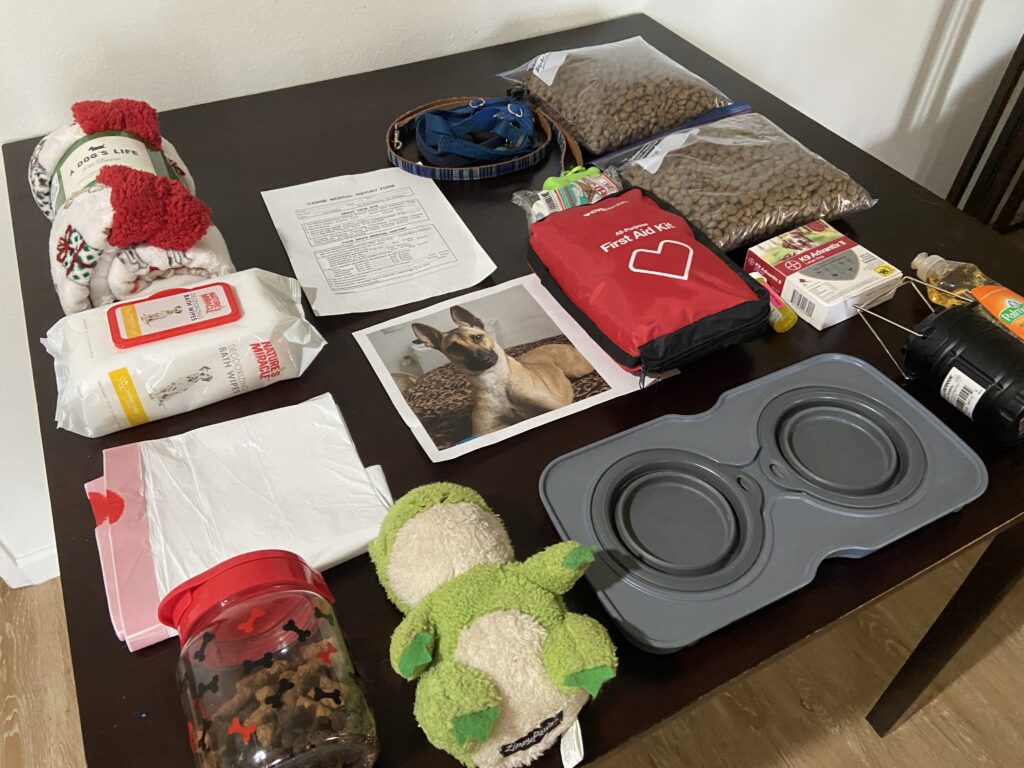 Rancho Santa Fe, Calif.  (Apr. 9, 2020) – The importance of loving companion animals in our lives has taken center-stage during these trying and rapidly-changing times as we collectively cope with the ongoing Coronavirus crisis and 'stay-home' instructions. Helen Woodward Animal Center recognizes the comfort our beloved pets provide, especially under the current situation and is highlighting beneficial steps pet parents should take to ensure their furry family members are cared for and safe during this time as well as during any emergency.
The question about whether pets can carry or contract COVID-19 has been raised in recent weeks. The CDC says there is no known evidence that domestic companion animals can spread COVID-19 or that they might be a source of infection. Helen Woodward Animal Center advises pet owners to treat their pets like any member of the family. If you are sick with COVID-19, separate yourself from your pet just as you would your other family members out of an abundance of caution. It is known that the virus cannot survive on the fur of a pet for a very long time. Your pet's regular bath would ensure they are clean and safe. You can also wipe down your pets' paws with soap and water or pet-wipes after their outdoor walk for peace of mind.
During this time, it is important to recognize that your pets are not putting you in danger, so enjoy their snuggles and extra time together.
As far as being a prepared pet owner, Helen Woodward Animal Center has some recommendations, amid the current crisis and things you should have prepared in case of any emergency that would ensure your pet is safe and healthy. It is a good idea to identify an individual who could care for your pet in the event that you become ill and unable to provide care, such as when hospitalization is necessary. As Californians continue to follow stay-at-home orders in an effort to "flatten the curve," people are asked to reduce outings and keep two-weeks supply of food and household items in case of emergency. As essential parts of our lives our pets' supplies should also be kept on hand. Those unable to purchase pet or human food due to a recent layoff can receive a two-week supply from the Center's AniMeals Relief program. Learn more at animalcenter.org/animealsrelief.
EMERGENCY PREPAREDNESS ITEMS FOR YOUR CAT:
Two weeks supply of dry food and/or canned food per cat
At least 6 lbs of litter per cat
Pet feeding bowls
Two weeks supply of essential medication (ask your primary vet for advice on what to prepare)
First Aid kit and one pack of flexible bandaging for mild emergencies
Disposable litter trays
Disposable trash bags
Photocopies of Feline Medical Records
Photo of your cat(s) for identification
Your pets' microchip number recorded
At least seven days of bottled water for each animal/person
Battery-powered flashlight
Plush Throw / Blanket
Pet Carrier
Optional: Toys (Who says you can't have fun while sheltering in place?)
Optional: Treats (No one wants to be stuck with an angry cat in quarantine)
EMERGENCY PREPAREDNESS ITEMS FOR YOUR DOG:
Two weeks supply of dry food and/or canned food per dog
Pet feeding bowls
Two weeks supply of essential medication (ask your primary vet for advice on what to prepare)
First Aid kit and one Pack of Flexible Bandaging for mind emergencies
Extra collar, leash  and harness
Disposable trash bags
Photocopies of Canine Medical Records
Photo of your dog(s) for identification
Your pets' microchip number recorded
At least seven days of bottled water for each animal/person
Battery-powered flashlight
Plush Throw / Blanket
Collapsible Kennel
Optional: Toys (Who says you can't have fun while sheltering in place?)
Optional: Treats (Who is a good boy?)
Optional: Cage Liner
You can help support orphan pets at Helen Woodward Animal Center while you shop for your pet's emergency kit. Check out our Give While You Shop webpage to learn more