COVID-19 – How to help people and pets & CENTER UPDATES

April 10, 2019: Orphan pets are running out of options. YOU can double or triple the lives we can save.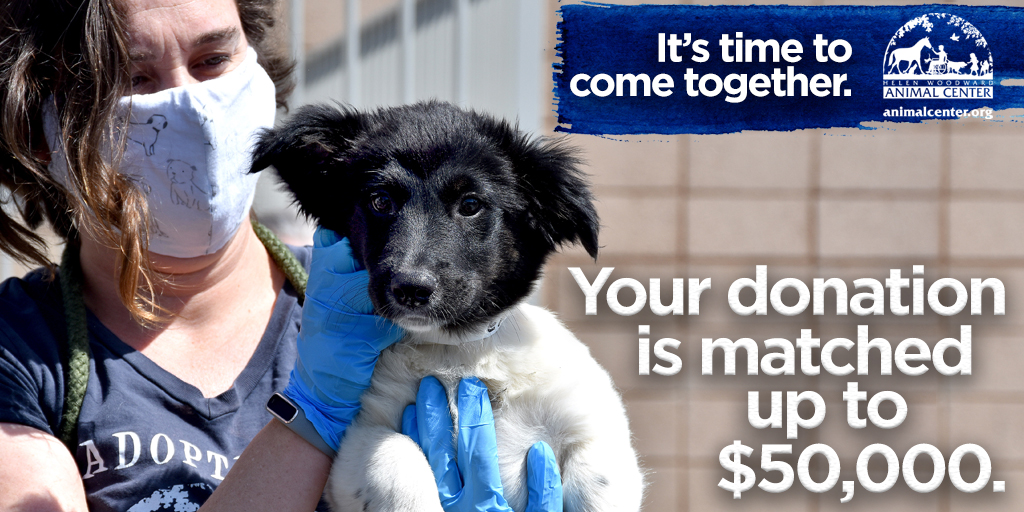 We have some good news to share with you that we hope will leave you inspired during these trying times. Right now, you can make DOUBLE or even TRIPLE the impact in the lives of orphan pets thanks to Center friends Gwendolyn M. Sontheim and the Aqualia International Foundation LTD, who are matching your donation dollar-for-dollar up to $50,000 to support life-saving pet transports.
Every gift amount you're able to give makes an even bigger impact right now.
When you donate $5 to $5,000, your donation is doubled. Your generous gift over $5,000 is tripled!
In just the past few days, we've saved the lives of more than 70 orphan pups who had nowhere to go. They came to us in two van transports from hard-hit Louisiana. They're from a rescue called Heart of Louisiana, which pulls pets at risk of euthanasia from overcrowded shelters. When many shelters and rescues in Louisiana closed their doors due to COVID-19, these 70 orphan pups were left in limbo with nowhere to turn.
Heart of Louisiana reached out to us looking for urgent help. Within days, the trips were scheduled.
This life-saving transport and the essential work we're doing for orphan pets in need wouldn't be possible without your support.
In the weeks ahead Helen Woodward Animal Center will continue to be a safe haven for struggling animal rescue groups as they seek refuge for orphan pets in their care. In fact, several transfers from Texas are already on the schedule in the weeks ahead.
Thank you! Your support saves lives.
April 2, 2019; A Message from Center President and CEO, Mike Arms
I've been thinking about you a lot lately, our amazing friends who love and support the Center's programs, pets and people we help. My thoughts have been with you, my staff, our volunteers and the thousands of beloved orphan pets who still very much need our help during these rapidly changing and uncertain times.
We've had to suspend operations of several of the Center's services, like Club Pet Boarding, Orphaned Objects Resale Shop and Critter Camp. These services create revenue to support the life-saving transfer of thousands of orphan pets in need to the Center and programs that help pets and people in need, like AniMeals.
With these trying but necessary changes at the Center, there's also good news:
We found homes for 100 more orphan pets this March than last March!
We expanded our AniMeals program to help families laid off due to COVID-19 closures with pet and human food and will have helped 900 families by the end of the week.
Our Equine Hospital has stayed open to help more than 20 horses get life-saving medical care in March.
Our Companion Animal Hospital has kept working to ensure more than 700 loving pets are healthy.
Truthfully, the Center has experienced a significant loss in revenue, and we need your help now more than ever. A contribution of $20 or any amount makes a great difference in ensuring we're able to fulfill our mission during these times.
Things are changing, and we're working quickly to adapt with you in mind. Check out the virtual opportunities and fun experiences we're providing for you on our website at animalcenter.org.
Thank you for your undeniable support!
Sincerely,
Mike Arms, President and CEO
Helen Woodward Animal Center
March 27, 2020 Update
With so many changes to our daily lives right now, one thing remains the same at Helen Woodward Animal Center – we're still working hard to save the lives of hundreds of pets in need weekly and our adoptions center is open for appointments. We're still partnering with overcrowded shelters and rescues in Texas, Louisiana and up and down California to provide safe life-saving transfers to San Diego to pets in need. The vital work being done at Helen Woodward Animal Center daily to find orphan pets permanent homes right now is essential.
We feel lucky to have supporters that are reaching out and asking how you can help!
TOP FOUR WAYS YOU CAN HELP RIGHT NOW!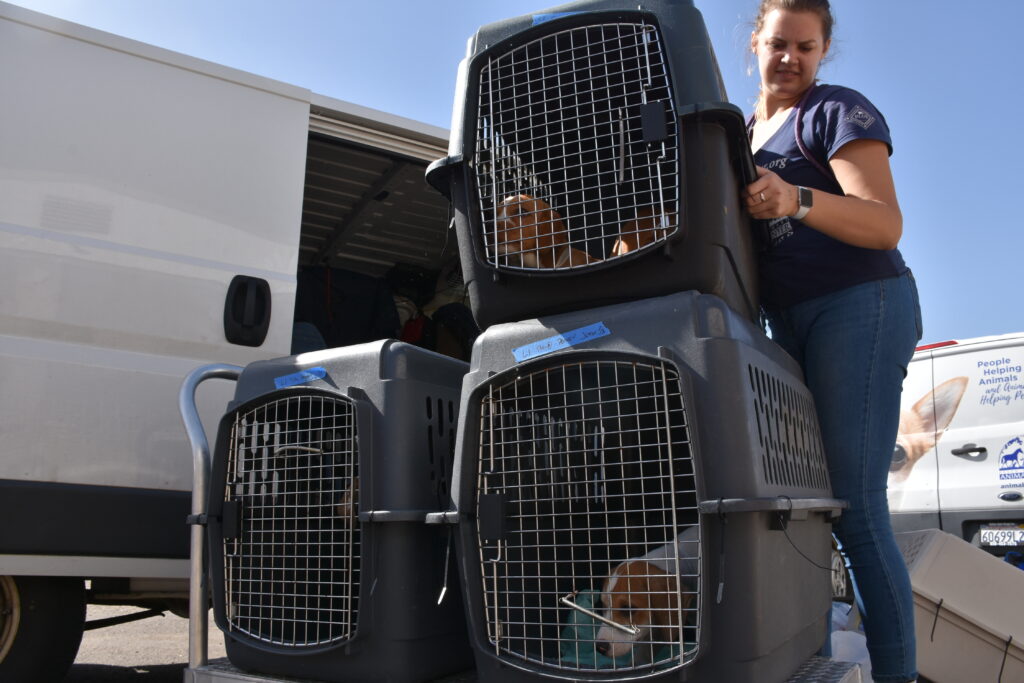 1. DONATE TO ORPHAN PETS: Your support right now means the world to us!  Without it, we couldn't continue to pull loving pets from high-kill shelters and bring them to the Center. Many of these shelters are having to close their doors to the public right now, putting beautiful dogs and cats at a higher risk.
2. DONATE TO ANIMEALS RELIEF: COVID-19 has caused expansive business closures and led to so many loving pet owners losing their jobs. AniMeals Relief efforts have been activated to distribute much-needed pet food to the recently unemployed. We have been inundated with requests for pet food and need your help to fulfill the need and purchase more food for distribution to those most affected financially.
3. GIVE BACK WHILE YOU SHOP: It's easy to help Helen Woodward Animal Center while you do your regular shopping and stock up on groceries to stay home. Sign up for Amazon Smile and Ralph's Community Rewards to have a percentage of your purchases automatically go to support orphan pets! Plus, starting April 1, you can give to Helen Woodward Animal Center when you shop at Target, look out for details soon!
4. ADOPT: Furry faces are waiting to find their forever homes and offer YOU their stress relieving, happiness inducing abilities. If you've been thinking about adopting a new pet, right now is a great time! Current 'stay inside' orders mean more time to dedicate to raising a new dog or cat. Our adoptions center is open by appointment only. Learn more and schedule your time to meet your newest family member here.
HERE'S WHAT ELSE IS HAPPENING AT THE CENTER!
Be assured we're taking necessary health precautions at the Center, which you can read about on our website.