Rescue Dwayne "The Rock"
One dog's journey from extreme abuse to finding a loving forever home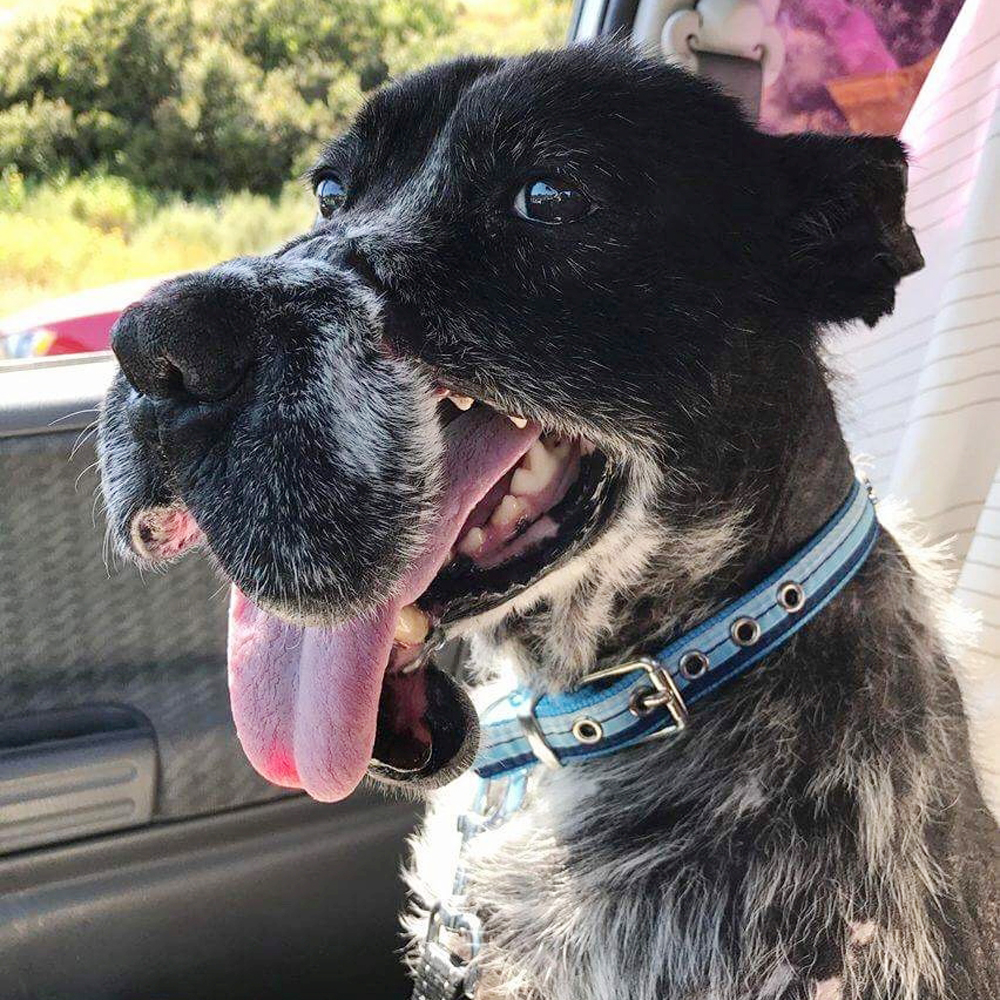 Dwayne has received so much love and support that we want to keep you up-to-date with his road to recovery. Bookmark and check back to this page for his latest updates!

October 17, 2018
Dwayne Pays a Visit for His Yearly Check-Up
It's been more than a year since our beloved Dwayne started his new life. You may remember he came to Helen Woodward Animal Center in May of 2017 as an orphan dog who had endured among the worst cases of abuse the Center had ever seen. His tragic past had left him disfigured and in need of tens of thousands of dollars worth of medical treatment.
It was his ability to accept love that touched everyone who heard his story locally and around the world in media reports. Compelled by his fight to have a better life, more than $40,000 was raised for his treatment.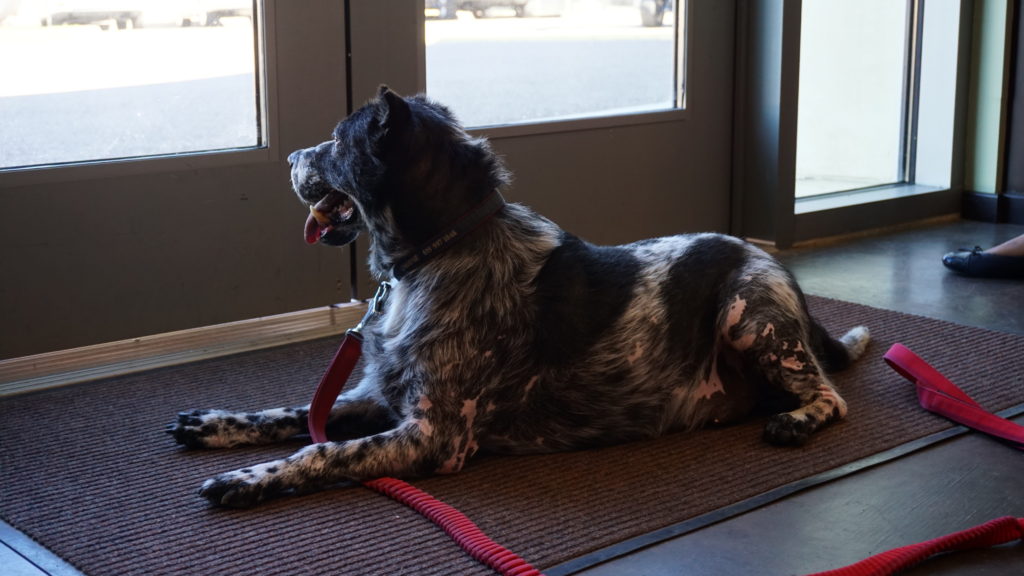 In September of 2017, Dwayne found his perfect forever home. Dozens of his supporters were there to see him off.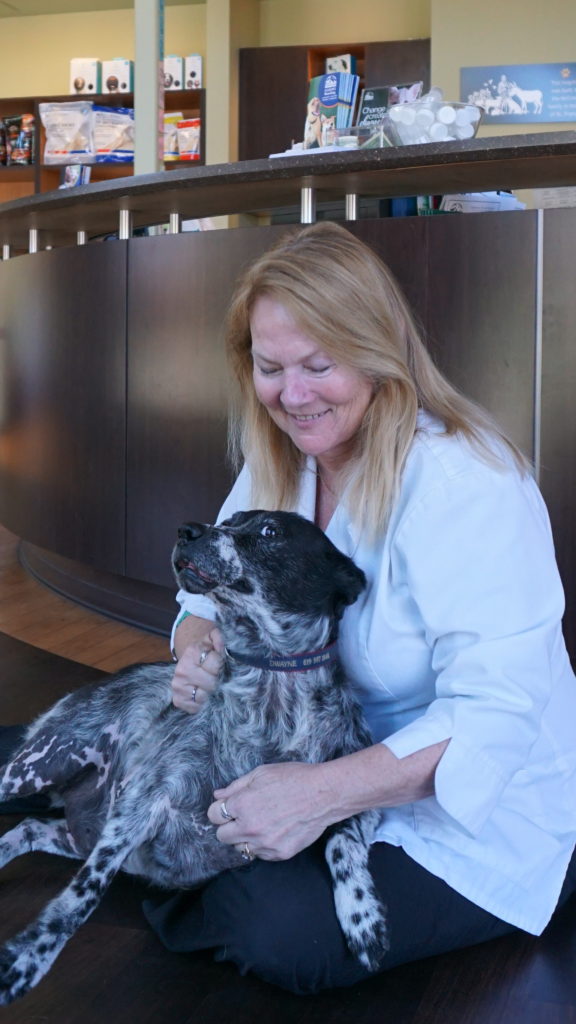 He recently came back for his yearly check-up at Helen Woodward Animal Center's Companion Animal Hospital where he received his treatment from Chief Veterinarian Dr. Patricia Carter. He made sure to give her lots love during his visit. In fact, Dr. Carter opened her home and fostered Dwayne throughout his recovery, so their connection has always been strong.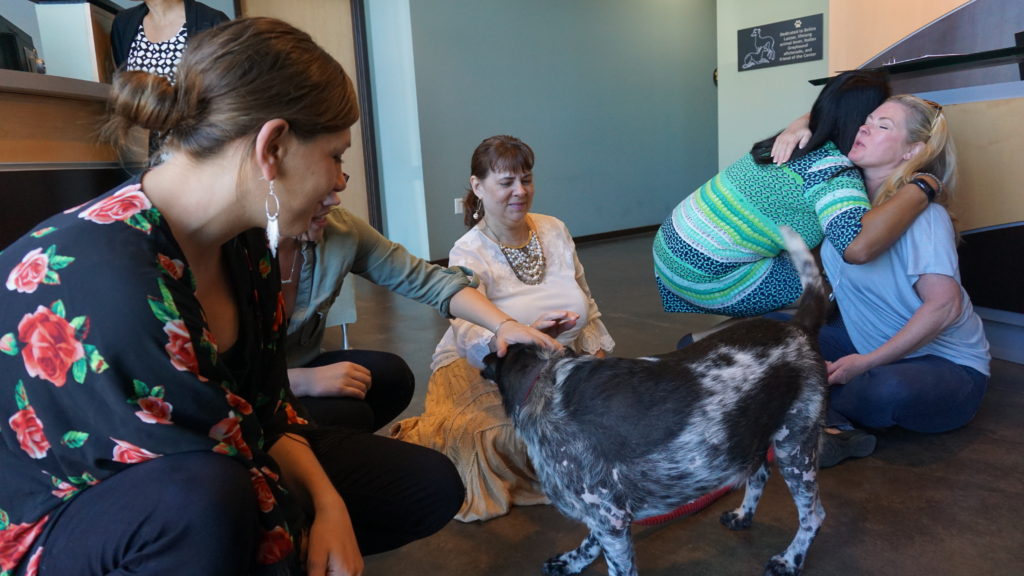 Center staff were delighted to see their old friend Dwayne thriving and hear how he's been doing.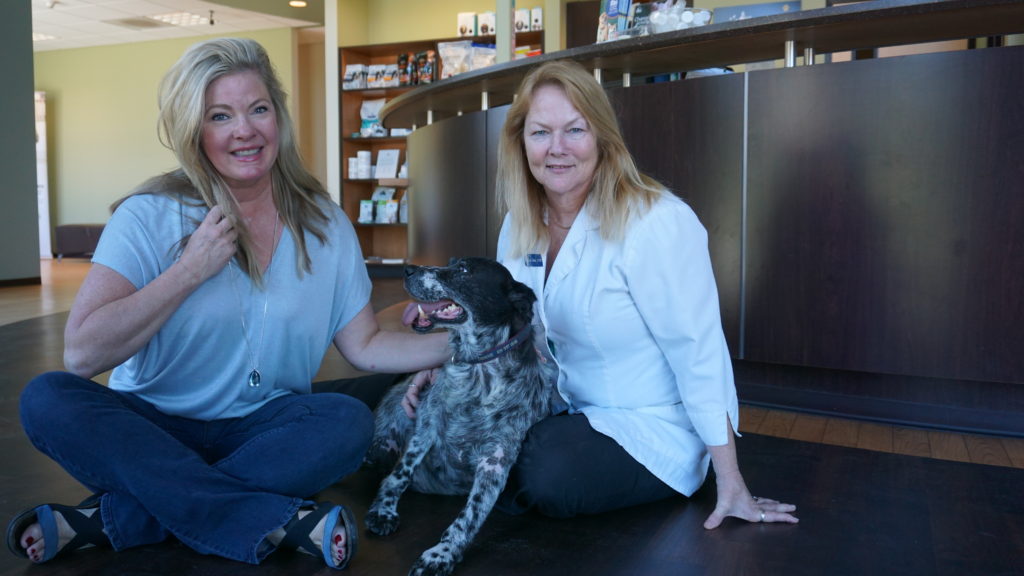 Today, he has a clean bill of health. Word is he loves dinner time, enjoy car rides and is always up for snuggle time. His mom thinks the world of him. (And we do, too.)

September 5, 2017
Dwayne Adopted!
With his arrival at Helen Woodward Animal Center in early May, Dwayne, an orphan pup who had been horribly disfigured by abuse, became an international celebrity.  Thanks to media interest and a passionate social media following, Dwayne's tragic early life (subjected to kicking, beatings, and a crude wire muzzle), and his Tijuana rescue, became news throughout the world, leading to well-wishes and donations from as far away as Brunstatt, France. With over $40,000 donated towards medical needs, Dwayne spent nearly four months receiving life-changing surgeries, therapeutic medical treatments and the loving foster care of Helen Woodward Animal Center Chief Veterinarian Dr. Patricia Carter.
Everyone who met Dwayne fell in love with him and Helen Woodward staff delighted in his regular visits to the Center.  The final piece to an orphan pet's ultimate happiness, however, is its placement in a forever home, and staff members were also eager to find Dwayne his happy ending.  On Monday, August 14th, Helen Woodward Animal Center began taking applications for Dwayne's adoption. The application included specific requirements to meet his unique physical limitations, along with the extra special requests to ensure that Dwayne lives out the rest of his years in the happiest of circumstances.
The Center is pleased to announce that we have found Dwayne a truly perfect person to call his own.  Dwayne's adoption became official on Friday, September 5th at 10:00am.  We at Helen Woodward Animal Center are deeply grateful to all those who supported Dwayne on his journey toward healing and a forever home. We will share future updates on his new life on social media, so be sure to follow us on Facebook, Instagram, and Twitter.

August 14, 2017
Dwayne Seeks Happy Ending!
Helen Woodward Animal Center Begins Search for His Forever Family
Since his arrival at Helen Woodward Animal Center in early May, Dwayne, an orphan pup who had been horribly disfigured by abuse, has been living a true Cinderfella story.  Thanks to media interest and a passionate social media following, Dwayne's tragic early life (subjected to kicking, beatings, and a crude wire muzzle), and his Tijuana rescue have become news throughout the world, leading to well-wishes and donations from as far away as Brunstatt, France. With over $40,000 donated towards medical needs, Dwayne has spent the past three months receiving loving care, life-changing surgeries, and therapeutic medical treatments at Helen Woodward Animal Center.  Now, Dwayne's biggest transition is on the horizon as we begin the search for his forever family!
Thriving in his new surroundings and the loving foster care of Helen Woodward Animal Center Chief Veterinarian Dr. Patricia Carter, Dwayne has blossomed into a healthy, confident and affectionate friend to everyone he meets, earning him an overwhelming number of admirers with adoption inquiries coming from far and wide.  But the final piece to any orphan pet's ultimate happiness is its placement in a forever home. To help find Dwayne the happy ending he deserves, Helen Woodward Animal Center begins taking applications for Dwayne's adoption, this Monday, August 14th and is requesting a 100 word-or-less essay or a one-minute video to accompany each application, stating why the potential adopter would be best suited to Dwayne.
"It is going to be a very difficult decision and really hard for all of us to see him go, but Dwayne deserves it," stated Jennifer Shorey, Helen Woodward Animal Center Operations Director.  "He embodies every characteristic people hope to find in a furry family member…loyalty, heart and incredible devotion.  We will miss him but it will help to know that he's finally found his forever family."
Due to Dwayne's difficult past history and his current special needs, Helen Woodward Animal Center is seeking a family with the following specifications:
Located in the San Diego Area – or within a 2 hour drive.
A family with no other dogs or a home with one friendly and gentle dog.  (Dwayne loves other dogs but wants to be your number one!)
A family that will allow Dwayne to be inside for most of the day.  (Dwayne is house-trained and very respectful of boundaries.  He loves being indoors with you!)
A family that understands Dwayne's limitations.  (Dwayne has a lame front right leg.  He still loves to frolic and play, but please no marathons or strenuous hikes.)
The family who adopts Dwayne will be treated to 50% off of all Dwayne's medical needs for life at Helen Woodward Animal Center's Companion Animal Hospital.*  It is our way of thanking you for making Dwayne's dreams come true.  (*All treatments must take place at the Center's Companion Animal Hospital to receive the covered discount.)

July 20, 2017
New Hope Discovered for Dwayne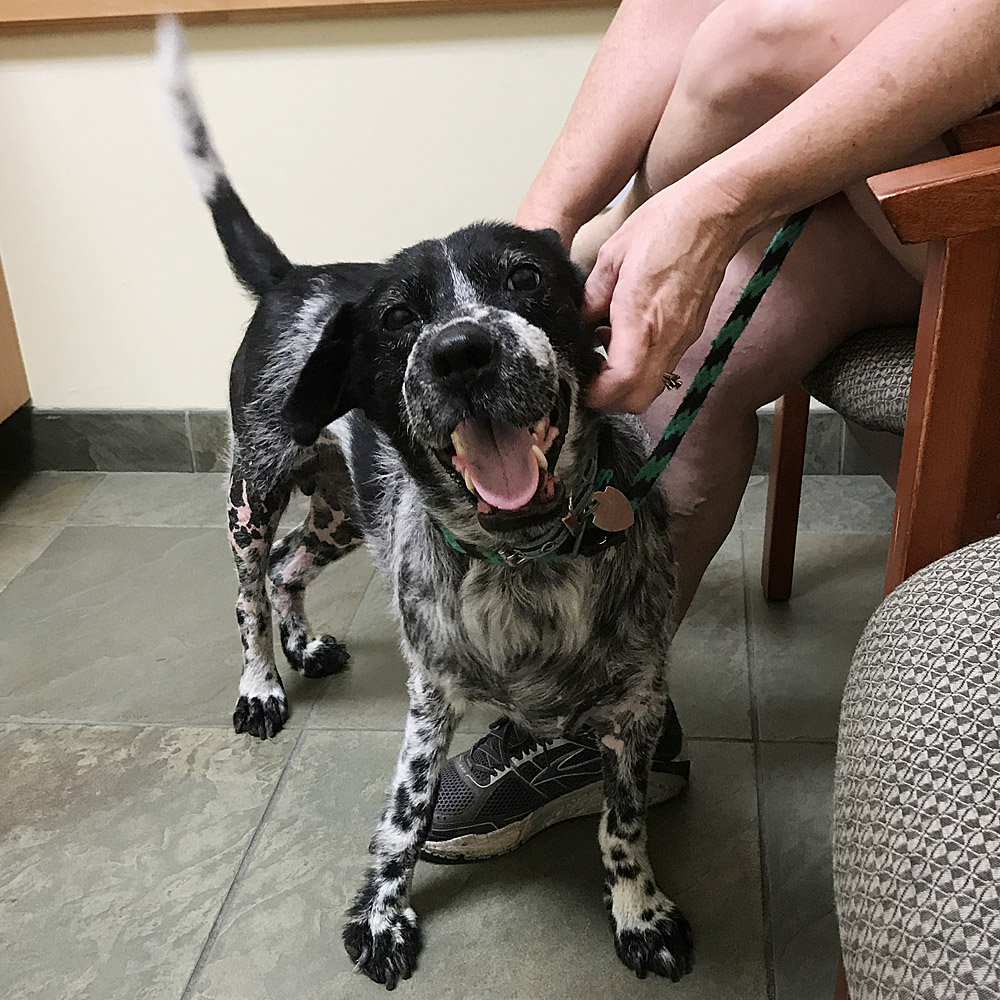 Dwayne was all smiles when he found out he didn't need surgery just yet!
A happy surprise twist has occurred in a recovery journey that has had its ups and downs. During a pre-surgery examination today, Dwayne's medical team identified new hope and postponed a severe surgery that had been scheduled for this morning.
Ever the charmer, Dwayne gave friendly greetings to hospital staff (and other doggy patients!) as he walked into his pre-surgery exam. Upon examination, the team was surprised to find that he seemed to be coping with the injured leg better than he had at his preliminary exam 6 weeks prior.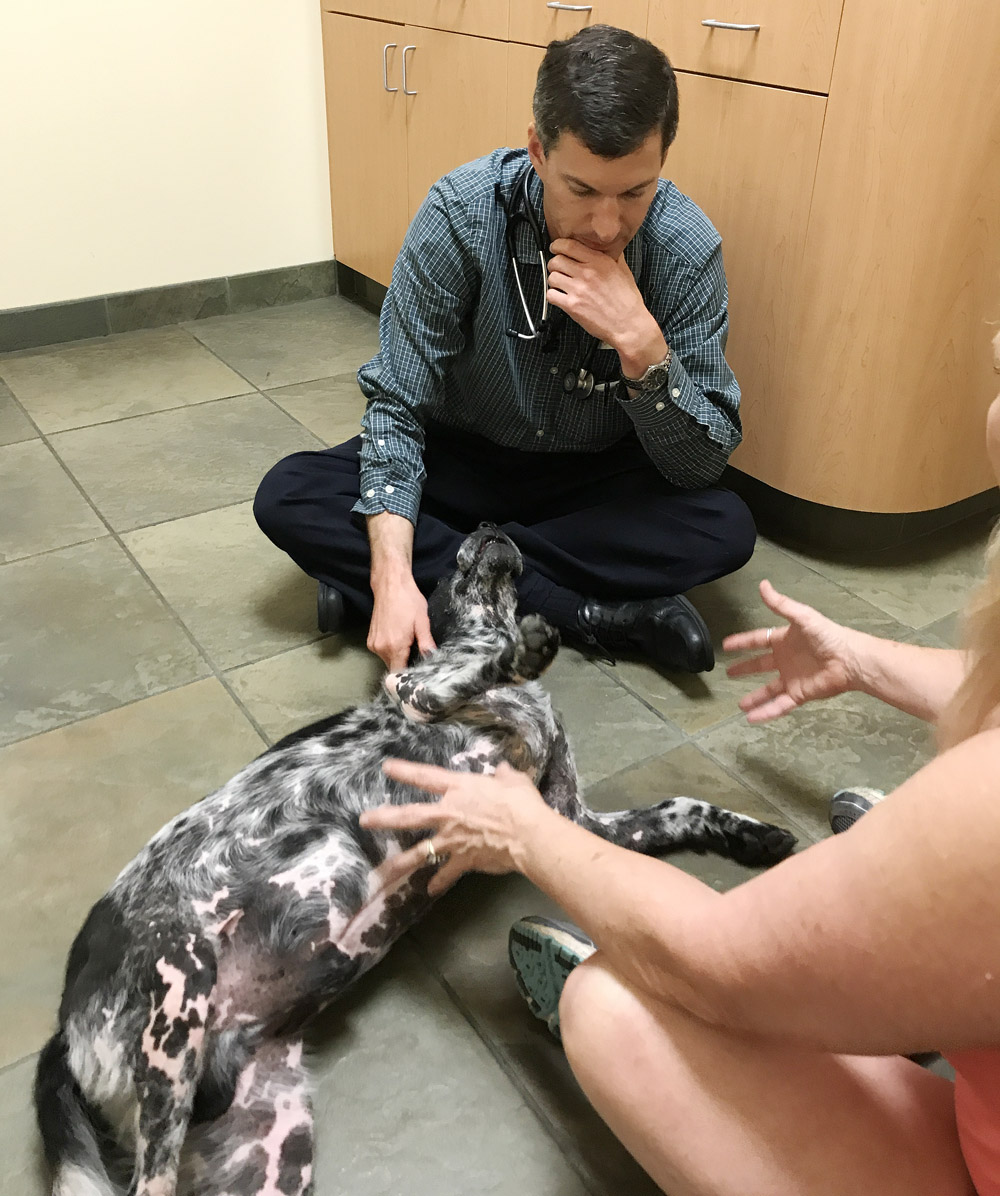 "It appears as though his back right hip surgery has healed exceptionally well and has taken the strain off of his front right elbow. Additionally, we've been doing physical therapy consistently over the past few weeks which seems to have had a positive impact on use of his elbow, too," Dr. Carter said. "Things are actually looking better than they were 6 weeks ago."
Originally, it had been determined that Dwayne's front right leg would need to be fused or amputated. Today, Dwayne's medical team, which includes professionals from both Helen Woodward Animal Center's Companion Animal Hospital and the California Veterinary Specialists, has determined that there may be an even better course of treatment for the lovable pup who had been a victim of extreme abuse. The team will be launching a nationwide search for the best experts to consult on his unique case.
In normal circumstances, when a dog suffers an injury like dislocation or fracture, they receive medical treatment immediately. In this case of extreme abuse, Dwayne wasn't treated at all, so his injury and healing process have been unique. Dwayne's rescuers at Helen Woodward Animal Center are determined to follow every opportunity to give Dwayne the best chance at a happy, full life.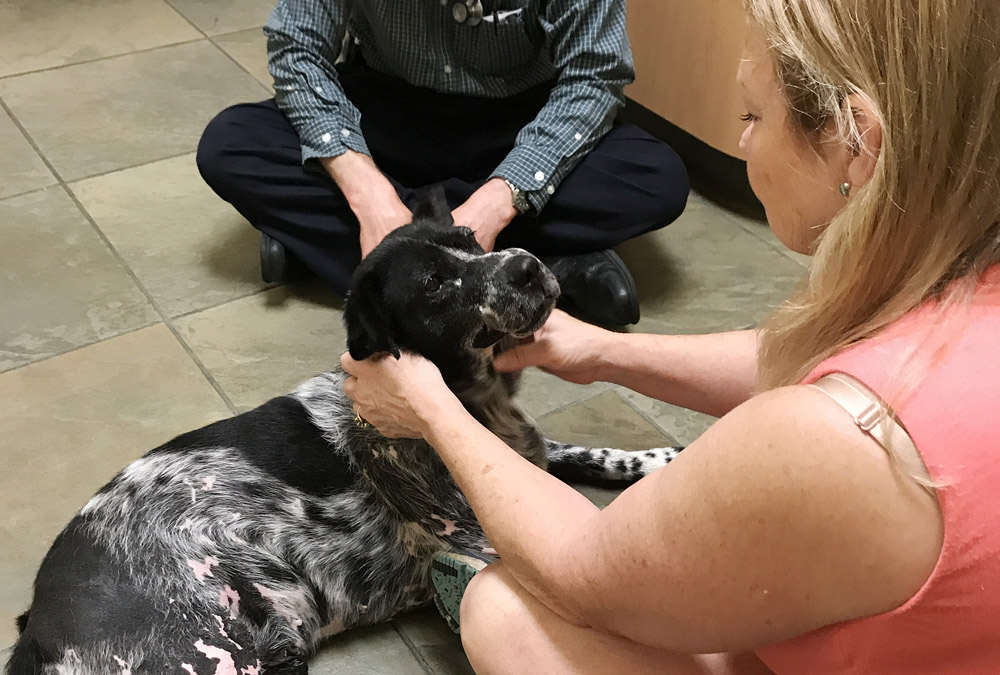 Such a loverboy.

July 11, 2017
Summer Fun!
Dwayne has been taking some time to relax and recover from months of medical treatments, and boy is he having fun doing it! He's spent time lounging around, playing with friends and soaking up the sun.
All of those feel-good vibes you've been sending him have paid off. His most recent facial surgery has healed, and his stitch-removal went well this morning. He is doing so well rehabilitating his gait after hip surgery that Dr. Carter feels comfortable scheduling his elbow surgery- the riskiest procedure he'll face- for the end of this month. (We'll talk more about his elbow surgery next week.) For now, enjoy some photos of Dwayne enjoying his very first summer with loving humans!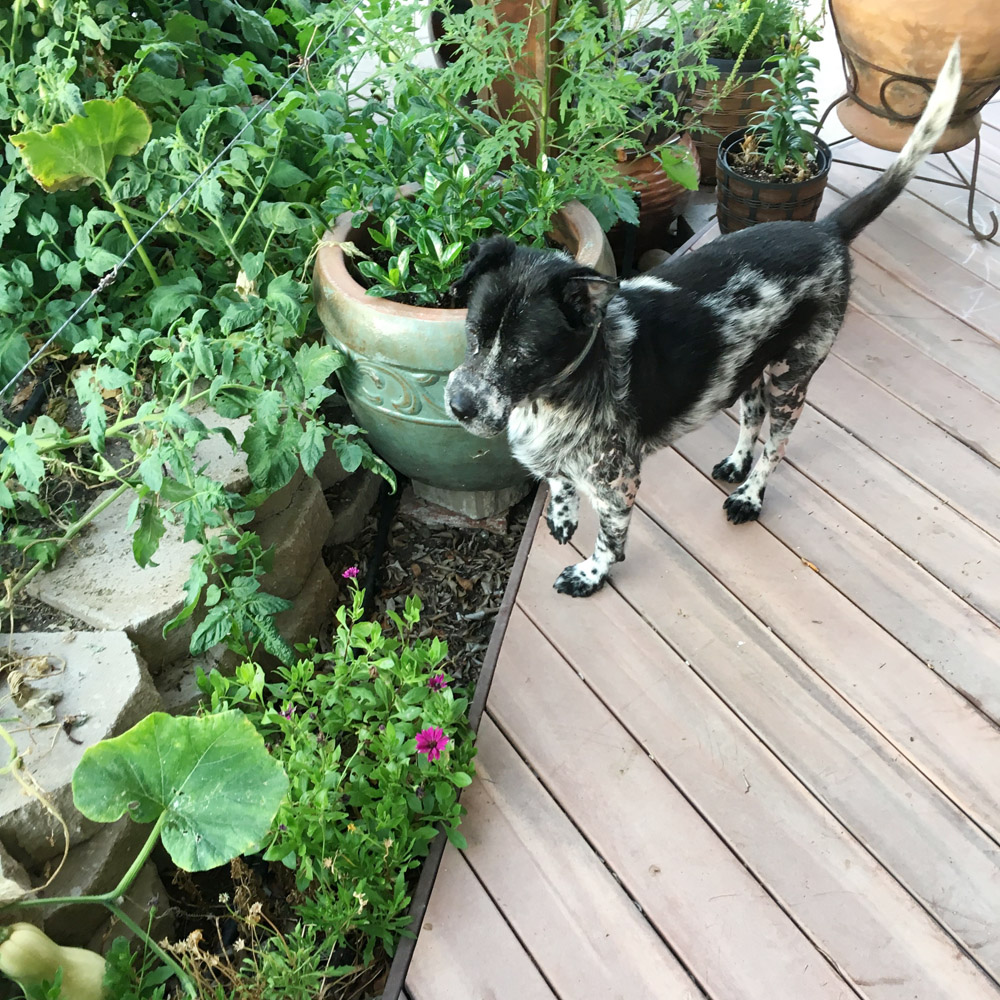 Some time in the garden is just what the doctor ordered.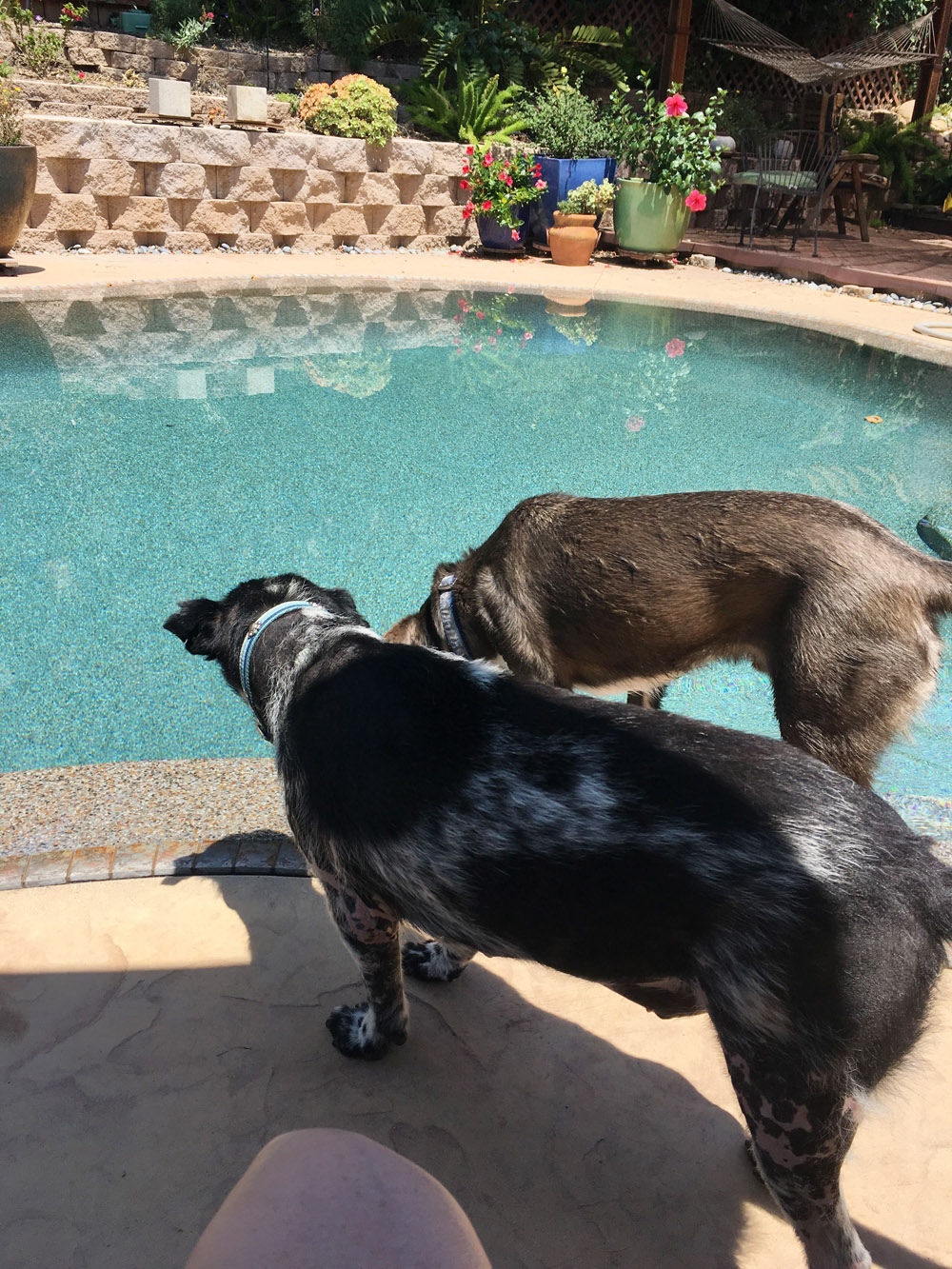 Hangin' poolside with friends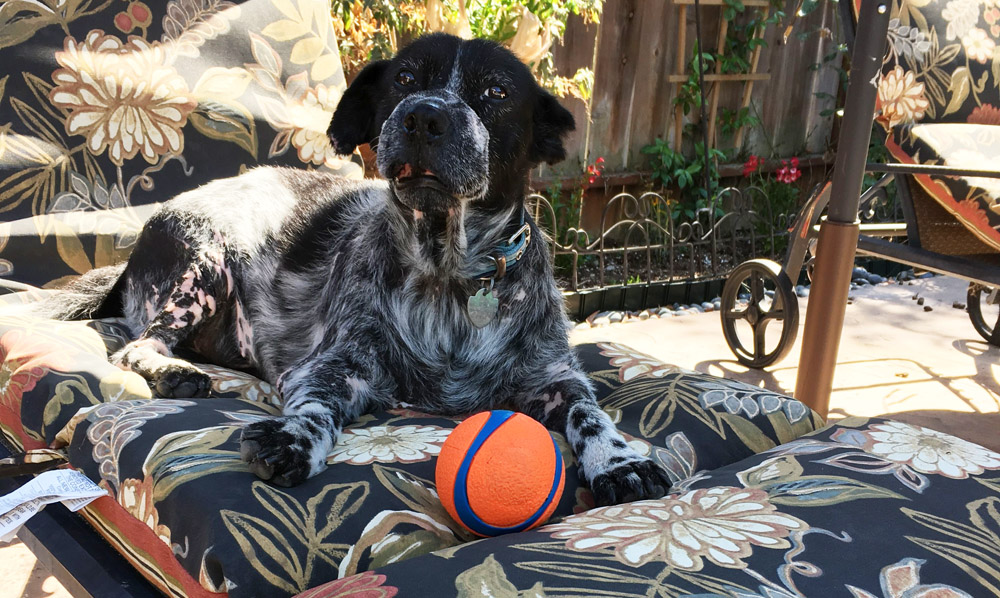 Lookin' handsome and sporty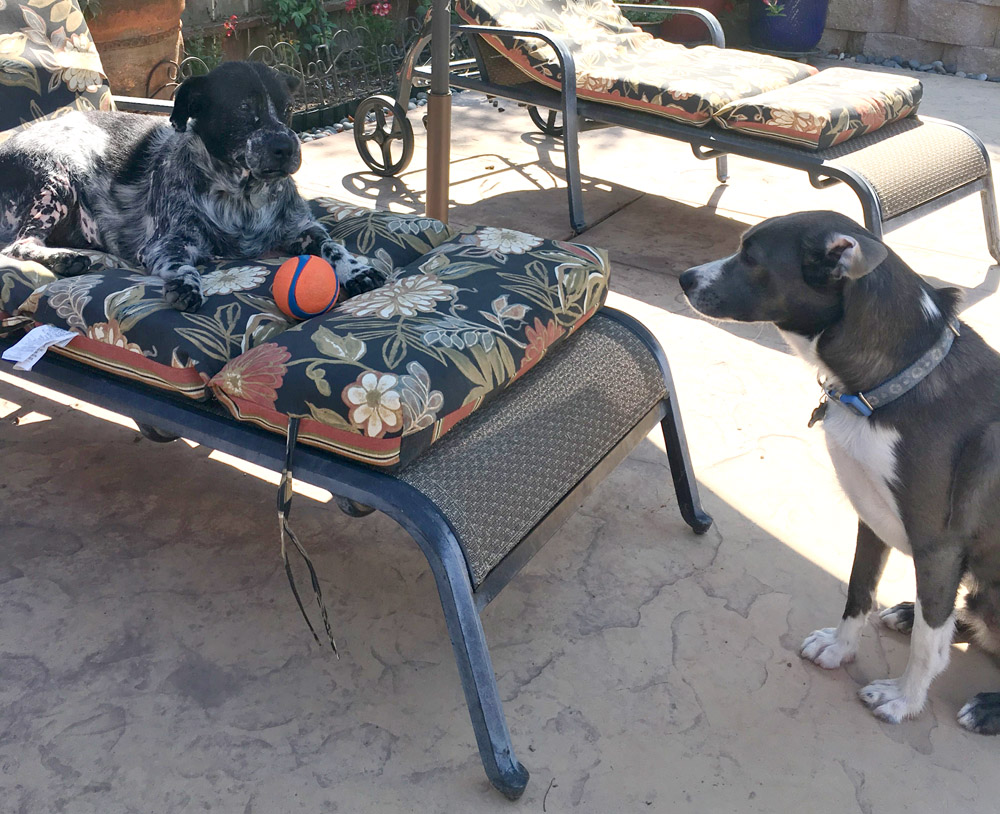 In spite of not growing up with much, Dwayne is happy to share his toys with his foster siblings.

June 30, 2017
Hello Handsome!
Just after 10 a.m. on Tuesday, June 27, Dwayne walked through the doors of the Companion Animal Hospital for his second facial surgery. After weeks of healing, it was time to continue repairing his lower lip and the top of his muzzle, which had been badly scarred by a crude wire muzzle. Without the procedure, his teeth and gums were at risk due to exposure, and his breathing was strained due to the scarring around his nasal passages.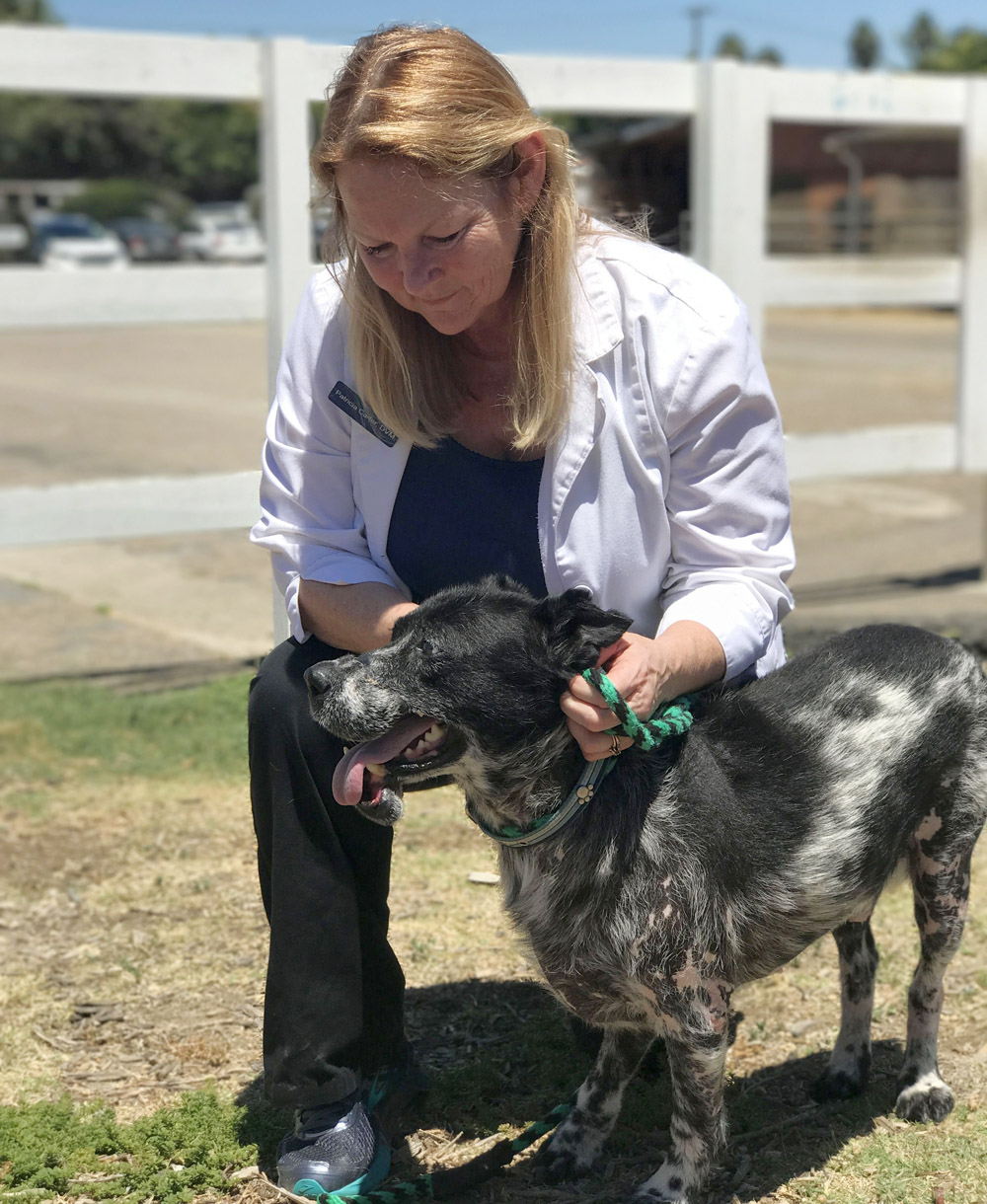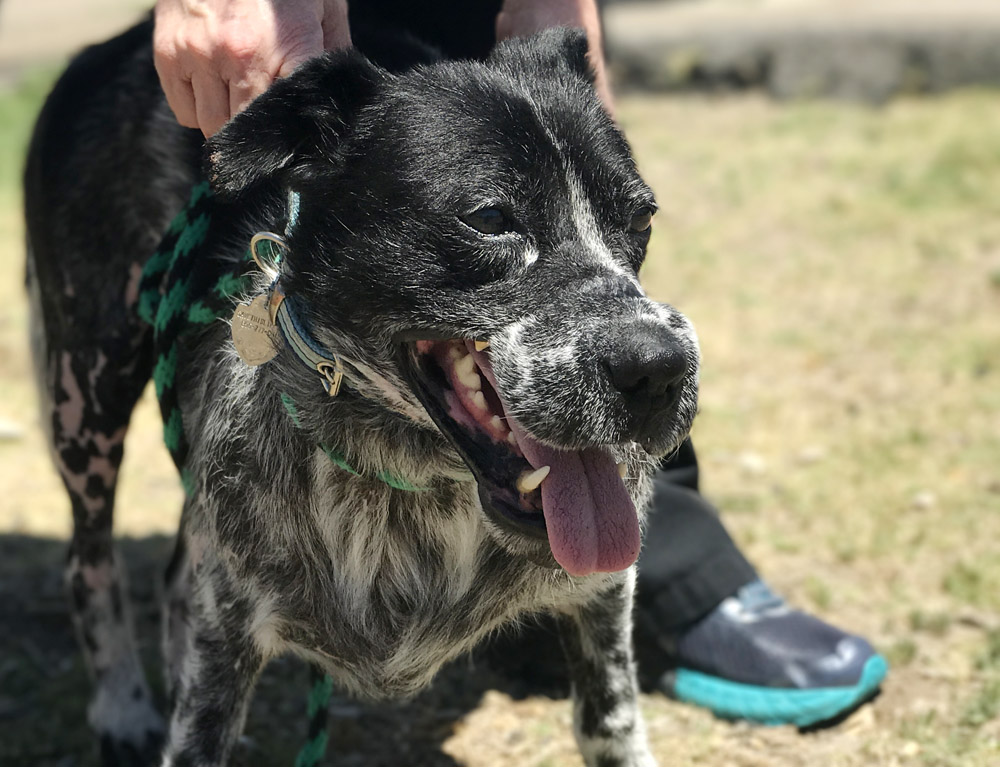 He spent some time before the surgery greeting staff members and enjoying the sunshine with Dr. Carter. (Photos above) The procedure went very well, and Dwayne is resting comfortably in his foster home now.
Dwayne's recovery from hip surgery is on-track, and he will continue to do gentle physical therapy sessions with Dr. Carter. He will continue to visit the hospital for laser treatments on his face and hip, which promote healing. Mostly, for the next few weeks, we hope to give him a break from the hospital so that he can focus on healing and maybe even sneak in some summer fun. (He's just a pup after all!)

June 20, 2017
Let's get physical!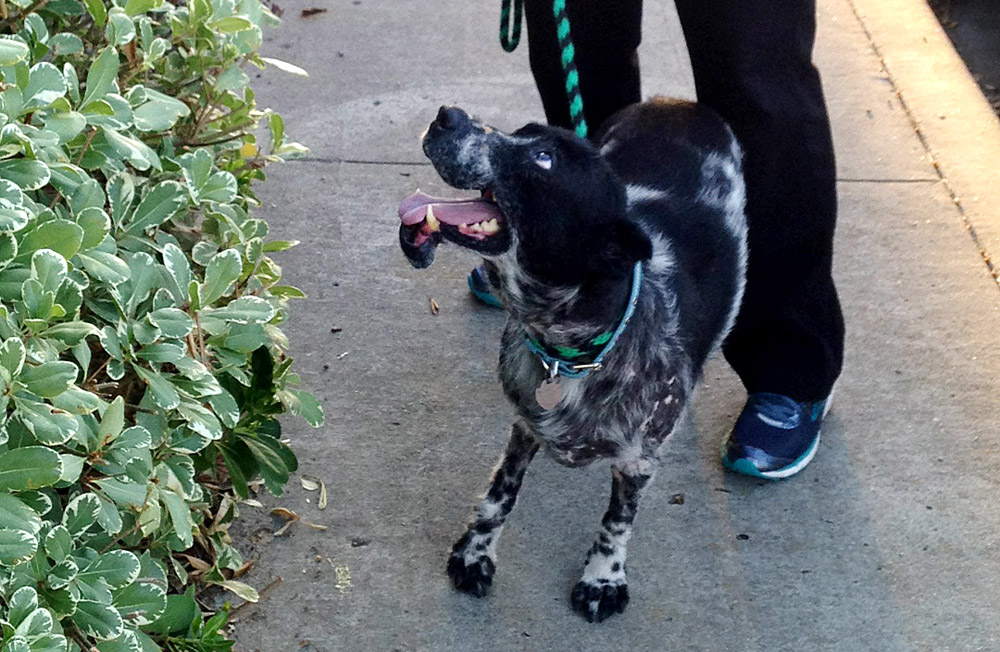 Nearly 2 weeks after receiving cutting-edge stem cell therapy treatments intended to speed post-surgery healing, we're thrilled to report that Dwayne is making great strides in recovery. Following his first facial reconstruction surgery, his breathing has continued to improve and his snorting habit is nearly gone! Healing is going so well, in fact, that his medical team is confident that his second facial reconstructive surgery, which will include his bottom left lip and the deep scarring on top of his nose, will be scheduled soon.
His stitches from his hip have been removed, and he's beginning gentle rehabilitation exercises under the watchful care of Dr. Patricia Carter. Because he so used to keeping weight off that leg, it's necessary for Dr. Carter works to carefully to support Dwayne in gentle exercises that encourage use of the back legs. Walking slowly uphill or standing in a "hug" position with Dr. Carter are two of Dwayne's favorite ways to strengthen his muscles. (Dr. Carter doesn't mind the hugs either!)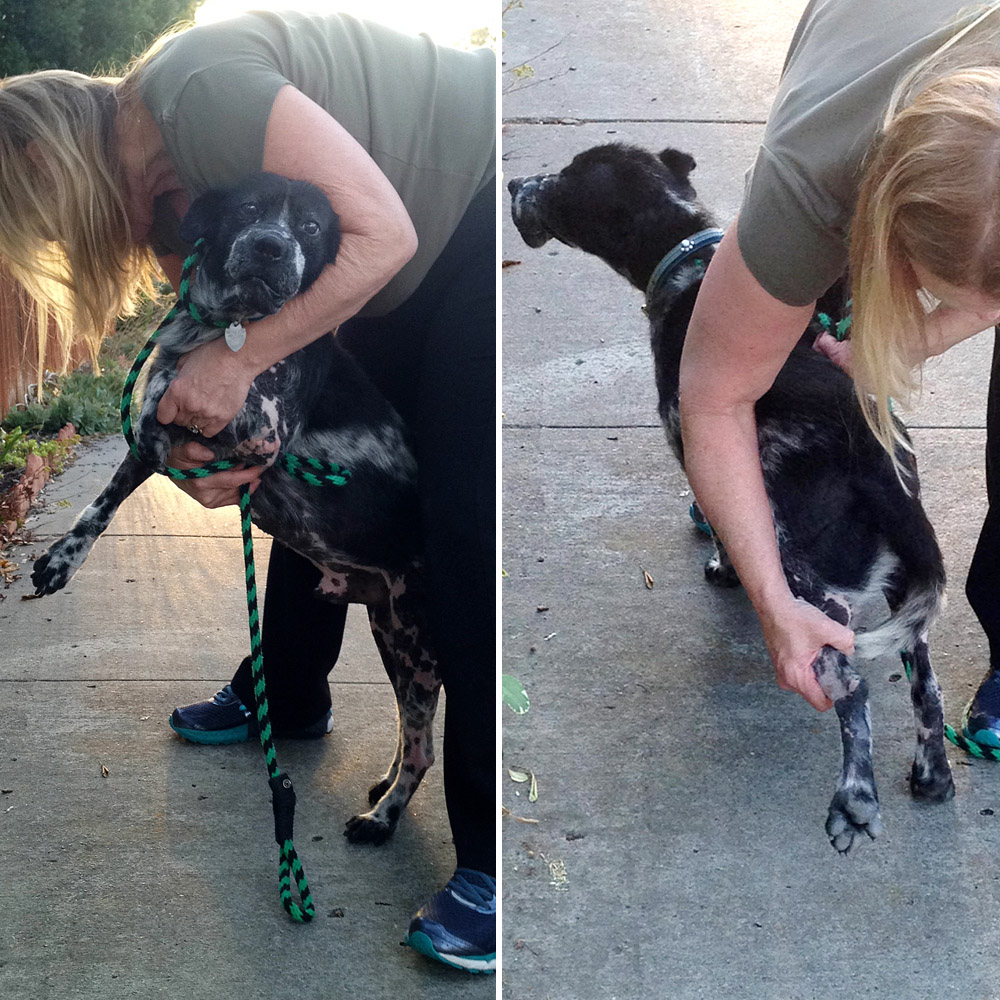 In our continued effort to use all applicable modern medicine to help heal Dwayne and transform his life, he'll soon begin receiving laser therapy on each area impacted by surgery. Laser treatments have been shown to speed healing, reduce inflammation and help with pain. He's responded incredibly well to medical care so far, and it's of the utmost importance to the Center to do everything in our power to support his progress.
We continue to get well wishes for Dwayne from around the world. We can't thank you enough for all the love and support this wonderful boy is getting. Go Team Dwayne!

June 8, 2017
Dwayne Receives Cutting-Edge Stem Cell Therapy
A renowned stem cell therapy institute – Vet-Stem Biopharma– has stepped up to the plate to offer cutting-edge treatment to help Dwayne's healing and put him on an even quicker path to his forever home!
Dr. Jeffrey Schaffer, Vet Stem veterinarian and head of professional services, was made aware of Dwayne's situation by a colleague who had utilized the Center's Companion Animal Hospital for her own pet and heard Dwayne's story. Vet-Stem Biopharma, the Poway-based organization founded in 2002 by owner and CEO Dr. Robert Harman, performed its early life-saving work almost exclusively on horses. Its technology, which harvests tissue from an injured animal and delivers the animal's own healing stem cells back to the site of the injury and throughout the body by IV, is nothing short of a modern miracle. Over the last 7 years, the treatment has been expanded to domestic dogs and cats. The procedure normally costs around $2,500.  Moved by Dwayne's story, however, Dr. Schaffer and the organization have offered to help the orphan dog at their own expense.
"His story is heartbreaking," stated Schaffer, "and we all have such a passion and a love for animals. We know the capabilities of this treatment and how it can help with his healing and really change his life." 
Yesterday, during Dwayne's hip surgery, Dr. Carter removed a small amount of fat tissue from his abdomen and Vet Stem went to work isolating the healing stem cells.  Today, Dwayne received his first stem cell therapy.
Video of Dwayne getting the stem cell injection with Dr. Carter and Dr. Schaffer:

June 2, 2017
A Trip to the Groomer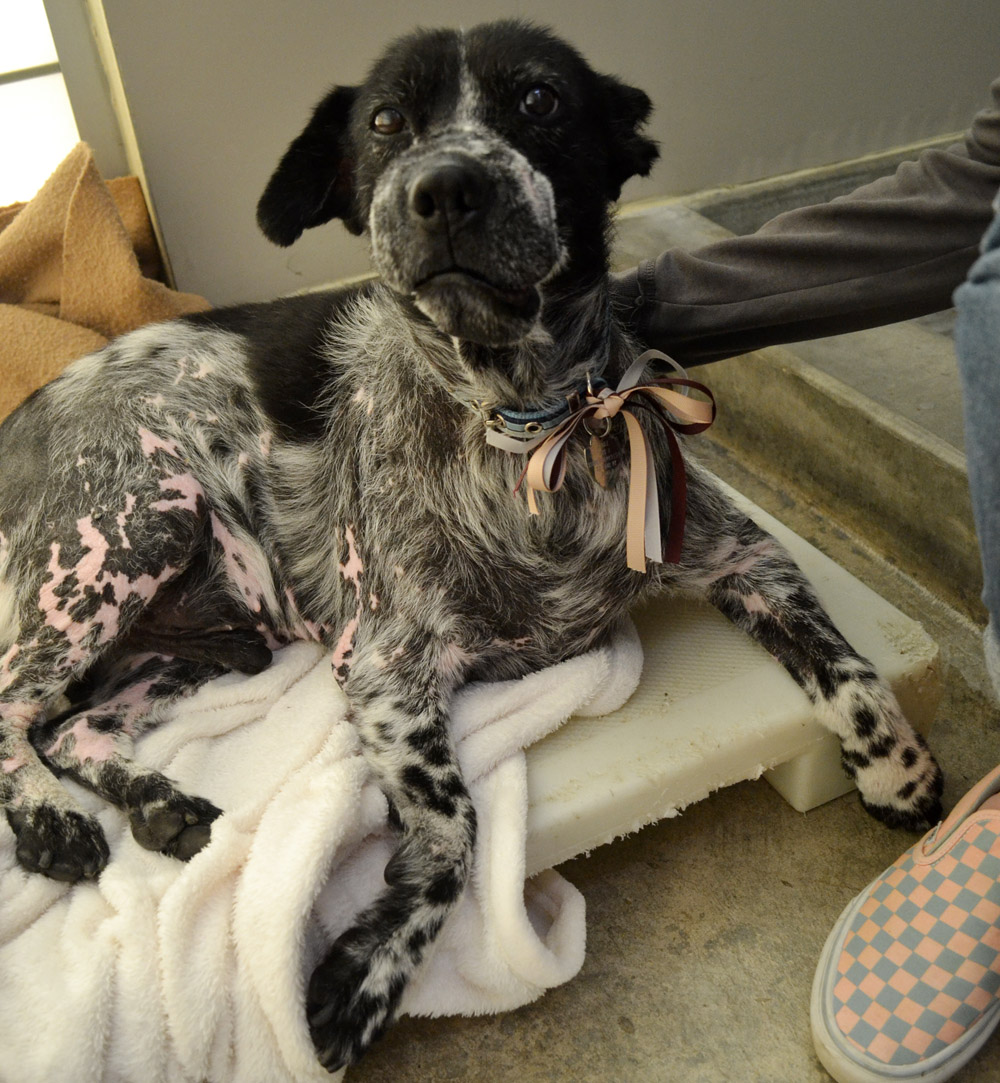 On Friday, Dwayne received a day of doggie pampering, courtesy of Sydnee's Pet Grooming! He was such a good boy during his bath and was so proud to show off his fresh, clean look.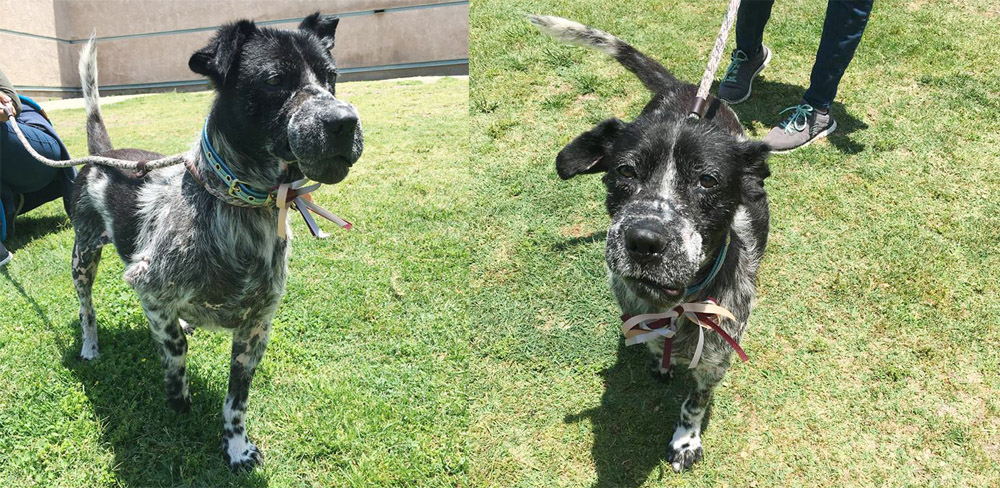 After his trip to the spa, Dwayne spent the day playing and lounging at Club Pet Boarding (where he stole the hearts of everyone he met.)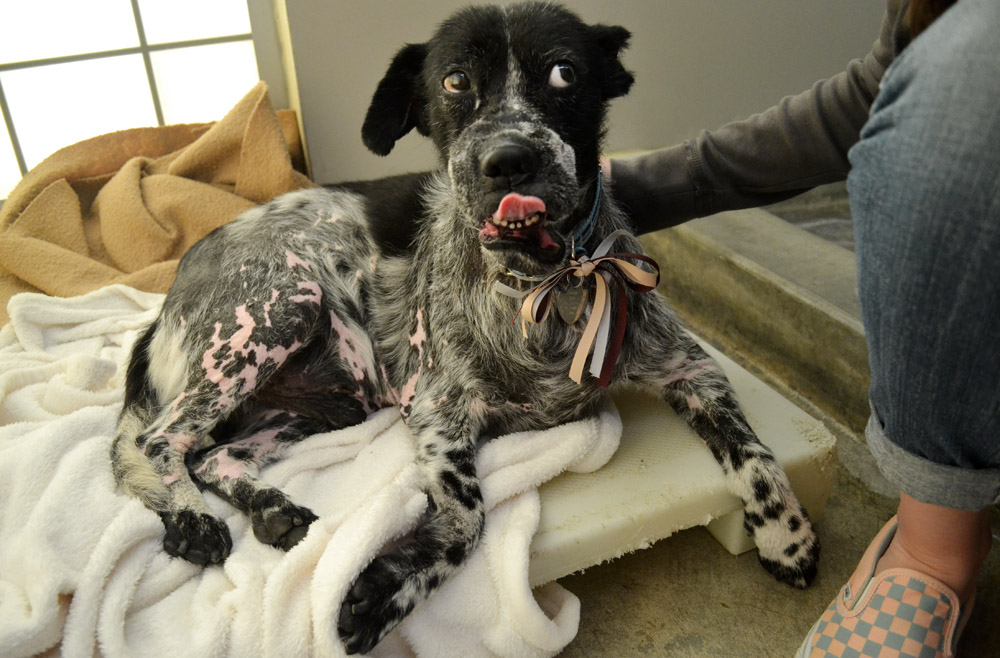 Looking handsome in his bow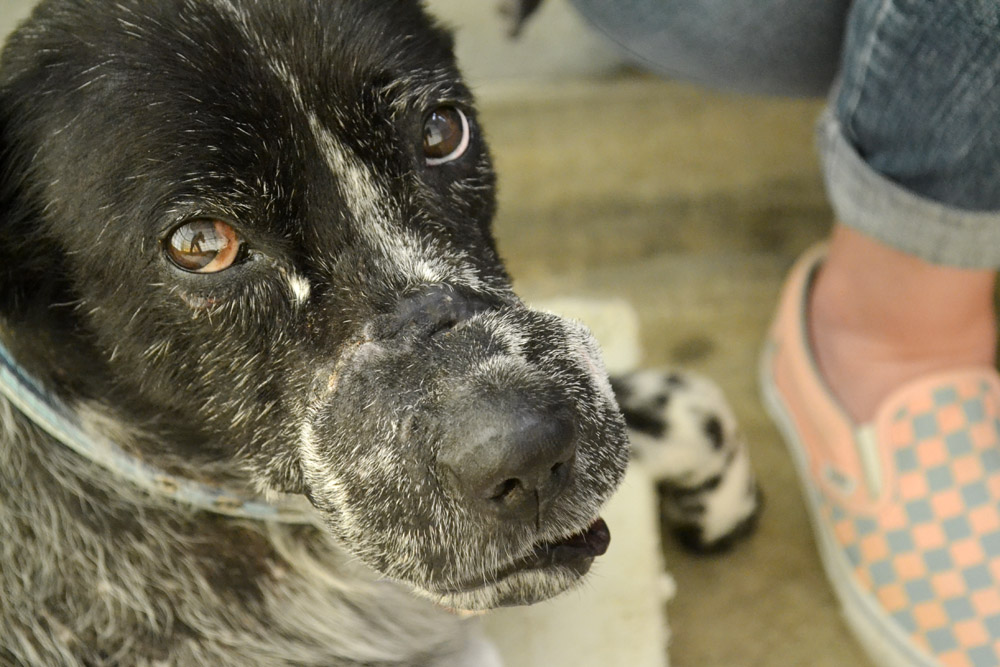 His snout continues to look better and better every day!

May 31, 2017
Dwayne's Second Consult on His Elbow
Dwayne continues to improve every day from his first surgery on his lips. The swelling has significantly decreased and the incision areas are healing nicely. It's going to be several more weeks until we start on his second facial surgery because we want to make sure he is fully healed.
Tomorrow, Dr. Carter will be taking Dwayne for a second consult on his elbow to see if surgery would be beneficial. You may have noticed a little "hitch in his giddy-up" because of his dislocated hip and what we think is a previous fracture in his elbow. Surgery to relieve discomfort in his hip is on the schedule for next week (pending results from this consult), but we are still seeking out multiple opinions on his elbow.
Dwayne would like to thank everyone for their kind words and love these last few weeks!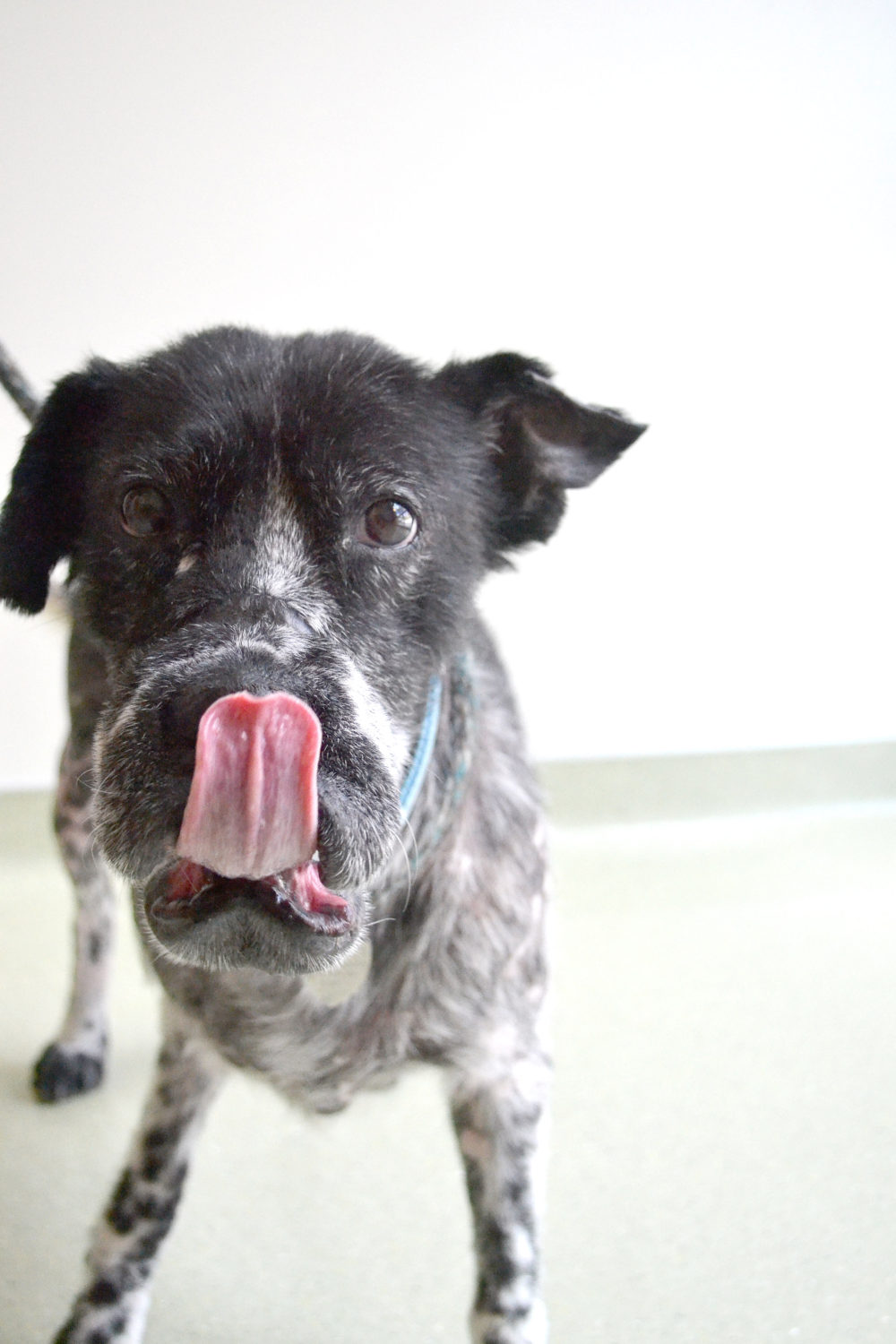 May 25, 2017
Dwayne is back to his ol' self!
Dwayne is recovering quickly after his first facial reconstruction surgery this past Monday. He had no problem at all chowing down a full bowl of food first thing Tuesday morning and going out to play with his foster siblings. In fact, it is MUCH easier for Dwayne to eat and actually keep food in his mouth because his lips now cover his teeth. Drinking water is much easier for Dwayne now, too.
After the tremendous success of this first surgery, Dr. Carter now believes Dwayne may only need two or three procedures on his face rather than her original estimate of four to five. This is because of how well Dwayne's body is responding and healing.
VIDEO: See how well Dwayne's recovering after surgery! 
PHOTOS: Dwayne 4 days post-op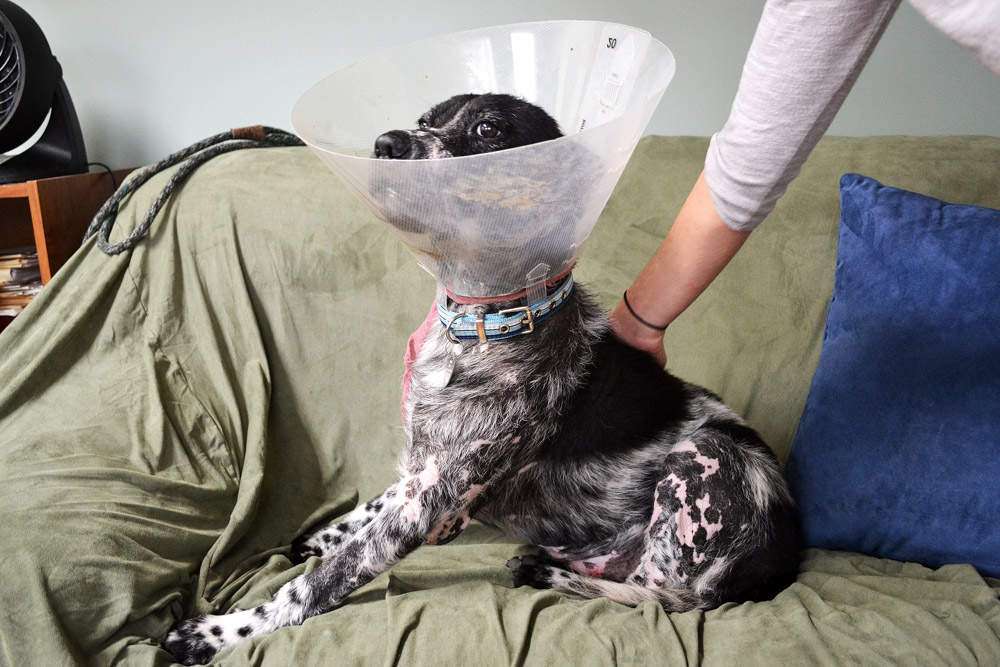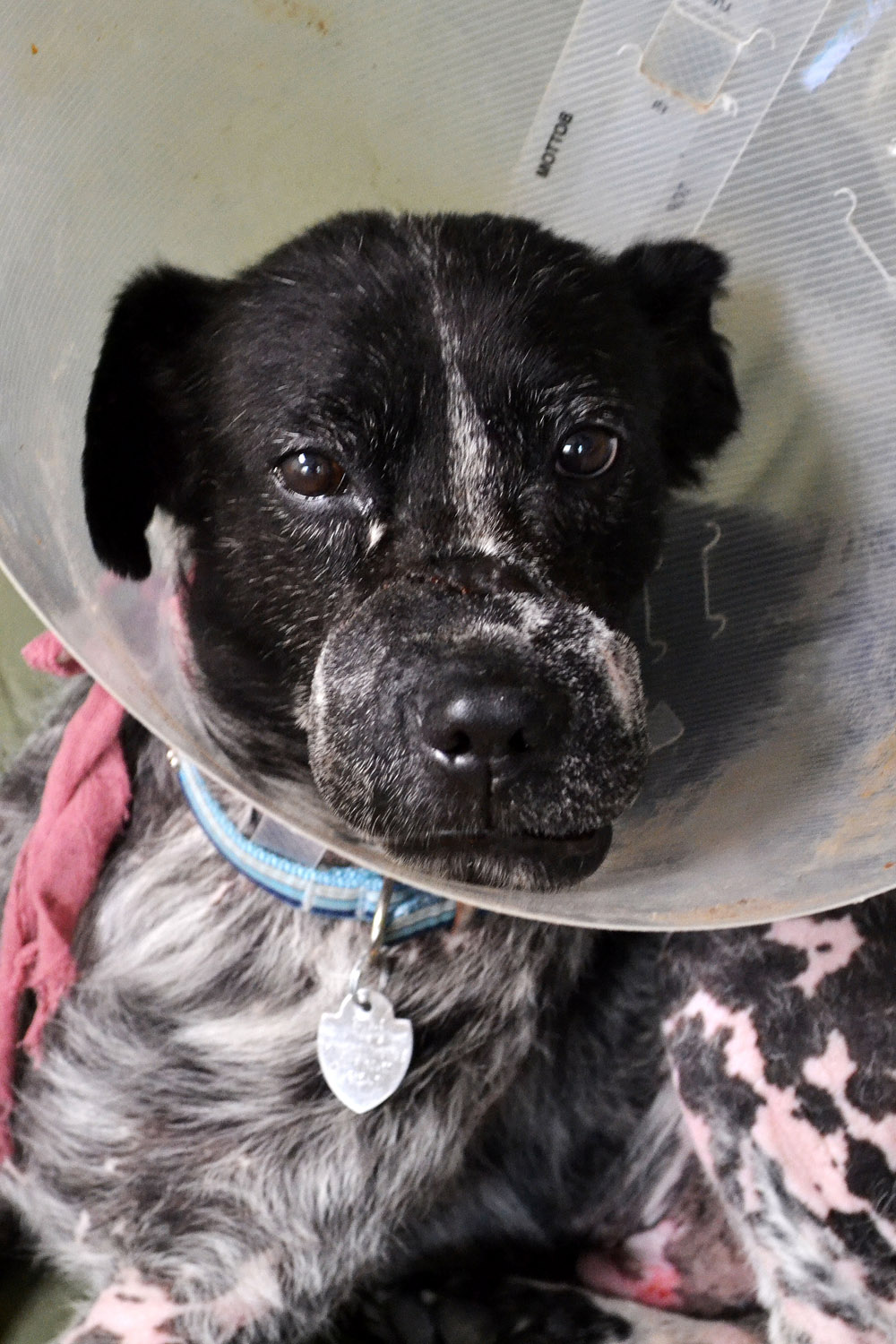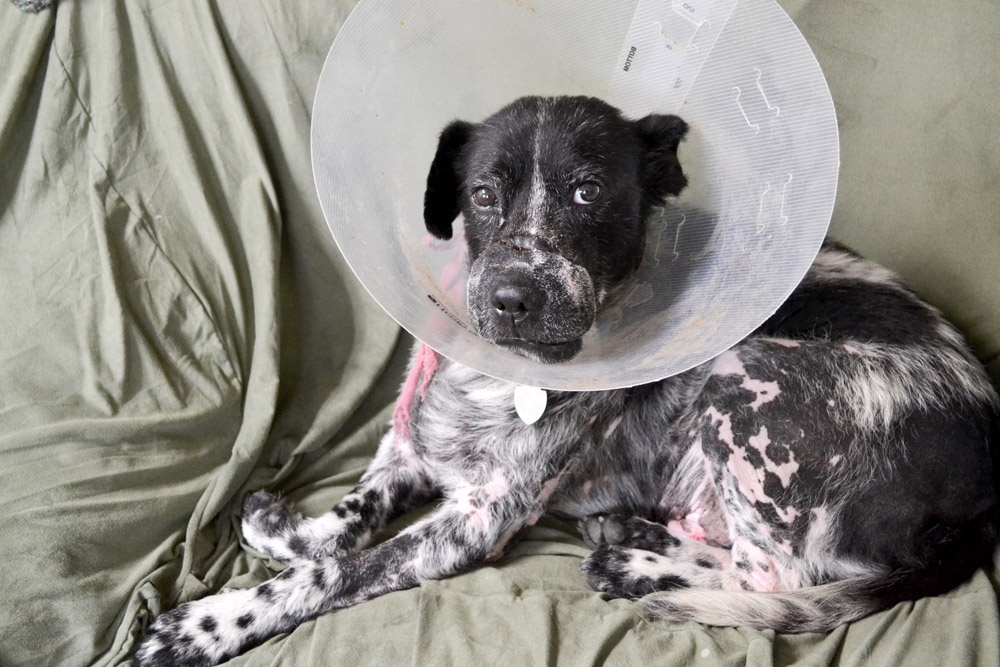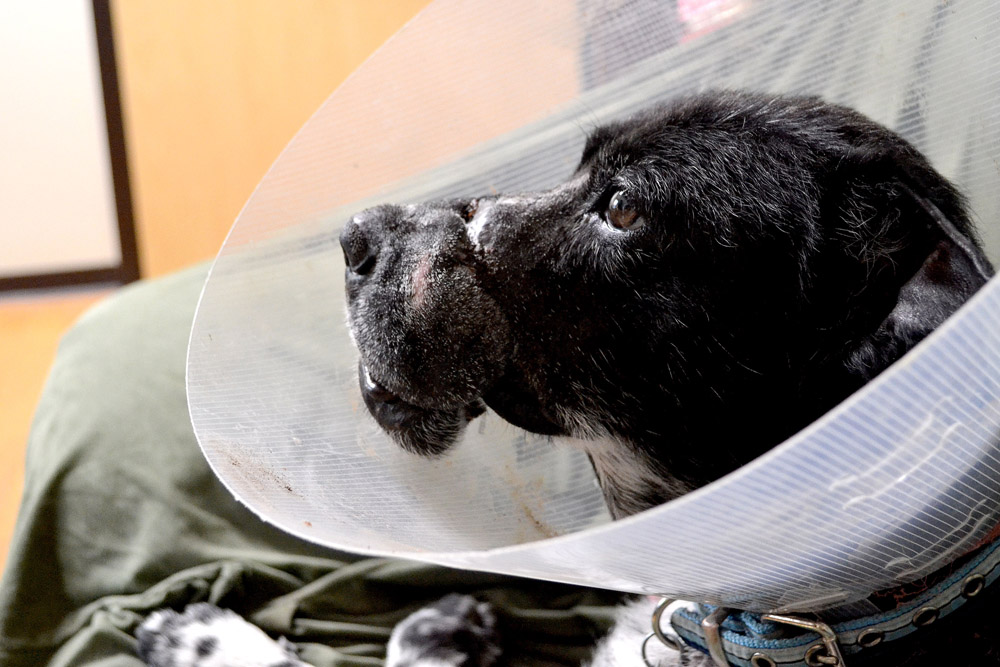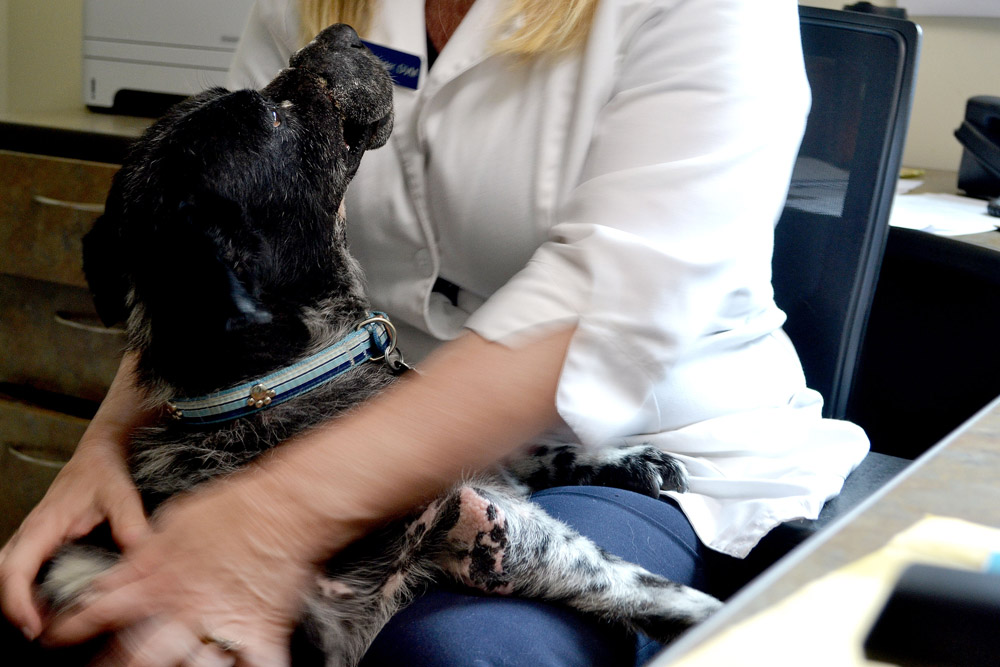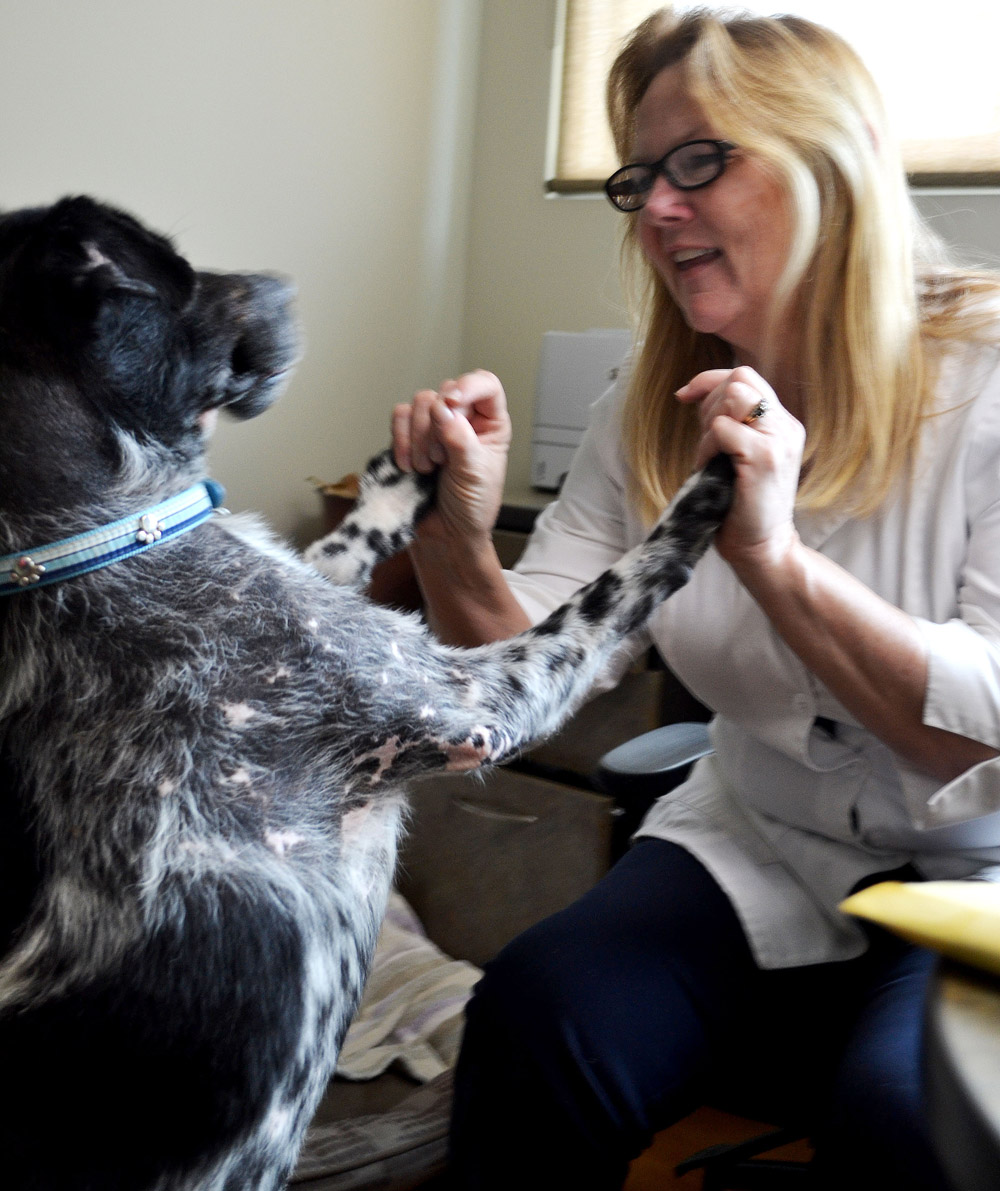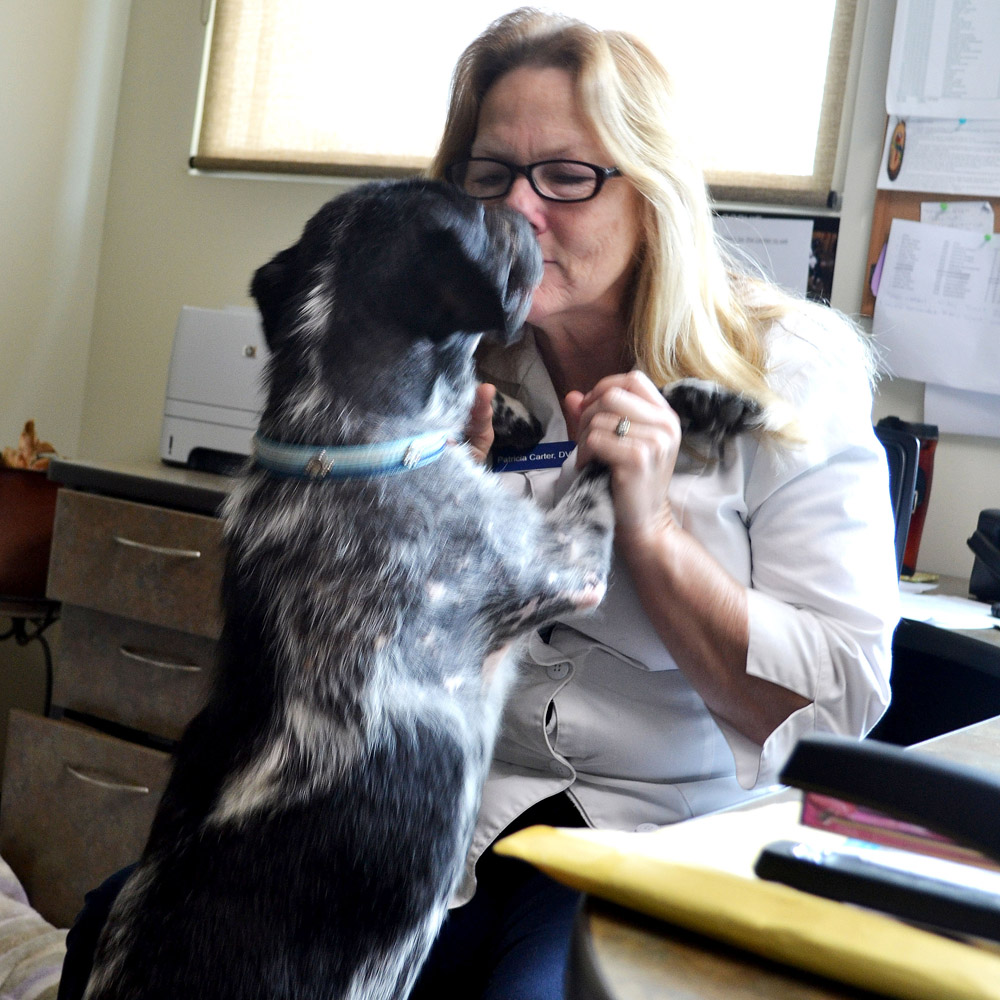 May 22, 2017
Dwayne's First Facial Surgery
Dwayne's first facial reconstruction surgery was a success!
At 11:30 a.m. this morning, Dwayne was brought into our Companion Animal Hospital's surgery room for his first procedure on his lips. Dr. Carter performed the surgery and was able to correct his two upper lips and one of his lower lips. The whole ordeal took less than 2 hours. As Dwayne relaxed in the recovery room, Dr. Carter gave us an update: "The surgery went smooth, and Dwayne is already showing signs of great blood flow throughout his lips. He'll be heading back to his foster home tonight to get plenty of rest."
Dwayne preparing for surgery: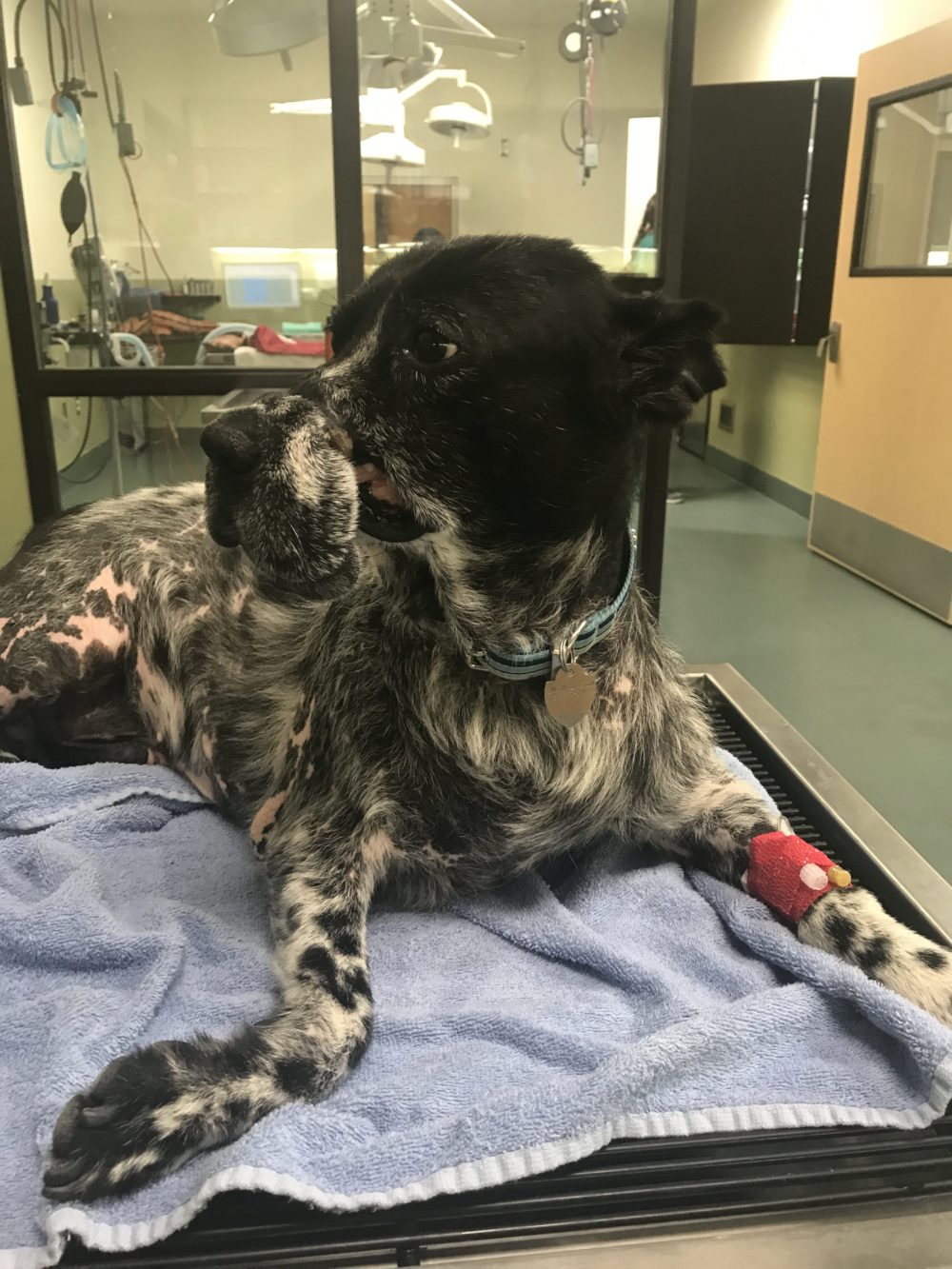 May 17, 2017
Video of Dwayne's CT Scan and the Results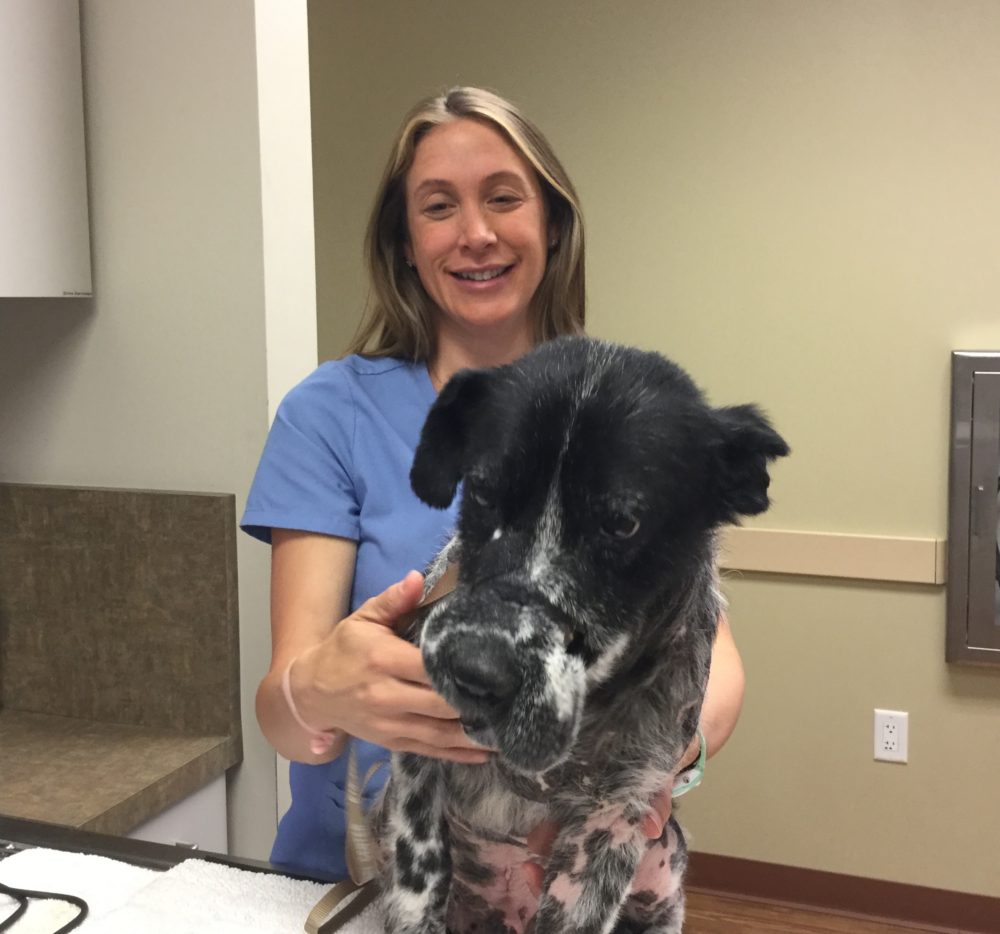 On Monday, May 15, we brought Dwayne to Pet Emergency & Specialty Clinic in South County San Diego to meet with Dr. Serdy, an Orthopedic Surgeon, and to have a CT scan on his elbow and face.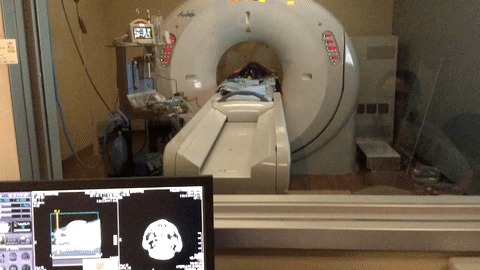 Above: Dwayne is being scanned while under anesthesia. The screens are showing where the camera is during the scan and gives us a clear picture of his soft tissue, bone structure and nasal passages.
As expected, his elbow will be the biggest challenge. Not to worry, Dwayne is not in any pain, but it appears he has an old fracture in his elbow. We are seeking further consultation from a Board Certified Radiologist to determine the best course of action and are expecting results later this week.
Since we are still unsure of how to best fix his elbow, we'll be starting with his facial reconstruction. On Monday, May 22, Dwayne is scheduled to have the first stage of his lip reconstruction surgery with Dr. Carter at the Center's Companion Animal Hospital. The surgery will move his lips to fully cover and protect his teeth. Dwayne's complete reconstruction processes will take multiple surgeries with ample healing time in-between, but we should see a dramatic difference just after this first procedure!
After the surgery, Dwayne will be closely monitored and go for several check-ups to make sure he is healing properly. It is VERY important to ensure he has good blood flow throughout his lips and nose before we move onto the next procedure, which is anticipated to be 6 weeks later.

May 11, 2017
Dwayne's Visit with the Specialist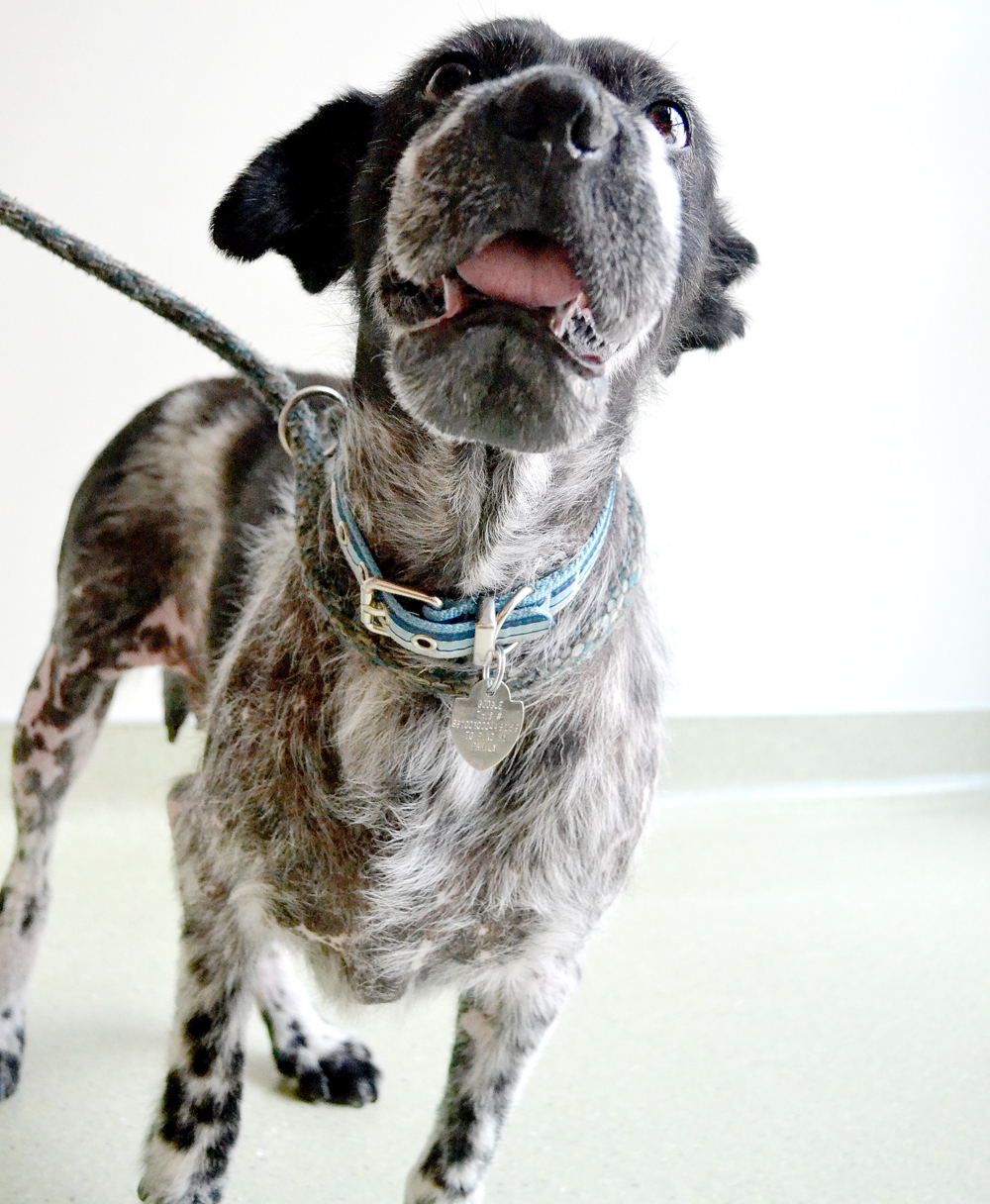 Dwayne and Dr. Carter, who is the Chief Veterinarian at Helen Woodward Animal Center's Companion Animal Hospital and also Dwayne's foster mom, went to visit a specialist today who gave us more insight into what all is entailed with Dwayne's recovery plan. As you can imagine, it's quite a bit!
First, Dwayne needs to get a CT scan (a more detailed image than just an x-ray) on his face and right elbow. This will tell us two things:
One, what the best route is for Dr. Carter to fix his leg, or if we need the specialist to step in and help with the surgery.
And two, how to stage his facial reconstruction surgery. He will likely need three to five surgeries on his face alone to address the deformity of his lips and the narrowing of his nasal passages. Right now, Dwayne struggles with eating, drinking and breathing, some key parts to living a comfortable life! The surgeries will allow him to eat and drink more easily and will open his airways for better breathing.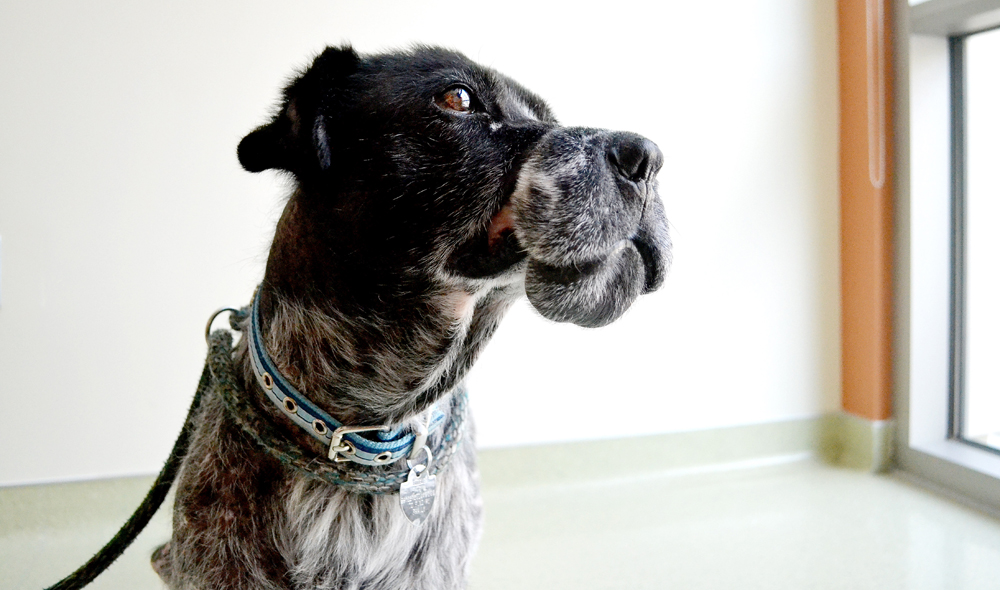 In other news, Dwayne's crowdfunding page has raised over $30,000 to help fund his medical needs! Thank you to all that have contributed to Dwayne and other special cases like his. We still aren't sure how much his complete treatment plan will cost, so thank you for your overwhelming support and gifts to help Dwayne get the best care possible.
Dwayne is scheduled to have the CT scan done next week, so check back at the end of the week to find out his next steps!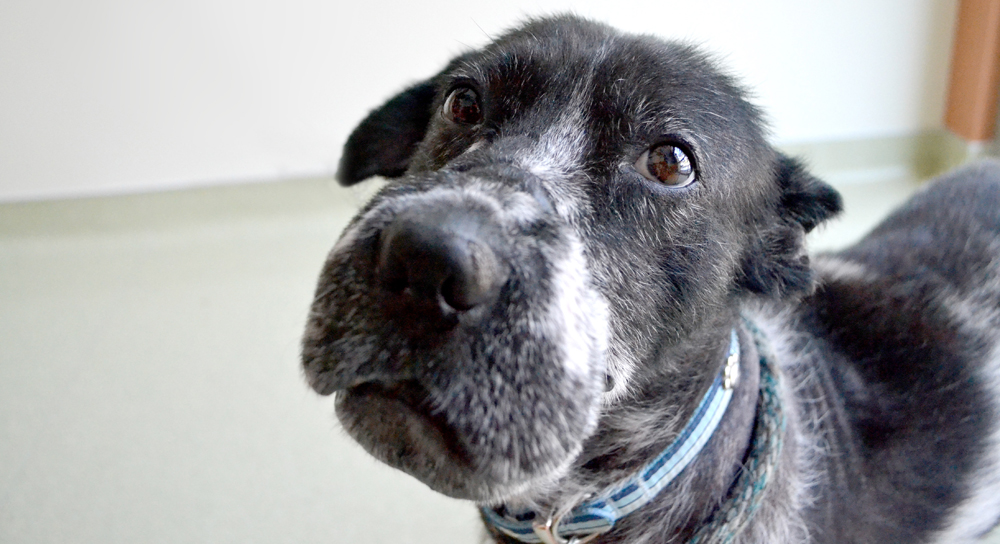 May 8, 2017
About Dwayne
At Helen Woodward Animal Center, a 2-year-old Pointer-blend nicknamed Dwayne "The Rock" (due to his steadfast strength and kindness) is inspiring employees with his willingness to forgive mankind for years of abuse. In perhaps one of the worst cruelty cases the Center has seen, Dwayne's extreme mistreatment left its mark on his deformed mouth, front right leg and elbow, skin and coat.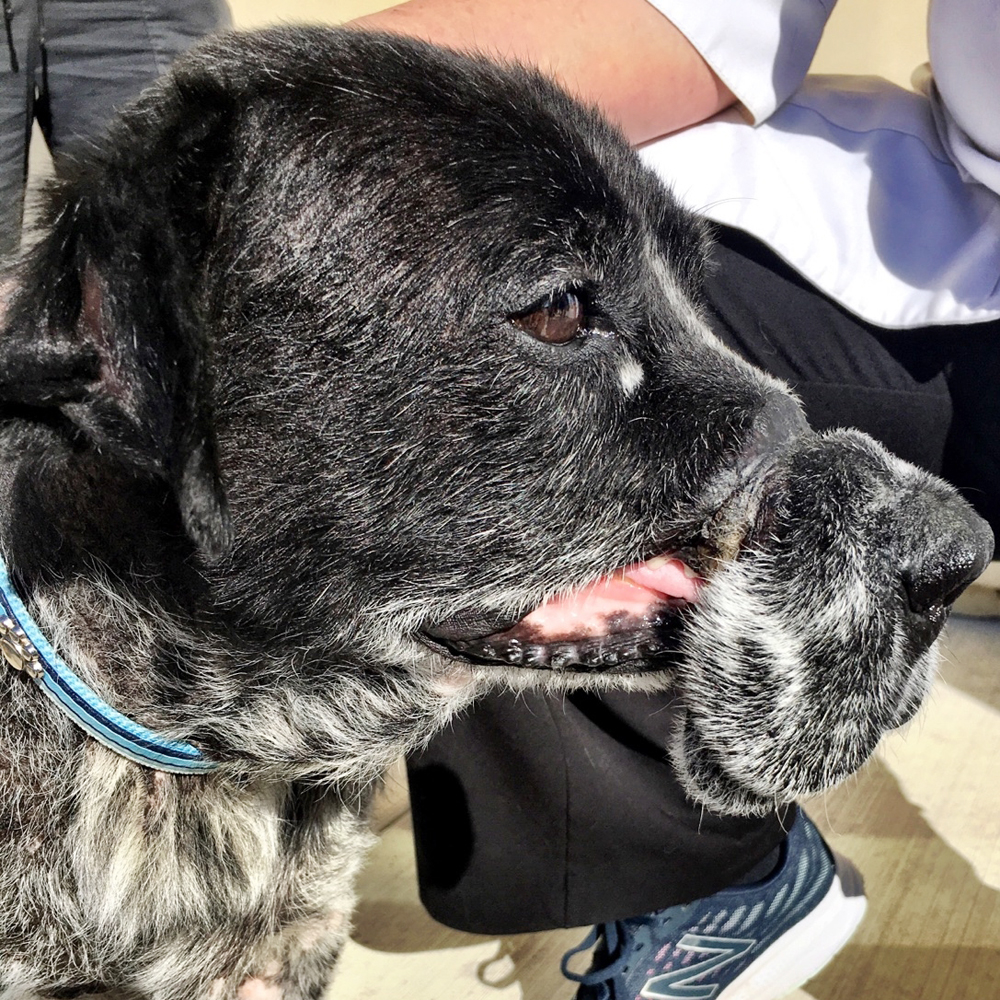 Pulled from the streets of Tijuana by an independent rescuer, Dwayne's most recent past included desperate scrounging for food while cruel local residents (disgusted by his deformities) threw scalding hot water and stones at him. Upon further investigation, his rescuer discovered that Dwayne's original owner, who had bound his mouth with a crude wire-muzzle and regularly kicked him and beat him with sticks, was serving jail time for an unrelated offense.
Without an owner, the dog was left to wander the streets alone, facing more of man's terrible inhumanity. Already beaten and broken, Dwayne was further wounded when he was attacked by two large breed dogs who caused severe head injuries and nearly removed his ears.
Despite these crimes, the gentle canine has nothing but love to offer each person he meets – lowering his head, offering a lick and gently pressing his crippled body against them. Dwayne needs a specialist to repair his severely malformed front leg and elbow, and a facial reconstruction surgery. Center updates will be made available on this page during each of his treatments.
For those of you that are already wondering, Dwayne will be made available for adoption to a loving family when he is fully recovered.