UPDATE 1 
View this post on Instagram
If you guessed that we named a Momma after the latest social trending snack board, you were right!
Meet Charcuterie! 🧀🥩🥐 This sweet mom arrived on October 13 from our rescue partners and it was obvious to us that this brindle gal was packing some extra snacks for the road trip here.
Can you guess how many puppies she delivered?
UPDATE 2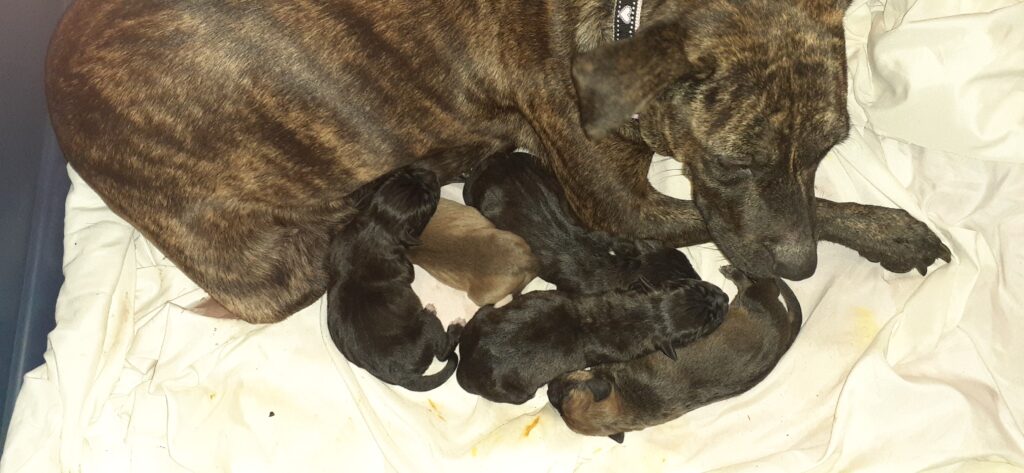 Did you order a charcuterie board for the holidays, yet? Well, if you haven't, we are pleased to announce that we will be serving up some delicatessen puppies all holiday season here at Follow The Litter.
Meet Momma Charcuterie and her delicious puppies: Brie, Colby, Coppa, Genoa and Gouda! Charcuterie arrived at the Center via our California rescue partners in mid-October. It took her less than a couple of weeks to give birth to 5 beautiful puppies while staying with a foster that was new to the experience of caring for a new canine mother.
Thankfully, Charcuterie's Foster dad has been documenting the entire process and we can't get enough of his ✨wholesome✨ dictation of the events taking place as he helps these puppies grow. You can catch the entire journey of Charcuterie and her puppies from birth to adoption at Follow The Litter.