These photos were taken when the puppies were 1-week-old. Their eyes were still closed, and they were eating constantly. They did not like leaving Mom to have their pictures taken! (But don't worry, it was only for a few seconds.)
Keep checking this page to watch the "S" puppies grow! Be the first to know when updates are posted by following our Twitter account @followthelitter.
---
Om nom nom! We always want to eat!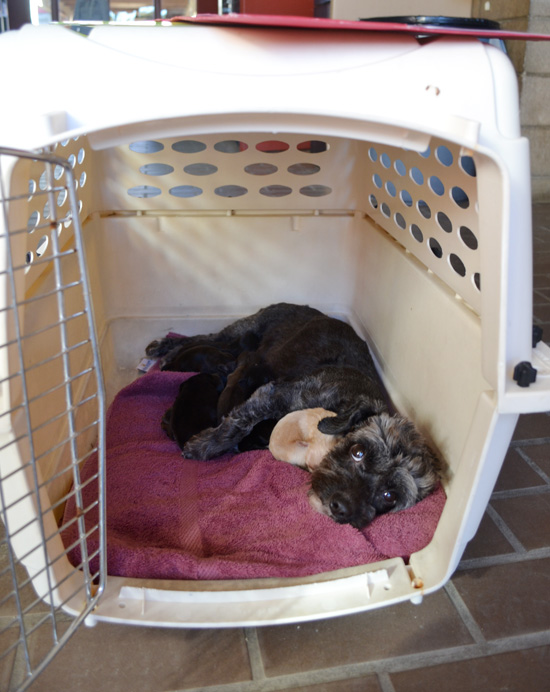 Here we are waiting to be whisked away to our new foster home. (Look at how all eight of us fit in this crate, with room to spare!)
 Settling into our foster home. We think we're going to like it here.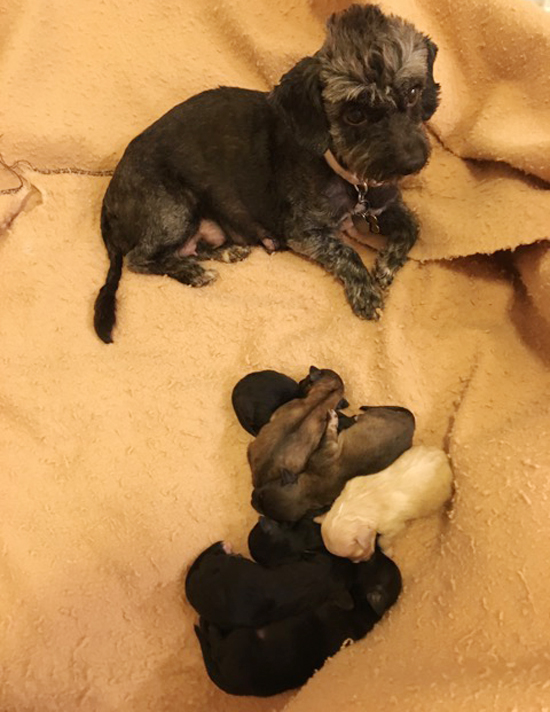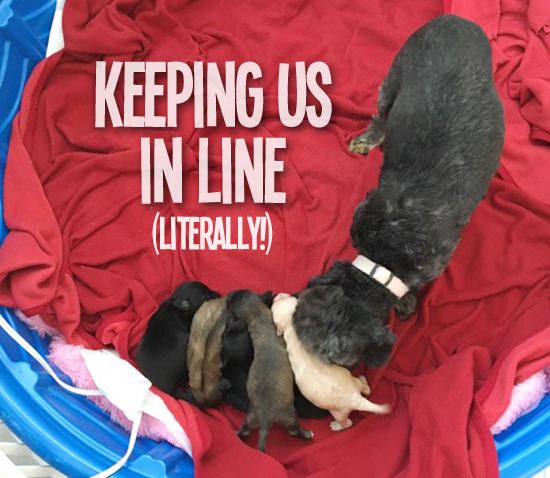 More Fun coming soon! Stay tuned.
---
We turned 2-weeks-old on February 13 and opened our eyes. Just look at us now!
Identical triplets, perhaps? (Except one's a boy!)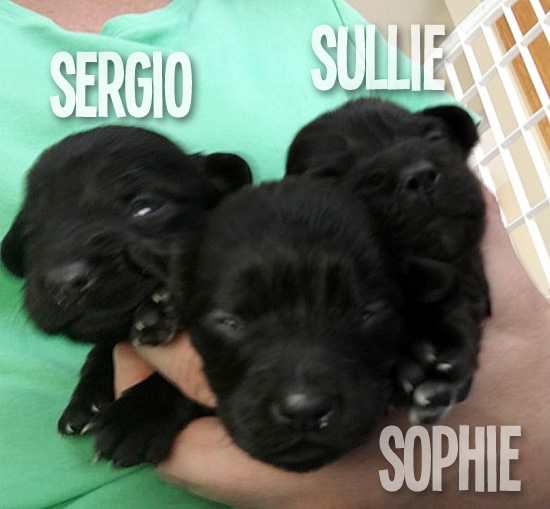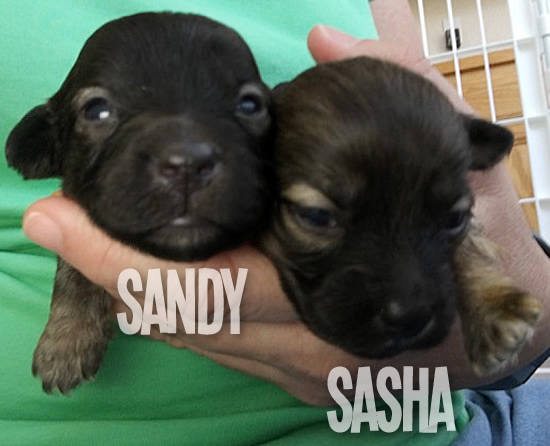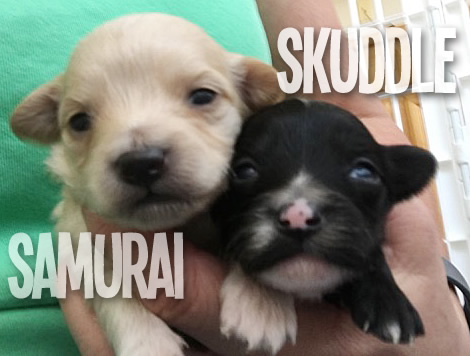 ---
Here are our Valentine's Day Glamour shots:
Will you accept this rose? Come on a playdate with us!
---
Hi friends! We barely have time for an update because we were SO busy this week. We opened our eyes, learned to sit up, started chewing on each other and became mobile. Whew!
---
The puppies are learning there's a whole wide world beyond their kiddie pool, just waiting to be explored.
---
We're only 4-weeks-old, but we've already graduated…from our kiddie pool to a real bed!
We love when our foster mom comes to get us in the morning. Just listen to how excited we are! She says we really started showing our different personalities this week.
---
On February 29, we went "bye bye" in the car and came to Helen Woodward Animal Center for our 4-week checkup.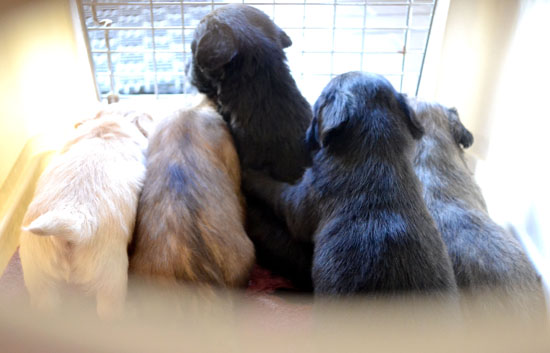 Everyone agrees that Sweet lives up to her name, she is a total sweetheart!
Checkups are exhausting! Until next time, friends.
---
Week 5 update: Guys, guess what? We're eating solid food now! It is SO yummy! (Also, we're hearing rumors about something called "treats?" Know anything about that?)
Here comes trouble!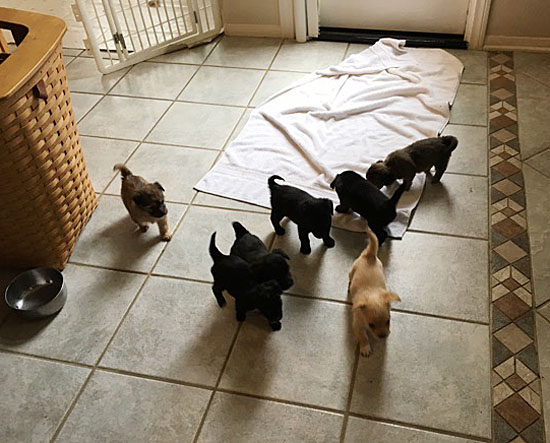 This little table is no match for us!
---
During Week 6, we discovered the greatest place on Earth: OUTSIDE!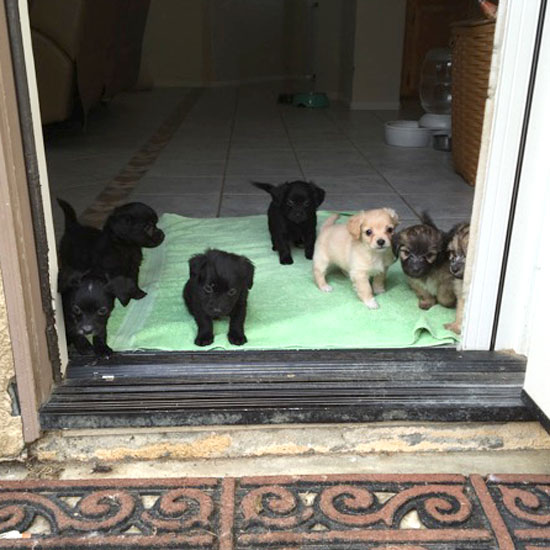 Feast your eyes on the cutest thing you've ever seen: all seven puppies in a basket!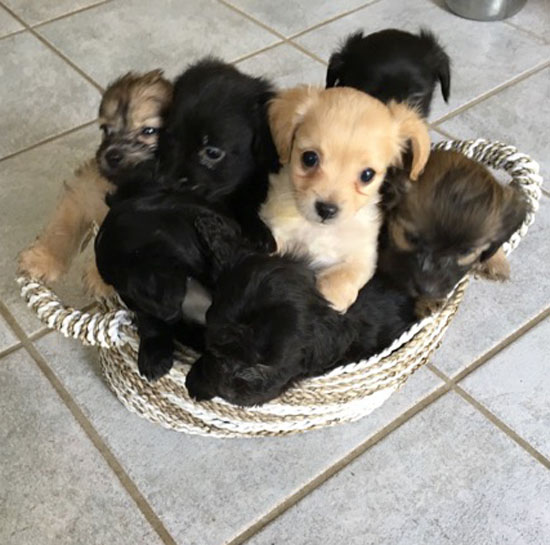 Thank you for following Sweet, her puppies and all of their adventures! They will be available for adoption in the coming months. Be sure to follow our Twitter and Facebook pages for updates.