Kitten Happy Hour - Cute Kittens in San Diego
WEEK 1: Kitten Bellies
The cutest part of a kitten is arguably the belly. Kittens will show you their middle in hopes of getting a yummy tummy rub. (But be careful! Sometimes, it's a trap.) This week, we're sharing some of the squishiest kitten bellies we've seen.
JUNE 4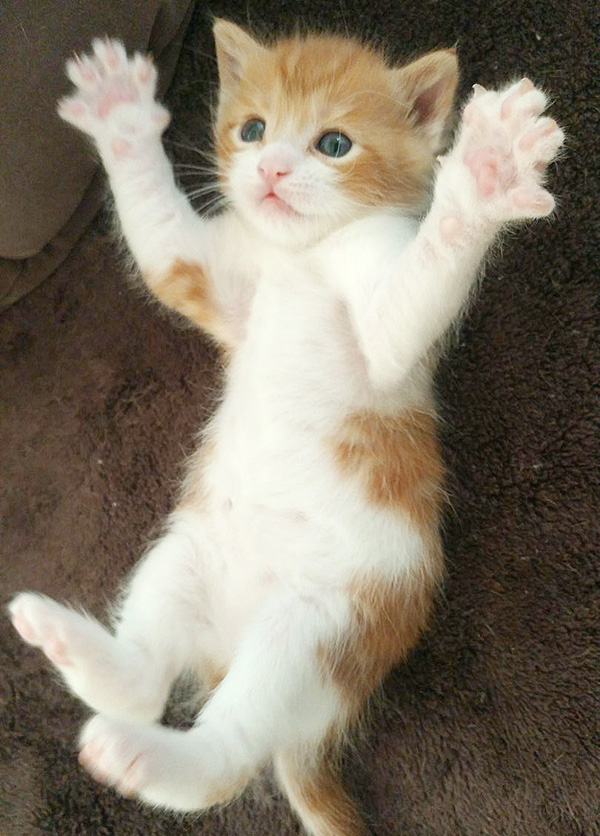 Oreo is excited to welcome you back to Kitten Happy Hour!

JUNE 5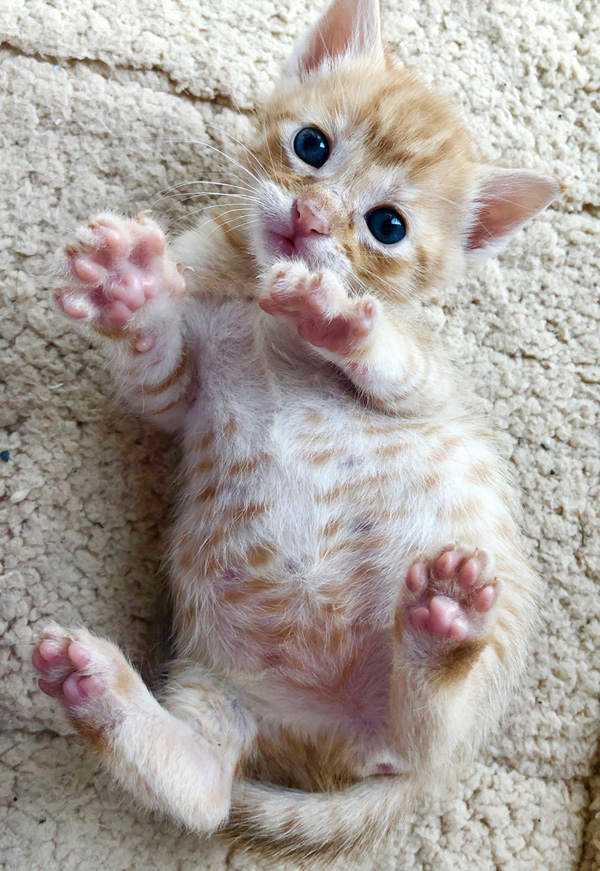 Rusty is mighty round!

JUNE 6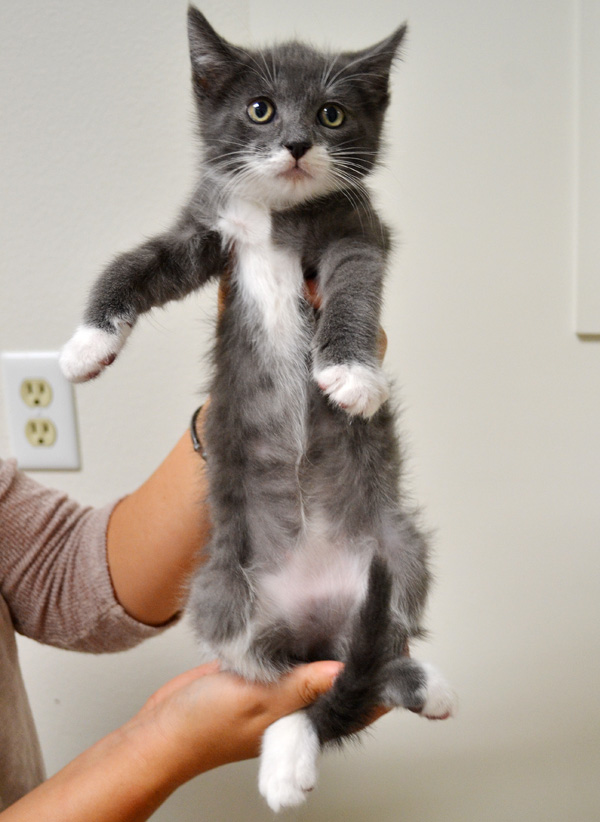 Ricky shows off his magnificent midsection.

JUNE 7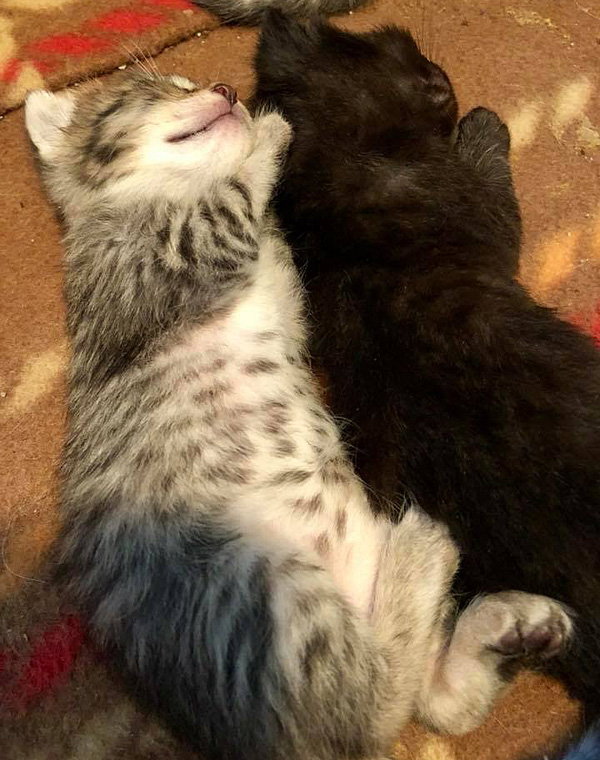 Grumpy and Sneezy should be named after a different dwarf. Both are so Sleepy with bellies full of milk.

WEEK 2: Kitten Kareers
Our kittens are quite ambitious. We asked some of them what they want to be when they grow up. This week, we're sharing their responses.
JUNE 11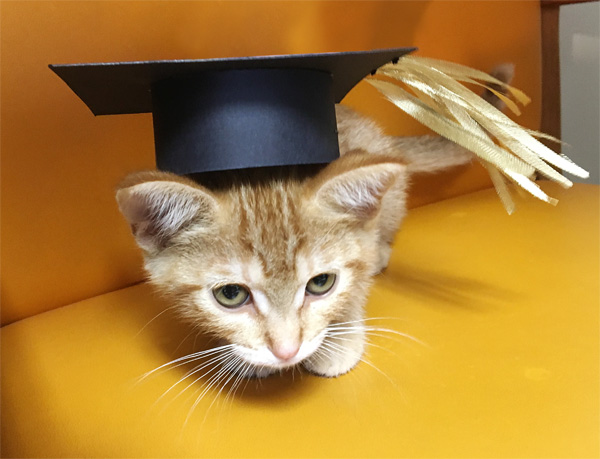 Eggroll: Purrfessor

JUNE 12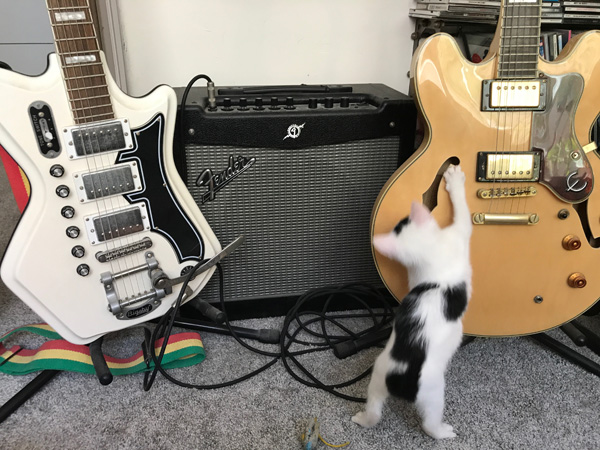 Gabby: Guitarhisst

JUNE 13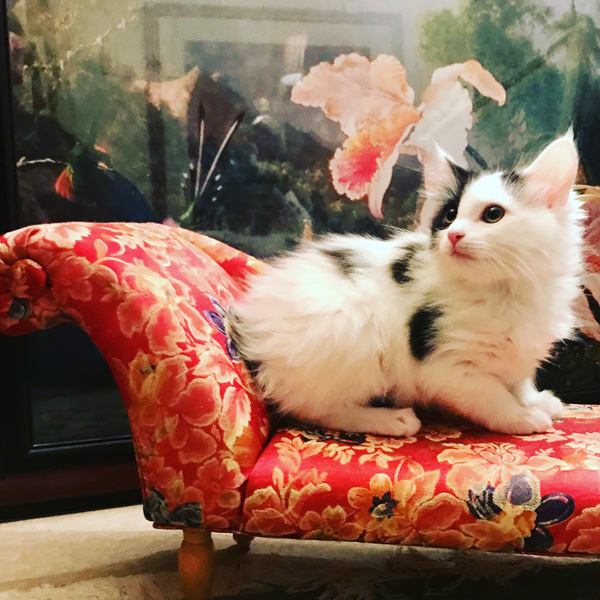 Janet: Meowdel

JUNE 14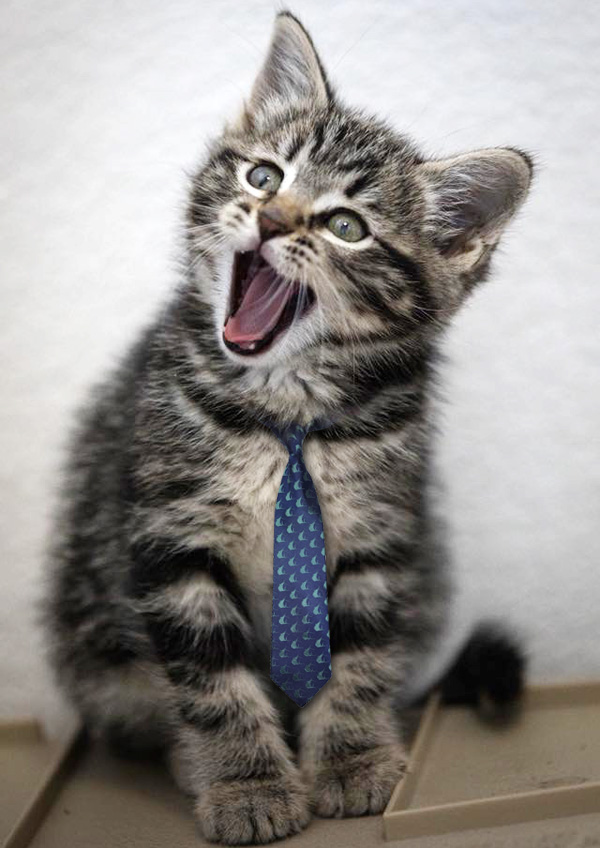 Ducky: Pawlitician

WEEK 3: Epic Napping
If sleeping were a sport, cats would win the Super Bowl, National Championship and World Series! Yes, when it comes to snoozing, our kittens are the real MVNs (Most Voracious Nappers.)
JUNE 18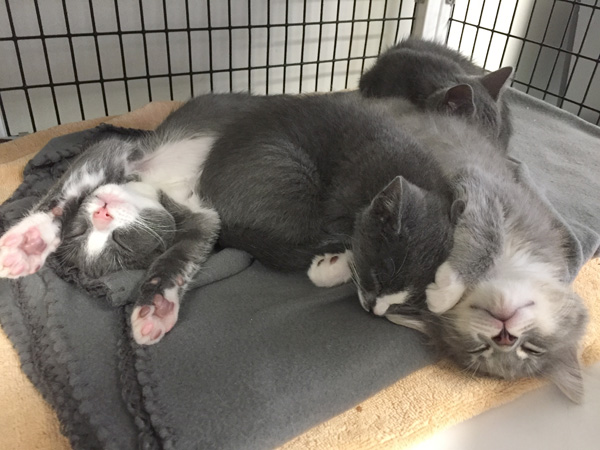 You just scored a 4-pointer: four kittens napping at once!

JUNE 19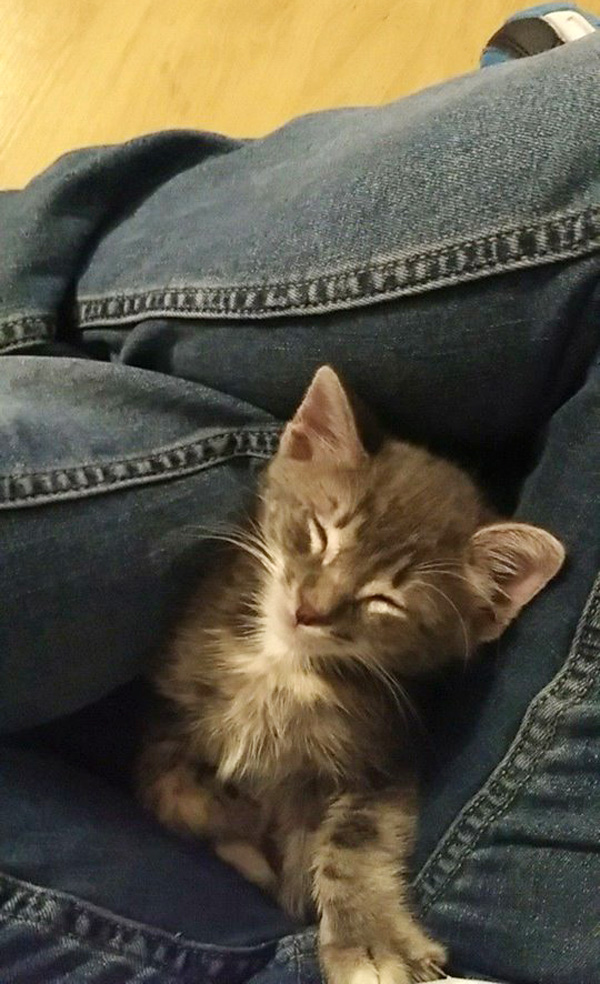 Touchdown! I just scored the best napping spot.

JUNE 20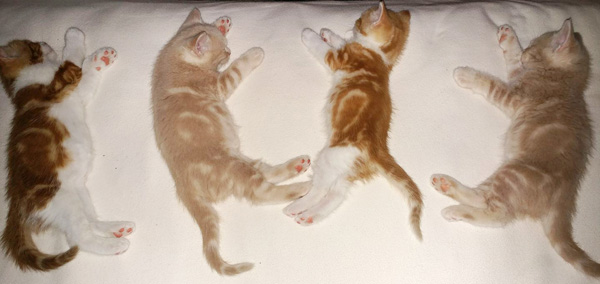 Synchronized Napping

JUNE 21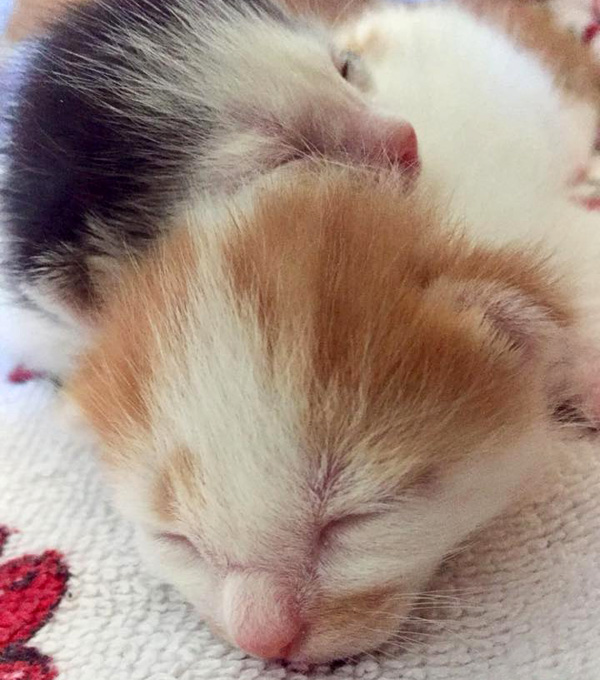 These guys are just rookies, but their nap game is already strong.

WEEK 4: Take a Look!
Kittens don't need makeup to achieve the perfect cat eye. Cats' eyes are among their most stunning features. This week, we're introducing you to some felines who have really caught our eye during Kitten Season.
JUNE 25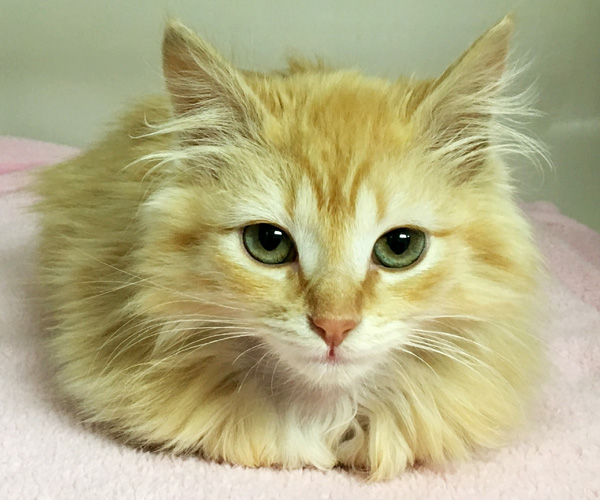 We are green with envy over Cantaloupe's gorgeous eyes.

JUNE 26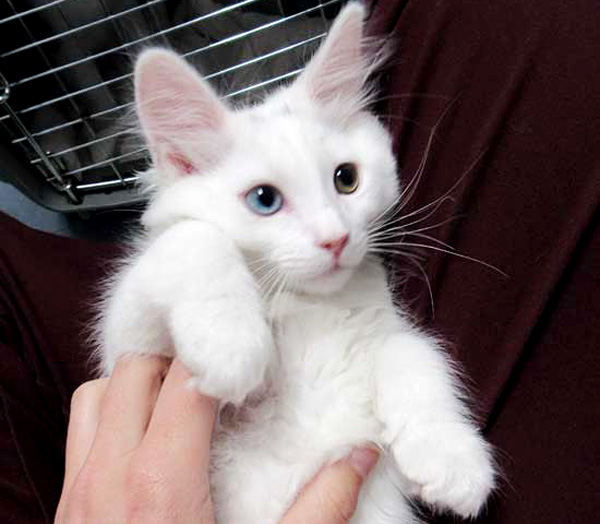 Jude has heterochromia, meaning his eyes are different colors. (This is most commonly seen in cats with white fur.)

JUNE 27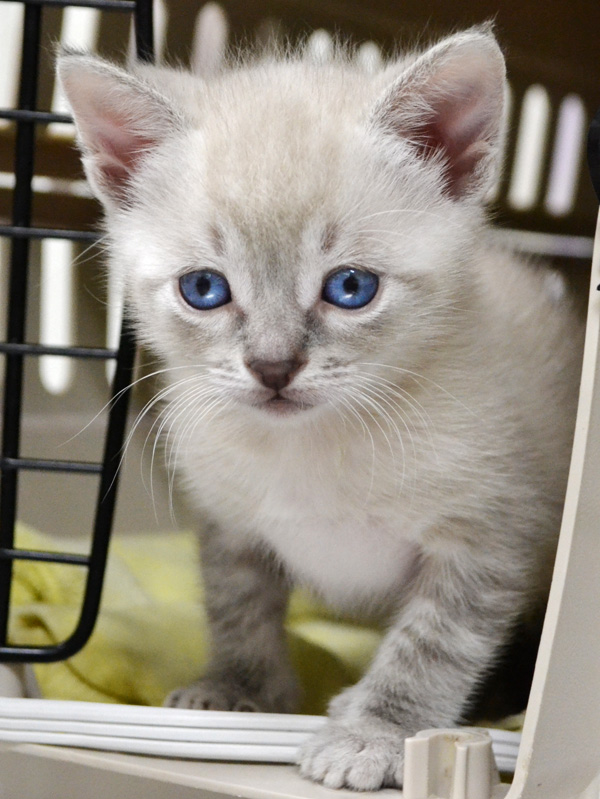 Costco the kitten is an absolute vision.

JUNE 28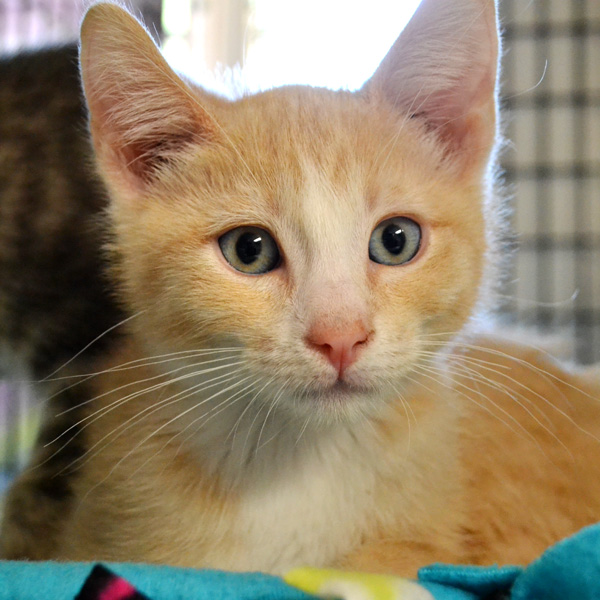 Just like his namesake, Nemo's baby blues remind us of the ocean.

WEEK 5: Pawtriotic Kittens
Cats are very independent creatures, so naturally, they love celebrating Independence Day. (But don't worry. No matter how self-sufficient they are, they still need and love their people.) With the Fourth of July this week, let's see how our kittens are celebrating this pawtriotic holiday and the official start of summer.
JULY 2
Please rise for the National Anthem.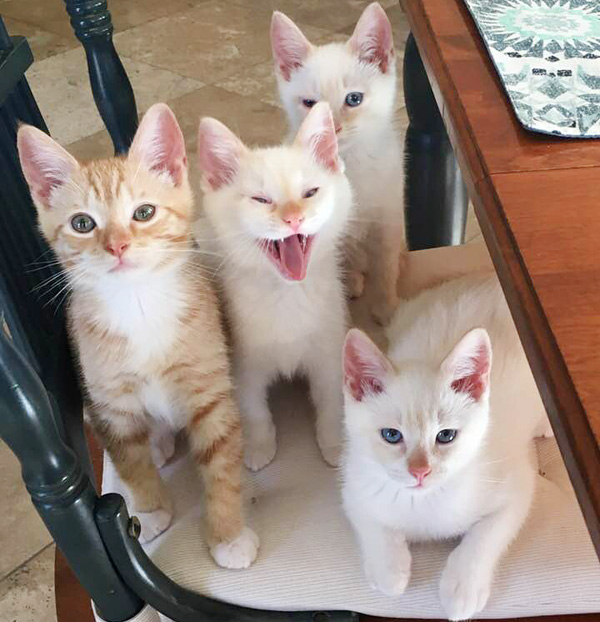 "Oh, say can you seeeeeeeeeeee?"

JULY 3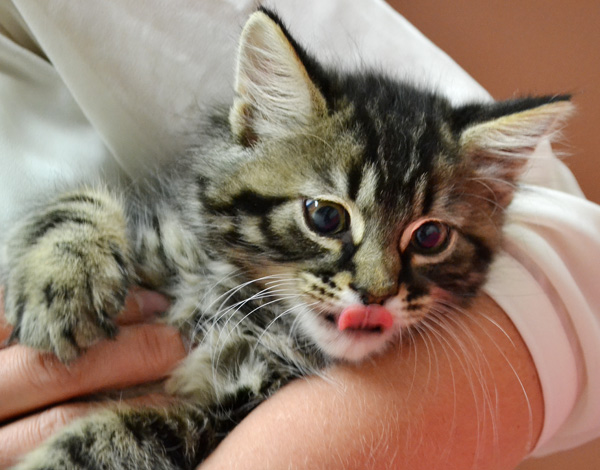 "Mmmmm whatcha grilling over there? Got any tuna?"

JULY 4
"Me no like fireworks."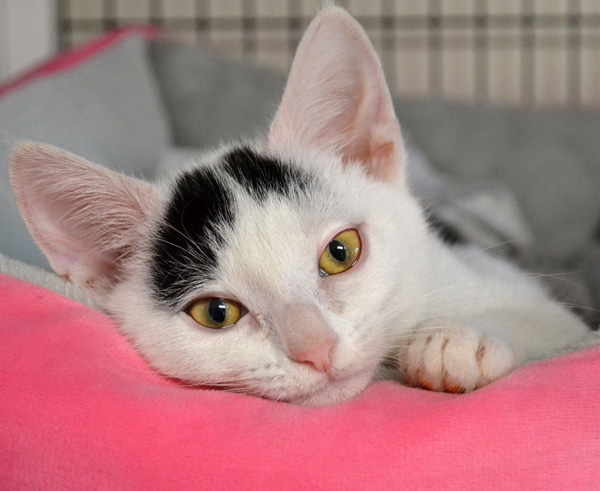 More pets go missing on the Fourth of July than on any other day of the year. Here are tips to keep your kitty safe when the fireworks begin. Have a safe and happy holiday!

JULY 5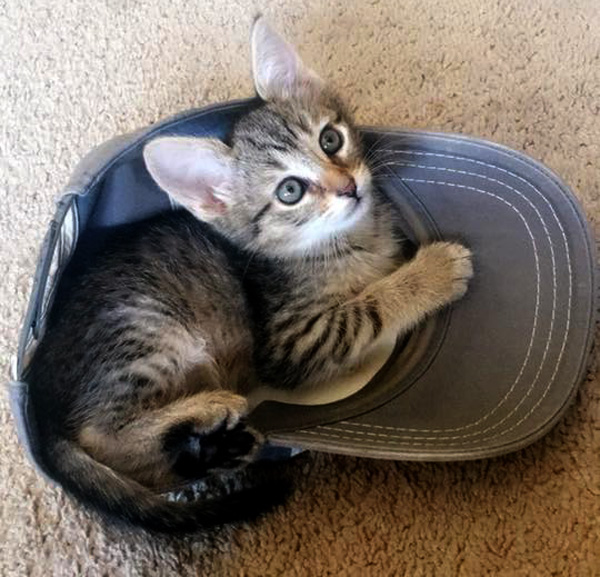 America's national pastime? Baseball.
Kitten's national pastime? Sitting inside baseball caps.

WEEK 6: Perfect Pairings
Kitten BOGO is officially in effect: when you adopt one kitten, we'll waive the adoption fee for a second!
We always recommend adopting kittens in pairs. That way, they'll take out their kitten energy on each other (instead of on your drapes.) Plus, it's great for socialization. This week, we're showing you why kittens truly are better together.
JULY 9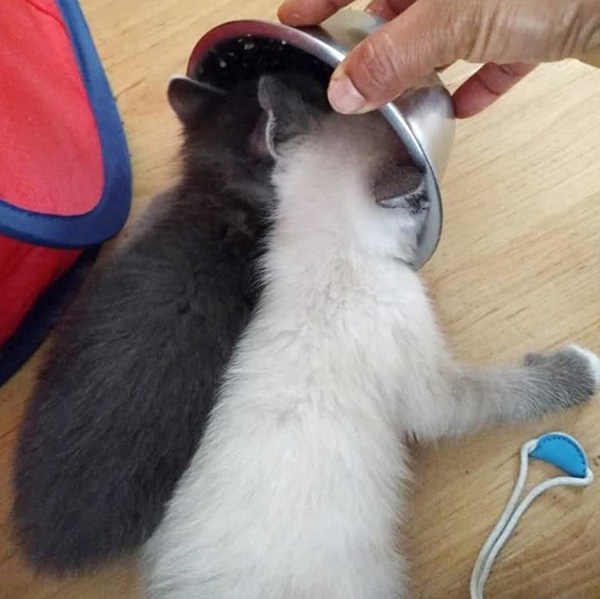 Adopt two kittens and they'll learn how to share. (Sort of.)

JULY 10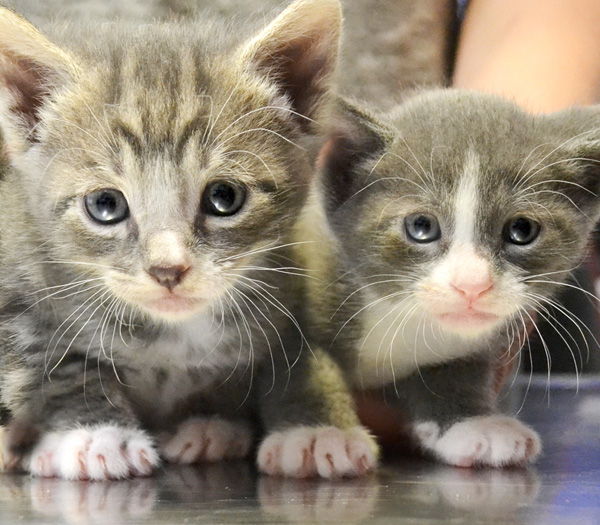 Adopt two kittens and they'll always have a pal to explore with.

JULY 11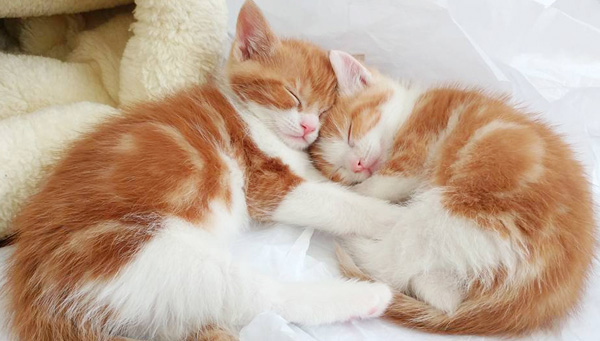 Adopt two kittens and they'll always be warm.

JULY 12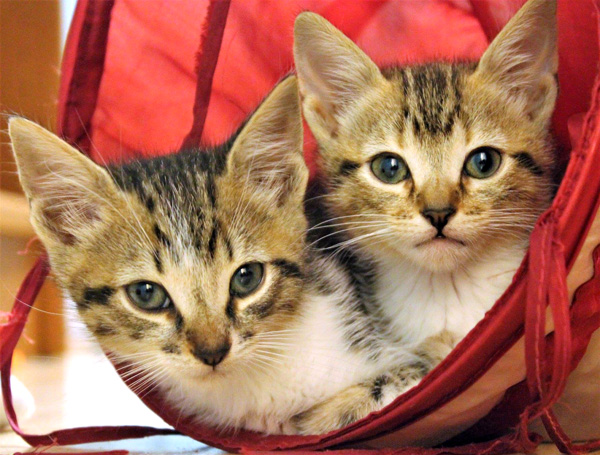 Adopt two kittens and they'll have a best friend for life.

WEEK 7: Kitten Season! Here We Go Again.
Our kittens love musical theater, so naturally, they are excited for the release of "Mamma Mia 2." This week, we're sharing their favorite ABBA songs. Their faces will have you asking, my my, how can I resist you?!
JULY 16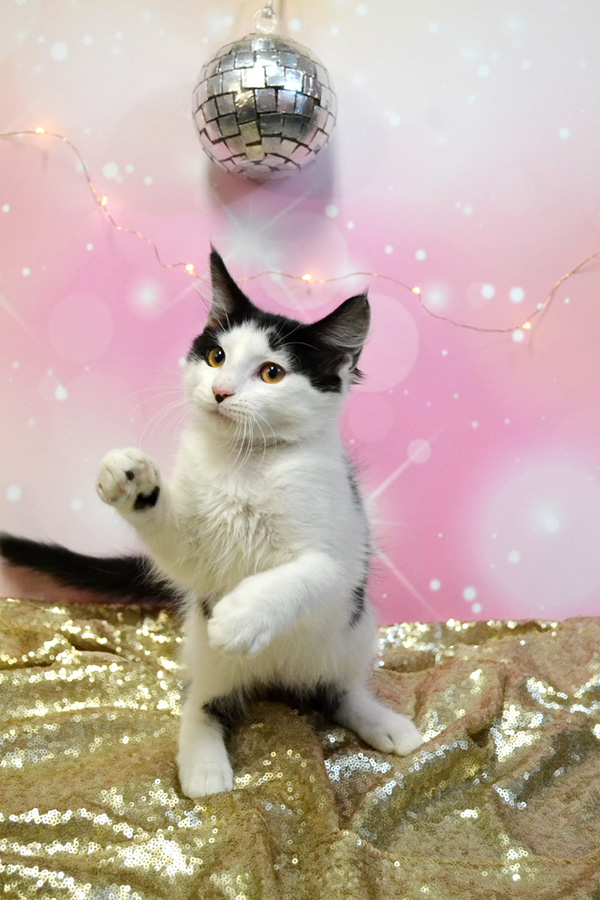 Spongebob: "Dancing Queen"
Young and sweet, only 8 weeks old…

JULY 17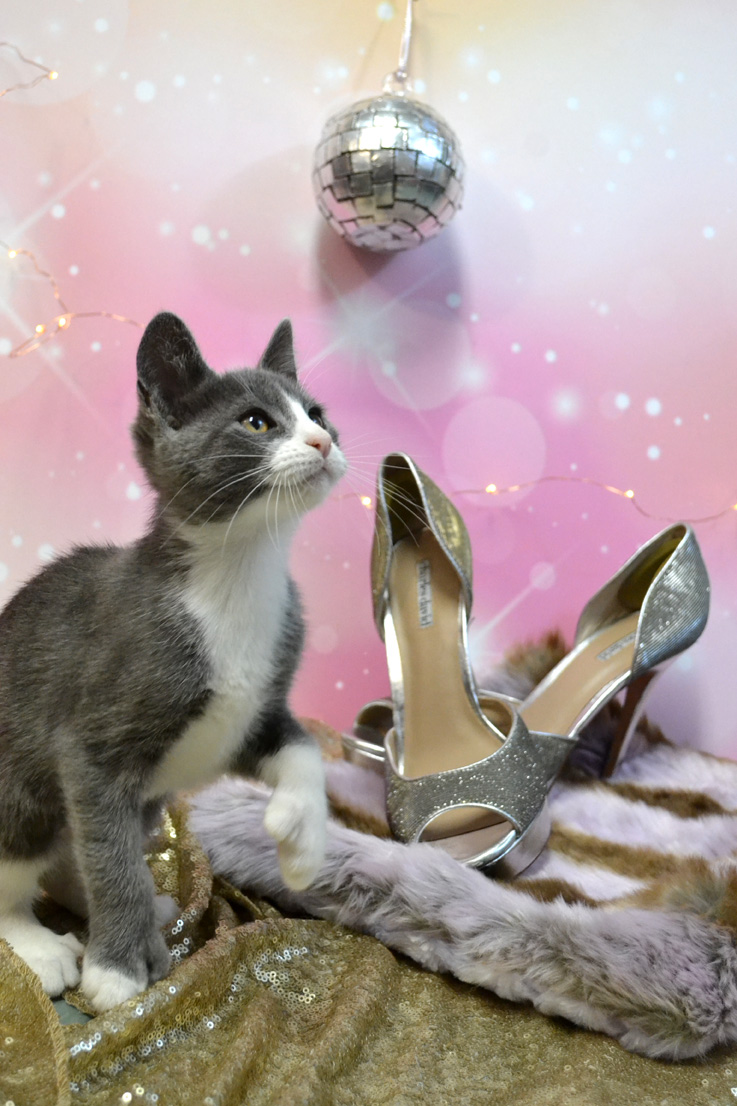 Olive: "Gimme! Gimme! Gimme! (All of the Kitties)"

JULY 18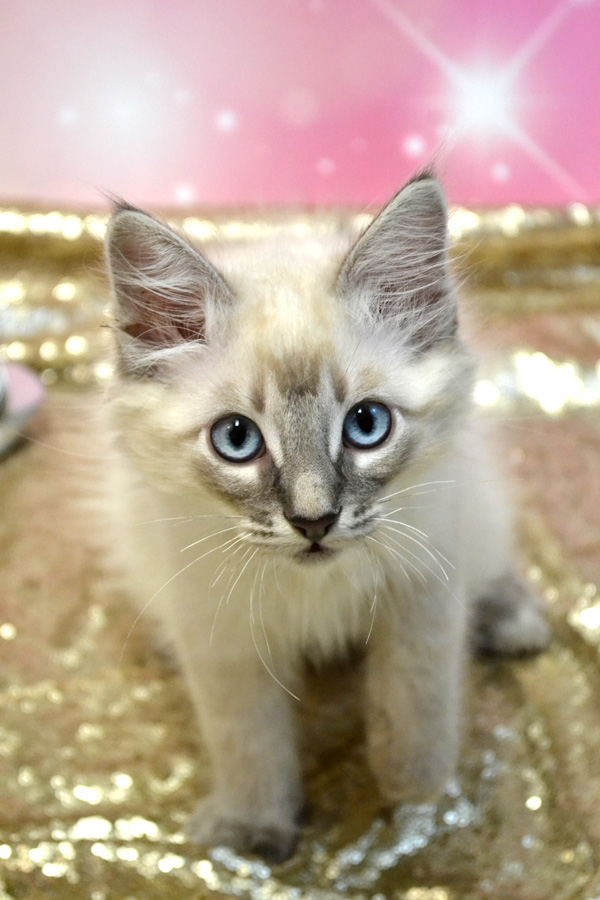 Nanu: "Take a Chance on Me"
(If you do, I'll give you unconditional love.)

JULY 19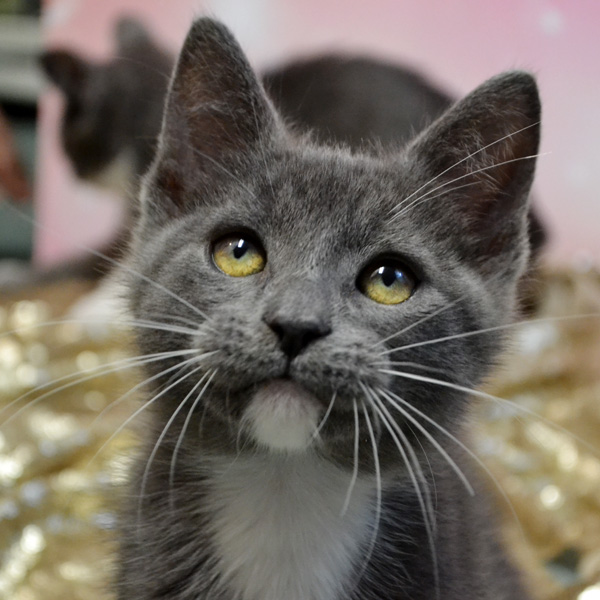 Popeye: "Voulez-Mews"

WEEK 9: Pretty Kitties
All cats are stunning creatures, but there are some who blow us away with their unique good looks. Let's meet a few who really stood out this Kitten Season.
JULY 30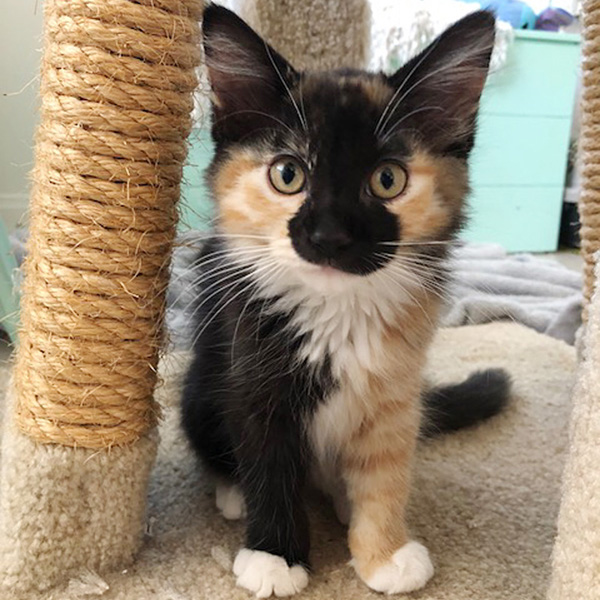 Half tuxedo. Half orange tabby. All Uzo.

JULY 31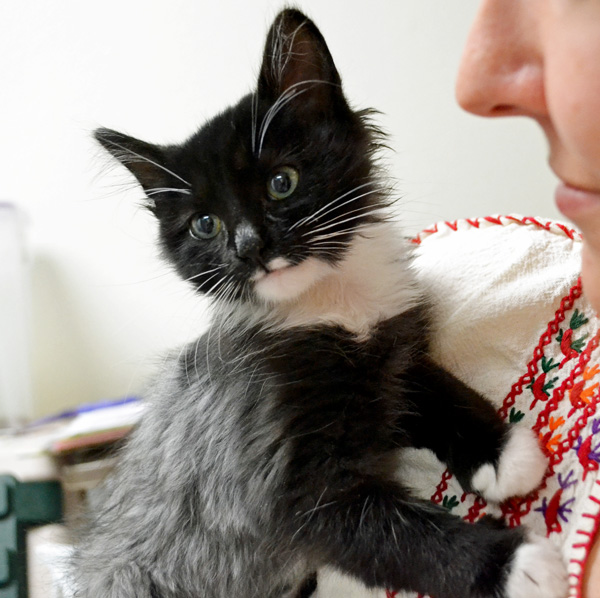 Cohiba the Silverback Gorilla Kitten

AUGUST 1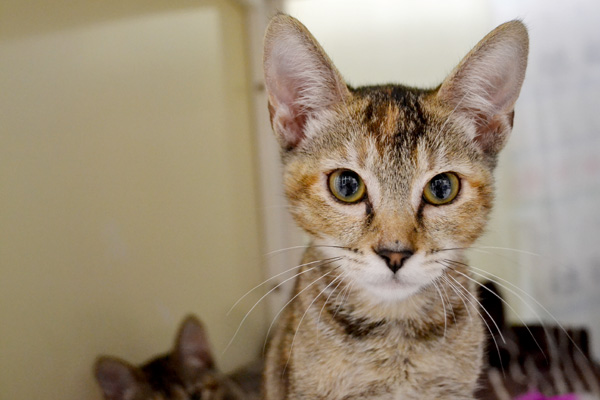 Abyssinian blend Jackpot looks like ancient Egyptian royalty.

AUGUST 2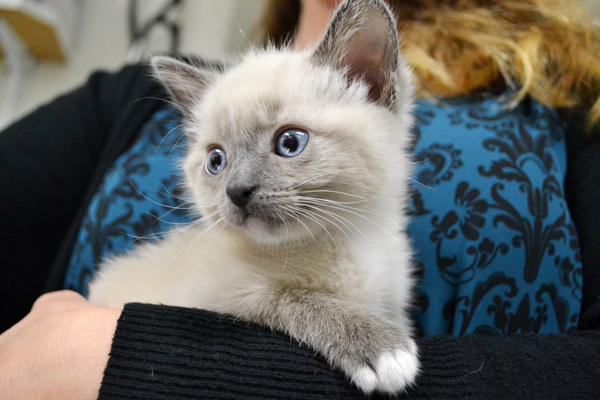 Bernardy is one handsome man.

WEEK 10: Kitten Antics
Kittens can be unpredictable, but one thing's for sure: they'll always keep you laughing. This week, we're sharing some of our adoptable and foster kittens at their silliest.
AUGUST 6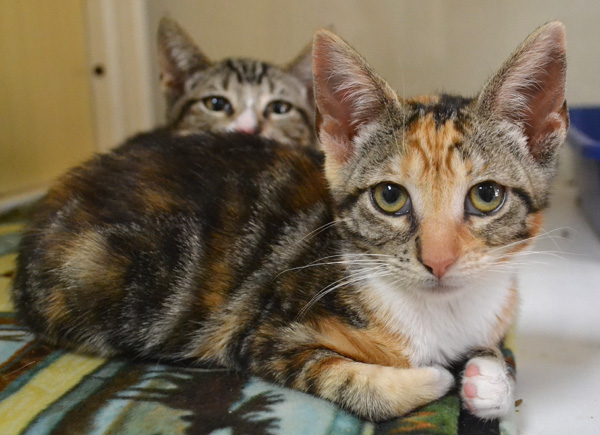 He's right behind me, isn't he?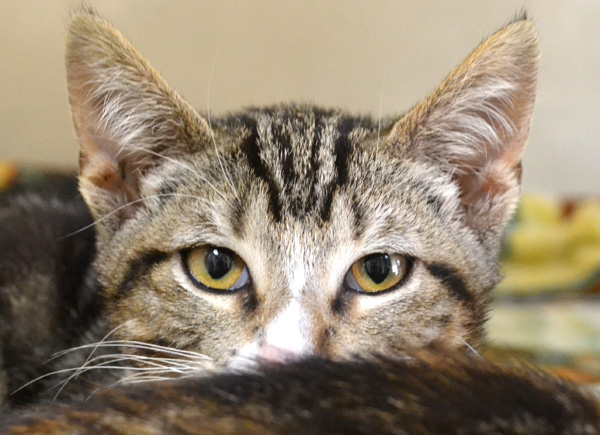 AUGUST 7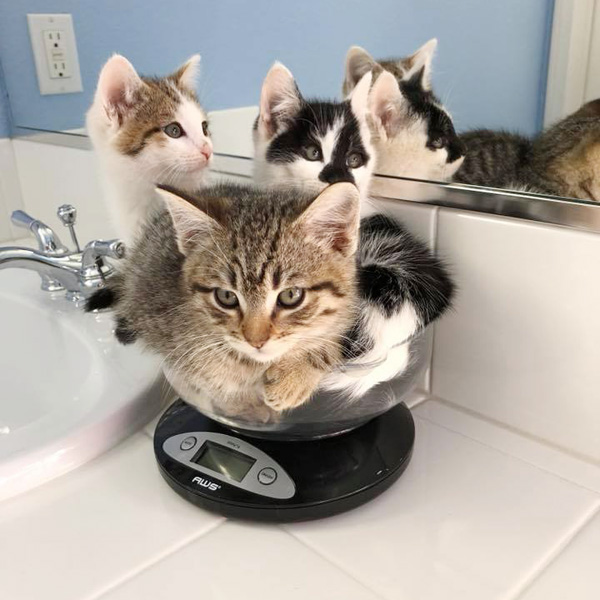 Ok, everybody in!

AUGUST 8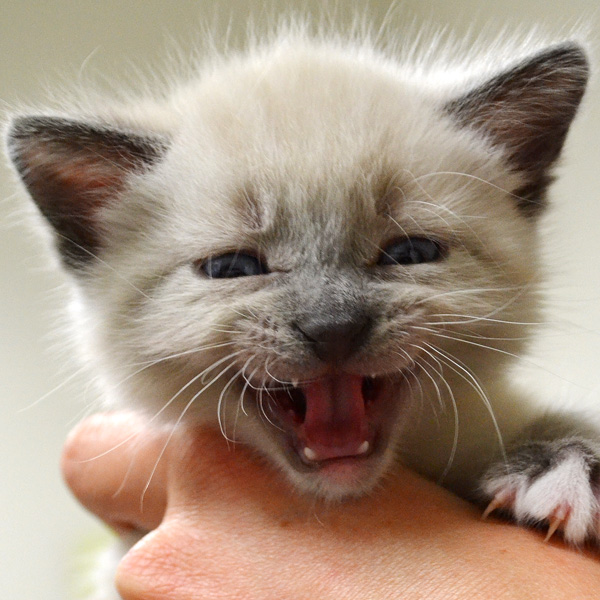 "Ma! The meatloaf!"

AUGUST 9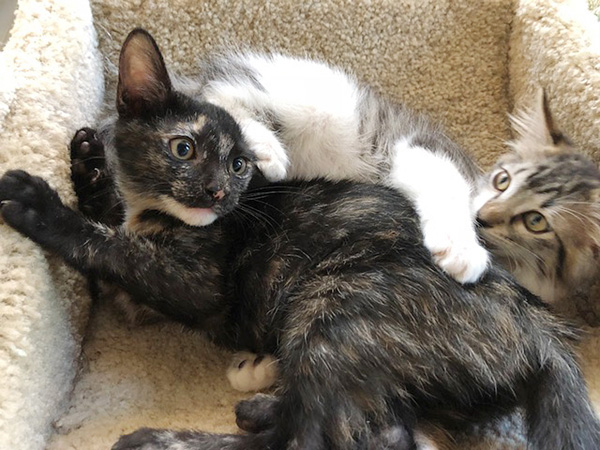 Seriously, dude? You're on my head!

WEEK 11: It's Black and White
Nothing is more classic than a black tuxedo, and the same is true in the feline world. This week, you'll meet some of the stunning black and white kitties who have graced us with their presence this Kitten Season. (And some gray ones might sneak in there, too.)
AUGUST 13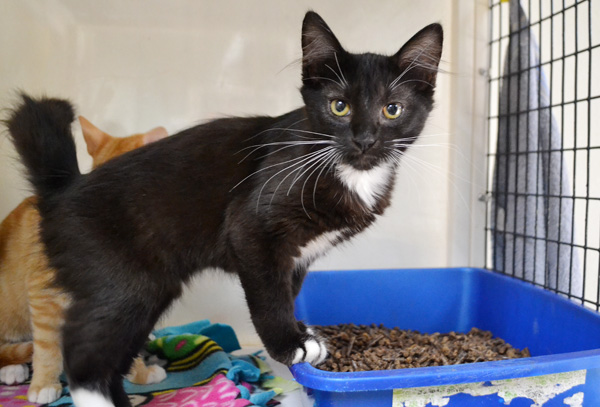 Yes I do wear my tuxedo to the restroom, thank you very much.

AUGUST 14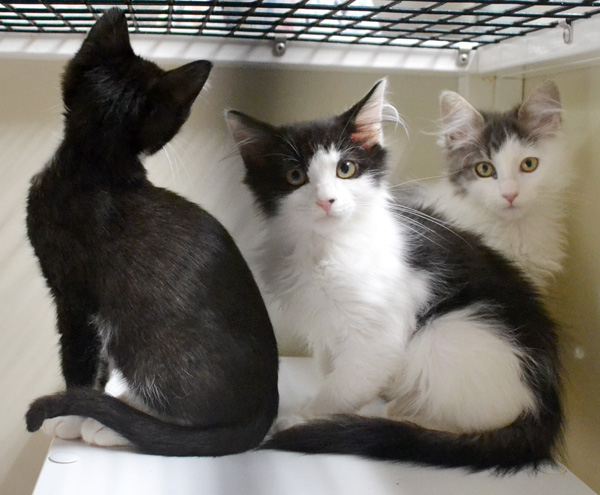 That's not my shadow, that's my brother!

AUGUST 15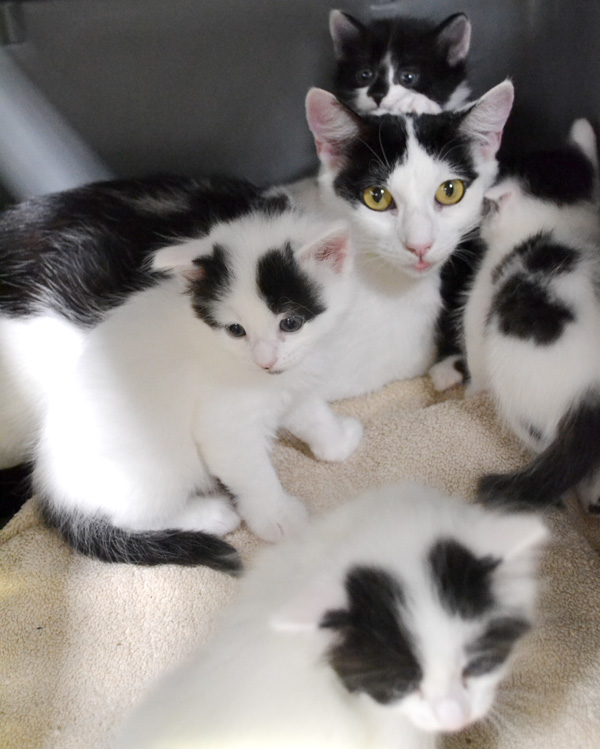 Mama cow Mouse and her kitten calves

AUGUST 16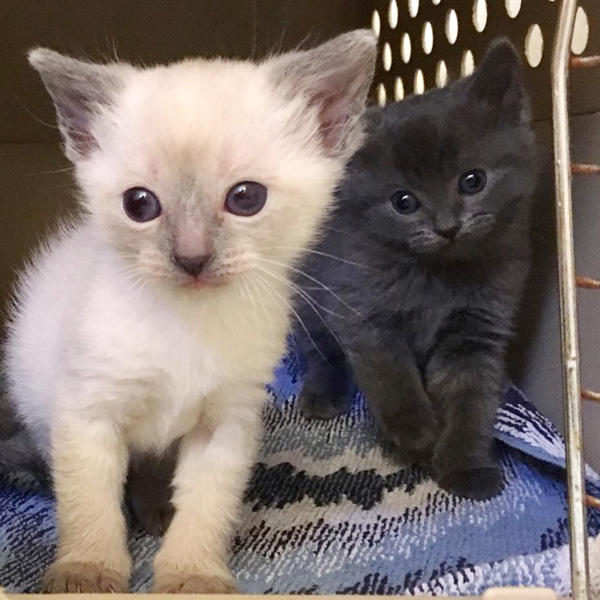 Mom ran out of toner before printing my sister.

WEEK 13: Kiterary Classics
Even though they're only a few months old, our kittens are voracious readers. From famous novels to beloved children's series, they love to curl up with a good book. This week, we're sharing some of their favorite reads.
AUGUST 27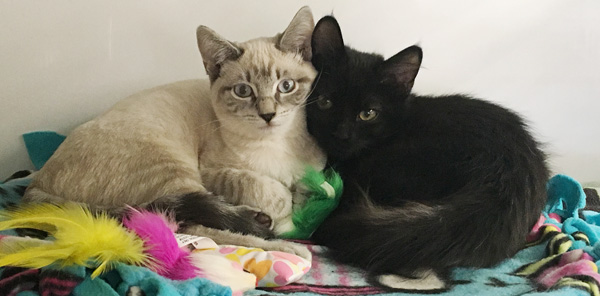 "A Tale of Two Kitties"

AUGUST 28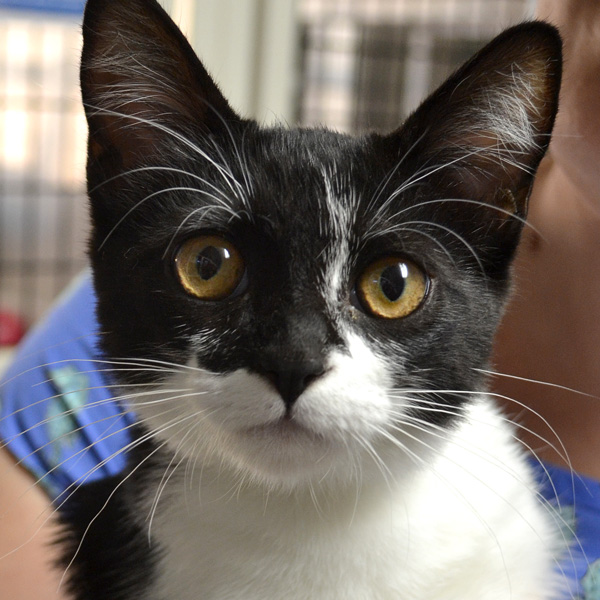 "The Great Catsby"

AUGUST 29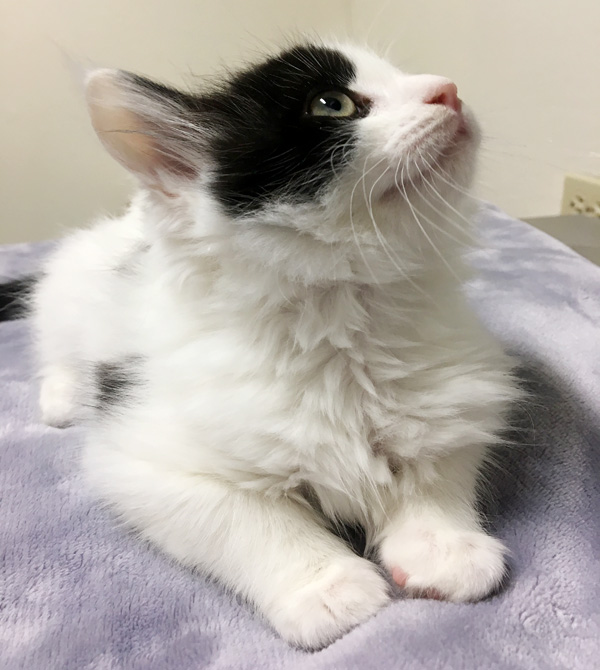 "Are You There God? It's Me, Meowgaret."

AUGUST 30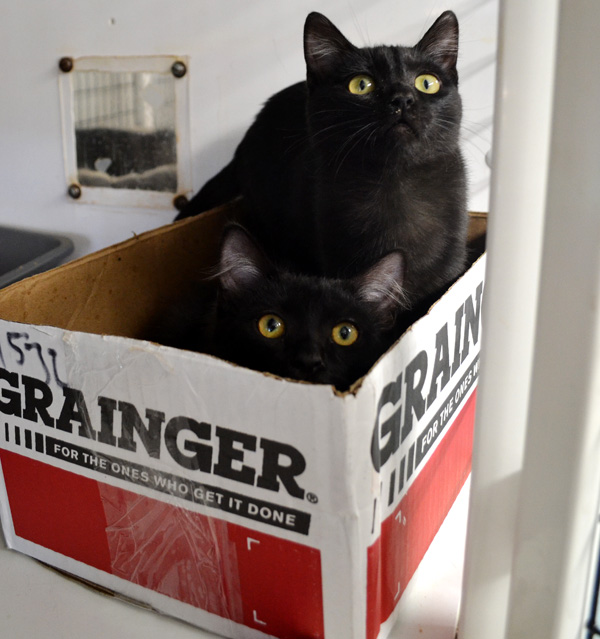 "The Boxcar Kittens"

WEEK 14: We Gato Go!
Welcome to the last week of Kitten Happy Hour 2018. We'd love to keep sending you photos of our kittens, but they're too busy making memories in their new forever homes. In fact, 296 kittens found families during June, July and August! We couldn't have done it without our Center supporters, like you.
This week, we'll be sharing some of our favorite kitten snapshots that didn't really fit into any other category. Enjoy!
SEPTEMBER 4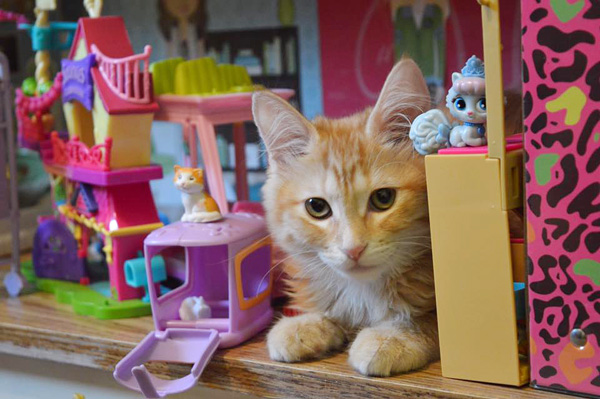 What do you mean I'm too big for Littlest Pet Shop??

SEPTEMBER 5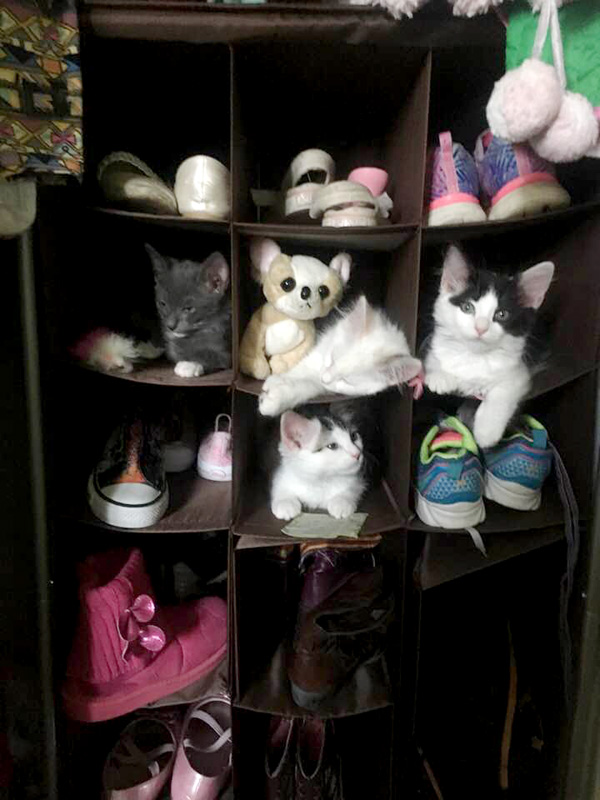 Apartment Living

SEPTEMBER 6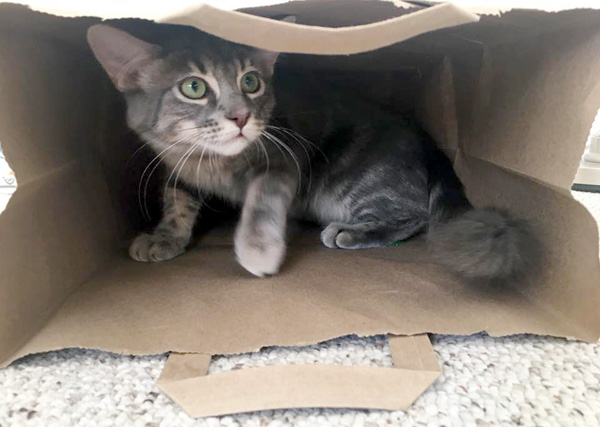 Kitten's got this game of Hide and Seek in the bag!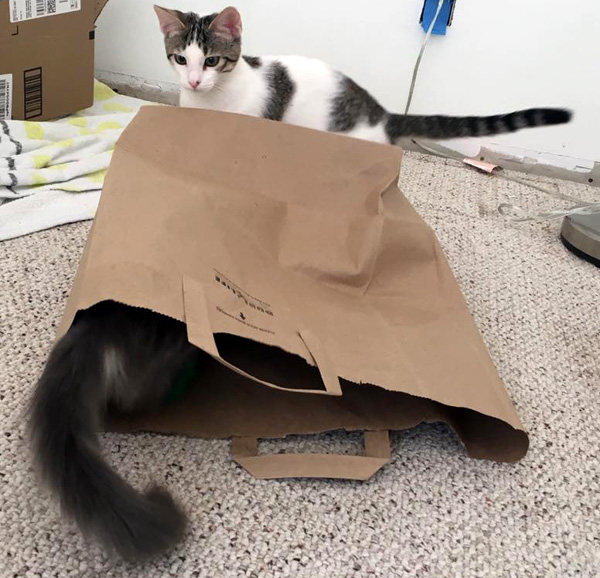 …well, maybe not.

SEPTEMBER 7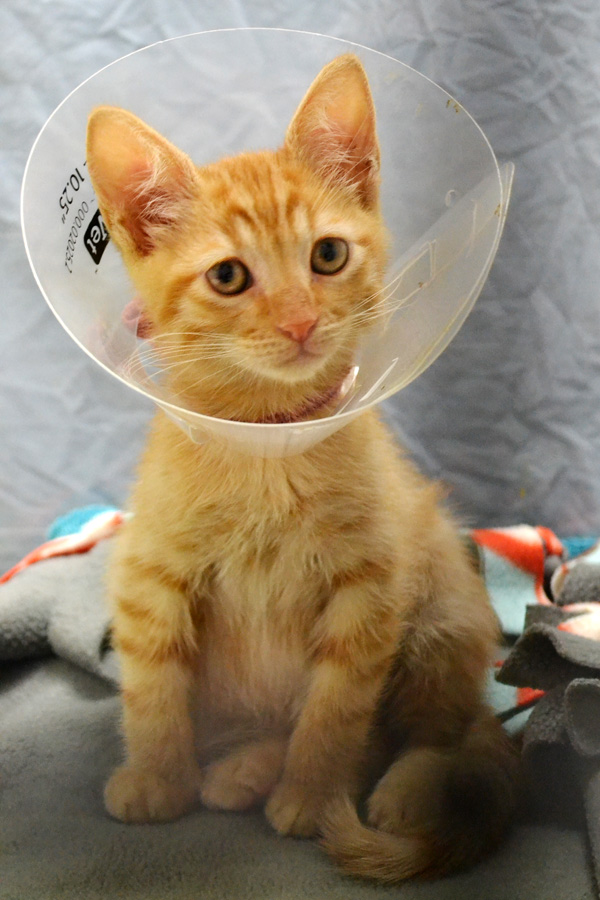 If I stand a certain way, I can get HBO for free!
The adorableness doesn't end here! Get your baby animal fix with Follow the Litter. (Next installment coming soon)

Need moar kittehs?
Kitten Happy Hour Archive: