Kitten Happy Hour - Cute Kittens
WEEK 1: Facts About Newborns
Many kittens come to us when they're just a few days or a few weeks old. (Some are even born in foster care!) Here are a few facts you might not know about newborn kittens…
JUNE 5
Hello World!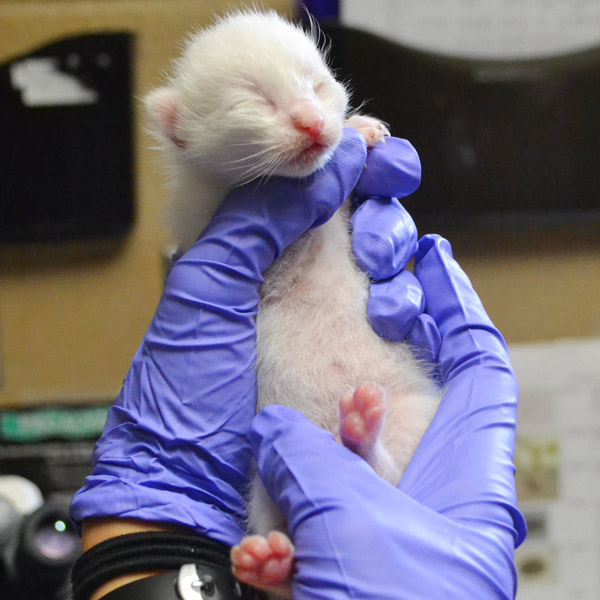 On average, kittens weigh 3.5 ounces at birth. (Look at those teeny paws!!!)

JUNE 6
Lil Sleepyhead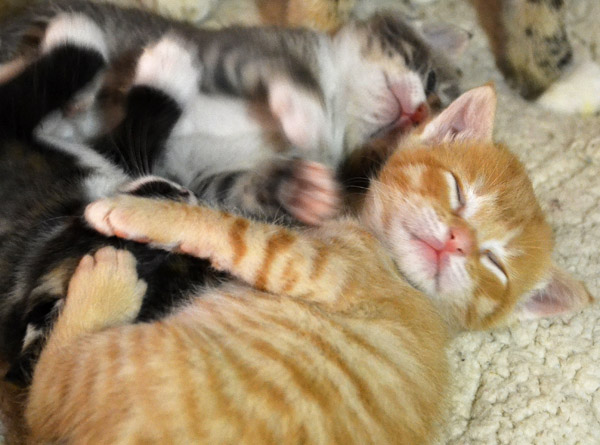 Newborn kitties sleep up to 22 hours a day!

JUNE 7
Baby Blues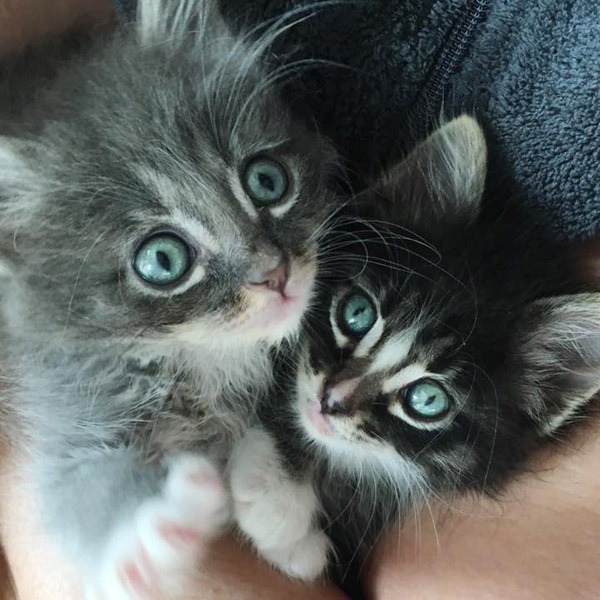 All kittens are born with blue eyes. Most will start to change color around Week 6 or 7.

JUNE 8
Oh Baby!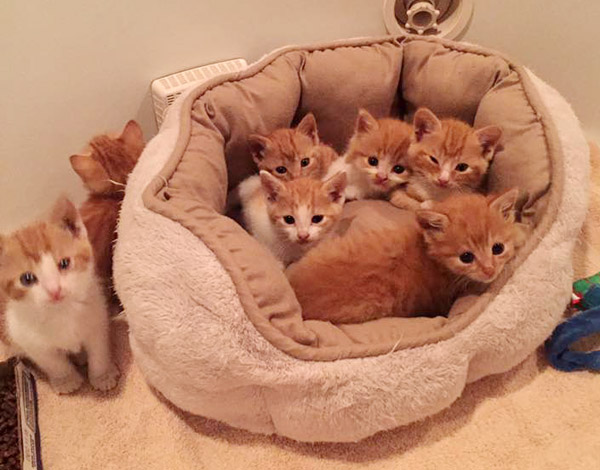 Mama cats usually have 3-5 kittens per litter, but can have as many as 10+. These "queens" can become pregnant multiple times a year…just imagine the number of kittens! (That's why our pets are always spayed or neutered before going home.)

WEEK 2: Cuteness Overload
Sure, kittens have their crazy moments. But when they're sweet and cuddly, they have the power to turn us into puddles! This week, we'll be showing you some angelic kittens who will make you melt.
JUNE 13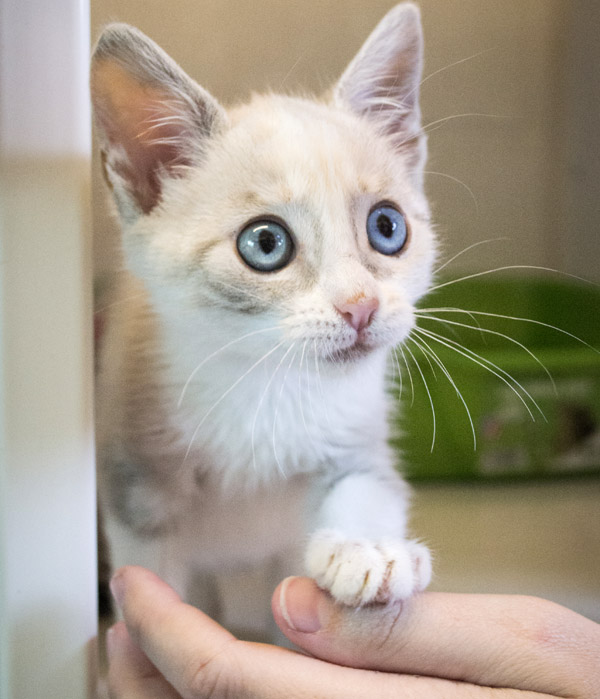 Abra asks, will you be my friend?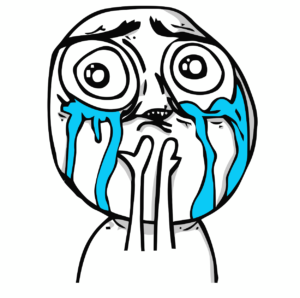 JUNE 14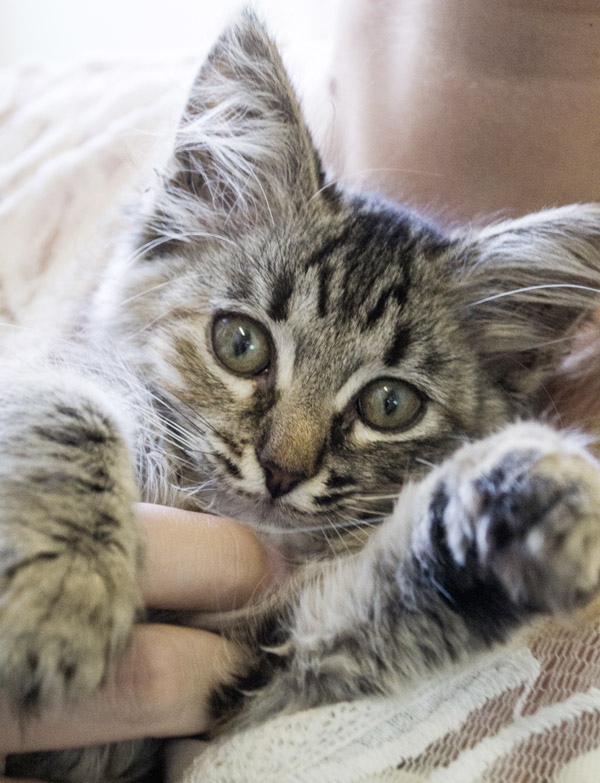 When you pick her up, Bambi starts making biscuits.

JUNE 15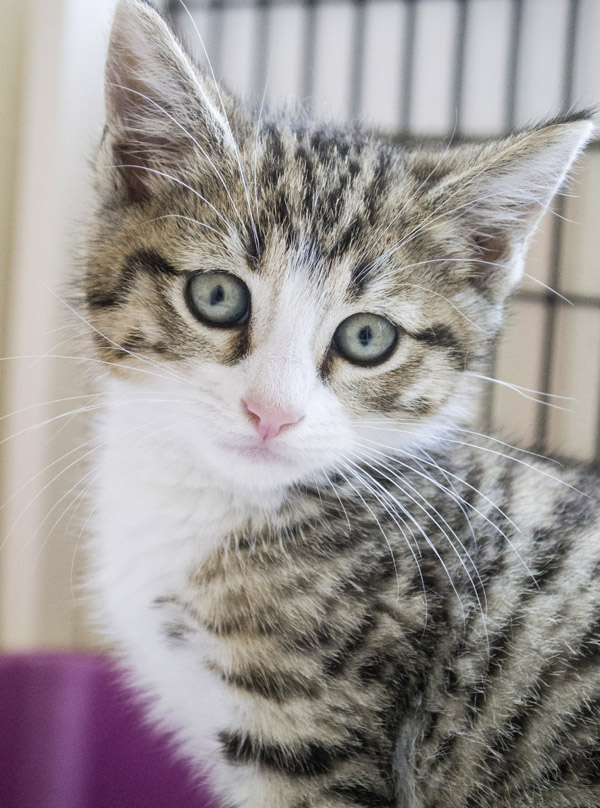 Cute Aggression (n.): When something is so cute you can barely stand it. Example: Seeing Clark's picture and wanting to eat him is an example of Cute Aggression.

JUNE 16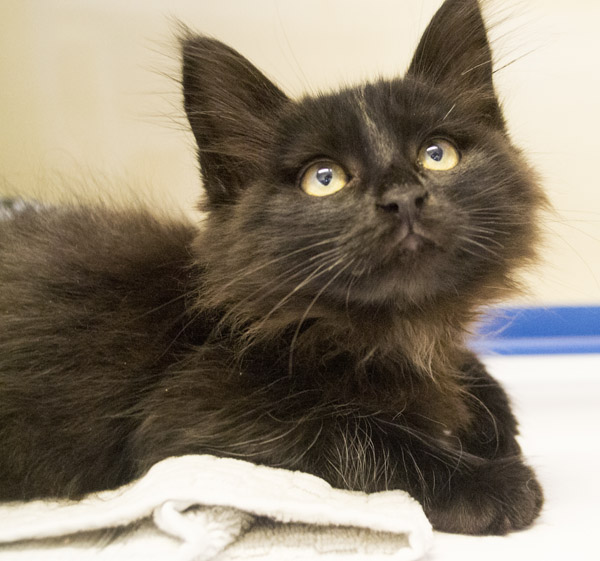 How are you so adorable?!?!?!

WEEK 3: Express Yourself
Kittens have the most expressive faces! From their enormous eyes to their dramatic yawns, you can't help but wonder what their little heads are thinking.
JUNE 19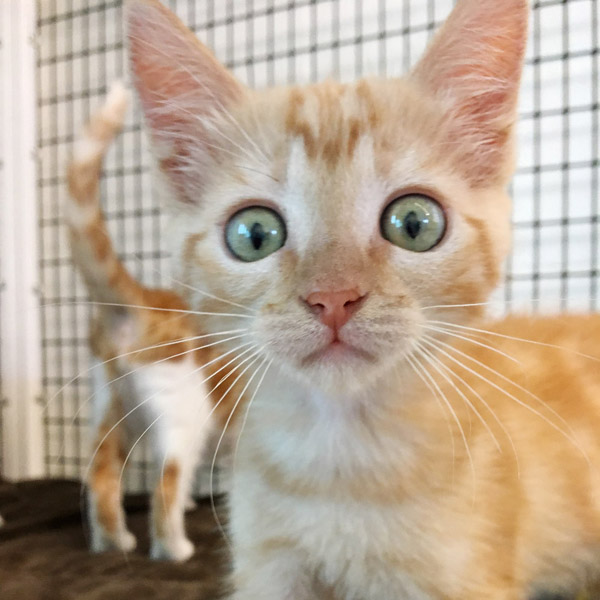 Garfunkel is shocked! Simply shocked, we say! (Shocked about what, we have no idea.)

JUNE 20
Remind you of anyone?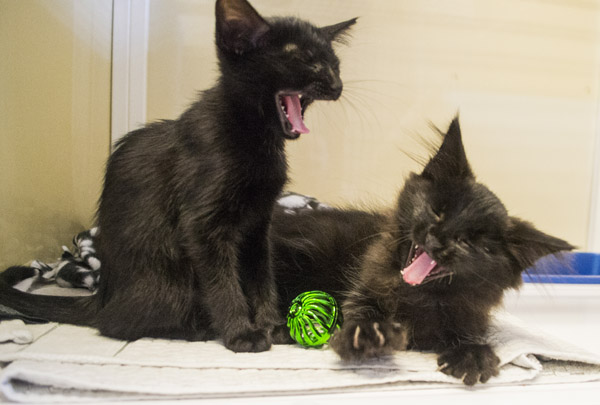 via GIPHY

JUNE 21
Barbie always wore a look of surprise.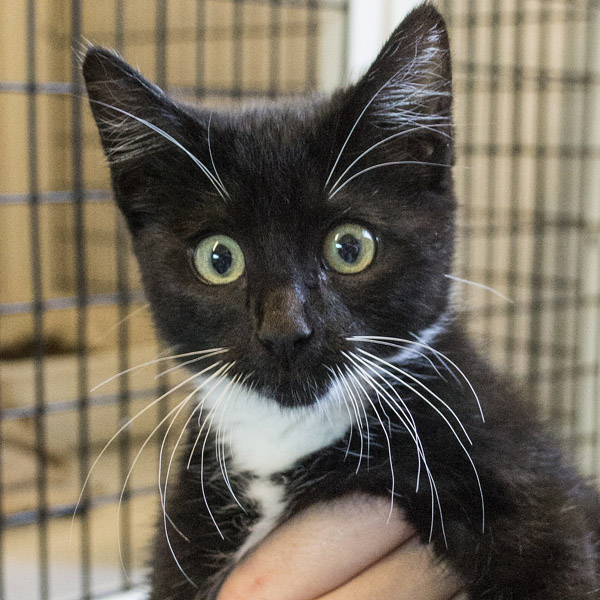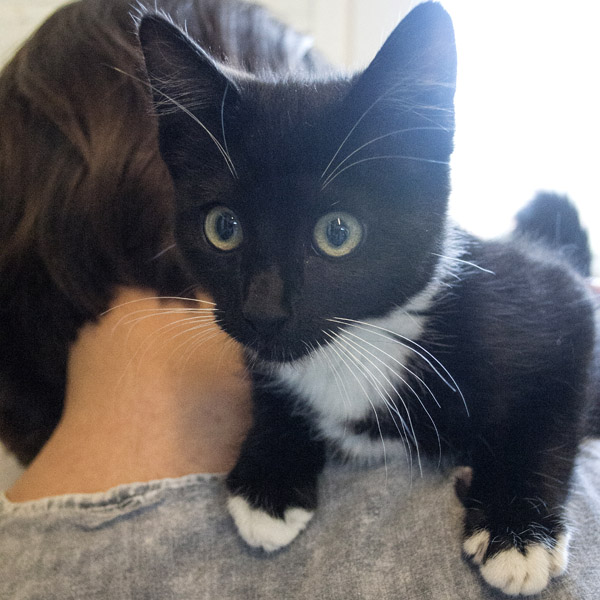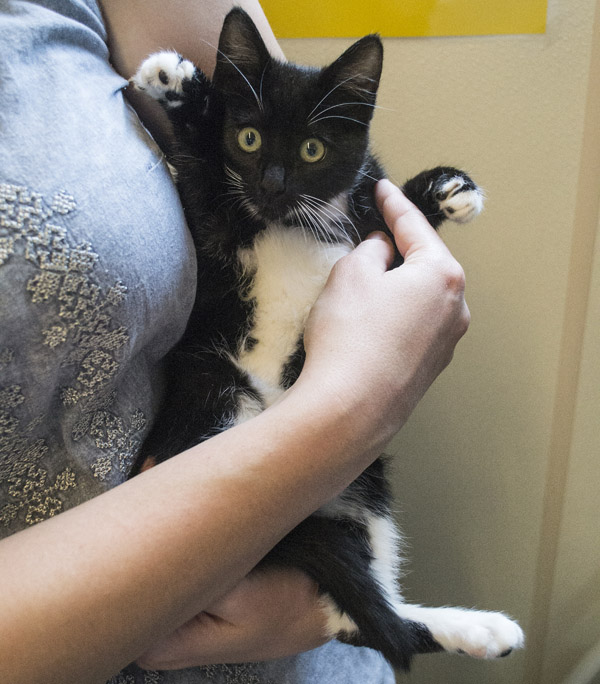 JUNE 22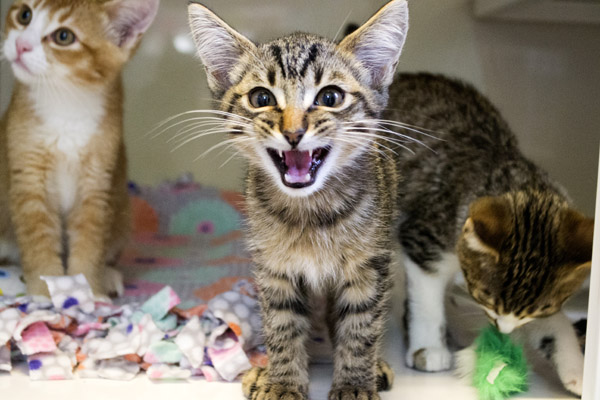 "Hey! Hey you! Pay attention to me!"

WEEK 4: We Are Siamese!
This Kitten Season, we have had SO many Siamese blends! Because these kittens are oh-so-photogenic, let's take some time to learn more about this chatty, intelligent and beautiful breed.
JUNE 26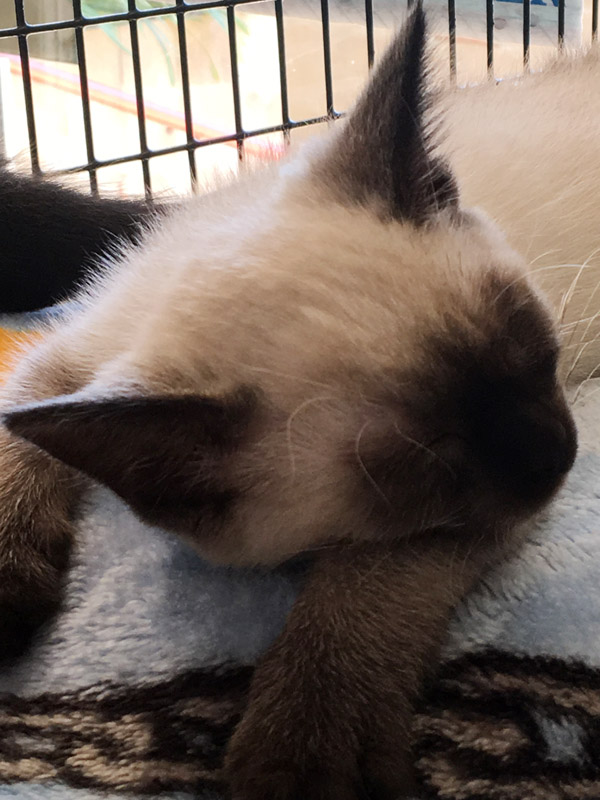 The Siamese is one of the world's oldest cat breeds. They originated in Siam (modern-day Thailand) and were reserved for royalty. (Fortune the kitten does not find this very interesting.)

JUNE 27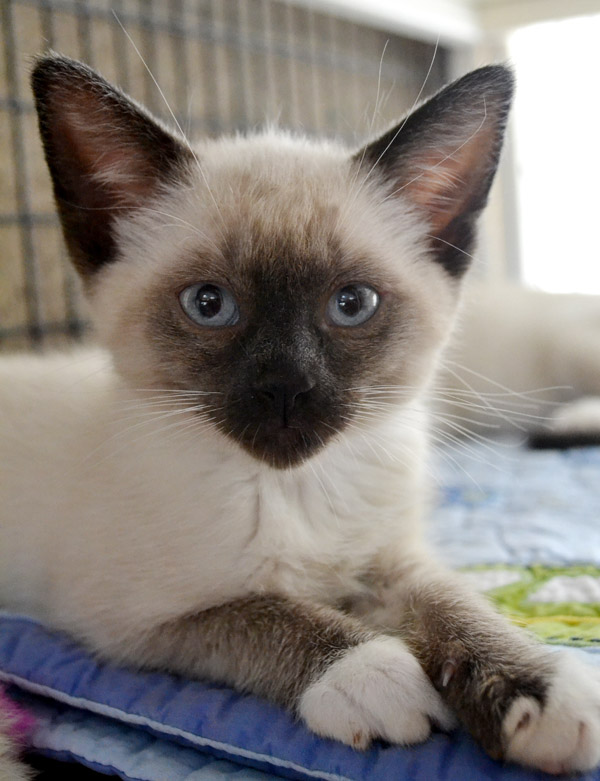 Siamese are known for having light coats with dark "points" on their head, feet and tail that come in seven different color variations. (Anthony – adopted 6/22 – has the classic chocolate coloring.) Siamese also have large ears and a sleek physique.

JUNE 28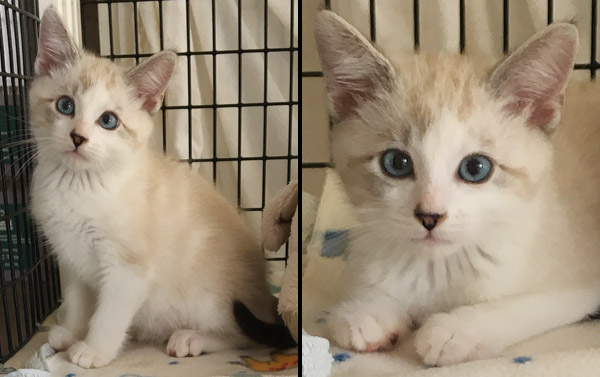 Siamese kitties are often a little cross-eyed. But that doesn't hold Atari – adopted 6/22 – back one bit!
(Another fun fact: unlike most kittens, who are all born with blue eyes, a Siamese cat's eyes will stay this stunning shade his whole life.)

JUNE 29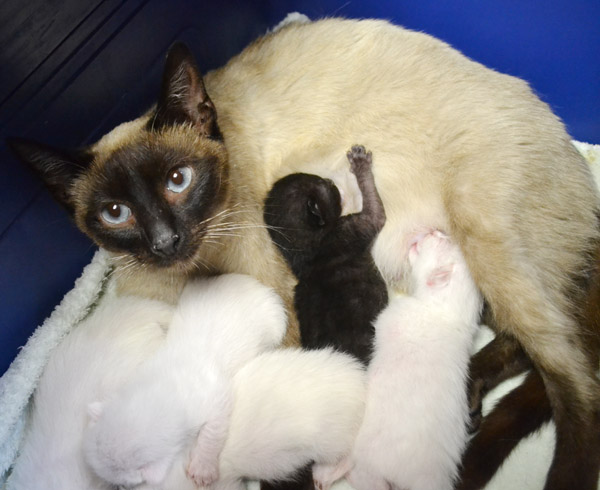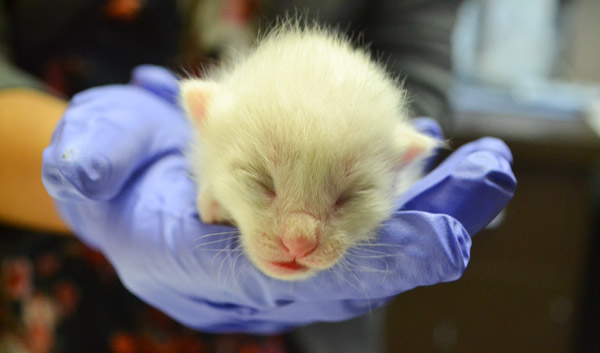 Did you know Siamese kittens are born all white?? Amara's babies will likely develop darker markings as they get older.

WEEK 5: Learning How To Cat
Kittens are constantly learning about the world around them. They learn from their mama, their siblings, their fosters, and by trial and error. This week, we'll highlight some important life skills our kittens have mastered.
JULY 3
Life Skill #1: Grooming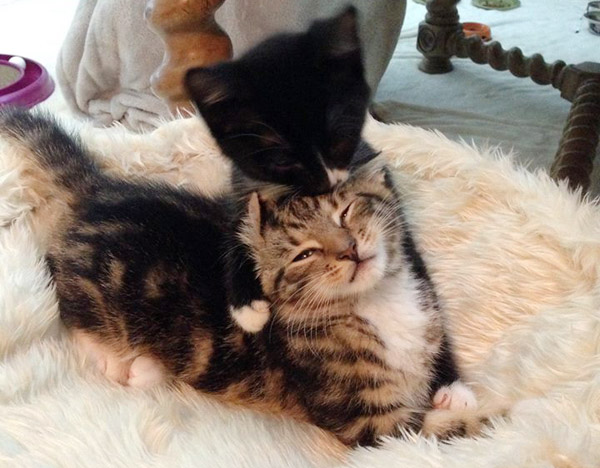 Nugget: Are you SURE you're doing this right?
Nacho: Yes! Now hold still.

JULY 5
Life Skill #2: Receiving Pets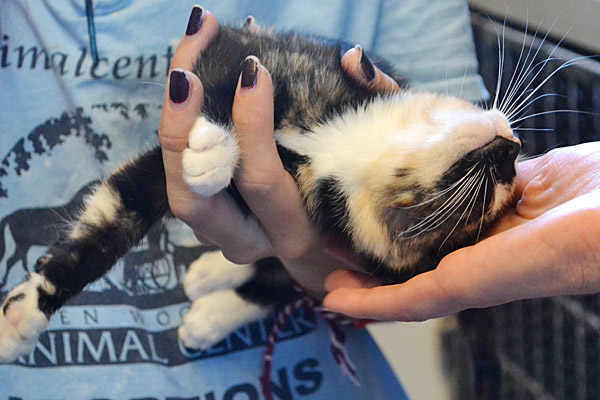 Ear scratchies and belly rubs are easy to obtain. Simply flop over and enjoy as the humans shower you with adoration.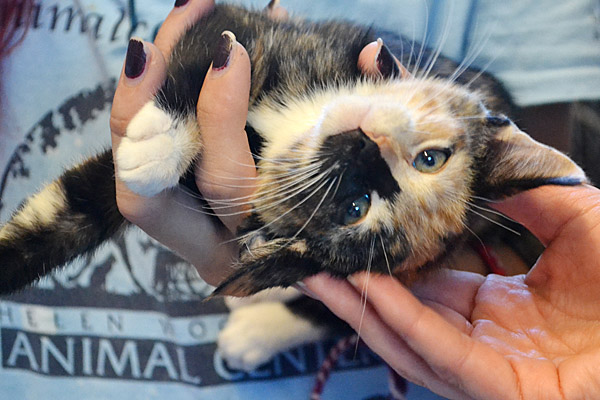 (Kitty knows how to work it.)

JULY 6
Life Skill #3: Napping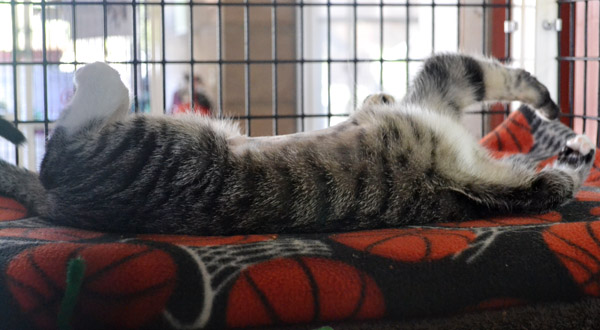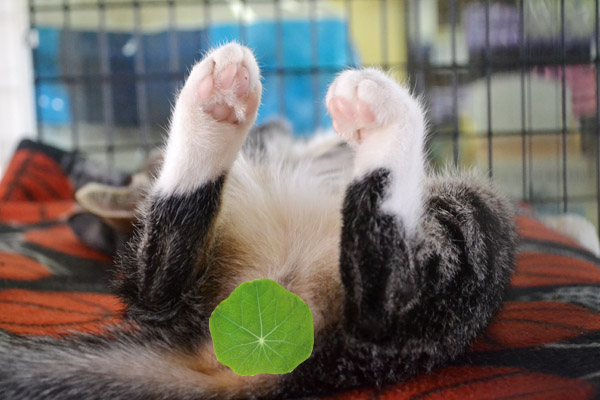 Napping 20+ hours a day can get monotonous. Change it up by trying different sleeping positions. (And never worry about modesty!)

JULY 7
Life Skill #4: Nomming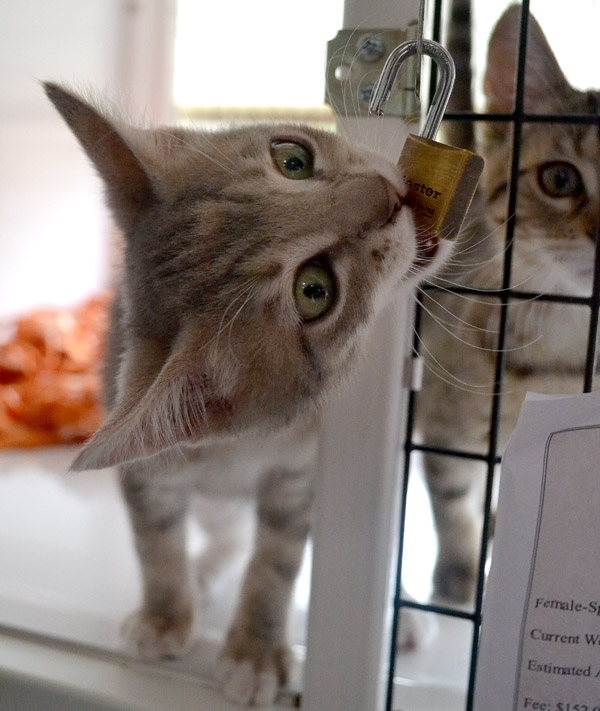 Word to the wise: shiny things are not for eating.

WEEK 6: Kittens of Comic-Con!
San Diego Comic-Con starts this week, and our kittens are getting in on the act. Let's find out who will win Best Costume!
JULY 17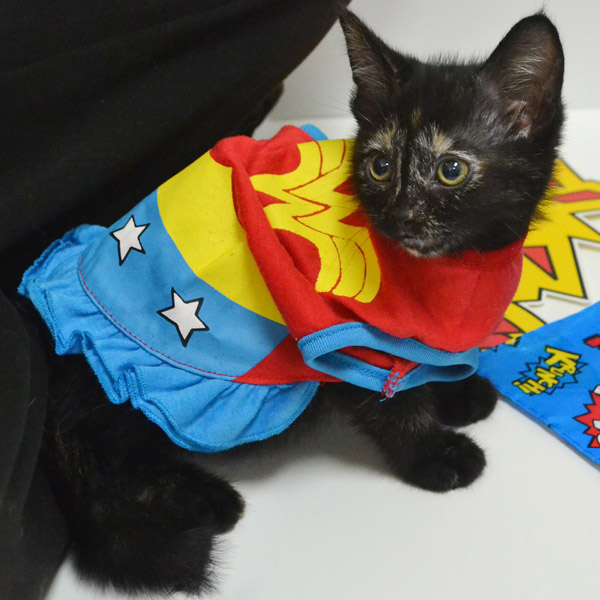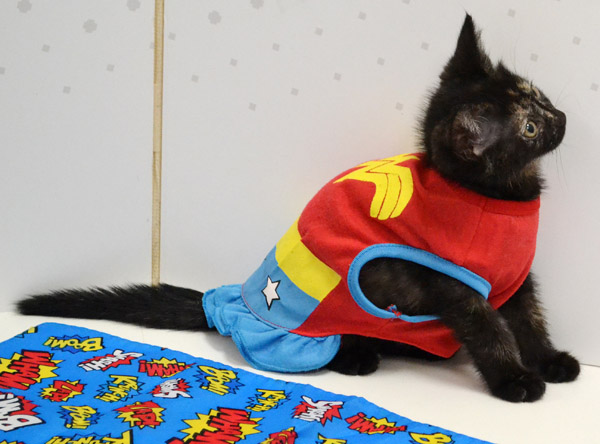 Wonder Woman wonders why she has to wear this outfit.

JULY 18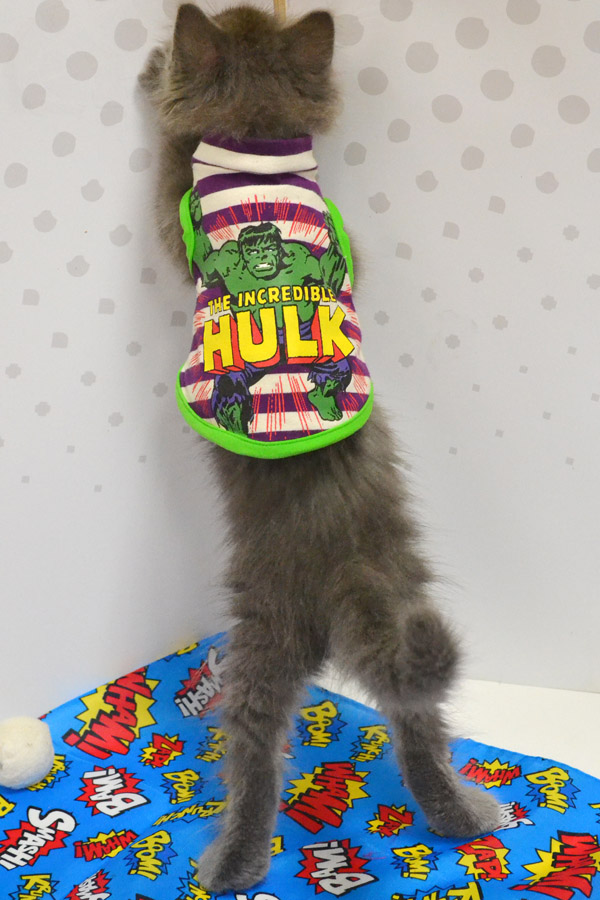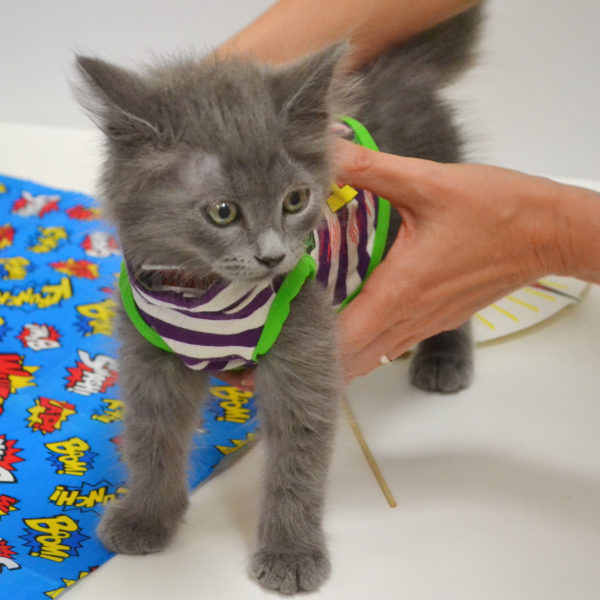 The Incredible Hulk is incredibly cute!

JULY 19
Kitten transforms…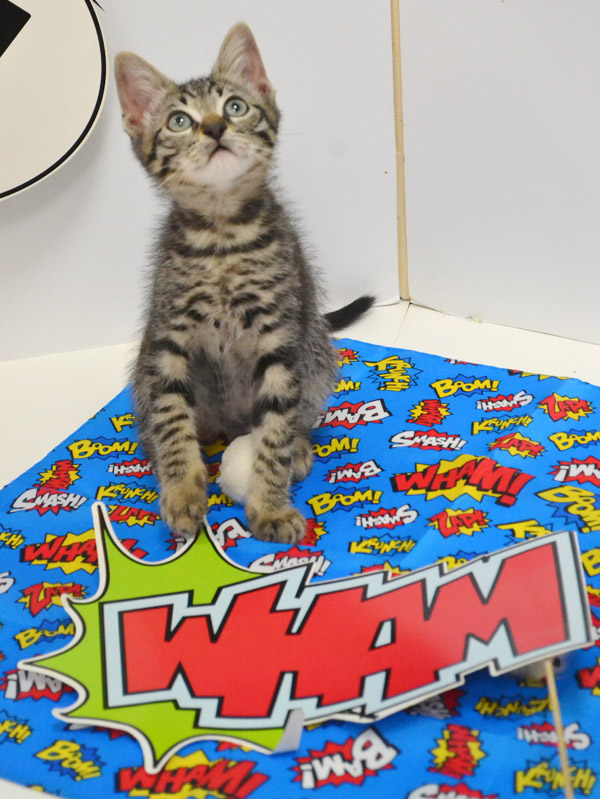 …into Stretch Armstrong!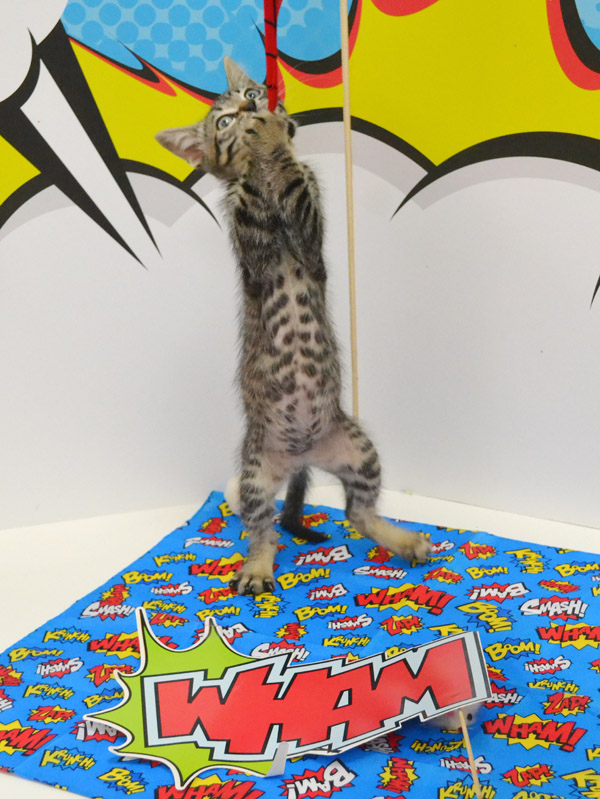 JULY 20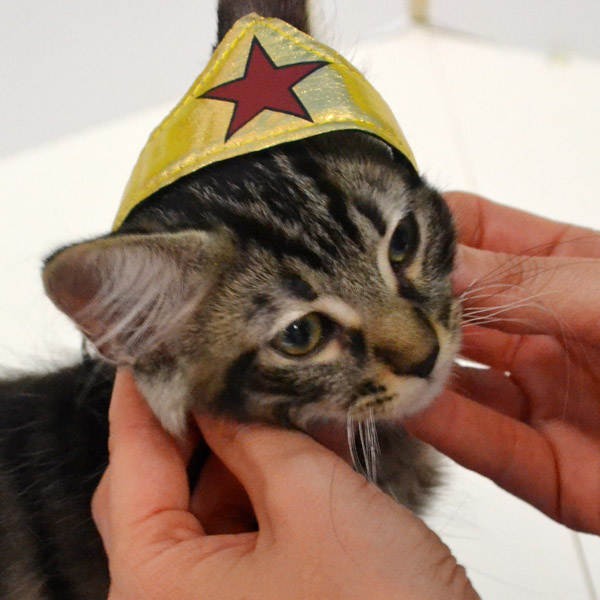 "I will have my revenge on this crown."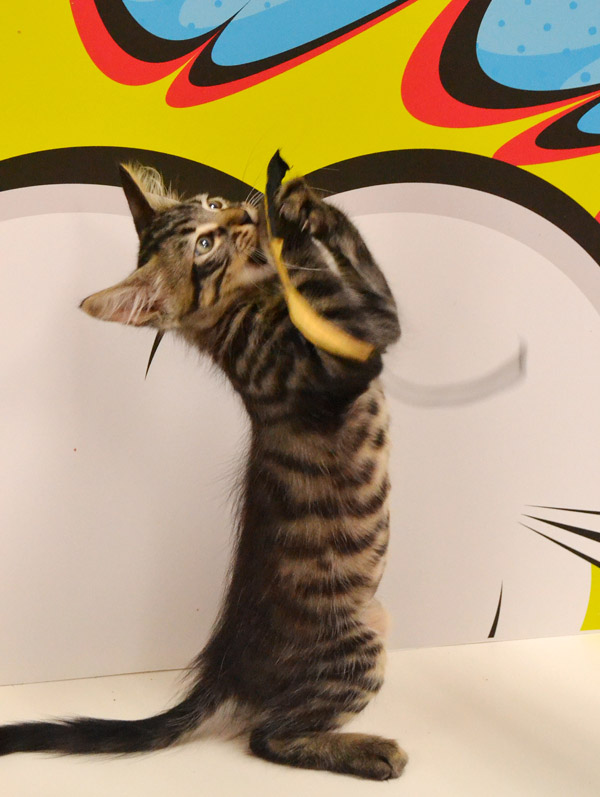 WEEK 7: Kitmojis
Kittens these days…always texting! They especially love using their favorite emojis. Here are some emojis that our kittens remind us of. (They're so cute, you'll have hearts in your eyes!)
AUGUST 7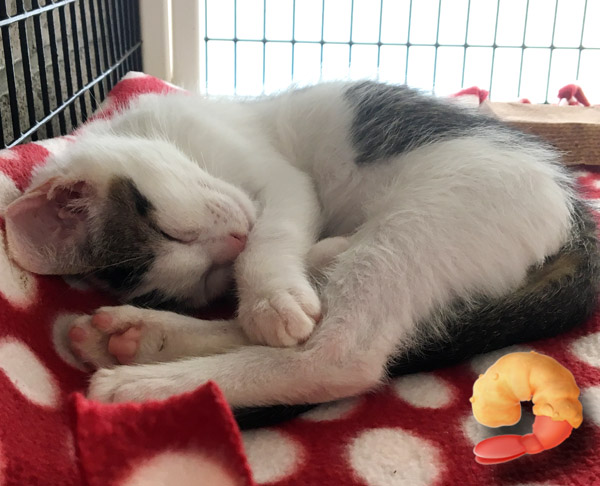 We call this pose "The Shrimp."

AUGUST 8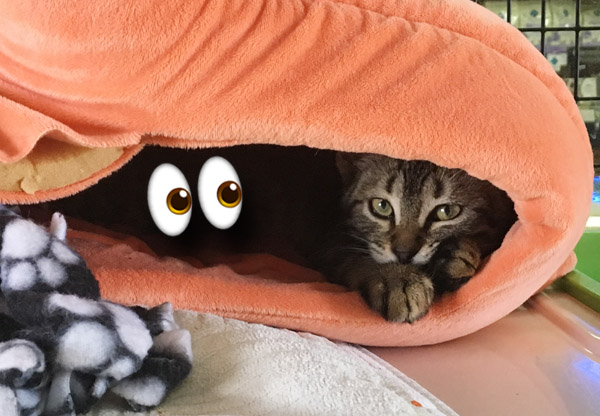 Lisa's got her eyes on you.

AUGUST 9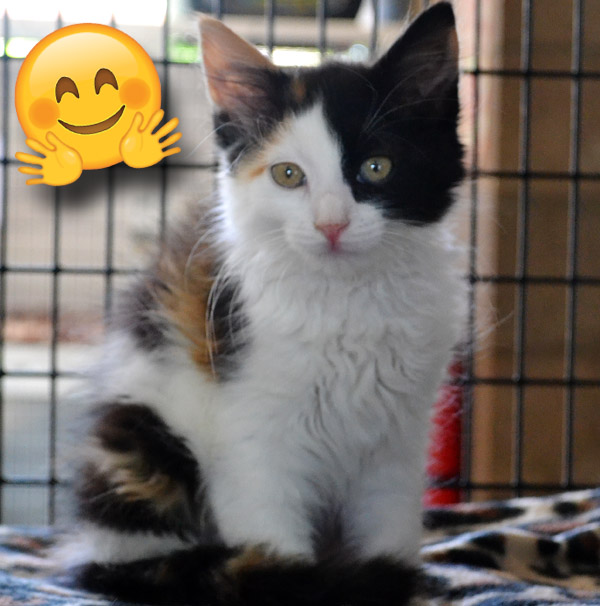 Us when we see a very fluffy kitten