Rescue Dwayne "The Rock"
One dog's journey from extreme abuse to finding a loving forever home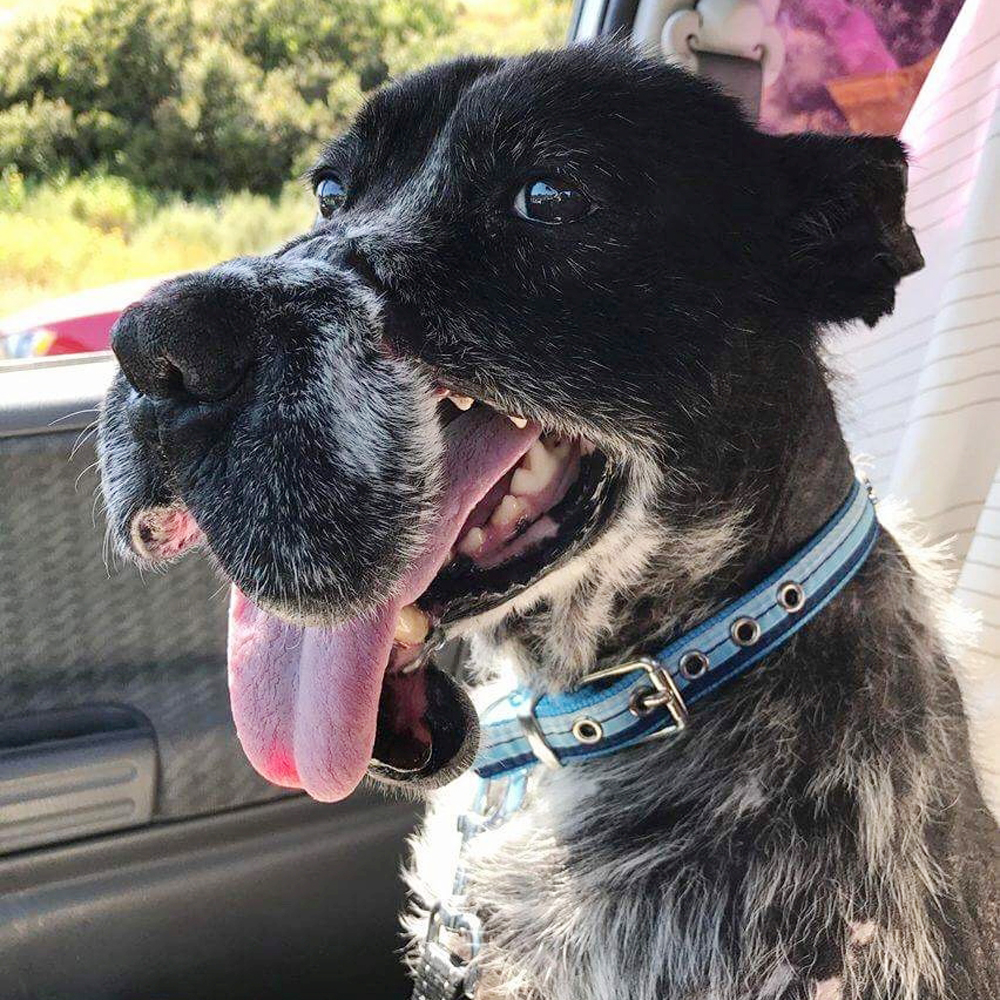 Dwayne has received so much love and support that we want to keep you up-to-date with his road to recovery. Bookmark and check back on this page often for his latest updates!

May 22, 2017
Dwayne's First Facial Surgery
Dwayne's first facial reconstruction surgery was a success!
At 11:30 a.m. this morning, Dwayne was brought into our Companion Animal Hospital's surgery room for his first procedure on his lips. Dr. Carter performed the surgery and was able to correct his two upper lips and one of his lower lips. The whole ordeal took less than 2 hours. As Dwayne relaxed in the recovery room, Dr. Carter gave us an update: "The surgery went smooth, and Dwayne is already showing signs of great blood flow throughout his lips. He'll be heading back to his foster home tonight to get plenty of rest."
Dwayne preparing for surgery: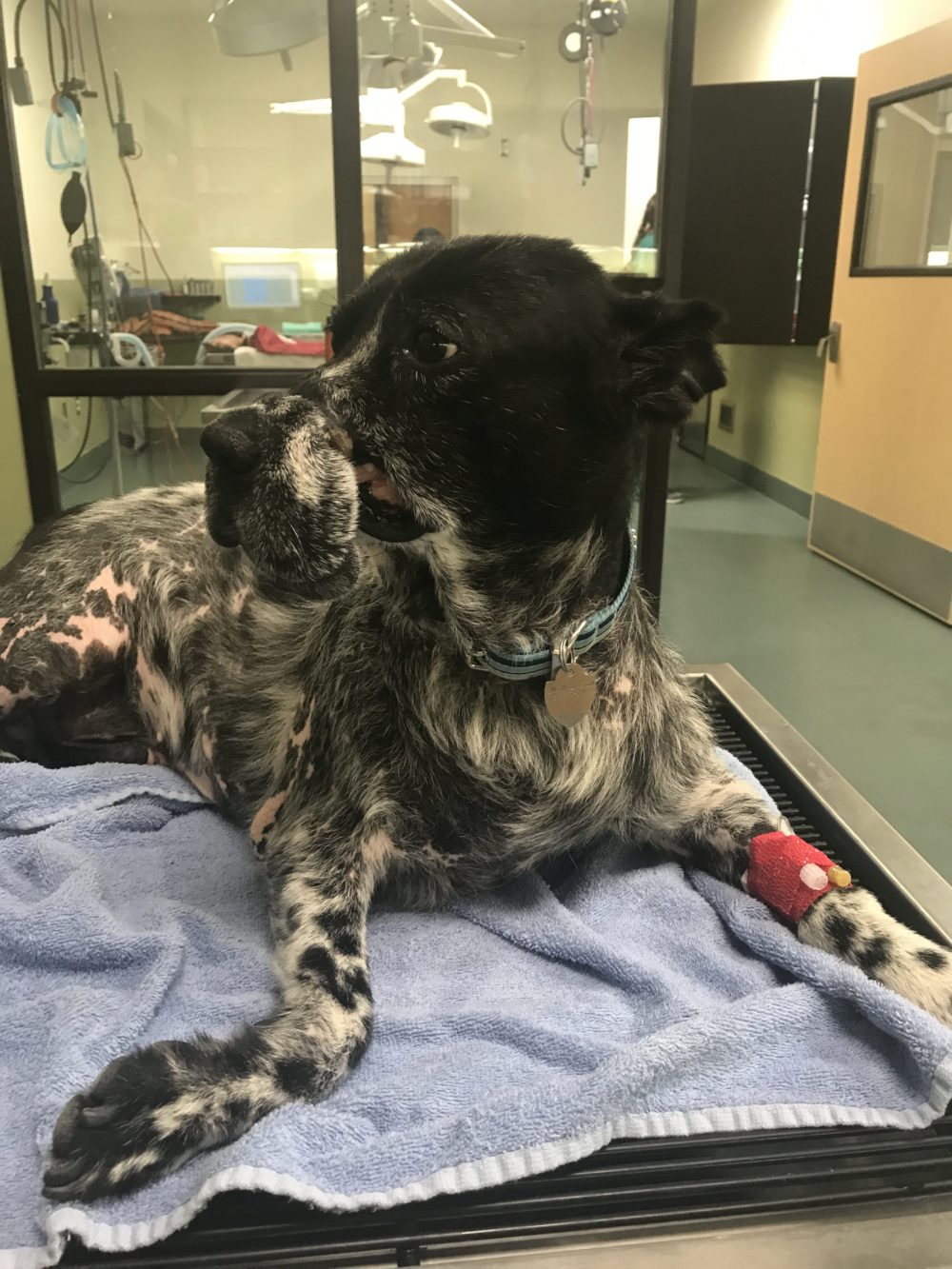 May 17, 2017
Video of Dwayne's CT Scan and the Results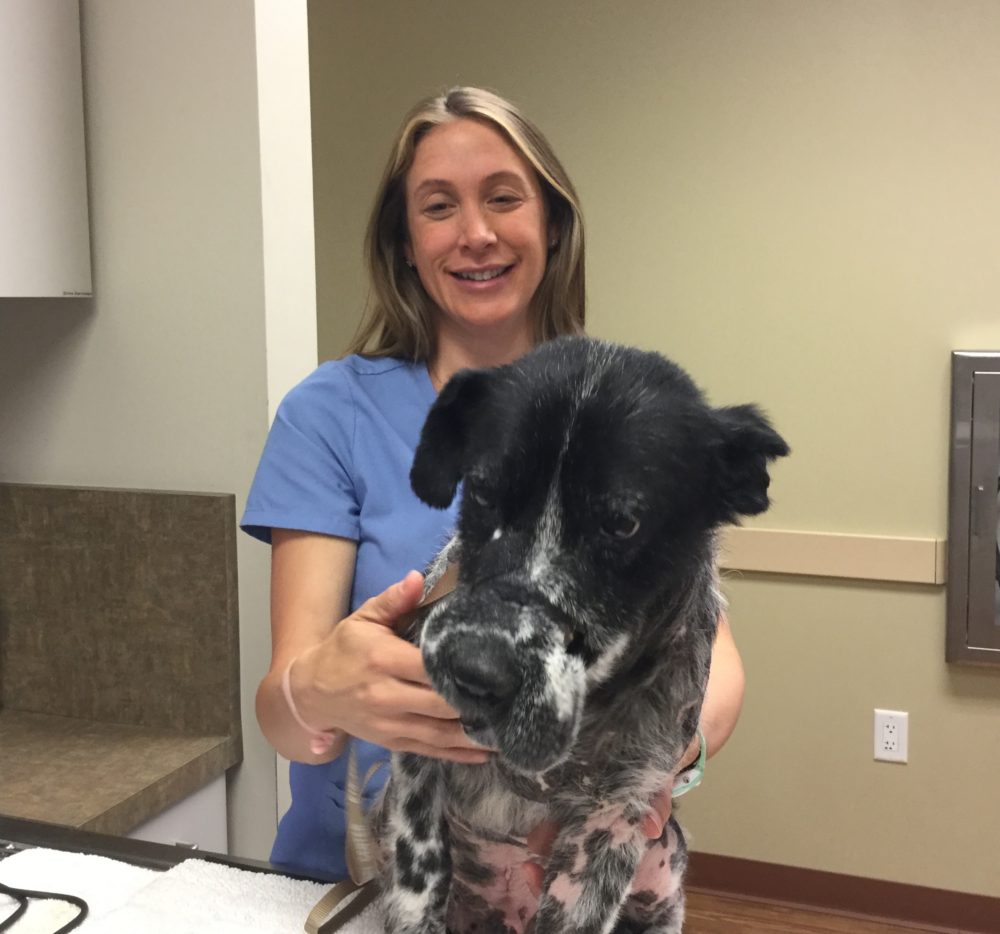 On Monday, May 15, we brought Dwayne to Pet Emergency & Specialty Clinic in South County San Diego to meet with Dr. Serdy, an Orthopedic Surgeon, and to have a CT scan on his elbow and face.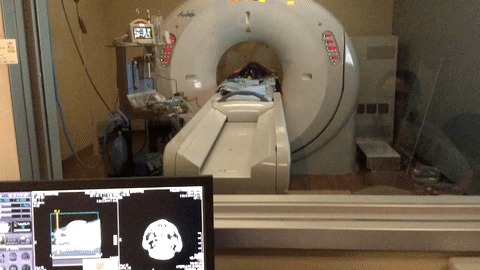 Above: Dwayne is being scanned while under anesthesia. The screens are showing where the camera is during the scan and gives us a clear picture of his soft tissue, bone structure and nasal passages.
As expected, his elbow will be the biggest challenge. Not to worry, Dwayne is not in any pain, but it appears he has an old fracture in his elbow. We are seeking further consultation from a Board Certified Radiologist to determine the best course of action and are expecting results later this week.
Since we are still unsure of how to best fix his elbow, we'll be starting with his facial reconstruction. On Monday, May 22, Dwayne is scheduled to have the first stage of his lip reconstruction surgery with Dr. Carter at the Center's Companion Animal Hospital. The surgery will move his lips to fully cover and protect his teeth. Dwayne's complete reconstruction processes will take multiple surgeries with ample healing time in-between, but we should see a dramatic difference just after this first procedure!
After the surgery, Dwayne will be closely monitored and go for several check-ups to make sure he is healing properly. It is VERY important to ensure he has good blood flow throughout his lips and nose before we move onto the next procedure, which is anticipated to be 6 weeks later.

May 11, 2017
Dwayne's Visit with the Specialist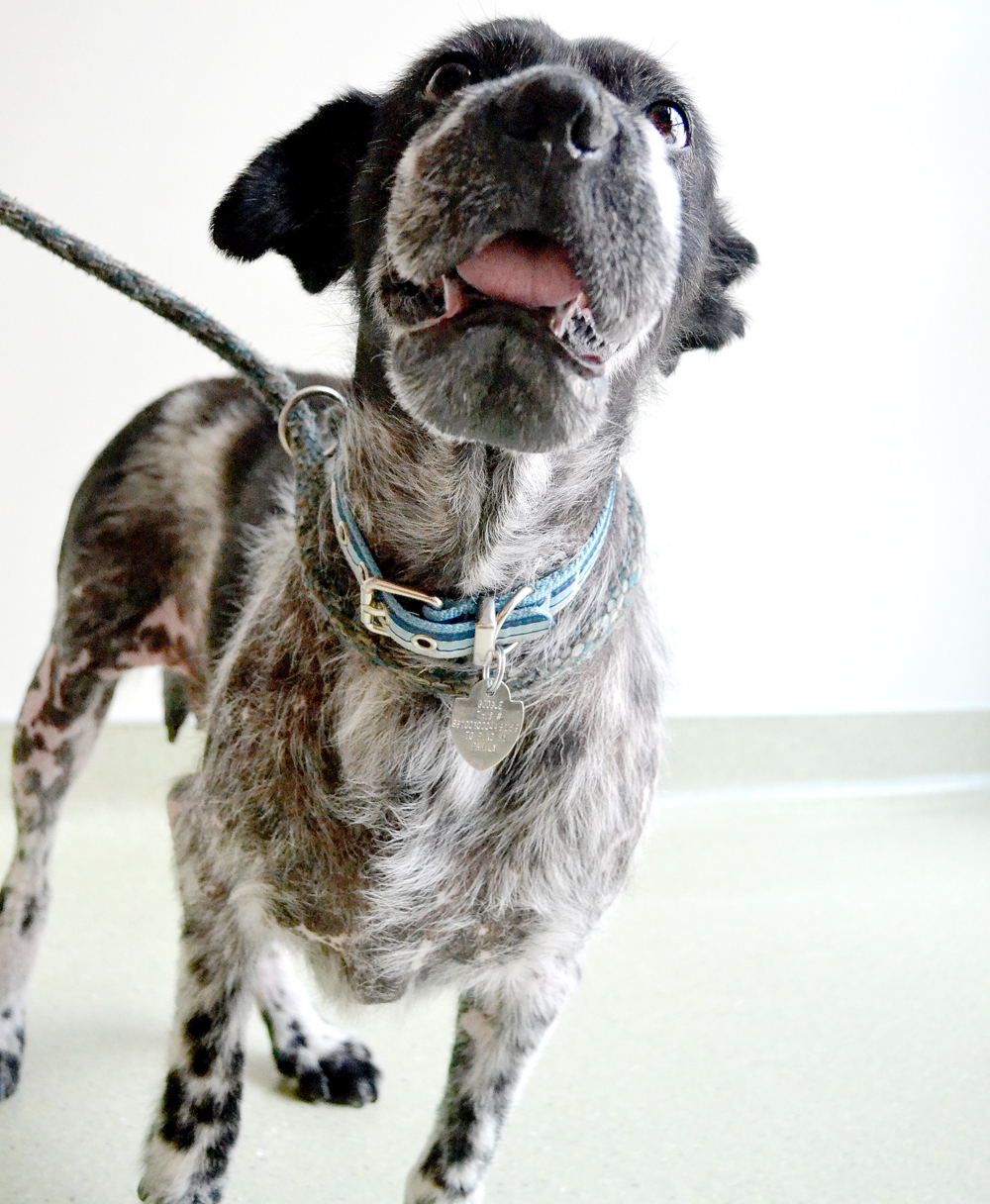 Dwayne and Dr. Carter, who is the Chief Veterinarian at Helen Woodward Animal Center's Companion Animal Hospital and also Dwayne's foster mom, went to visit a specialist today who gave us more insight into what all is entailed with Dwayne's recovery plan. As you can imagine, it's quite a bit!
First, Dwayne needs to get a CT scan (a more detailed image than just an x-ray) on his face and right elbow. This will tell us two things:
One, what the best route is for Dr. Carter to fix his leg, or if we need the specialist to step in and help with the surgery.
And two, how to stage his facial reconstruction surgery. He will likely need three to five surgeries on his face alone to address the deformity of his lips and the narrowing of his nasal passages. Right now, Dwayne struggles with eating, drinking and breathing, some key parts to living a comfortable life! The surgeries will allow him to eat and drink more easily and will open his airways for better breathing.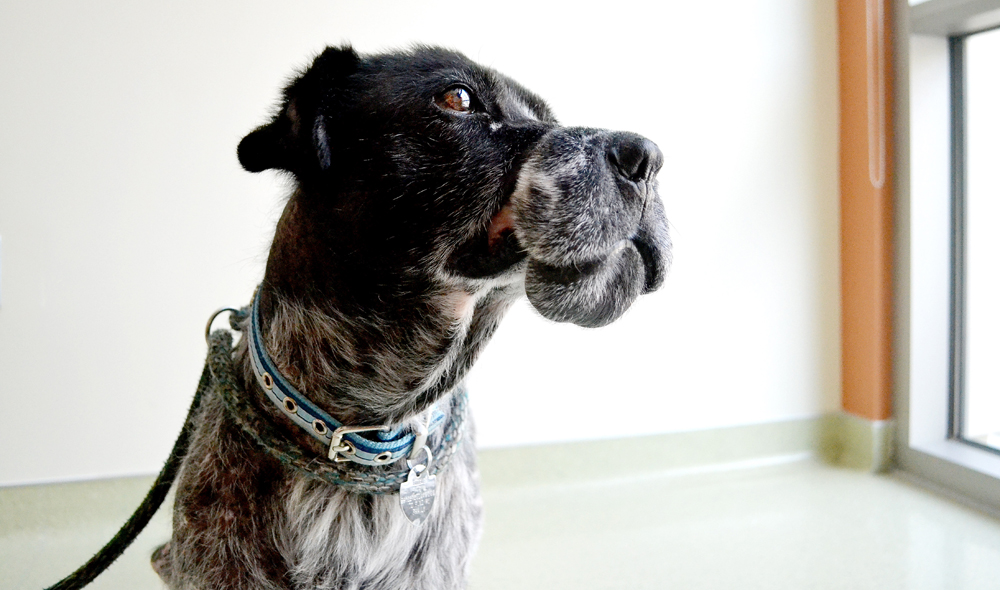 In other news, Dwayne's crowdfunding page has raised over $30,000 to help fund his medical needs! Thank you to all that have contributed to Dwayne and other special cases like his. We still aren't sure how much his complete treatment plan will cost, so thank you for your overwhelming support and gifts to help Dwayne get the best care possible.
Dwayne is scheduled to have the CT scan done next week, so check back at the end of the week to find out his next steps!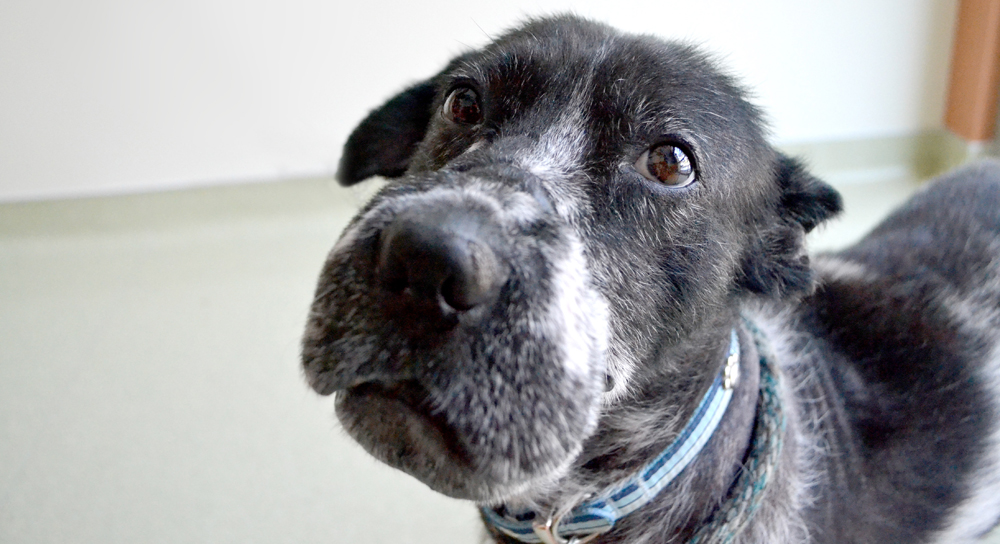 May 8, 2017
About Dwayne
At Helen Woodward Animal Center, a 2-year-old Pointer-blend nicknamed Dwayne "The Rock" (due to his steadfast strength and kindness) is inspiring employees with his willingness to forgive mankind for years of abuse. In perhaps one of the worst cruelty cases the Center has seen, Dwayne's extreme mistreatment left its mark on his deformed mouth, front right leg and elbow, skin and coat.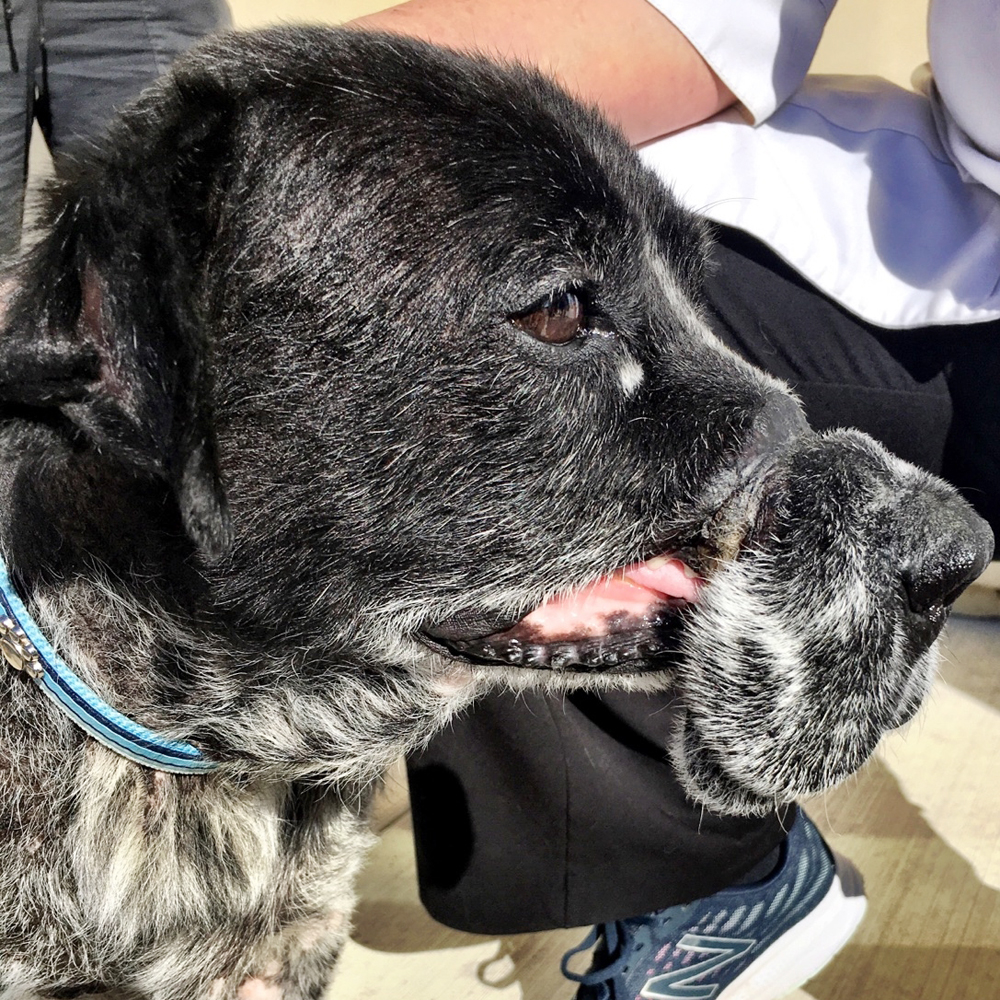 Pulled from the streets of Tijuana by an independent rescuer, Dwayne's most recent past included desperate scrounging for food while cruel local residents (disgusted by his deformities) threw scalding hot water and stones at him. Upon further investigation, his rescuer discovered that Dwayne's original owner, who had bound his mouth with a crude wire-muzzle and regularly kicked him and beat him with sticks, was serving jail time for an unrelated offense.
Without an owner, the dog was left to wander the streets alone, facing more of man's terrible inhumanity. Already beaten and broken, Dwayne was further wounded when he was attacked by two large breed dogs who caused severe head injuries and nearly removed his ears.
Despite these crimes, the gentle canine has nothing but love to offer each person he meets – lowering his head, offering a lick and gently pressing his crippled body against them. Dwayne needs a specialist to repair his severely malformed front leg and elbow, and a facial reconstruction surgery. Center updates will be made available on this page during each of his treatments.
For those of you that are already wondering, Dwayne will be made available for adoption to a loving family when he is fully recovered.