Paws in the Ranch Pet Boutique is located in the Adoption lobby of Helen Woodward Animal Center. We have a variety of collars and leashes, treats, beds, cat toys, dog toys and chews, bowls, crates, grooming products and much more! Our prices are very competitive with other large pet stores and we carry the latest and greatest in pet products! We are also proud to offer Blue Buffalo natural dog and cat food.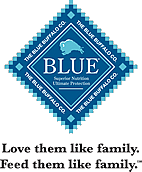 High quality brands offered include:
GET IN CONTACT WITH US
HOURS:
Monday-Friday: 12:00 p.m.-6:00 p.m.
Saturday: 10:00 a.m.-6:00 p.m.
Sunday: 11:00 a.m.-6:00 p.m.
LOCATION:
6461 El Apajo Road
Rancho Santa Fe, CA 92067
MAILING ADDRESS:
P.O. Box 64
Rancho Santa Fe, CA 92067
(858) 756-4117 ext. 334
retail@animalcenter.org