Animal Care Camp
In order to take precautions against the COVID-19 pandemic, this camp may have policies in place to ensure the health and safety of our staff and participants. (See the bottom of the page for full details.) These policies were created based on CDC guidance and are subject to change.
Animal Care Camp
Kids in San Diego will get to experience what it's like to have an awesome career with animals! This one-day camp involves unique hands-on activities from our professional animal care staff to give campers experiences with the different aspects of animal husbandry. Campers will be encouraged to follow their passion and explore their skills with animals of all kinds.  Spots are extremely limited, so register today!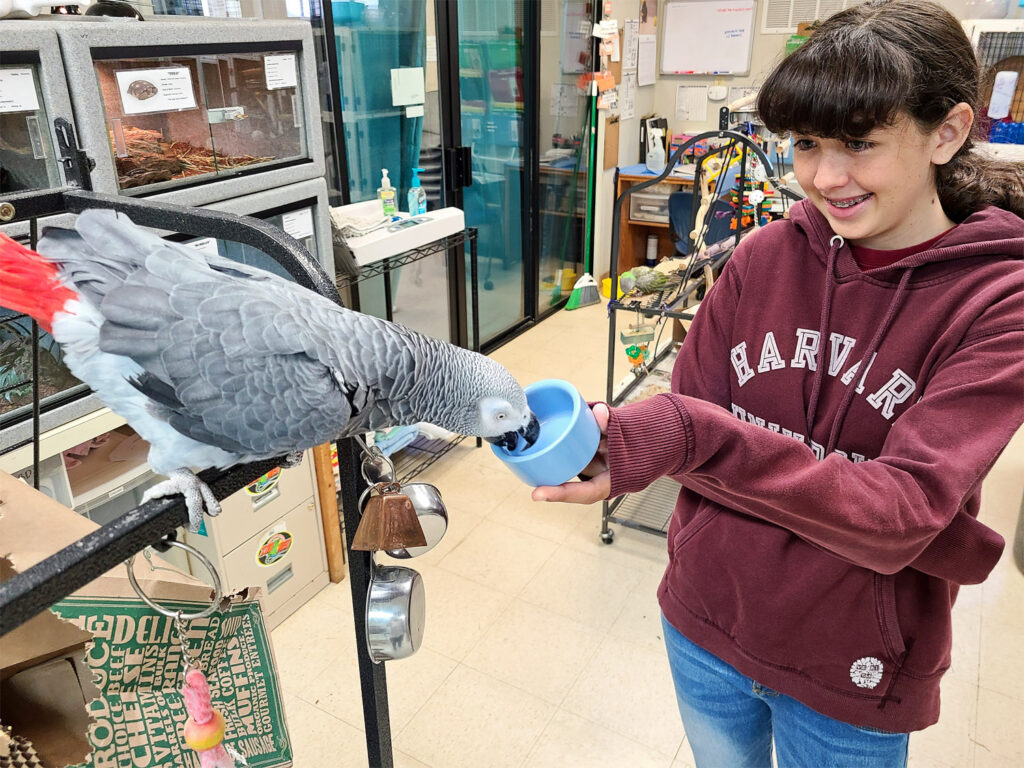 2021 Dates
February 20
March 14
May 2
September 18
October 9
November 7
9 a.m.–3 p.m.
Ages 9–17
$200 per child
Click here to view the Animal Care Camp activities.

Introduction to Exotic Pet Care: Working with animals requires flexibility, patience, attentiveness and a strong work ethic. Our staff will explain and demonstrate how they care for 45 individual exotic pets.

– Avians: Some birds have strong personalities and bond with only a few people, while others befriend everyone they meet. Adapting your care and handling techniques for each individual animal is especially important when working with these feathered friends. Campers will find out how to successfully interact with birds, maintain enclosures and perches, and learn about proper nutrition.

– Reptiles: Do all animals eat every day? Could they possibly need daily cleaning and enrichment? Campers will discover the answer to those questions and practice cleaning, feeding and handling different types of reptiles.

– Small Mammals: Rabbits, guinea pigs and chinchillas are absolutely adorable, but they do require a lot of care! They each have specific dietary needs that need to be followed carefully to ensure their health and well-being. The staff will show the group how to feed these cute critters.

 

Animal Training: In fields like ours, training animals is about a lot more than just teaching behaviors that we think are "cute." Animal caretakers utilize training to make sure that the animals can handle routine health procedures with reduced stress. Natural animal behaviors are shaped to be on cue to also have positive experiences with the staff and the public; it's a great form of enrichment, too! Campers will have a blast practicing this crucial part of animal care and learning the fundamentals of training and how that varies depending on the species at hand.

 

Introduction to Barn Animal Care: Just like the indoor animals, the barn animals that live outside need care and attention, too! The aspiring animal keepers will learn what it takes to maintain the health, cleanliness and enrichment for the lager species.

– Sheep/Goats: Hands-on careers like zookeepers or barn attendants may not always be glamorous, but they sure are rewarding! One of the first steps in the morning is cleaning enclosures, and campers will get to experience the satisfaction of a cleaning job well done.

– Mini Horses: Exercise is an important part of proper animal care because it keeps the animals at a healthy weight and provides an outlet to burn energy. Campers will get to practice exercising a miniature horse, which entails having the horse to move around you in a circle while holding the lunge line. Training comes into play with this, too, because the mini horse listens to your specific cues, some of which are just your body language and positioning.

– PM Feed: The staff will walk the campers through the end of day tasks that ensure our animals are safe and have what they need overnight. This includes checking food and water levels, general health and wellness, and securing enclosures. All good animal care industries have routine checks and procedures that help maintain animal health and safety.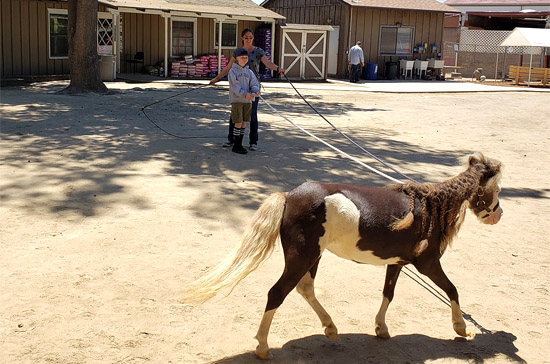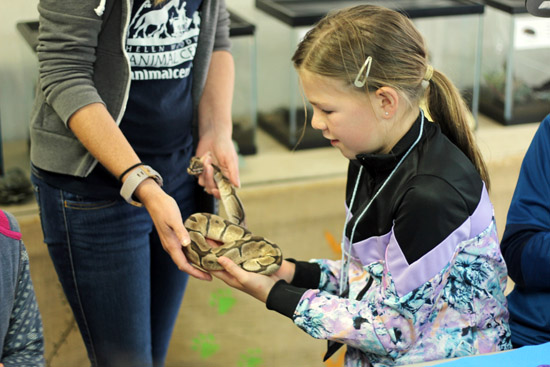 Animal Care Camp Dates & Time
February 20, March 14, May 2, September 18, October 9 or November 7
9 a.m.–3 p.m.
Camp Fee
$200 per child, per date
*Campers are responsible for bringing their own water bottles and food for snack and lunch breaks.
**Animal Care Camp is a one-day program; activities are the same on all dates.
Policies During COVID-19
Click here to carefully review the protocols. (Subject to change, last updated 11/5/2020)
We will check temperatures and give a short health questionnaire at check-in. Please keep your child out of direct sunlight or warm environments to avoid incorrectly high temperature readings.
Masks are required and must be worn at all times. Please ensure that everyone wears a mask during check-in and check-out. (This excludes any children under the age of 2.)
No activities involve running or too much movement.
We will go over proper hygiene in the morning with the campers.
We will maintain 6 ft. distance whenever possible.
Campers will use hand sanitizer directly before and after each animal interaction. We will encourage routine and thorough hand-washing throughout the day.
We will clean and disinfect all areas prior to and after camp.
Please refrain from sending your kids to camp if they have a fever or display symptoms like coughing, sneezing, sore throat or headache.
**Modifications are subject to change. Reach out to us at education@animalcenter.org or 858-756-4117 ext. 318 if you have any questions or concerns.
Like us on Facebook to be the first to know about exciting Education programs and events!