Therapeutic Riding Clients and Volunteers
If you're a Therapeutic Riding program rider or volunteer, thank you for being a part of the program here at Helen Woodward Animal Center! On this page, our riders and volunteers can find news and notes on upcoming events, our annual calendar and a quick link for paying your session invoice.
Can't find what you're looking for? Our contact information can be found at the bottom of this page.
Therapeutic Riding Calendar and Payment Information

Therapeutic Riding Policies and Forms
Our policies are important part of how we offer safe, productive lessons while still keeping the cost to our riders as low as possible. Download a copy of our Student Policies that you can review at any time:
Annual update forms are an important part of providing a safe lesson environment.  Have you turned yours in yet?

Therapeutic Riding News and Notes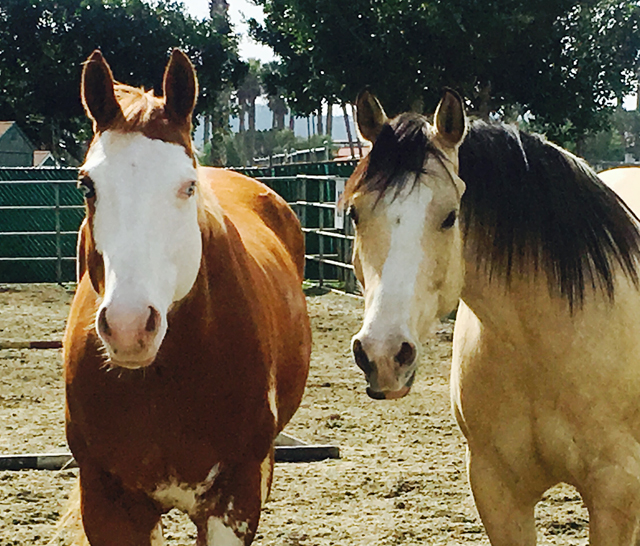 Welcome to our website hub dedicated just for YOU, our Therapeutic Riding clients, volunteers and families!  We've just concluded our second session of 2017, and you can see lots of fun pictures in our Session 2 Newsletter.
As promised, we are going to highlight a student and volunteer each session. Our student this session is . . . Olivia! Olivia has been with the program for more than 10 years now. We love watching our students as they grow, not just in their riding, but from childhood to adults, and Olivia is a great example of that. Olivia currently rides Best Boy in a group lesson on Tuesday afternoons with fellow students Alex and Berni under instructor Sumner's tutelage. They work on skills such as trotting, arena figures and bending (a type of "stretch" for the horse). Recently, Olivia made the change from an English saddle into a Western saddle, and we have all been incredibly impressed by the progress in her confidence and riding. Way to go, Olivia!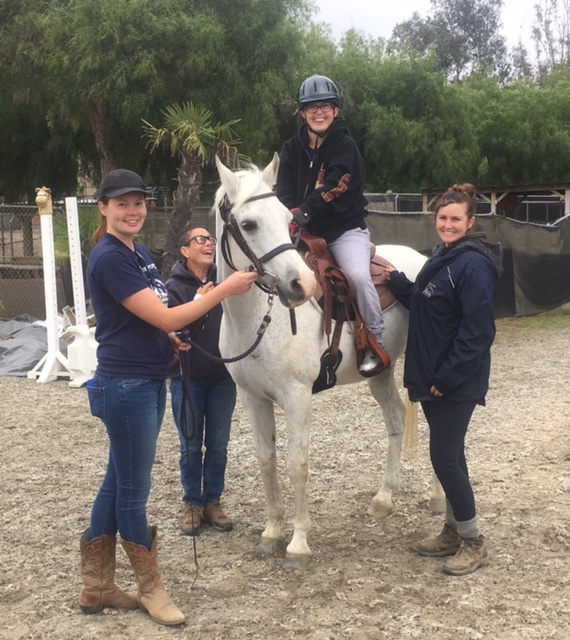 Earlier this year before our website updates, we highlighted dedicated Saturday volunteer, Debbie.  This time, we couldn't pick just one, so we'd like to highlight . . .  Sue and Elizabeth!
Sue has been a Tuesday volunteer for more than 2 years. Her larger-than-life personality makes her a hit with riders, and her dedication and generosity (both with her time as a frequent sub and in purchasing supplies for the program) has endeared her to the staff as well her fellow volunteers. (It's not just the chocolates and other goodies she brings – we swear!) Jason, one of our Tuesday riders, has an especially fun relationship with Sue. She helps him maintain his upper body stability, and he keeps her on her toes with his wry humor and deadpan comebacks.
Elizabeth is actually a volunteer on two different shifts, both Friday mornings and Sunday mornings while we train new Sunday volunteers. Elizabeth began volunteering in April of last year to further explore her interest in Therapeutic Riding. Her extensive horse experience enables her to tailor her leading to nearly any level of rider. Those skills also come in to play when it comes to her dedication to horse care – you can always tell when Elizabeth has been volunteering because the horses look amazing!

Meet the crew members who make Therapeutic Riding possible:
Contact Us!
PROGRAM HOURS OF OPERATION
Tuesday–Friday: 8:30 a.m.–5 p.m.
Saturday and Sunday: 8 a.m.–4:30 p.m.
Closed Monday
*Please note that staff are often at the barn in the morning and lessons in the afternoon
THERAPEUTIC RIDING MANAGER
Courtney Mellor
CourtneyM@animalcenter.org
6523 Helen Woodward Way
P.O. Box 64
Rancho Santa Fe, CA 92067
858-756-4117 ext. 321