School Support for Kids
School Support for Kids
 In order to take precautions against the COVID-19 pandemic, this program has several safety protocols in place, which were created based on CDC guidance. Policies are subject to change; please review this webpage carefully.
This website contains information regarding in-person programs, but if you're looking for virtual enrichment, we have options for that as well! Click here to view details.
Weekdays, September 8 – November 20
Weekly registration
1st through 5th Grades
7:40 a.m. – 2:40 p.m.
Kids in San Diego can complete their distance learning in a safe and supportive environment here at Helen Woodward Animal Center. Our staff will provide supervision and assistance throughout the week for the duration of the school day, as well as foster socialization among the participants during breaks and lunch.  Please make sure to send your kids with the necessary technology, headphones, chargers, and school supplies – they will access their online learning through the Center's WiFi.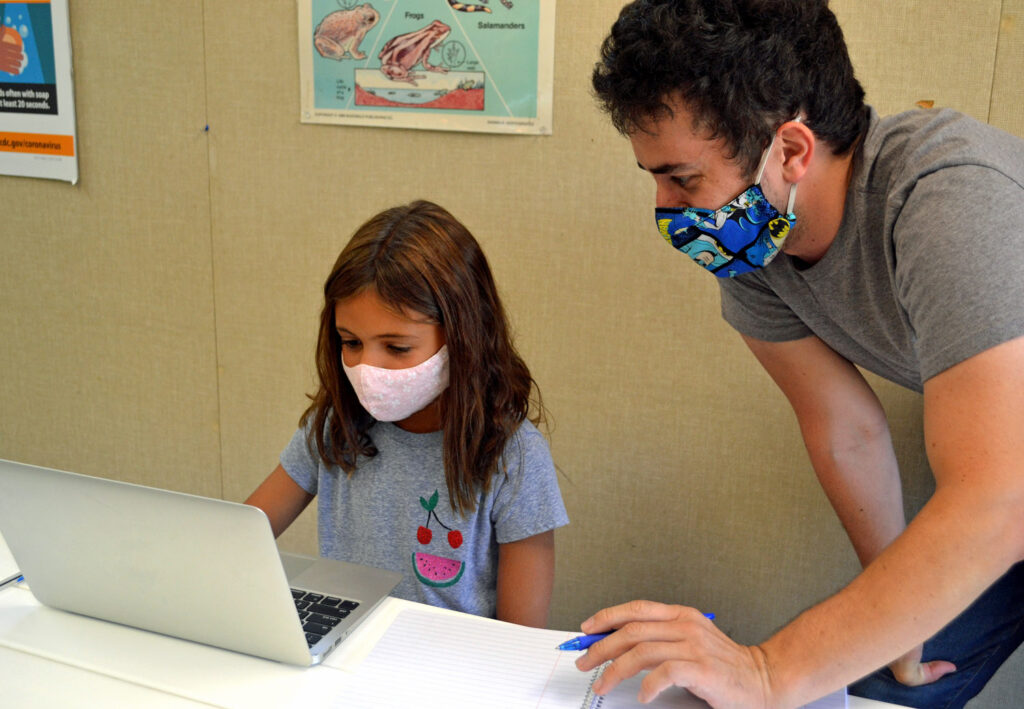 School Support Times, Rates & Discounts
School Support Schedule
Weekdays, September 8–November 20, 2020
7:40 a.m.–2:40 p.m.
Click here for information about our After School Enrichment program, which you can register for in addition to the School Support program. *This program is sold separately.
School Support Rates
Weekly Rate: $350 per child, per week
*You have the option to purchase hot lunch for $9 per day, which includes cheese pizza and two sides. Even if you purchase hot lunch, please pack a separate snack for snack time. Please also pack a water bottle.
*All participants must be able to use the restroom confidently and on their own.
*We know this program sounds fun for kids AND adults, but this program for kids only! **If your child has an aide at school and you plan to have them come to this program with your child, please call us at 858-756-4117 ext. 318 so that we can help them complete the fingerprint process. All aides MUST be fingerprinted through us in order to attend. Due to the limited space during COVID-19, you must purchase a registration for the aide as well.**
School Support Discount
15% off tuition for active military (Call us at 858-756-4117 ext. 318 for the coupon code.)
Policies During COVID-19
Click here to carefully review the safety protocols. (Subject to change, last updated 8/24/20)
We will check temperatures and give a short health questionnaire at check-in. Please keep your child out of direct sunlight or warm environments to avoid incorrectly high temperature readings.
Group sizes are limited to 5 children per group and the classes will be kept separate as much as possible. We will also limit the sharing of items.
Masks are required and must be worn at all times. Please ensure that everyone wears a mask during check-in and check-out (excluding children under the age of 2).
No activities will involve running or too much movement.
We will go over proper hygiene each day.
We will maintain 6 ft. distance whenever possible.
We will encourage routine and thorough hand-washing throughout the day, especially before snack and lunch.
We will clean and disinfect all areas daily.
Please refrain from sending your kids if they have a fever or display symptoms like coughing, sore throat or headache.
**Protocols are subject to change. Reach out to us at education@animalcenter.org if you have any questions or concerns.
Be the first to know about upcoming camps and events!
Like us on Facebook!