Millie the Miracle Goat Updates
At just 4 days old, Millie the goat was found inside a hot car at a Las Vegas parking garage. She was nursed back to health by a loving volunteer and now calls Helen Woodward Animal Center "home!"
Be sure to follow all of Millie's adventures on Instagram @PrincessMillieGoat
LATEST UPDATE
Millie the Instagram Celeb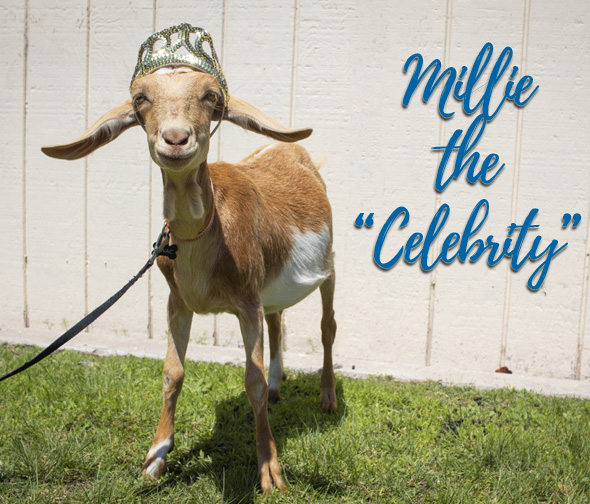 2019 has been a whirlwind of activity for Millie! Not only did she celebrate her first birthday on May 18, 2019, she has become an Instagram celebrity. (Well, maybe not an official celebrity, but she certainly thinks she's one!)
Every week brings new friends for Millie, whether they are: Critter Campers, visitors, staff, volunteers or even other animals. She meets every human and animal with an inquisitive spirit and a friendly demeanor. She truly makes friends with everyone she meets!
Spoiler Alert: Millie's next project is starring in a web show called, "Kidding Around," but we'll have more info about that later! So, stay tuned! For now, you can follow Millie during all of her adventures at @PrincessMillieGoat on Instagram. (And yes, she thinks she's a princess, too.)[/expand]
PAST UPDATES
Millie Moves In!

Millie has officially moved in with the adult goats! She's having a lot fun playing in the larger enclosure and is glad to have the company of Mildred and Lenny.

She weighs about 20 pounds and is doing great on her hay-only diet. The next big step for Millie will be in a couple of weeks when she receives the vaccine that allows her to interact with children!

Check back for another update coming soon.
Millie's First Time Meeting Goats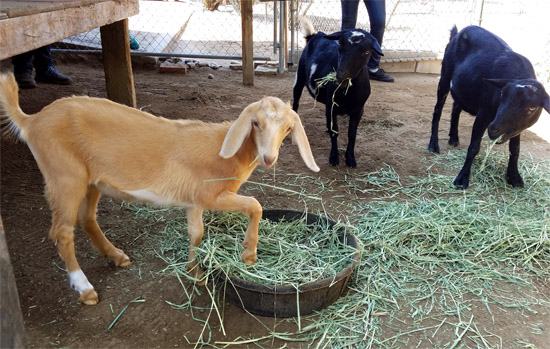 Millie has experienced some exciting new things in the past month! She now weighs almost 20 pounds, and her diet consists completely of hay. (No more milk for Millie!)

Her diet is not the only thing that's changing. Millie got the final vaccine that allowed her to interact with Mildred and Lenny, the other goats who live at the Center. She goes on daily walks with them and has off-lead interactions with them. Goats are social animals, so it is important for her to interact with other members of her species.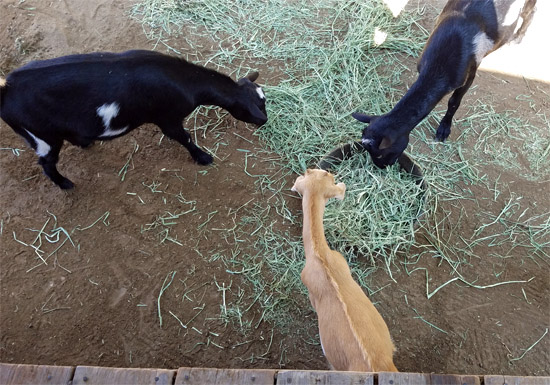 Millie's Growing Up!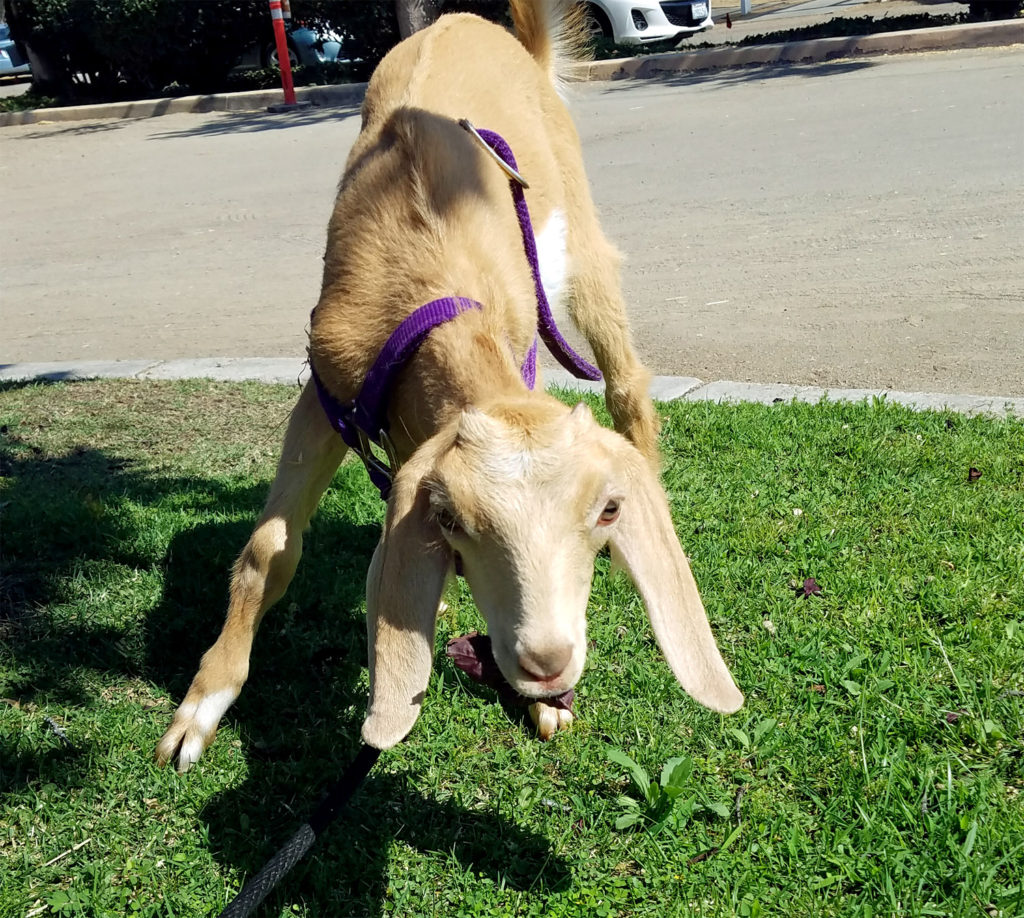 Millie continues to grow bigger every day and now weighs 16.2 pounds! She is doing great on the smaller amount of milk and will be fed this new amount for the next several weeks as her interest in eating hay increases.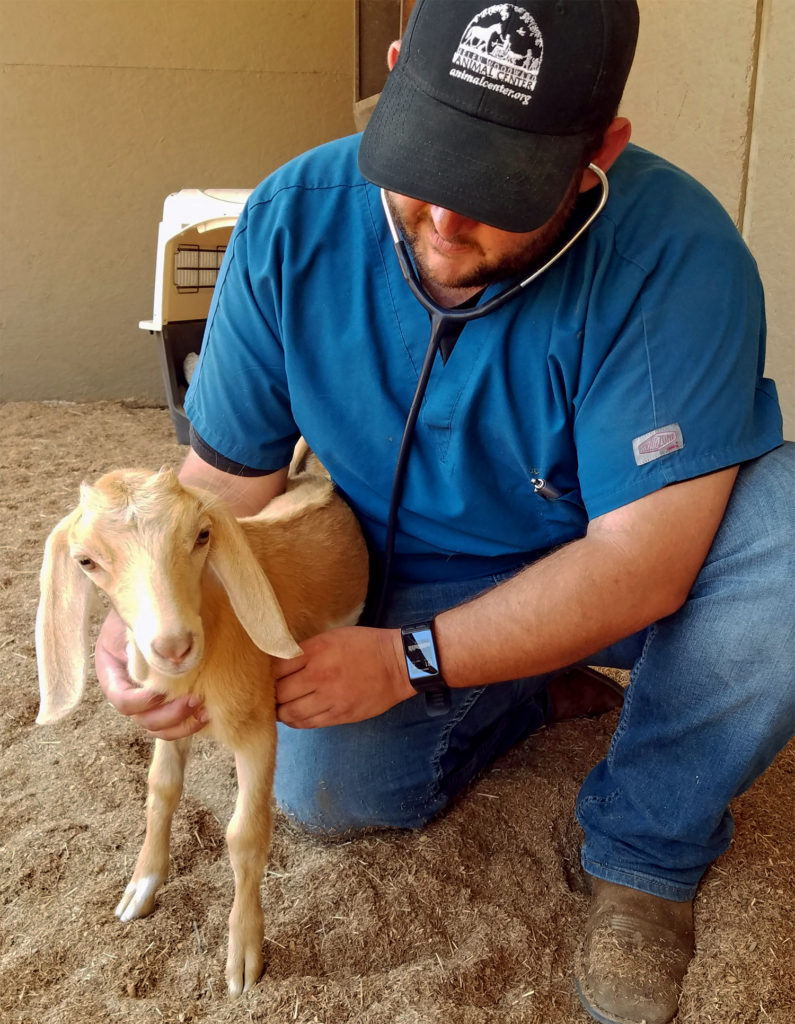 Millie recently got a quick health check and will be getting her booster vaccine within the next couple of days. This vaccine will allow her to meet the adult goats that we have at the Center; look for an update on their interaction soon!
Millie Settles In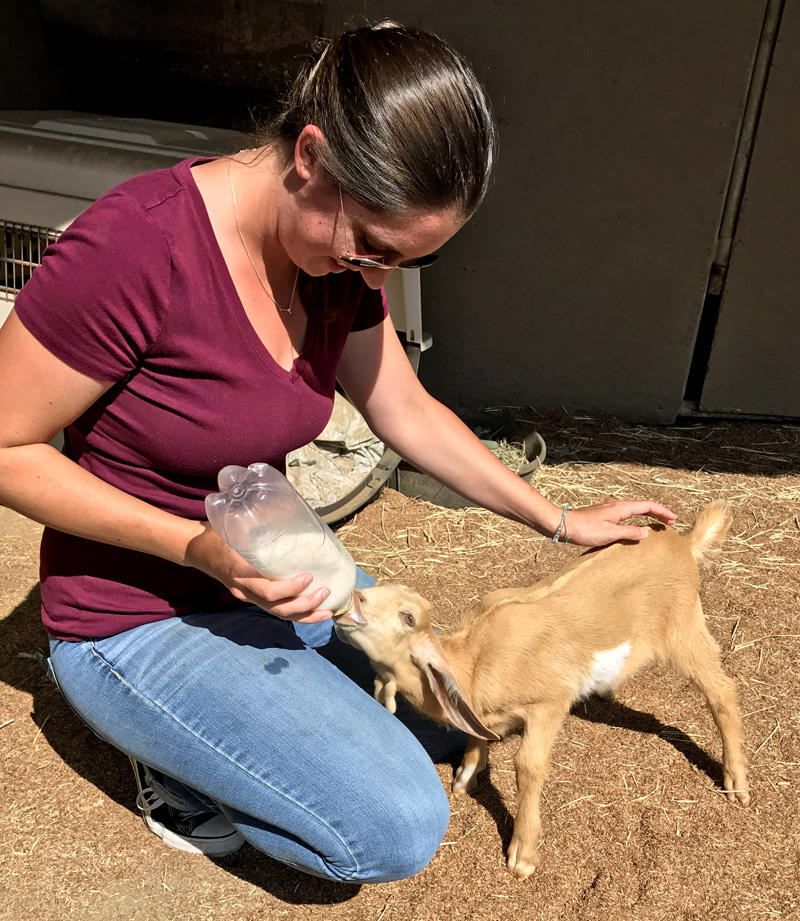 Millie has definitely settled in to her new home and continues to delight everyone she meets. She still enjoys her bottles of formula but is also showing more interest in eating hay, which is great for a growing goat. Speaking of growing, Millie now weighs a whopping 14.5 pounds, which is about 5 pounds more than she weighed upon her arrival.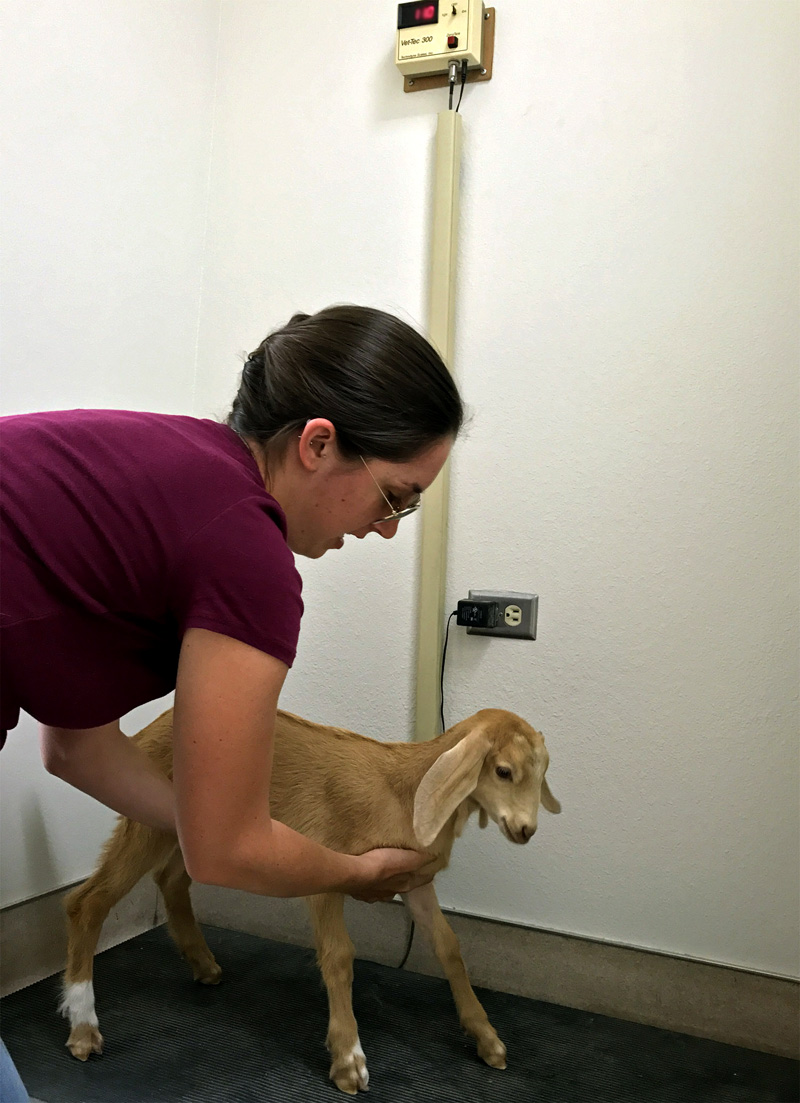 Meanwhile, Millie is also getting used to walking with a harness and leash and enjoys going out and about! Look for another update coming soon!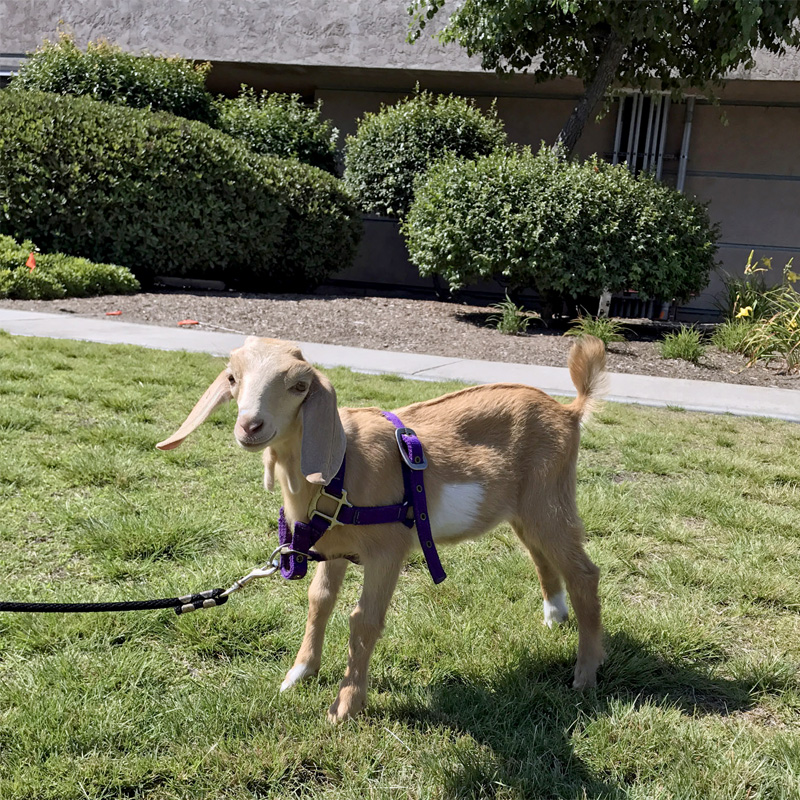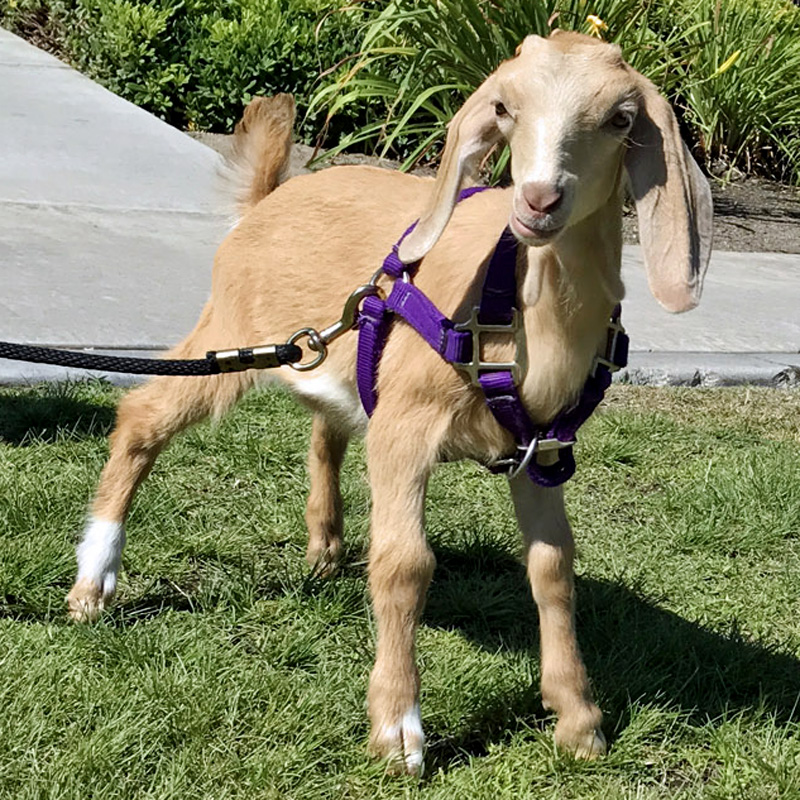 Millie's First Meal-Time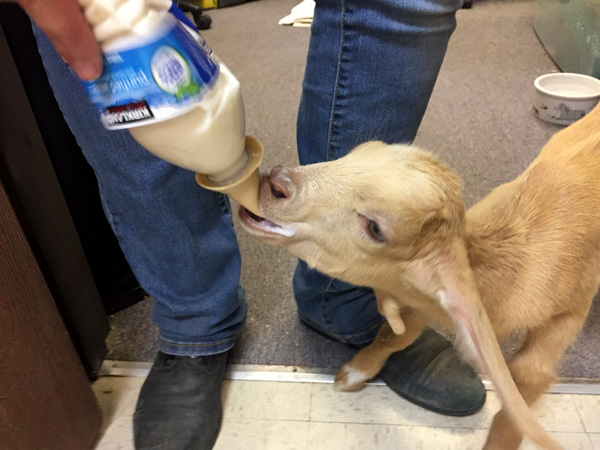 Millie's first meal-time at Helen Woodward Animal Center was adorable! After all the hub-bub from her arrival died down, it was time for a quiet meal.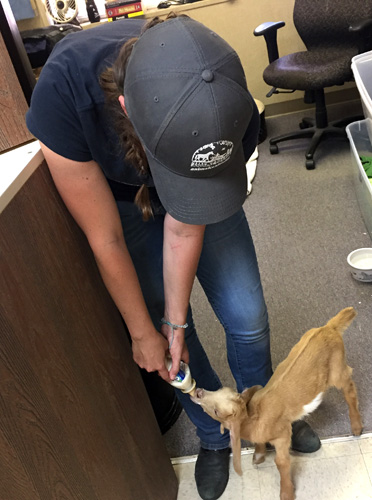 At 1-month-old, Millie's primary source of nutrition is milk, but she has tasted a few strands of hay from time to time. Millie receives a blend of real goat's milk and goat formula and, as you can tell, she just looooooves to eat.

Our Education Department has also noticed that Millie will typically head for her cozy crate and take a 30-60 minute nap right after eating. (Funny that the "food coma" phenomenon extends to goats!)
Millie's First Check-Up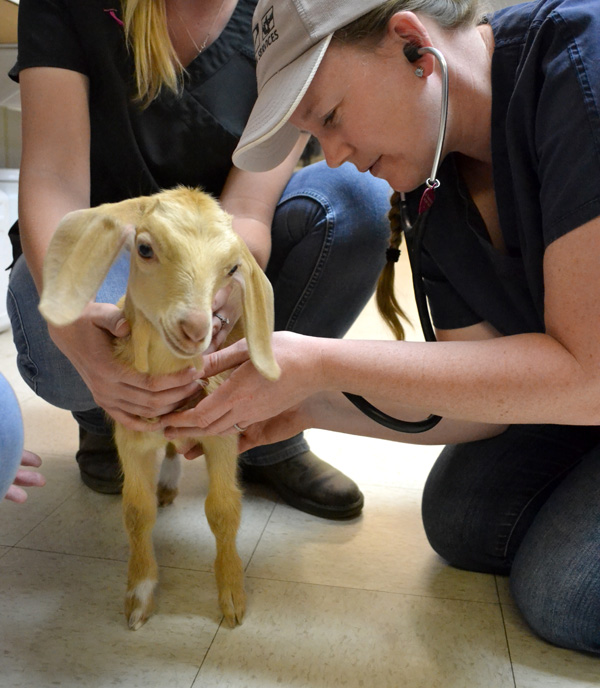 On Millie's first day at the Center, she received a check-up from our barnyard veterinarian, Dr. Fanning, who looks after all our barnyard animals. She listened to Millie's lungs, heart and checked her over from ear to hoof. However, because of Millie's life experiences, her playtime out and about the barn is limited.

When goats are born, they build their immune systems through their mother's first milk (colostrum.) For this reason, the first few days of a goat's life are critical to their survival. Left to fend for themselves, they become frail and underweight, or worse, develop severe infections they are unable to fight. Millie's mom was unable to produce milk, and Millie was passed from person to person who thought they could help her. She developed multiple infections and nearly lost her life at only 4-days-old.

But Millie's a fighter – she is special – so we are taking extra special care of her vaccination and nutrition process to ensure she stays healthy and happy! She will continue to have regular check-ups with our veterinarians. In fact, she even gets to sleep in the cozy lobby of the Center's Equine Hospital under overnight supervision! She's just that special.
Millie's First Day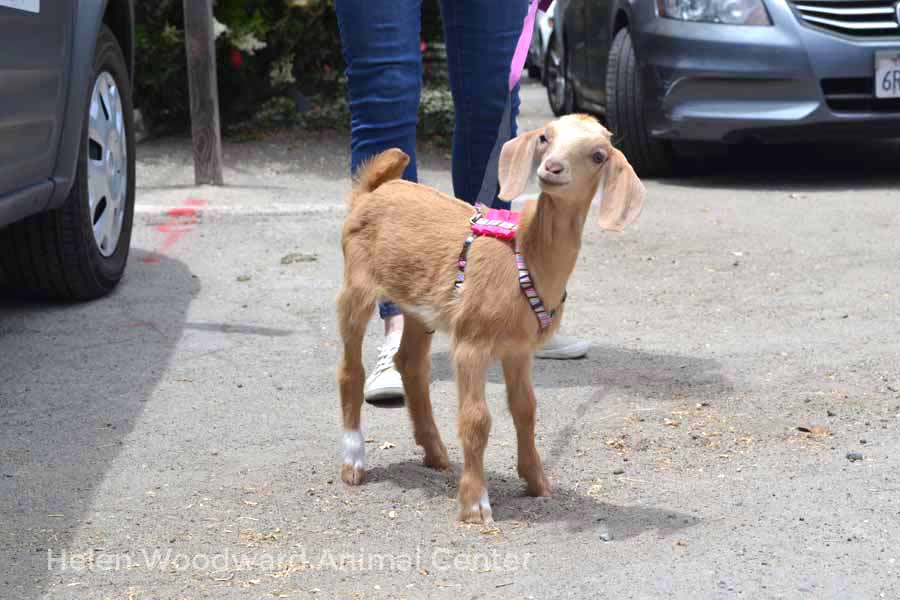 On Monday, June 18, 2018, on her 1-month birthday, Millie began her life as an Animal Ambassador at Helen Woodward Animal Center. Her foster mom, Monique, and friend, Cynthia, drove her down from Las Vegas to her brand new home here at the Center.

She was greeted by Critter Campers, staff, volunteers and the media! She made quite the impression on her first day.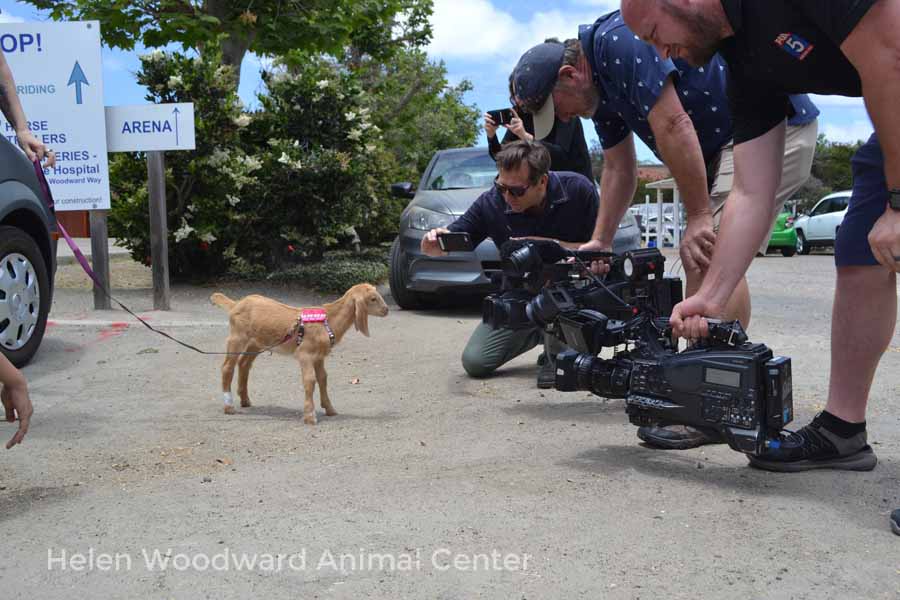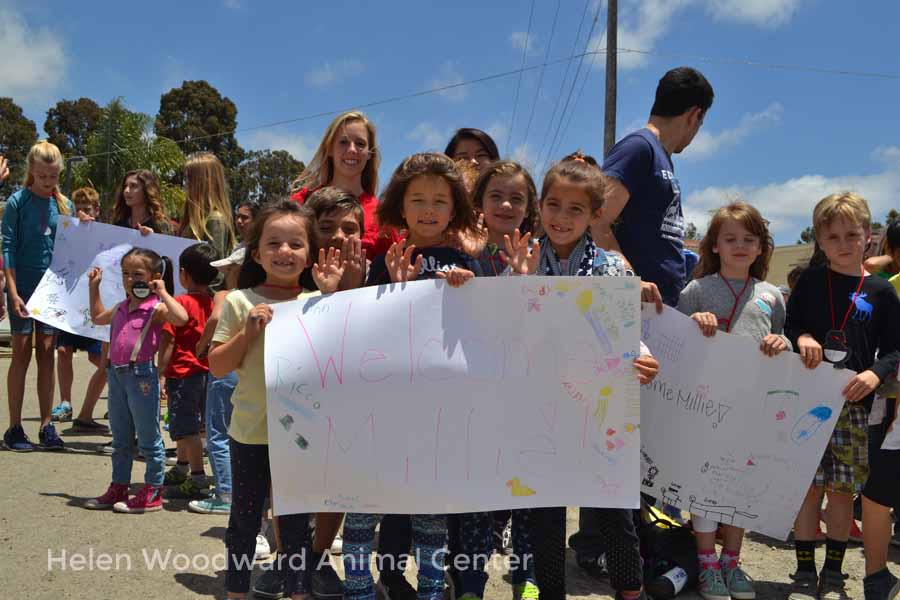 We are so excited to have Millie with us and look forward to sharing all her milestones (or should we say "milliestones") with you!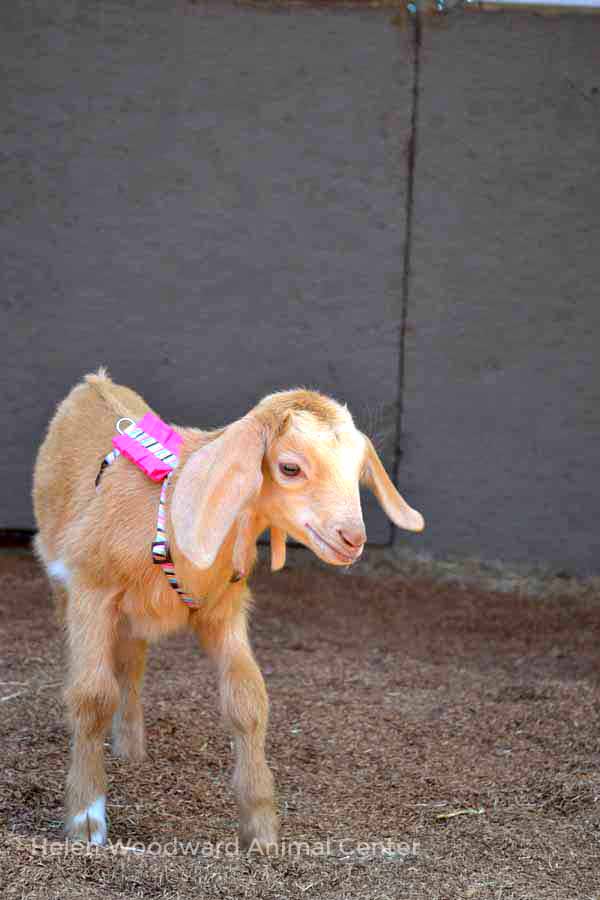 Be a part of Millie's story.
COME MEET MILLIE!
We offer multiple humane education programs for kids in San Diego where you can meet Miss Millie in person! Learn more about some of our upcoming programs and events:
For more information about our humane education programs:
Please contact us at education@animalcenter.org or 858-756-4117 ext. 318.