Helen Woodward Animal Center is Upgrading!
When our first Adoptions building was constructed in 1972, Helen Woodward Animal Center found homes for about 300 pets annually. More than 45 years later, we care for and adopt out more than 3,000 pets annually- all with the same building and facilities! In response not only to our growth, but to the needs of our community and our vision as a global leader in animal welfare, we are proud to announce that in 2018, our Adoptions building will be under a major renovation. During this time, our doors will remain open both to the animals who need us, and to those hoping to adopt a furry forever friend. Please see below for maps of our Temporary Adoptions Village, adjusted business hours and plans for the new building. Cheers to a brighter future for animals!
Adoptions Business Hours
Monday-Thursday: 12 p.m.-6 p.m.
Friday: 12 p.m.-7 p.m.
Saturday: 10 a.m.-6 p.m.
Sunday: 11 a.m.-6 p.m.
How to Get Here: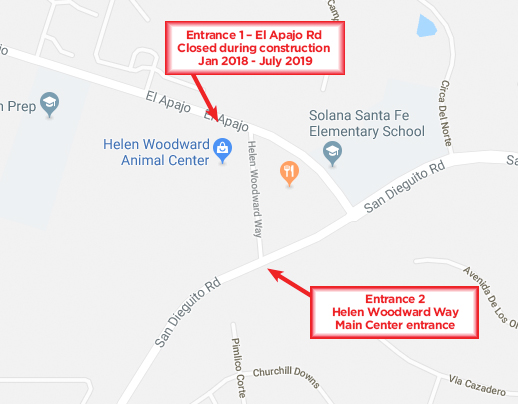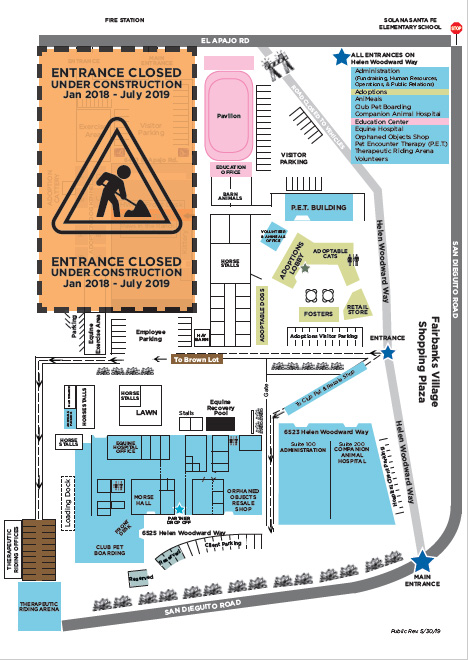 Take a Sneak Peek at the New Building…

We've been documenting the construction of our new Adoptions building with daily photos. Watch the progress over the last year in this time-lapse video: