Mia Found Under a Tractor with Broken Leg Heals
Mia's story began in Oklahoma when one of our rescue partners found her abandoned underneath a tractor. Unable to give her the space and medical care she needed, they called us. Our rescue partners transported Mia to our care, and when she first arrived, there was an apparent limp. Despite the pain she was in Mia was quick to trust and show affection to our medical staff.
"She was very sweet, very shy, and obviously hadn't had a lot of human interaction. But took to it very quickly," said Adoptions Veterinarian Dr. Zoie Schaefer.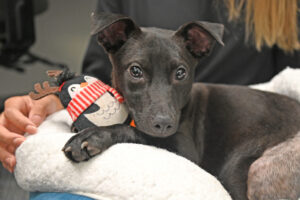 X-rays showed that Mia's femur in her back-left leg was completely broken off, so she was unable to use that leg. Fortunately, our medical staff acted quickly and brought in a specialist to perform a femoral head ostectomy, which would give her a chance at a normal life, and the surgery was a success.
"Dogs have such resilience. It's amazing what they can get through," said Animal Health Manager Brigette Beach, "Now she's going to be able to run around and play with other dogs. She has the freedom to actually be a dog and not have any pain."
During her recovery, Mia received lots of love from the Center staff and her foster family, which also contributed to her healing. Once a shy and hurt puppy, she was well on her way to being a healthy and loving pet.
Update: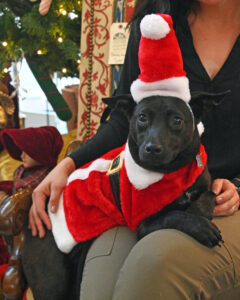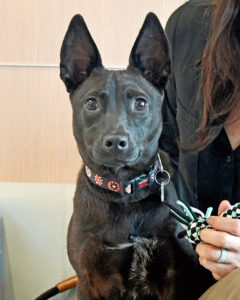 Mia was adopted in December 2022 by a family who loves her deeply. We know that she is now living her best life!