Mason the Happy Go Lucky Retriever Blend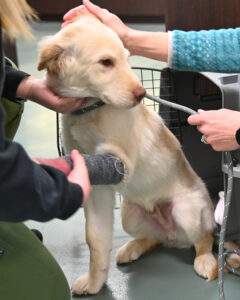 Mason, an adorable Labrador Retriever blend, found a safe haven at Helen Woodward Animal Center after being transferred from one of our Oklahoma partners along with his sister and 27 other puppies in late November.
We first noticed how sweet Mason was and then quickly realized he was limping on his front left leg. We brought him in for x-rays, but there were no obvious fractures found. A soft tissue injury was suspected, and Mason worked with an orthopedic specialist to find out what was causing his limp.
Mason wore a splint as he stayed with a loving foster family to rest and heal. At this point, it was a mystery as to what was causing Mason's lameness, but our medical team was determined to find out. They performed another round of x-rays and discovered a hard-to-notice compression fracture. At some point in his young life, before arriving in our care, Mason had been injured. Thankfully, he had landed in just the right place to get help every step of the way.
UPDATE 1: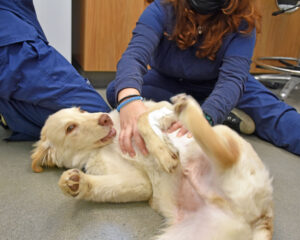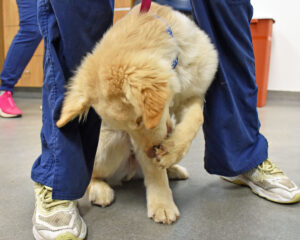 As of late December, Mason had his splint removed! He is now on the mend and learning to use his front leg again! He still has his limp, but he is able o go on short walks to start working his leg muscles.
UPDATE 2:
While Mason wasn't a candidate for surgery, our veterinarians could now recommend water therapy to aid his healing. With time and support, Mason's symptoms are expected to subside. This was great news for all of us, including the family who came to the Center and fell in love with him in January. They agreed to take him swimming often and to be patient as he slowly improves, and we are all excited for the long and happy life he has ahead of him."