Dog with Special Needs Gets Special Care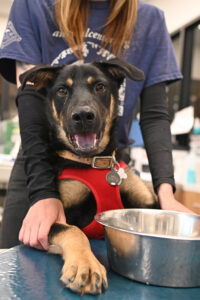 It was February when Helen Woodward Animal Center got a call from a local shelter that needed help caring for a dog named Dino. The 11-month-old Shepherd blend suffered from a medical disorder that left him unable to swallow or keep down his food. While other dogs can eat from a dish, Dino required the time and patience of someone to hold him upright during and after his meals for food to make it to his stomach.
Dino's condition is known as megaesophagus, a disorder in which the esophagus gets larger and loses the ability to swallow food. Common symptoms include vomiting and weight loss, which can be life-threatening. Thankfully, the Center's knowledgeable and caring staff had the plan to keep Dino fed while purchasing special equipment that would make his life easier.
Every day bright and early at breakfast, Dino would be placed upright along a counter to eat. Staff would hold him up for about 20 minutes to ensure he digested his food. To keep him standing, they would have toys and treats to keep him occupied. Though tedious, soon Dino would have his special chair to help with the process.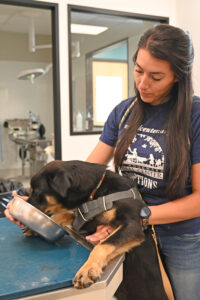 Dino had his measurements taken, and the Center ordered him a custom-made Bailey chair, which he could use during meals to support him in eating in an upright position. The exciting day came during the summer of 2022 when Dino's Bailey chair arrived. He was a little nervous about using it at first, so staff members helped make the experience positive and comfortable by giving him lots of treats and love.
In the six months since his arrival, Dino made huge strides thanks to expert care. When the day came that he was ready to go up for adoption, it did not take long for a couple to see his photo on the Center's website and fall in love. Dino's adopters were able to take him home along with his Bailey chair and offered the time and willingness to keep up his routine, and in return, he brought them, unconditional love. Dino was certainly a staff favorite and every minute they devoted to his needs helped shape his future into what it is now.