Danica's First Mother's Day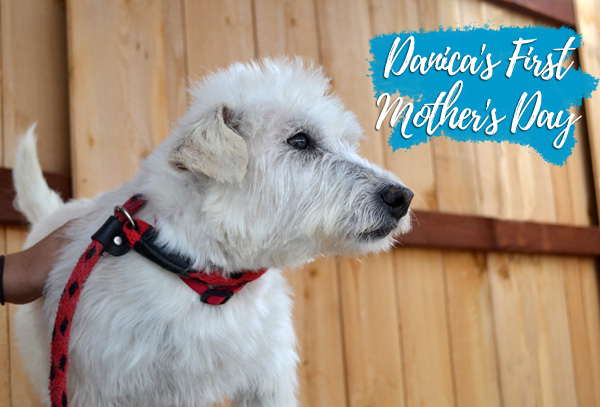 It was a glorious spring day when we first met Danica. She had just given birth to seven, squirming puppies the night before, but that didn't slow her down! She had a sparkle in her step and a twinkle in her eye when she arrived via rescue partner, and was grateful for all the petting and love she received from staff and volunteers.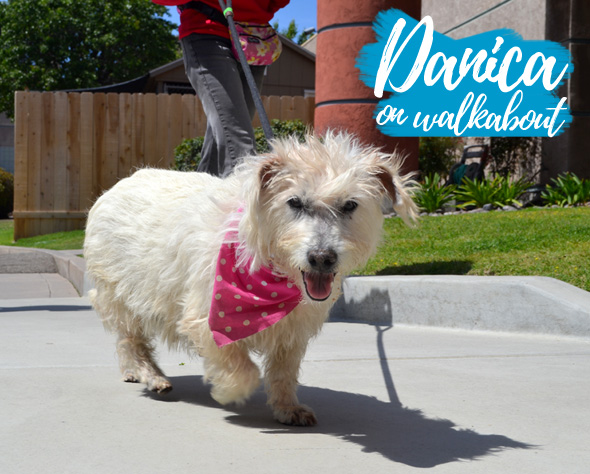 However, that day was the last day (until now) that Danica would enjoy the warm sunshine and fresh air – only 24 hours later, she became so sick, she was unable to nurse her puppies, eat or even stand.
Danica's Story Begins
Danica and her family arrived the afternoon of Thursday, April 5. We remember the day so well because we remember how loud her family was! Danica's seven puppies caused quite a stir in the Center's medical suite with their adorable puppy-ruckus.
While her puppies were getting their first medical check-up, Danica took a leisurely stroll outside with a volunteer. She thoroughly enjoyed her walkabout and break from her babies! Her unique face and breed (we think she is a Westhighland Terrier blend, a Westie for short) made her an instant celebrity. When her puppies' check-ups were over, she settled right back into puppy commotion and recommenced Mom Duties!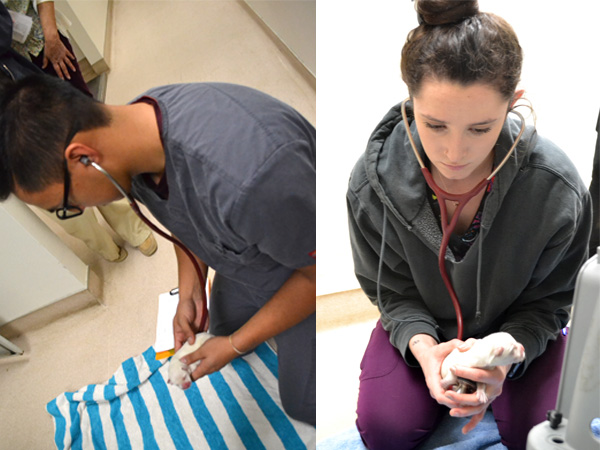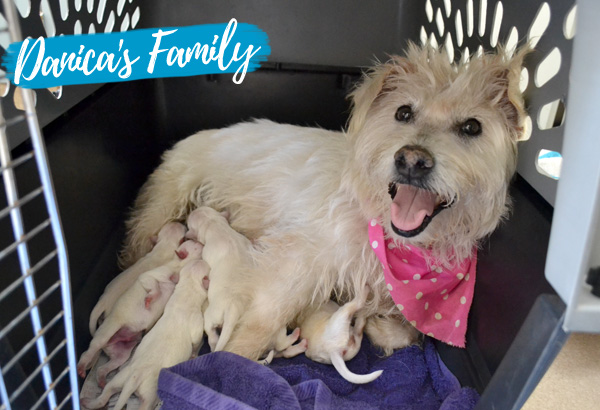 She was safe, happy, and taken into a loving foster home to be pampered while she raised her pups. What more could a new mom ask for?
Danica Fights For Her Life
But the next day did not dawn so bright for Danica. Her foster family noticed that she refused to eat and seemed lethargic. Eating well is a big deal for moms, as they need nutrients to not only nourish themselves, but their babies as well. After a check-up, our veterinarian discovered that one of Danica's teats was swollen and painful, what's called mastitis. Mastitis is when a mother's milk gets clogged and cannot come out, a painful and possibly dangerous situation if the tissue and milk becomes infected.
We gently relieved Danica's discomfort with massage and cleansing fluids and sent her home with antibiotics to prevent any further infection.
Sadly, Danica's condition did not improve. Within a day, she and her puppies needed to be sent to an overnight emergency veterinarian for round-the-clock care of not only Danica, but her army of hungry puppies. While Danica was treated for her infection, the emergency veterinarian assistants fed her puppies with supplementary bottles – Danica was in no condition to feed them herself.
As Danica fought the mastitis infection, and for her life, it was decided that her puppies should go to foster families trained in the bottle-feeding and care of newborn puppies.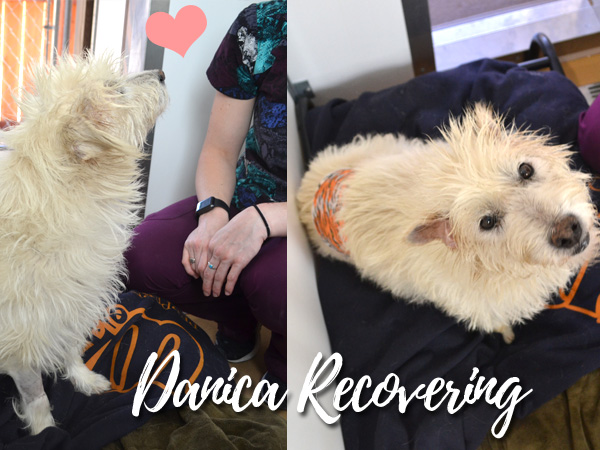 On April 9, Danica stabilized enough to return to the veterinary care here at the Center. While her puppies were being loved and coddled by foster families, Danica was under the watchful eyes of our medical team. She underwent a surgery where an abscess was removed from her mammary glands. A foxtail was discovered deep in her ear, which needed to be removed only while she was under anesthesia. Danica had one medical issue after another, but fought bravely and cheerfully through them all.
Polar Bear Puppies Take Over!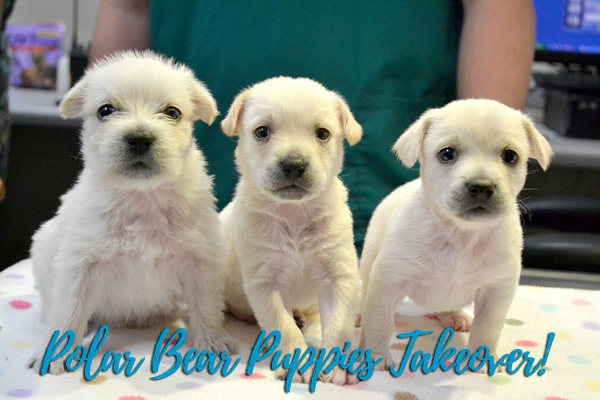 While Danica was recovering from her surgeries, her puppies were creating quite the scene during their repeated medical check-ups at the Center. The seven snow-white puppies (named Daisy, Dandy, Derek, Diana, Doodle, Dilly and Dora) were soon dubbed "The Polar Bear Puppies" and rumor of their visits spread like wildfire among staff and volunteers. And we're sure you can see why!
Danica's First Mother's Day
On Wednesday, May 9, more than a month since her arrival, Danica was ready to grace us with her sparkle-steps and twinkle-eyes once again! She was well enough for walks, for pets and socializing, and most importantly, well enough to find a forever family. It's also widely known that a fresh start deserves a fresh look, so we booked Danica a grooming appointment. She's sure to wow her potential forever family now!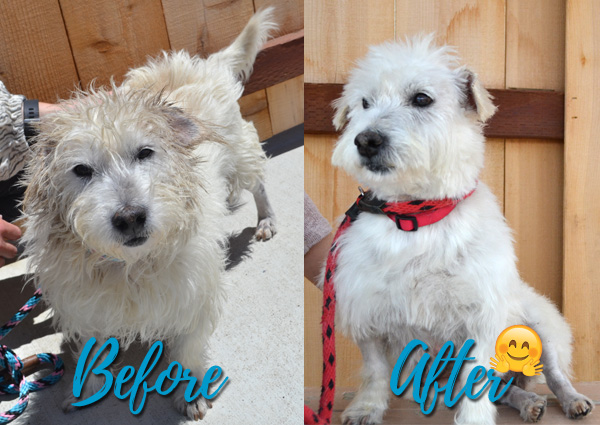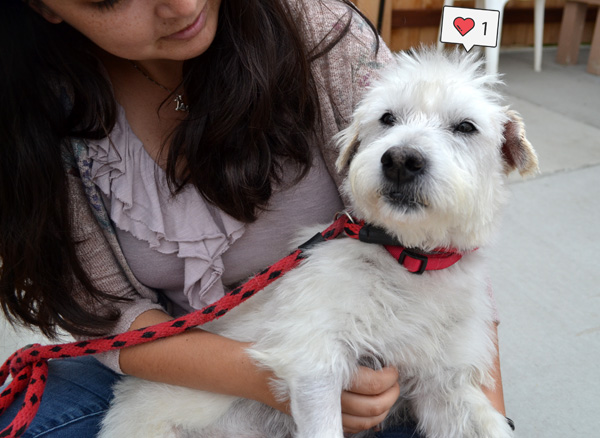 Danica's New Mom
Danica, the sweet and outgoing mama who beat all the odds, found her own forever home – on Monday, May 21. Now she has her very own mom to take care of her! And we think there isn't a mom more deserving of a happy, safe and healthy life than Danica. Congratulations to both Danica and her new mom, Yvonne!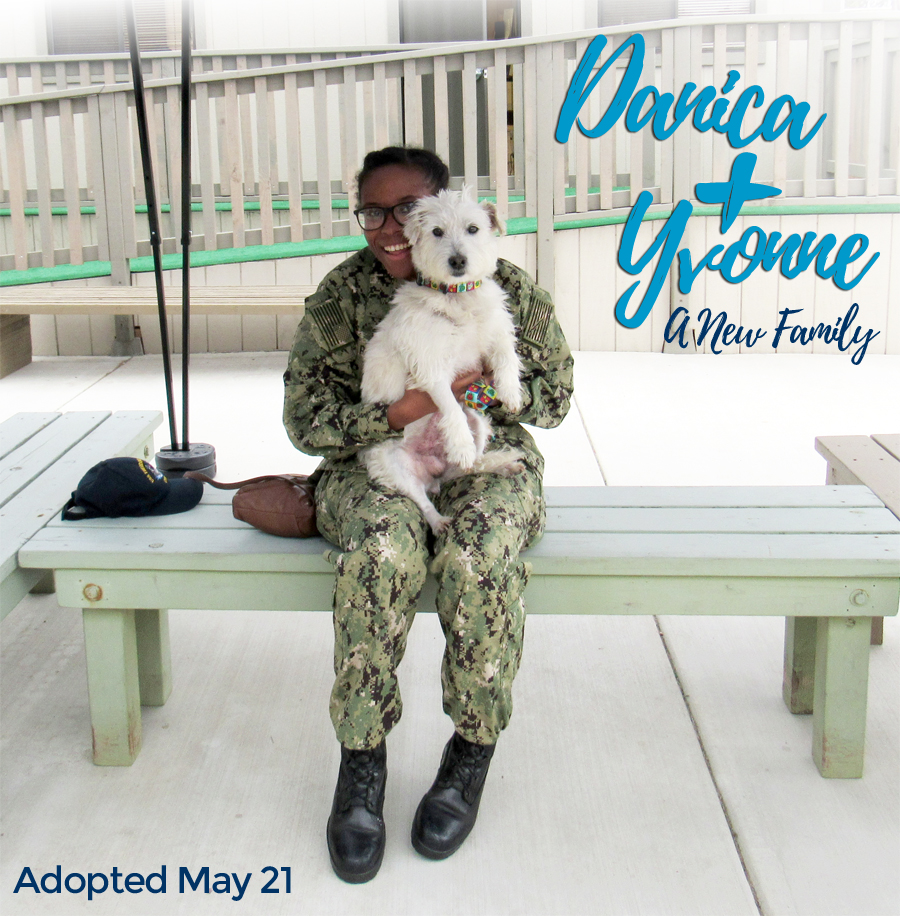 Puppy Update!
On June 2, five of Danica's puppies (Derek, Diana, Dilly, Doodle and Dora) attended our Spring Fling Gala,  where they were the stars of the evening. (Yvonne and Danica were there, too!)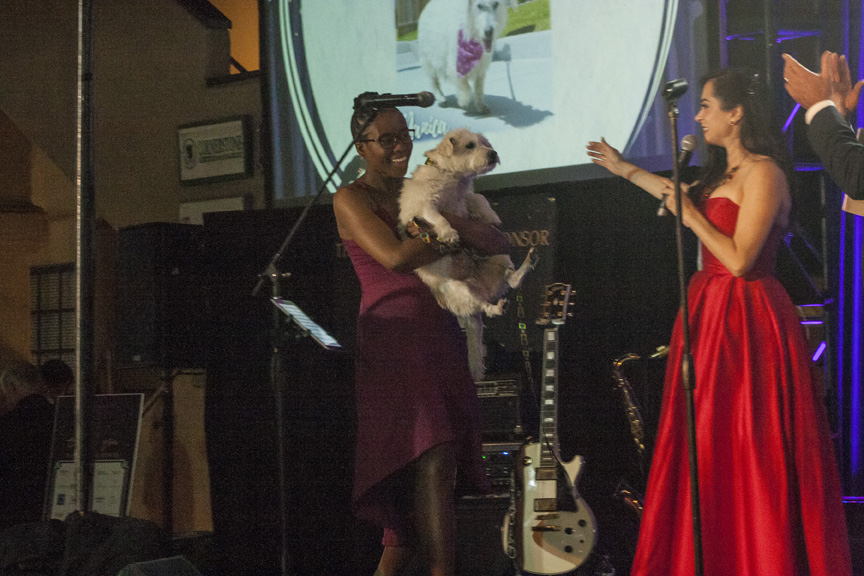 The next day, those five puppies went available for adoption and were scooped up by forever families. Later that week, Daisy and Dandy became available and found homes as well. That makes eight happy endings for darling Danica and all her puppies.