UPDATE 1
Little or no hair and adorable wrinkles, the Sphynx loves attention. People usually love this special breed or hate them. They actively seek ways to interact with their people, expending energy or cuddling. They are even good company for other cats and dogs.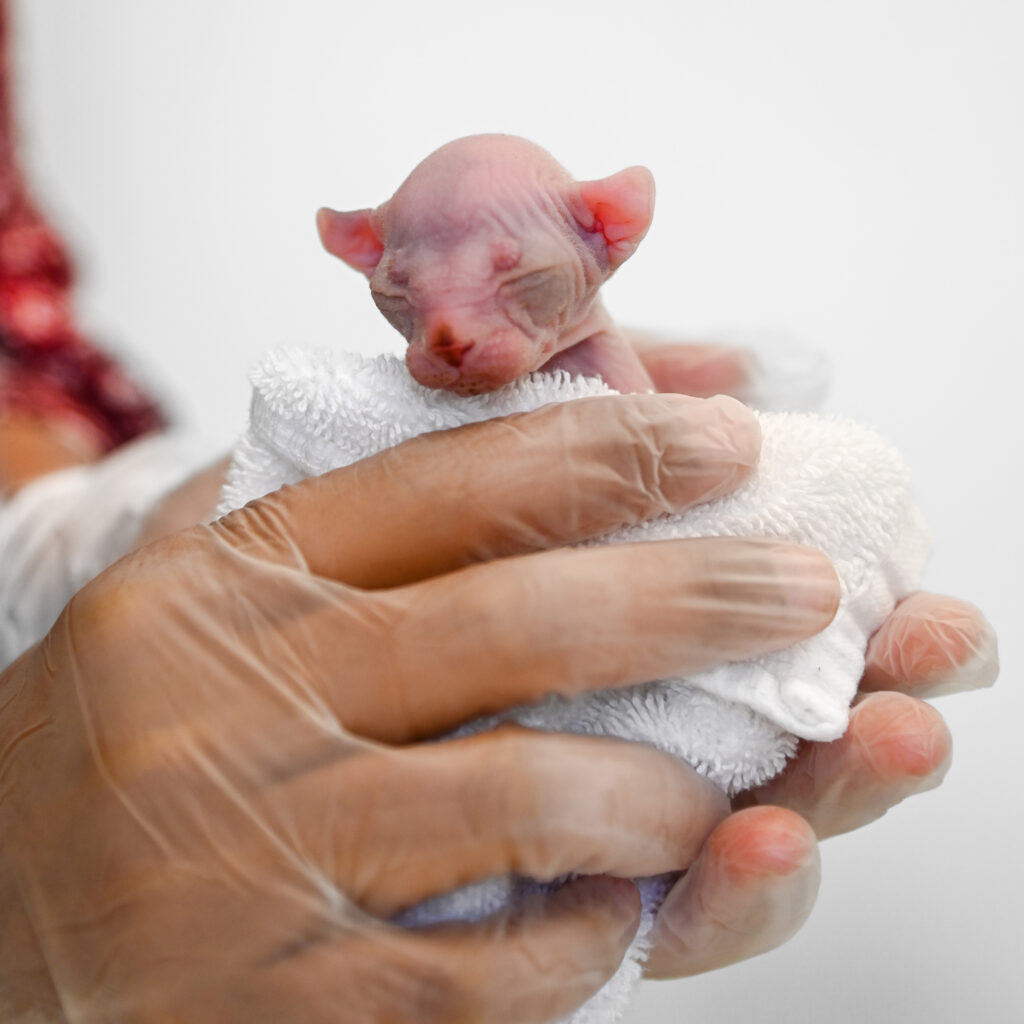 Meet Cleopatra, ears and all.
The naked truth is this tiny miracle of a bottle baby was rejected by her mom, which resulted in her getting special attention, like being fed from a syringe.
UPDATE 2
One of the most precious developments in Cleopatra's story is Ballerina entering her life.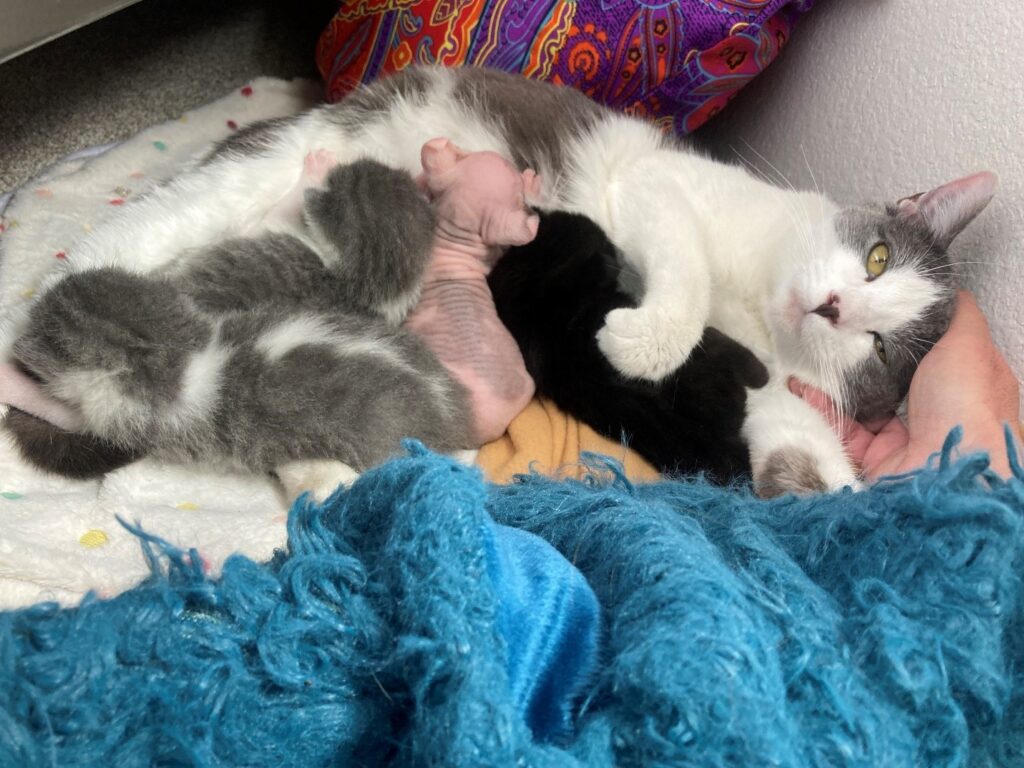 Ballerina was living on the street as a stray, pregnant. When she gave birth to her kittens, she also accepted little Cleopatra into her tribe. Now, Ballerina has been doing great, helping her kittens and newly adopted Cleopatra grow into the beautiful felines! When she arrived at the Center, the timing couldn't have matched up more perfectly.
Stay tuned for a part 3 update as we share more details about this survivor and her babies soon.
UPDATE 3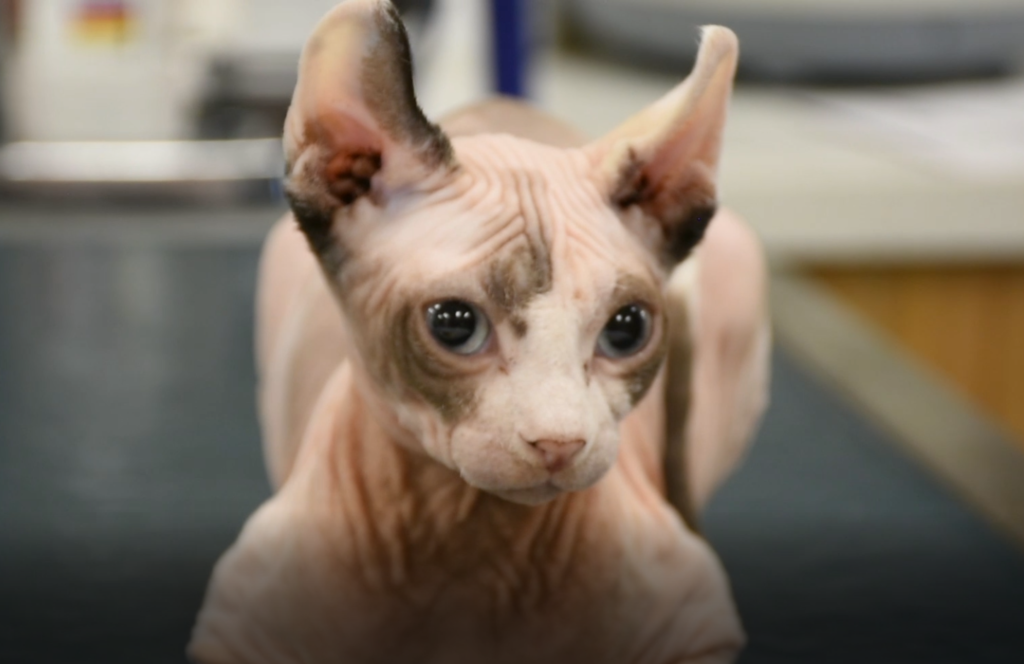 Cleopatra, our famous Sphynx kitten, featured on various news sites and across social media, is 'feline' ready to find her new adoptive parents! Now three months old, Cleo initially arrived as a motherless, frail baby kitten barely clinging to life, until she found an adopter in a domestic short-haired mother cat named Bellarina who had just given birth. Since many have expressed an interest in adopting Cleo, we are unveiling a formal application process to find the right home for her.
The requirements that you must meet to be considered an eligible candidate are: Submit an essay in which you describe why you would be the perfect parent for Cleo (500 words max), live close to Helen Woodward Animal Center (SoCal), have currently or previously owned a Sphynx cat, and have an approved cat application.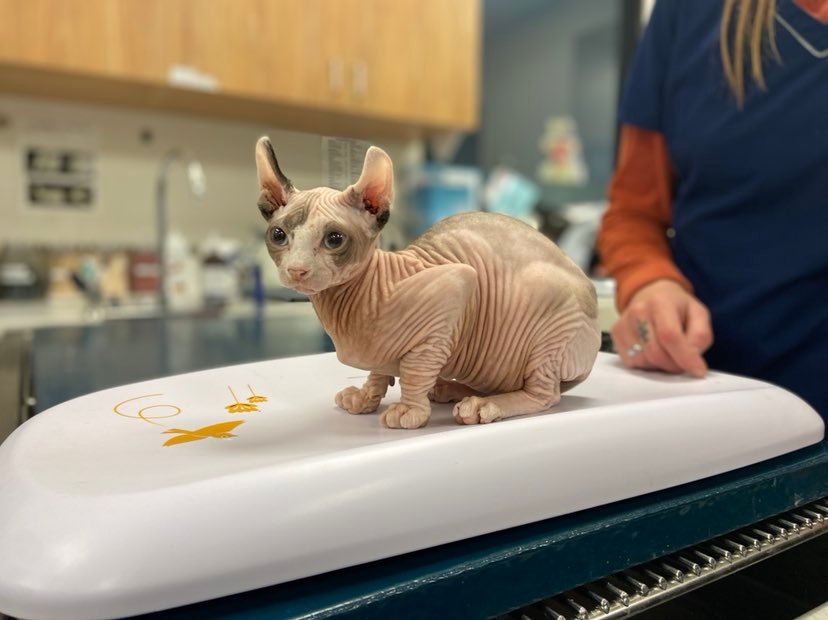 The application window will be open until July 5th. Our management team will then review all applications and contact those who will be able to meet Cleo in person before we confirm the adoption.
To apply to adopt Cleopatra, visit https://www.cognitoforms.com/HelenWoodwardAnimalCenter1/ApplicationToBeConsideredToAdoptSphynxCatCleopatra
UPDATE 4


Cleopatra is getting closer to finding her forever home and tonight is your last chance to let us know why you would be the perfect PAWrent for this precious miracle sphynx kitten!
When Cleo arrived at the Center, our team provided around-the-clock care to ensure the days-old kitten could make it through the most vulnerable stage of her life after her birth mother was unable to care for her. Cleo was guided by medical staff members to her adoptive mother Bellerina, who took her in as her own, allowing her to nurse alongside her litter of kittens and thus, providing her a fighting chance at surviving past the neonate stage.
Dedicated foster volunteers stepped in to provide the specialized care that is recommended for sphynx cats, including gentle bathing, wiping her face after eating, monitoring her exposure to the sun, and more. Without these fosters, Cleo would not be the kitten she is today and would not be ready to face the next chapter in her life!
Understanding that Cleo is more than your ordinary cat and will require specialized care for the rest of her life, we have produced a more formal adoption application process to ensure we find the best-fit home for this remarkable cat.
UPDATE 5


Cleopatra found her forever home, complete with a fellow Sphynx sibling and other furry friends! After weeks of being cared for by our staff and our amazing fosters, Cleo found her match and her new mother has experience caring for hundreds of cats and kittens as a dedicated rescue volunteer.
The Dworsky family initially read about Cleo's story in the newspaper and became smitten with the kitten, waiting for updates on when she would become available. When Christina Dworsky was invited in to meet the Sphynx kitten in person, it seemed like a match made in heaven as the two instantly bonded and Cleo took to her as if she had known her forever.
"I think she's going to have a good life with us. I think she's going to enjoy the other Sphynx. We have a domestic shorthair cat that looks just like her foster mommy, and we have a chug, a pug Chihuahua mix, who thinks she's a kitty too and loves to snuggle them," said Christina Dworsky, "We are just over the moon. We are so happy and so amazed that this all worked out, and we are just overjoyed. Everyone who has helped us here has been just really wonderful."
Soon after Cleo got home, her mother let us know that she was already settling in well, eating and playing, plus she took her first nap atop a large Simba stuffed toy.
While we do not have any more Sphynx kittens, the Center cattery is full of cats and kittens that have as much purr-sonality as Cleo (if not more) and could use a place to rest their biscuit-making paws. Check out all of our available cats at animalcenter.org/cats