Special Dogs Needing Special Foster Homes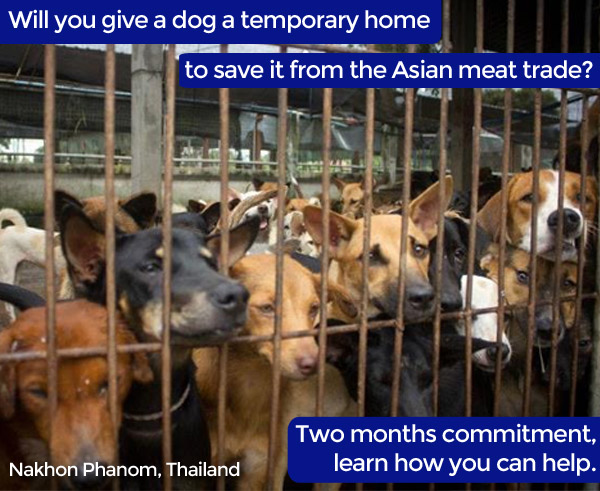 Today we are looking for a few outstanding animal-lovers to play a crucial role in the life of some dogs saved from the Thailand meat trade. Helen Woodward Animal Center is pleased to be able to help out our friends at the Soi Dog Foundation, located in Thailand, who need assistance placing dogs they have rescued from the dog meat trade.
We will spare you the gruesome details of what these dogs have been through, but long story short, we have the opportunity to completely change the lives of a number of dogs destined for certain death, and instead adopt these dogs into loving caring forever homes.
However, before we get to adopting them, we want to place them into the controlled environment of a foster home, provide any necessary medical treatment, and provide socialization to build confidence before matching them with the new adoptive homes.
Could you be the temporary family these dogs need?
Here are our special foster volunteer requirements:
Experienced dog owner – You will have had experience dealing with canine apprehension, and are very comfortable handling an insecure 50 lb adult dog who doesn't know what a leash is;
A very flexible schedule – You are either retired or working from home or have the ability to set your schedule to avoid spending long periods (more than 3 hours) away from your foster dog;
A mature household – ideally all household members will be 18+, although mature older teens might qualify.  And a stable family situation in which everyone can be on the same page with the foster dog – no roommates – is important.
A home with a securely fenced (min 6 ft.) yard – we don't want to lose anyone!;
The ability to stick with the foster assignment for at least 8 to 10 weeks – stability is a key to building confidence and a sense of independence in these dogs.
Most importantly, you will be amenable to learning how to interact with your foster dog, be able to follow a training regimen set by our trainer, and be willing to devote sufficient time to the project, starting with a home inspection visit and then a pre-foster briefing at the Center. Subsequent as-needed visits to the Center for medical or behavioral support, and perhaps some phone consults or even a visit or two to your home by our trainer may also be needed.
It's okay to have other dogs or cats (we'll have to do some testing for this to ensure everyone stays safe). And — you will need to set structure and discipline and routine to help build confidence — feeling sorry for the dog and not requiring it to learn the rules and behave will not help in the end. We want you to love, but be strong.
Join the Foster Volunteer Network at Helen Woodward Animal Center
PLEASE NOTE: When you reach the question: Why do you want to be a foster parent? Type SOI DOGS so we can find you! We'll review your app promptly, and if we think there might be a match our trainer will contact you to follow up.
Thank you so much for your interest! We appreciate you taking time out of your busy schedule to consider helping these deserving dogs.
WATCH: Cinderella and Leanne from Soi Dogs on CBS 8